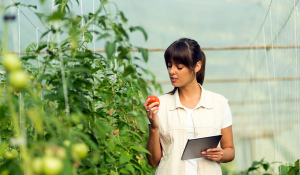 Undoubtedly, agriculture, horticulture, and food production are crucial industries. With the world population on its way to 9.7 billion by 2050 and sustainability concerns arising, both agronomists and horticulturists are essential for human survival and prosperity. The need for skilled professionals in agriculture and sustainable planning is more pressing than ever. So, what is an agronomist, and how does the profession differ from that of a horticulturist? Which one of these ag careers is best for you?
What Is an Agronomist?
An agronomist is an expert in crops and soil. Agronomists use their genetics, chemistry, and plant physiology knowledge to help farmers use resources more efficiently and maximize crop yields. They often work for universities, seed companies, and government agencies, or as consultants for agricultural producers. Ag job positions include seed service advisor, agronomy driver, senior advisor, or location manager.
What Is a Horticulturist?
Horticulturists, on the other hand, are experts in fruits, vegetables, and other plants. They work to improve plant growth, adapt plants to different climates and soil conditions, and manage plant diseases. Horticulturists work in various settings, including nurseries, garden centers, landscape design firms, and government agencies. You could find ag jobs as a crop production manager, farm operations manager, or grower technician.
What Are the Differences Between Agronomists and Horticulturists?
At first glance, the differences might not seem all that clear. Both professionals work with plants and soil. Here's a deeper look at the differences when wondering what an agronomist is.
Purpose:

Agronomists tend to focus more on crops' genetic and chemical makeup, while horticulturists focus more on plant reproduction and growth.
Scope:

Agronomists often work with large-scale agricultural production, while horticulturists focus on smaller-scale projects.

Specialization:

Agronomists are experts in crop genetics, soil chemistry, and plant physiology. Horticulturists are experts in plant diseases, pest management, and landscape design.

Education:

To become an agronomist, you need a bachelor's degree in agronomy, plant science, or related disciplines. For horticulture, a degree in horticulture or plant science does the job.
What Are the Similarities Between Agronomists and Horticulturists?
Despite the differences in their focus, agronomists and horticulturists share many similarities. Both professions require a solid scientific background, tertiary degrees, and a deep understanding of plant biology. Both also require great attention to detail and excellent problem-solving skills.
Agronomists and horticulturists have much to offer for sustainability goals, though they may tackle this problem from different angles. For example, agronomists typically focus on increasing yields while minimizing inputs. Horticulturists emphasize conservation and adaptation to climate change. Together, they ensure we have enough food production to thrive.
Horticulturists also play a significant role in landscaping and creating sustainable green spaces. These spaces provide aesthetic and emotional benefits to people and valuable habitats for wildlife. Studies have also shown that green spaces are critical for clean air and healthy populations.
Why Should You Become an Agronomist or Horticulturalist?
Several factors bring people from all walks of life to these two disciplines. Maybe you're gifted with a green thumb or grew up on a farm. Some people may tire of urban settings and want to create a homestead or practice subsistence farming. Here are some other great reasons to try these professions after discovering the difference between the two ag professions.
1. Work in Nature.
Some people love the idea of walking into a cushy office and sitting at a desk all day with the cool air running. If that doesn't describe you, working in agronomy or horticulture could be a better alternative. You get to use your hands outdoors while applying scientific methods to your work. Note that some of these professionals work indoors.
2. Make a Tangible Difference in the World.
Studies warn that losing green spaces will result in harder, hotter urban developments. Meanwhile, food insecurity is on the rise. As of 2023, 345 million people worldwide are still dealing with food insecurity at high levels. Horticulturists and agronomists can work to solve both of these problems.
3. Take Advantage of Excellent Job Prospects.
Agriculture is one of the largest industries worldwide. It contributes to 4% of worldwide GDP and is one of the most effective ways to raise people out of poverty. That means there will always be work for people in this industry, and finding new clients or employers is relatively easy.
How Do You Become an Agronomist?
Now that you understand what sets this profession apart, you may have a new question. How do you get started in this ag career field? You'll generally need a bachelor's degree in agronomy, crop science, or a related field. Advanced degrees, such as a Master's or Ph.D., can also be helpful for career advancement. Agronomists benefit from internships, apprenticeships, or work experience in the field. The Unity College recommends at least two years of field experience to gain momentum in your agriculture career.
How Do You Become a Horticulturist?
Most horticulturists hold a bachelor's degree in horticulture, plant science, or a related field. Additional certifications, such as the Certified Horticulturist designation, can help improve job prospects and career development. Like agronomists, horticulturists can benefit from internships, apprenticeships, or work experience to grow their careers.
What Is an Agronomist and Horticulturist Job Search Solution?
Agronomists and horticulturists can find jobs in a wide variety of settings. Checking all of these places individually can get tiring, though. You can simplify your search by using one tool to meet your needs. Locate your ag job board such as AgHires and use filters to find the positions that interest you. AgHires has made it as simple as typing in a keyword, saving you a lot of time. After that, it all boils down to what you want.
Are you looking for an agriculture internship or a full-time job? Would you like to work from home? What states do you want to work and live in? Do you prefer to work in a large agriculture business or on a mid-sized farm? AgHires provides job searches for horticulturists, agronomists, and more, so the job posts on our job website provide solutions to these questions and more. Start looking today to find the dream agricultural job you've always wanted.