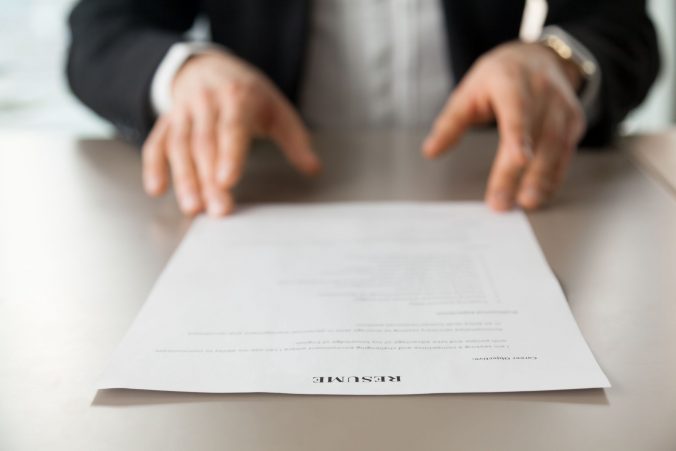 The average hiring manager spends about six to ten seconds scanning a resume for the first time. They're looking for specific keywords that show the candidate could be a fit for the job. Most of the time it is the hiring manager or recruiter's initial impression of you. You know what they say, the first impression is everything. Since you want to secure an interview, help the hiring manager get to know you better by making sure it is a great representation of your qualifications and experiences. To help you make sure your resume is at it's best, we've compiled the ultimate list of resume tips.
SELLING YOURSELF
Keep it short and sweet
You don't need to include everything on your resume. Just the highlights that match the job you're applying to. If you can, keep it to a page or two at most. Think of your resume as a marketing tool to sell yourself to the hiring manager or recruiter. They don't care about the job you had at Mcdonald's when you were 16. They want to know why you could be the ideal candidate for their job.
Don't include an objective
An objective is only necessary if you are changing industries or if you need to explain gaps or why your experience may not match. Other than that, you don't need one. Your experience should speak for itself. If you're looking for a technician role and for the last 15 years you've been a technician, you don't need an objective to explain to the hiring manager you are looking for a technician role.
Put the most relevant info on top
Recruiters are only scanning your resume quickly to decide if you meet their initial qualifications, so you want to make sure they see the good stuff right away.
Reverse chronological order is the best
Putting your most recent, and most likely, best experience first is the best way to organize your resume. The same goes for your education.
Include a link to your LinkedIn Profile
You can include more of your story on your LinkedIn profile, so it is a good idea to include a link to your profile on your resume. This allows the recruiter to look at your experience in a little more depth after their initial scan.
FORMAT
Simple format
Make it easy for someone to quickly scan. Use a simple font, like Arial or Helvetica. Use a 12-point font with good spacing between lines. Keep all formatting the same. If you italicize or bold the company name and position, make sure you do it for all your experience. Keep all the dates formatted the same and so on.
It's okay to be a little creative
While you want to make sure your resume has a simple format that is easy to read, it's okay to be a little creative. Use a different font for your header with your name and address or include some icons. But still, steer clear of Comic Sans or overly creative fonts that can be hard to read. And don't liter your resume with silly icons but adding a little extra creativity may help your resume stand out. Just ensure it is still easy on the eyes.
Make your contact info stand out
Make your phone number and email easy to find and at the top. It can also be a good idea to include your LinkedIn profile link (as stated above). However, you do not need to include your address, unless you plan to relocate. Then you would include your address with "looking to relocate" so the hiring manager or recruiter is aware of your plan. They can also plan if they need to fly you in for an in-person interview later or if they are able to help with relocation.
EXPERIENCE
Limit your bullet points
Each work experience entry on your resume shouldn't have more than 6 bullet points. You want to keep it short and related to the job you're applying to if possible. Every daily task is not needed, just the important ones.
Keep the jargon to a minimum
Remember, sometimes an HR Manager or an assistant maybe be reading your resume that may not know all the jargon of the industry, so keep it easy to read for the average person.
Talk up your achievements
Give them the numbers, facts, and figures of your accomplishments. Did you help a past employer decrease costs? How much did you save them? Did you reach or exceed any company goals in a specific time frame? Including some data gives the recruiter or hiring manager a good idea of your work ethic and dedication.
Show your skills
Are you a good leader? Great communicator? Don't just use those words in your resumes. Show the hiring manager you have those skills in your explanation of how you achieved your tasks. Mention you communicated or collaborated on a specific project with the results. Or mention you lead a team to a specific goal.
Keywords
Include the keywords listed in the job description. This will help the hiring manager see you have the right skills and qualifications needed for the job.
EDUCATION
List your education second
While your education is important, most employers are more interested in your real-world related work experience. The only exception to the rule is if you're a recent graduate, then your education will most likely be more relevant than your past work experience.
Don't include your GPA
You might be proud of your GPA, but most Hiring Managers don't have an interest in that number. You only need to mention any honors you may have received at graduation.
OTHER
List your skills
Include a skills section. List any other skills you may have like welding, electrical, or mechanical skills that may or may not be listed in your work experience. Maybe it's something related to the job you gained from an interest or hobby.
Awards
Remember your resume is a marketing tool, so you need to brag about yourself. Include any awards you may have won, even if they're from a past job. It's a great way to showcase the recognition you've received for your hard work.
RESUME PROBLEMS
Gaps
Don't hide your resume gaps or any job-hopping in your employment history, just strategize. A recruiter or hiring manager will be drawn to the gaps and/or job-hopping and will draw their own conclusions, which could have a negative impact on you. Explain the gaps in your cover letter or add a summary at the beginning of your resume to explain. Read more on bridging the gap here.
Remove Short Term Jobs
Don't list the jobs where you were only employed for a short time, such as a few months. Most likely they are not relevant anyway. This will help you clear the unnecessary clutter from your resume. And if you are asked about the short gap in your resume, just be open.
FINISHING
Proofread, then proofread more, and again.
The most important step in creating a resume is to proofread, then proofread again. Make sure everything looks consistent and all the grammar and spelling mistakes are corrected. It shows your attention to detail when your resume is clear of mistakes. Even have a friend or family member proofread your resume also. Having at least one more pair of eyes will help find any errors you may miss.
Name your file
Include your name in the name of your file. This will help the hiring manager or recruiter keep organized and ensure they don't skip over your resume.
Save File as a PDF
Saving your resume as a PDF will help to ensure the formatting stays correct when emailing or sending your resume electronically.
Keep it Fresh
Always make sure your resume is up to date. Add any new responsibilities, positions, or new skills. Keeping it fresh will make it easy to apply when you find your dream job.
Get more Job Search Tips here or follow us on Facebook and Twitter.