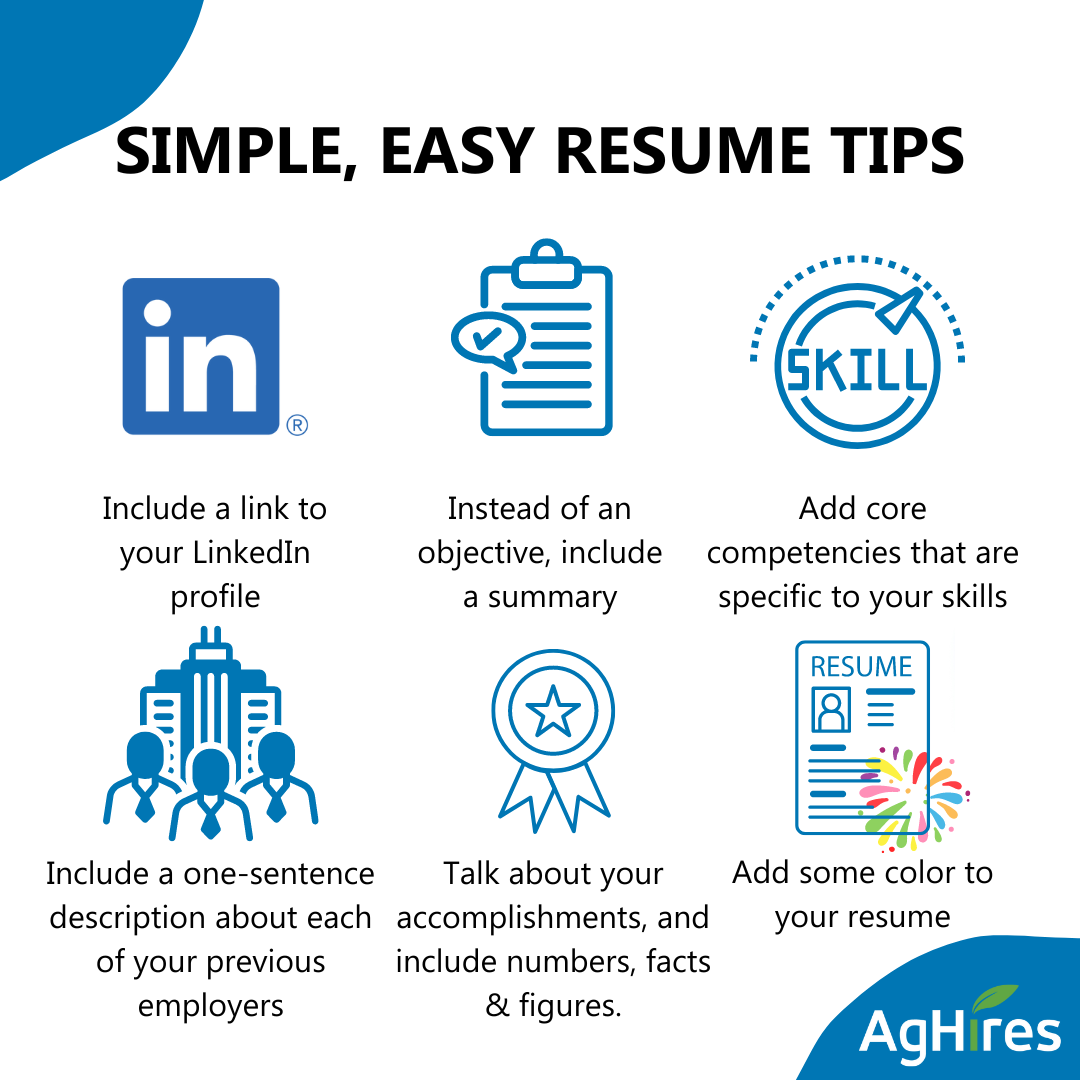 A resume is an absolute must when applying for a job. But employers look at resumes for only eight seconds. If your resume isn't attention-grabbing, then it may be time to make some changes. Here are a few tips to brighten your resume.
Tip 1
Have a link to your LinkedIn profile. This makes it easier for employers to learn more about you, your experience, and your previous roles without having to make your resume too long.
Tip 2
Have a summary instead of an objective. Objectives have become obsolete. Employers know you are seeking a new job, which makes an objective redundant. Employers need to know why you would be a good fit. That's where a summary comes in; you can tell them about yourself in a brief paragraph.
Tip 3
Your summary could also have a title. Adding a title such as Salesman, Business Development Professional, or Farm Mechanic can help the employer gauge your skills and determine if you fit the job description.
Tip 4
Core Competencies aren't required but can be helpful. In this section, specificity is key. Saying you have excellent technical skills is a bit generic. Instead, it may be better to say you are experienced in Microsoft Office Suite and Adobe Create Cloud. Giving specifics is important. Employers want to know which skills you have, not only that you have them.
Tip 5
Have a one-sentence description about your previous employer. This tells the hiring team about the company, the industry, and the size of the company. This is especially helpful if the company isn't well-known.
Tip 6
When describing your work duties, talk about your accomplishments. Again, be specific. Instead of saying you supported the VP of Marketing, it's better to say you wrote 10 articles for the company blog. Quantifying your work gives the employer more information than saying you supported someone else.
Tip 7
A section titled "Additional Experiences" or "Additional Information" can also be helpful but isn't required. If you have experience or knowledge that may be a benefit to the role you're applying for but it doesn't fit into a specific category, then it can go here.
Tip 8
Add some color. Employers are looking at many resumes, most of which are in black-and-white. After a while, this process can get tedious, and resumes can start to look the same. Adding some color can be eye-catching. But color is only good if the resume is clean and easy to read. If you overdo the color, it can be distracting. Plus, you can find the right font for your resume to stand out.
Tip 9
Have someone read your resume before you apply and ask for feedback. The other person can tell you what to improve, add, or take out. Once you've made the necessary edits, you can apply with peace of mind.
Looking for more resume tips, check out our Ultimate Resume Guide here.
Follow us on Facebook and Twitter to get more career advice.