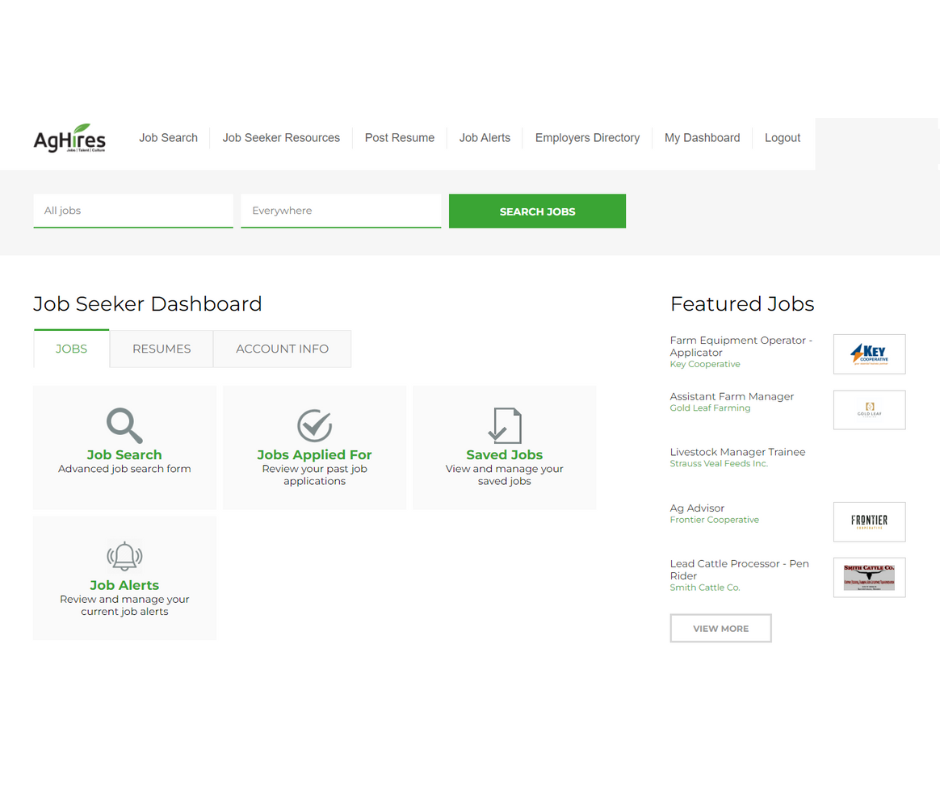 The job search process can be overwhelming. That's why we want to teach you how to utilize AgHires to your full advantage. Follow the tips below to find your next job in the agriculture industry with ease.
Upload A New Resume
Follow these steps to create a new resume profile on AgHires.com.
Once your account is created, click My Dashboard

Click Resumes Tab

Click Add Resume
Be sure to fill out as much information on this page as you can. The contact information is important for employers to contact you. At a glance, showcase why you're the best candidate for the position.
AgHires recruiters work daily to fill roles in the agriculture industry and are always searching our database of resumes uploaded by job seekers. They search hard to find the best fit, not only for employers but for you, the candidate, as well.
Manage Resumes
You can edit and remove your resumes by following these steps to manage your resumes AgHires.com.
Click My Dashboard
Click Resumes Tab
Click Manage Resumes
Refine Results
Take advantage of the refine your results on the left side of the page when utilizing the job board. Being more selective on your categories will help you find a job that aligns with your interests and location more quickly.
With an AgHires Job Seeker Profile, you can also utilize the Advanced Job Search form to refine your search. You can find the advanced job search on your Dashboard.
Save Jobs
If you need more time to perfect your materials but don't want to lose a job that you found, you can save the job. Follow these steps:
Scroll to the bottom of the job description and click save
When you're ready, log in to your AgHires account, click My Dashboard
Click Saved Jobs
Create Job Alerts
Create a custom job alert to ensure you don't miss out on any new jobs that may interest you. As you search for jobs the Job Alerts button is on the right side of the page under "Notify me of jobs like this."
You can manager your job alerts from your dashboard. Once you're logged into your account, under the Jobs tab, click on Job Alerts to review your job alerts and edit them. To change the frequency (or period), click "Weekly" or "Daily" in the alert you would like to change, and it will change the frequency of which you will receive your alerts. To turn a job alert on or off, click the status of the alert you would like to change.
Don't miss emails from AgHires! Be sure to add AgHires to your email allowlist.
Whether you're searching for a job post-graduation or looking to switch jobs, the job search process can be stressful. Allow AgHires to help find your best fit. Our recruiters work daily on roles in the agriculture industry and are constantly searching our database of resumes uploaded by job seekers. Who knows, you could be the perfect match for an open position they're working on!
Get more Career Tips here or follow us on Facebook and Twitter.