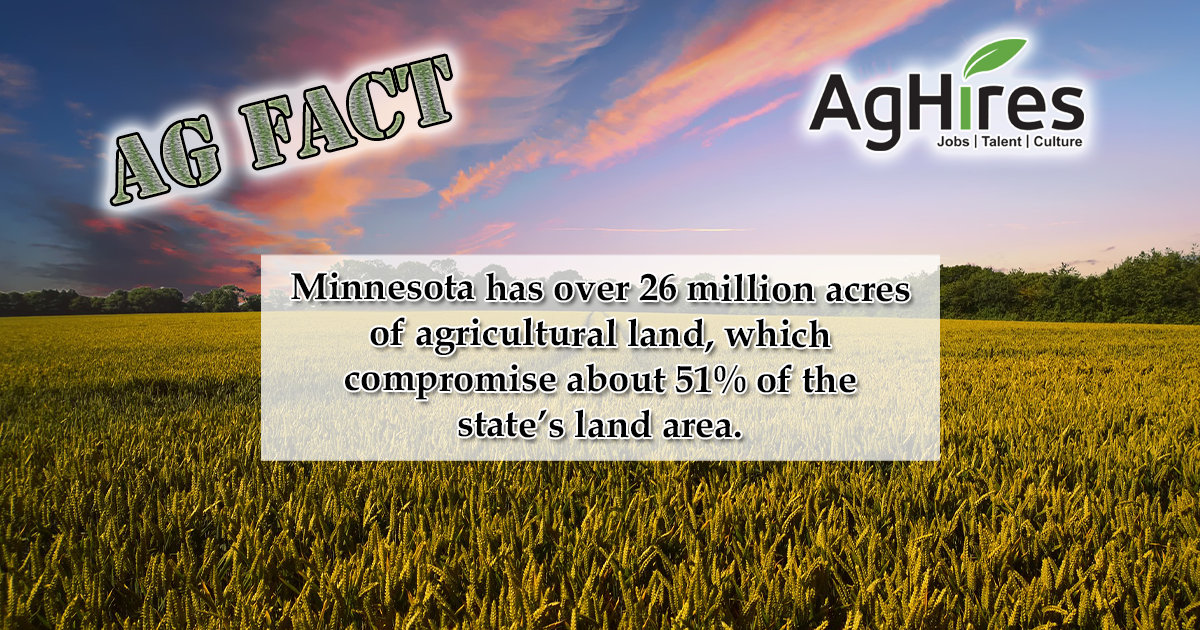 The land of 10,000 lakes is also home to thousands of farms that grow some of the top produce in the country. Check out these 12 Minnesota agriculture facts!
There are over 68,000 farms in the state.

96% of farms in Minnesota are family-owned.

Minnesota has over 26 million acres of agricultural land, which compromise about 51% of the state's land area.

In the 19th century, Minnesota was one of the nation's top producers of wheat.

Minnesota ranks number one in sugarbeets, green peas & wild rice.

In 2017, Minnesota was the top producer of turkeys, second in hog sales, and fourth in dairy sales.

The Honeycrisp apple was developed at the University of Minnesota.

Cornfields and soybean fields take up more space than all the water surfaces in the state.

Wild rice has been the official state grain of Minnesota since 1977.

Minnesota farms, agricultural production, and processing industries generate over $112 billion and support more than 431,000 agriculture jobs.

Annually, Minnesota turkey farmers raise 40-42 million turkeys, and

the state hosts the largest number of independent turkey farmers.

Minnesota ranks fifth in the nation for the value of its agricultural products.
---
Looking for agriculture, horticulture food production, or related industry jobs? Start your search here
Want more Agriculture Facts? Click here
Follow us on Facebook and Twitter to get your weekly dose of Ag Facts.
Sign Up for Our Email Newsletter and get ag facts bi-monthly, plus new jobs in agriculture.