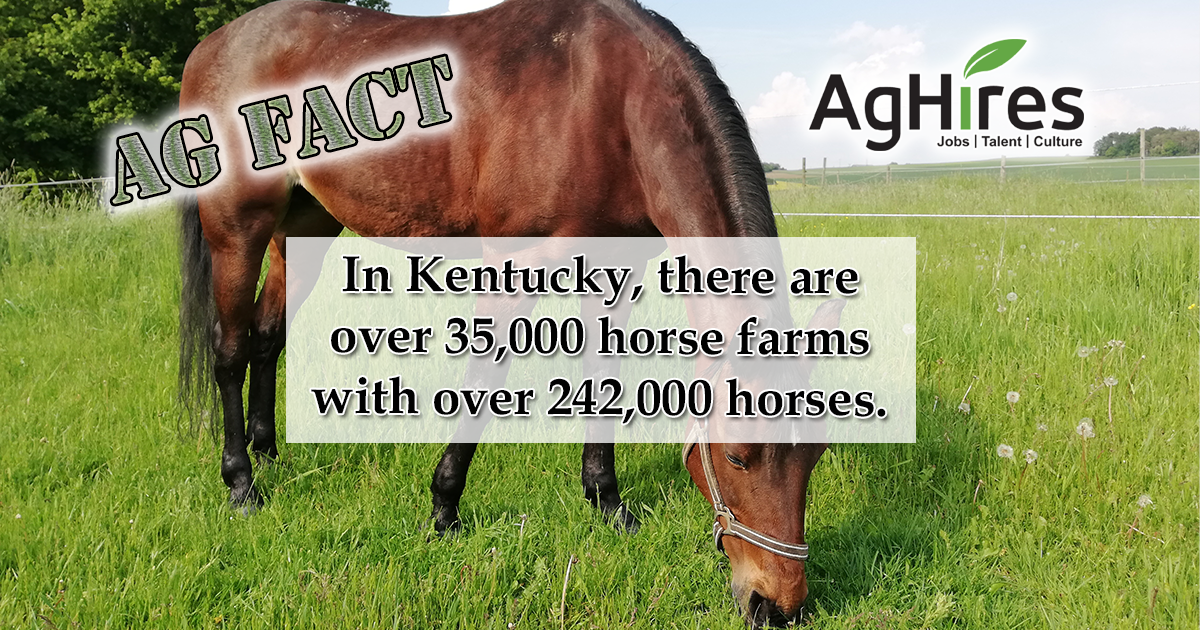 The agriculture industry is found in every state in the United States. Kentucky is no different. Kentucky is nicknamed the Bluegrass State because of a species of grass, called Kentucky bluegrass, that is found in many pastures mostly in the northern part of the state. Most thoroughbreds can be found within the Bluegrass region. Check out 15 more Kentucky agriculture facts:
There are about 74,800 farms in Kentucky, with the average farm size being 172 acres.
66% of the farms in the state are small family farms.
The agriculture industry in the state provides over 250,000 jobs.
There are 25.4 million acres of land in Kentucky. Just over 50% of that is considered farmland, about 12.8 million acres.
The top ag commodities in the state are soybean, corn, poultry, horses, and cattle.
Kentucky ranks first in the US in burley, fire-cured, and dark-cured tobacco production, and 2nd in overall tobacco production.
Annually Kentucky produces over 130 million lbs. of burley tobacco.
The state also ranks first in production of non-alfalfa hay and thoroughbred horse breeding.
There are over 35,000 horse farms with over 242,000 horses across the states. Over a million acres are dedicated to horses.
In Kentucky, 1.9 million acres are uses for soybeans, one of the top crops grown in the state.
Over 900 large poultry farms are in Kentucky. More than 289 million broilers are raised on farms in the state. Over 5 million hens laid 1.3 billion eggs in 2018.
Between 40% and 50% of the corn grown in the state goes to feeding livestock.
About 32,000 farms raise beef cattle in the state with more than 1 million heads. With calves, bulls, and dairy cows, there are about 2 million heads across Kentucky.
53,000 Kentucky dairy cows produce about 126 million gallons of milk.
There are over 1,400 swine operations with about 285,000 pigs in Kentucky.
Want more Agriculture Facts? Click here
Follow us on Facebook and Twitter to get your weekly dose of Ag Facts.
Sign Up for Our Email Newsletter and get ag facts bi-monthly, plus new jobs in agriculture.
Sources:
USDA - National Agricultural Statistics Service
NASDA - National Association of State Departments of Agriculture
Kentucky Department of Agriculture