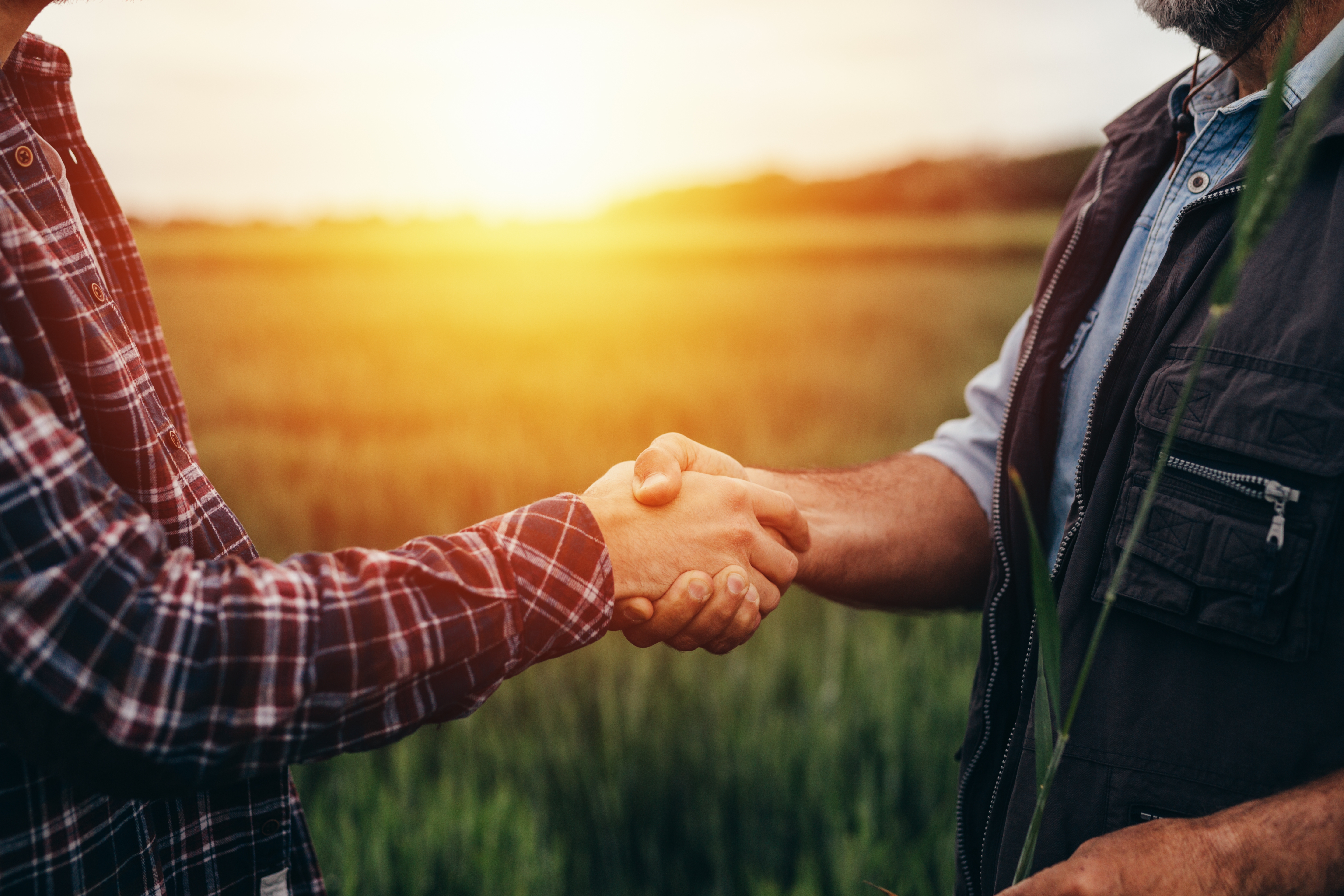 Job seekers are going beyond the job description to find a job. They want to find an organization they can be passionate about and that cares about having them on the team. Potential employees are doing the work to dig deep into learning more about prospective employers. Before they're clicking the apply button on any job advertising, they're doing their research on your farm or agribusiness. Therefore, it is important to think about your employer branding when attracting job seekers to your job openings.
What is Employer Branding
An employer brand is the overall perception of an organization in the job market. It's what an organization conveys as its identity to current and potential employees. It includes the company's mission, vision, culture, and personality. Your employer brand can tell job seekers if your farm or agribusiness is a great place to work and help with retaining current employees.
To understand your employer branding, you need to consider:
Your organization's vision, mission, values, and culture.
How employees perceive your organization. Do some internal research with current employees.
How your organization compares to competitors' employer branding. Take a look at their websites and social media sites.
Your ideal candidate. Determine what attributes you are looking for in a future employee so you can be sure to attract the right type of candidates.
How to Attract Potential Employees
Once you understand your employer branding and the type of candidates you want to attract, you should start with your marketing strategy. Below are some tips to help you market your company and your job to today's job seekers.
Have a Website
Even if you are a small family farm, having a general website can help you find and attract job candidates. With the right keywords to help with SEO (Search Engine Optimization), candidates will be able to learn more about your operation with an easy web search. You don't need to have an official, specially designed website. It can be as easy as having a LinkedIn Company Page or a Facebook Business Page. There are also several free website builders, such as Weebly or Wix, that include templates to easily plug in your information.
Have a Career Page
If you have a website for your farm or agribusiness, you should include a career page in your design. A career page doesn't have to be overly complicated. It should be a place where job seekers can quickly learn about your farm or agribusiness to decide if it's a place where they can see themselves working. Engage potential agricultural candidates from the minute they land on your career page. A simple career page should include your organization's story, the mission and vision statements, images and/or videos, a list of your current openings, and instructions on how to apply. It's also a good idea to include any benefits and perks of working at your organization. The career page should tell your story as well as showcase what a day-in-a-life looks like at your organization. Including images and videos can illustrate that easily.
Be Active on Social Media
Posting behind-the-scenes posts regularly on Twitter, Facebook, Instagram, and/or LinkedIn can help with your employer branding and allows potential employees to see the day-in-a-life of working for your organization. It's as easy as posting planting and harvesting images or pictures from a company event. Maybe you are celebrating a goal or one of your employees.
Create a Detailed Job Description
It may seem obvious what a job description is for, but it should be so much more than just listing the job responsibilities and qualifications for a specific job. You want to make sure your job description is thoughtful and detailed. Your job description should include:
Details about your business - When was your organization founded? What are your values, mission statement, and/or vision? What is your organization known for? It should showcase your farm or agribusiness, so job candidates can get to know their potential employer a little before they apply. Candidates want to know "What does this company do?", "do they have the same values as me?", "what is it like working there?", and "do they care about their employees?"
Describe your company culture and working environment - Candidates are not only reading job descriptions to understand the duties of the job but what they are looking for is a company that aligns with their values and will support them. It's as easy as including your company values and what it's like to work for your team.
Provide details on compensation - More than ever candidates want to know the compensation range for a job before applying or a least before they finish the first interview. If you are able to, provide a salary range, you will most likely get more quality candidates to apply. Before including the range, do some research on the average compensation for similar jobs in your region. You can look at websites like com and Salary.com, research similar jobs near you, and look at what your competitor is advertising for pay.
Provide details on the benefits package - Your job description should also include the benefits and perks of working for your agribusiness. Include information about any benefits offered with the position. Do your employees have Paid Time Off (PTO)? Do you offer health benefits, dental and/or vision benefits? Do you have an IRA or 401k? Do you offer an employer match with your retirement benefits? Don't be afraid to include some out-of-the-box benefits and perks in your job description. Do you have flexible work hours in the offseason? Is housing included or a company vehicle?
Show commitment to Work-Life balance - Work-Life Balance isn't just a buzzword. It's important to job seekers. We understand it isn't as easy to have a work-life balance in agriculture, especially with the late-night and early mornings of plant and harvest season. However, can you offer more flexibility during the offseason? Also, think about hiring more part-time employees to help relieve some of the duties of your full-time team members to keep them from getting burnt out.
Post Your Job on a Variety of Platforms
There are a variety of ways you get your job posting out to the right job seekers. Not every platform is right for every organization or every job, so it might be something you need to experiment with. You'll want to consider the type of job candidates you are looking to attract and where you think those candidates are searching for jobs.
Job Boards – Today, most candidates are searching for jobs online. The important thing to understand about posting your jobs online is ensuring you have the correct keywords so candidates can find your job. Search Engine Optimization (SEO) is what search engines, like Google and Bing, use to get your job in front of job seekers. The same principle is applied to most job boards. Posting your job opening on job websites, such as Indeed, is a good place to start to get in front of a wide range of candidates. Posting on niche job websites, like com, can help you reach more targeted candidates within your industry.
Career Page – Posting your job on your career page will also help candidates find your jobs. Job seekers also will look for jobs on company websites. They may research farms or agribusiness in their area and look for job listings straight from the source.
Social Media – About 82% of Americans use social media, so it can be an excellent tool to get your company and your job openings in front of job seekers. Posting your job on Twitter, Facebook, Instagram, and LinkedIn can not only get your job opening in front of your followers but if you encourage your followers to share your job posting your reach will extend. This is another way AgHires job postings work to help you reach more candidates because all of our job posting packages include social media advertising.
Participate in Job Fairs, virtual and in-person - If you have a lot of openings, such as seasonal jobs, it's beneficial to attend job fairs, whether virtual or in-person. You will meet potential candidates and showcase your farm or agribusiness.
Engage with Job Seekers
Engaging with Job Seekers can be as easy as posting on social media and updating your company website. It keeps those potential job seekers and employees informed about your farm or agribusiness. Once a job seeker has applied for your job, keep them in the loop about the hiring process. Let them know of the next steps, if you've decided to pass on them, or if there are any obstacles in the way of moving forward. Keeping them engaged during the hiring process can ensure you keep quality candidates interested in the job even if you've decided to interview more candidates or if you've gotten behind in the process.
Finding and recruiting job candidates is not an easy task. It takes time and energy to find top, quality employees. Let AgHires help you market your business to the right candidates to fill your team with all-star employees. Post your job today at AgHires.com or work with our team of expert agriculture recruiters who are passionate about the industry and enjoy placing great talent with great companies. Learn more at AgHires.com