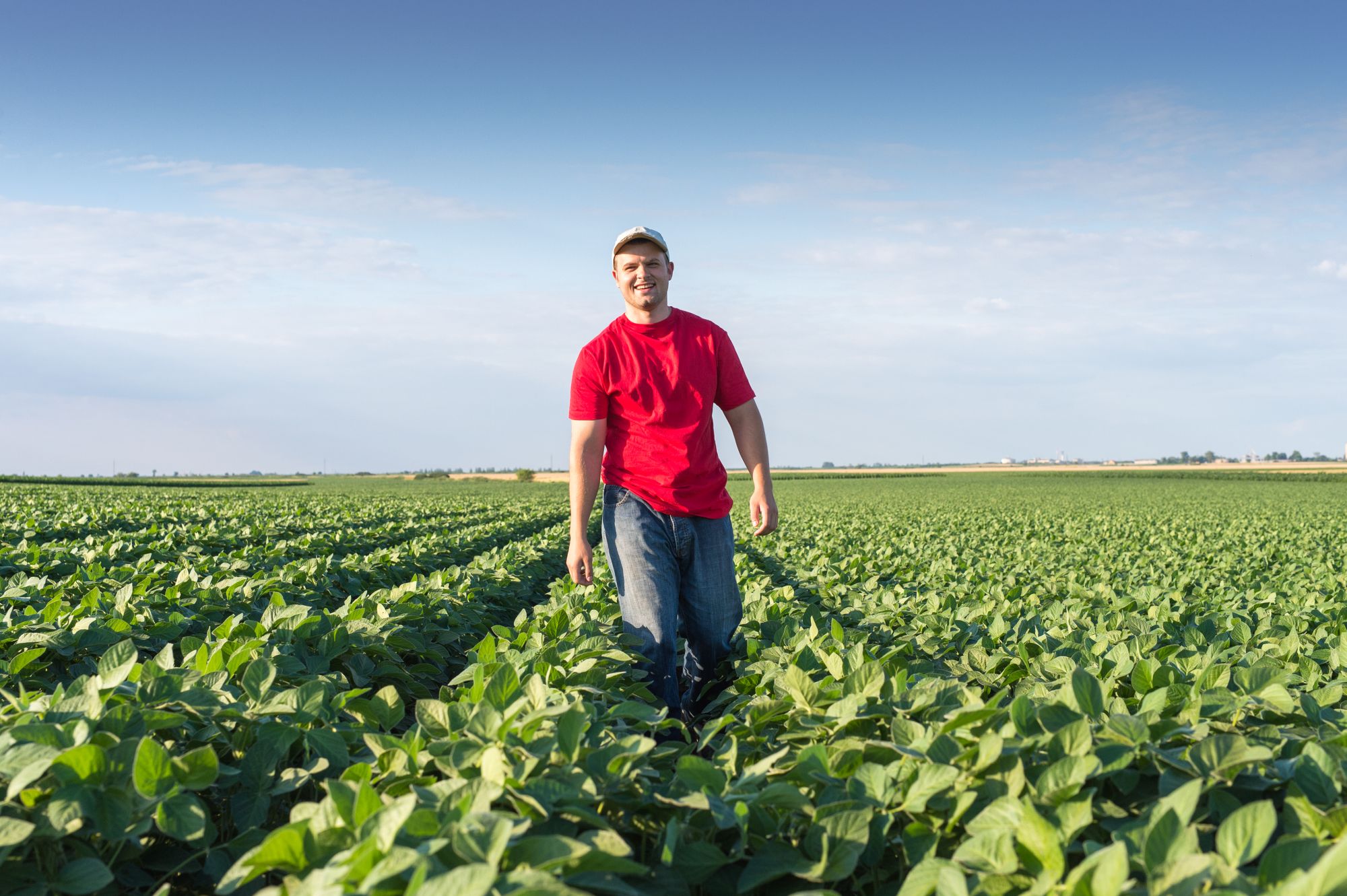 Agriculture remains one of the largest and fastest-growing industries in the United States. Careers in the sector serve essential functions. They help to supply food to Americans while providing jobs for millions of people. Jobs in Agriculture protect and sustain environmental resources for future generations and are often termed 'green' careers because of being so eco-friendly.
If you are looking for a job where you make a difference in the world around you and people's lives, then you might want to consider a career in agriculture.
What are Your Career Goals in Agriculture?
Many people looking to improve their job forecast do not realize careers in agriculture provide many lucrative opportunities to fit a variety of skill sets, education levels, and experience. There is something for everyone!
The agricultural industry is under a constant state of change and growth to meet consumers' growing demands. There is almost a constant need for new talent. This article will explore agriculture career goals to see if they meet your long-term job dreams and plans.
Working in agriculture is remarkably rewarding and fulfilling. You'll enjoy competitive pay and job security. In addition, you have the opportunity to truly impact the lives of people and play a vibrant role in the community.
As a small child, you were probably inundated by adults asking you what you wanted to be when you grew up? The standard answers given by children are usually a doctor, a firefighter, a police officer, or a professional athlete. As you start to grow up, your career goals typically parallel your interests. Most of us form an idea of our plans during adolescence, but nothing is usually set in stone.
In recent years, many people have started to return to the basics and get closer to the land and world around them. With climate change becoming an increasing concern globally, people are seeking sustainable, eco-friendly jobs that help them coexist with nature.
Nurturing plants, experiencing the warmth of the sun, marveling at the beauty of nature, caring for animals, growing a bountiful harvest, and feeling like you have truly accomplished something productive are just a few of the rewards provided by a career in agriculture.
Exploring Agriculture Careers
A career in agriculture often places you on the front lines of food production, such as plant nurseries, farms, or hatcheries. You could find yourself in a wild environment if you are working in commodity production. Many will work with animals or spend time outdoors. Others are tasked with careers in the field, which often place them in isolated environments where they could be away from families or friends for an extended time. Some of the jobs are physically demanding, and you might find yourself handling heavy equipment or working in adverse weather conditions.
Agriculture careers run the gamut of diversity and complexity, which is why the importance of goal setting for students should always be underscored. With ag jobs, there is no one size fits all. The choices are truly astounding, so you'll want to focus on the importance of career goals to find a niche where you'll feel happy, fulfilled, and productive.
How to Set Career Goals
Choosing the perfect career is a process that takes time. You'll need to examine what's important to you in a job.
Ask yourself the following questions:
What do you want from a career?
Do you want to work close to nature?
Is it essential to make a lasting impact on the people and world around you?
Do you want to make a comfortable living?
Do you not mind hard (sometimes labor-intensive) work?
Do you enjoy working with animals?
Are you seeking job security?
Is working outdoors with plants or animals important?
Are you seeking a career that lets you stay close to home and spend time with your family?
Once you answer the above questions, you can examine the critical factors to determine your priorities in a career to figure out how to set attainable career goals.
By matching your priorities with your career choice, you will be more likely to attain balance in your life and professional ambitions. Your career is meaningful, but it's only one aspect of your life. Everything fits together like a jigsaw puzzle to achieve well-rounded fulfillment. Finding the perfect career choice won't make your life completely perfect, but it will increase your odds of long-term success and satisfaction.
Once you have identified your priorities, it's time to figure out your career goal examples. Take a moment to fantasize and picture yourself in the perfect career.
What will it take to get you to that career?
Will you need to attain a certain amount of education to qualify for the job?
Is it essential to make a lasting impact on the people and world around you?
If you need a college degree, what will it take to get you into the college or program needed to make your career choice a reality?
What activities or life experiences can give you the edge you need for the career you are seeking?
Are there any steps you can take to prepare yourself for the job you seek?
Grab a pen and paper to answer the above questions honestly. They will help you achieve your goals.
Examining Career Goals
Career goals are always attainable with hard work. You need to identify the underlying goals needed to achieve your ultimate goal (desired outcome). Think of the process as a roadmap, and when you reach your final destination, you have the career of your dreams.
Writing out your goal and outlining a time frame is usually very beneficial to making the entire process a reality. Remember, things do not just fall into your lap. Life is not dependent on luck. It requires directed actions to reach your target. It would be best if you had a firm game plan.
When exploring goal-setting examples, it's perfectly okay to turn to those around you for help and direction. Reach out to your family, friends, ag teacher, FFA advisor, school guidance counselor, and others involved in your area of interest.
If there is someone you know in the career you are examining, then ask them questions to learn about the path they took to get to where they are. You'll want to discover both the good and bad about the profession. Remember, no job is perfect.
Agriculture Career Goals
Careers in agriculture abound. Did you know that the agricultural industry is the number one employer in America? According to the United States Department of Agriculture (USDA), 19.6 million jobs related to agriculture and food in 2019. Direct farm employment accounted for 2.6 million jobs, and another 3.4 million jobs were in agriculture-related industries. One in every five jobs in the nation is tied to the agricultural industry.
When examining jobs in agriculture, remember the industry does focus on production agriculture, but it's also so much more. There are jobs in food research that make food safer and drive sales. Plus, there are agricultural marketing specialists, those in sales who sell equipment, seeds, crop protection, crop nutrition, food, and more throughout the world, educators, landscape architects, and agriculture careers that involve forestry. If you start examining and categorizing, you'll discover jobs in agriculture everywhere you look.
Seven Career Pathways in Agriculture
Let's examine the seven career pathways that have been identified in agriculture, so you'll have better goal-setting examples:
Animal systems: Careers related to livestock, small animal care, animal research, veterinary science, or wildlife management.
Plant systems: These include career opportunities in plant science, horticultural production, agronomic crop since, soil science, conservation, turf, and golf course management.
Agribusinesses: Sales, marketing, economics, business management, and entrepreneurship.
Power, structural, and technical systems: The mechanics of agriculture that involve technical systems.
Food products and processing systems: All aspects of the food business and industry, such as development, research, and food distribution.
Environmental service systems: Water quality, health and safety, hazardous material, and recycling.
Natural resources include conservation, fishing, parks, forestry, mining, and wildlife management.
You'll pick an agricultural niche and then create a pathway by taking associated educational courses. Picking courses that prepare your chosen career pathway will make your entire educational experience fulfilling and rewarding. The educational opportunities should inspire interest and passion in your agriculture career goals.
Seven Career Pathways in Agriculture
You have pinpointed your dream career in agriculture, and you have set your goals so they are attainable. Your career pathway is firmly laid out in front of you, and you are ready to start your journey. Is there anything else you can do to prepare yourself for your future career?
Why not try a supervised agricultural experience program to give yourself a feel of the real world? With a supervised agricultural experience (SAE), you'll get to explore practical agricultural activities outside of a classroom atmosphere or the laboratory.
Students who decide to join SAE programs enjoy the benefit of gaining real-world experience with employers. The SAE program is always based on student's interests, career goals, and available career opportunities.
Your career choice is one of the most significant decisions you will make in your life. Planning and preparation will help you be successful in reaching your career goals. Career choices are made based on priorities, interests, and skills.
Climbing the career ladder may require additional skills, training, or education. Identifying and following a career pathway will provide opportunities to take courses that will prepare you for the career that interests you. Supervised agricultural experience programs will provide valuable experience as you prepare for your career.
Making a Difference in the World
In recent years, there has been a significant surge in students opting to pursue careers in agriculture around the globe. Most young people cite their interest in agriculture as their ambition to make a difference in the world and society.
There is a rapid growth in farming sectors which has increased the demand for employment. Currently, agricultural economists, animal nutritionists, land agents, agricultural financiers, agronomists, and land agents are in high demand. You can even think outside the box and go with careers linked to specific practical farming skills such as technology, research, or marketing which are all critical to the growth of farming but not directly linked.
Why is a career in agriculture right for you?
Let's explore some reasons why you might want to make agriculture your career goal.
Limitless Possibilities
You'll find a diverse range of career opportunities in agriculture combined with a wide variety of employers. When people hear about a career in agriculture, they automatically assume you will be working on a farm, but that's just one of the many links in a vast chain of choices.
Many companies also participate in the processing of fresh produce. Logistics experts, advisors, technicians, researchers, manufacturers, people managers, distributors, product managers, traders, and more. The entire sector is highly progressive.
With agriculture careers, engineering and science advancements often merge because everyone is seeking a way to lower the cost of production while creating better efficiency and safety. Agricultural technology is forecast to continue evolving and growing for many years.
Science is embracing agriculture with the introduction of drones, data analysis, and robotics. Sophisticated technologies are bolstering equipment to increase food production and grow employment opportunities.
The industry is experiencing a shortage of workers, and recruiters are scrambling to find suitable candidates. In many cases, you can bring transferable skills combined with the right attitude to score a position.
Employment Rates
The U.S. Department of Agriculture (USDA) reports that opportunities for college graduates seeking employment in agriculture, environment, natural/renewable resources, and food looks very encouraging with a growth of 2.6 percent (an average of 59,400 job openings annually) from 2020 to 2025 projected. Graduates can immediately kick start their careers upon graduation. Not only are students enjoying gainful employment upon graduation with the chance to quickly gain promotions due to requisite qualifications, but they are also scoring top wages for the positions.
Enjoy the Wide-Open Spaces
One of the leading reasons why people enjoy agricultural careers is that walls do not confine them. They can work outside and enjoy the wide-open spaces. Although not all agriculture-related positions are outdoors, you will be confined to the office in some cases, but that's usually rare. Most of the career choices let you go outdoors and lead an active lifestyle.
Great Salary Opportunities
Agricultural jobs usually pay well, in most cases above the national average.
College Grad reports and salary.com report the following salaries for agricultural workers in the United States:
Animal breeders: $40,770
Veterinarian: $98,967
Agricultural equipment operator: $32,750
Botanist: $50,000 to $80,000
Agricultural workers $30,140
Farmworkers, ranch, and aquaculture animals: $29,130
Greenhouse managers: $30.000 to $50,000
Pest control: $30,000
Farmworkers and laborers in nurseries, greenhouses, and crop work: $28,660
Having the potential to earn a promising salary is the goal of most people when they seek a career choice. Working in the agricultural sector can be financially rewarding for many.
Pursuing a degree in agriculture opens many doors in different areas of the industry. Agricultural recruitment specialists are constantly seeking first-class talent in the field with a truly stellar array of agriculture and farming jobs they are looking to fulfill.
Job Forecast for the Agricultural Job Market
Recently, the USDA's National Institute of Food and Agriculture partnered with Purdue University to release a report that shows there are 57,900 high skilled agricultural career openings in the nation every year. Still, there are only 35,4000 agricultural graduates with a bachelor's degree or higher to meet those job openings. As the report shows, there is a massive skilled labor shortage.
Anyone with an agricultural degree will have ample career opportunities for well-paying jobs upon graduation. In addition, they will get the satisfaction of working in a challenging field to help solve many of the world's food problems.
The report went on to show jobs in food, renewable resources, environmental occupations, and agriculture were expected to grow by as much as 5 percent for graduates holding a bachelor's degree or higher.
The most robust agricultural job market choices include:
Food scientists
Plant scientists
Water resource scientists
Engineers
eCommerce managers
Ecosystem managers
Crop advisors
Pest control specialists
Agriscience educators
Sustainable biomaterials specialists
Precision agriculture specialists
Farm animal veterinarians
Mobile graduates with some work experience will enjoy the best opportunities. Many who have performed internships and display job-related work experience will enjoy the most lucrative career choices.
The White House Office of Science and Technology Policy has predicted a workforce shortage in the agriculture field by as many as 100,000 jobs over the next five years. The report wants schools and governments to focus on broader training opportunities such as agricultural sciences and STEM disciplines (science, technology, engineering, and mathematics).
5 Ways to Achieve Your Goals
You know you want a career in agriculture, so now it's time to choose a college major and pursue your goal. Let's examine five ways to achieve your goals.
With so much future potential in the job market, it's time to think about the top five ways to achieve your goals if you want a career in agriculture.
Here are five ways to achieve your goals for a career in agriculture:
Assess Your Options
Higher education doesn't always fit everyone. You'll want to evaluate your career goals and examine your financial situation. Perhaps a community college is an affordable option. If you want to attain a more advanced degree, then you can always use an accredited community college as a stepping stone and then transfer your credits to move on.
Many community colleges have relationships with universities, making transferring and completing a four-year degree easier, especially if you find one that offers joint enrollment.
The Southwestern Community College, located in Creston, Iowa, provides agriculture majors enrollment with Graceland University, Northwest Missouri State University, or Iowa State University. A student can attend both schools simultaneously while saving money and attaining a four-year degree in less time.
Picking a Major
Once you pick the college or university, then you'll need to select a major. Every school is different. The Iowa State University College of Agriculture and Life Sciences has 27 undergraduate agriculture and a multitude of specialties. You can pick from majors like soil science, plant breeding, agroecology, environmental quality, or crop management.
Get Involved
Hands-on experience speaks volumes. Get involved in FFA, work at local farms, attend FFA career development events, and check out the programs offered by the USDA. Also, many college students seek local work on farms and greenhouses during the summer months or holidays. They gain hands-on experience while making a paycheck to help pay for college and living expenses.
The USDA Internship Program
The USDA has an internship program called OneUSDA which provides students with the opportunity to gain real work experience in agriculture. The OneUSDA is a part of the Federal Pathways Program. Also, the USDA partners with many organizations and agencies to provide students with practical experience in various fields. The recruitment is completed via host programs and referred to as Third Party Internship Programs.
Wallace-Carver Fellowship
The Wallace-Carver Fellowship lets students work with the World Food Prize. Considered a premier opportunity, truly exceptional students get to work alongside leading scientists and policymakers via paid fellowships at various USDA research centers located nationwide. They have the opportunity to assist in nutrition, food, and rural development programs, partake in field and laboratory research, and analyze economic and agricultural policies.
If you are lucky enough to be one of the fellows, then you'll be invited to attend the weeklong symposium in Washington, D.C. The entire goal of the Henry A. Wallace and George Washington Carver Fellowship is to educate, train and inspire the new generation of agricultural professionals.
Other agricultural internship opportunities include:
Hispanic Association of Colleges and Universities National Internship Program
Thurgood Marshall College Fund Internship Program
Conference on Asian Pacific American Leadership (CAPAL)
Finding Your Agricultural Job
You've attained the required education, and now it's time to find your dream job. You'll need to crunch the numbers to determine how much you need to survive, pay rent, buy food, and pay back student loans, so you have a baseline for salary requirements.
Happiness Factor
Money is always necessary, but there is one final consideration - the happiness factor. You probably selected your agricultural major based on your interests, and now you need to weigh the position you take to decide if it will make you happy. Does the job offer decent pay? Is it in a location you picture living and enjoying? Do you think you'll work well with your co-workers and bosses? You want to make sure your choice brings you happiness and peace.
If you accept one position, don't be afraid to move on to another if you aren't happy. The chances are good that you'll open many doors in your pursuit of the perfect job that brings you happiness.
Fulfilling Career Goals
Let's look at a few goal-setting examples that will hopefully bring your career fulfillment. Bright goal setting will give you personal and professional benefits. As you achieve each goal, you'll feel better about yourself and your decisions. Goals should always inspire you.
Focus and Peace of Mind
A clear career path after college provides you with focus and peace of mind. You'll know exactly what you want, what you are working towards, and how to achieve your goals. Talk about holding the world in the palm of your hand!
Take the time to prioritize your actions by finding an agricultural mentor, learning a skill you want to improve upon, and achieving satisfying solutions in your career choices.
Use Time Effectively
Once you know your ultimate career goal, you don't want to waste time. You want to use your time to achieve your dream. Take the necessary classes, enjoy an internship, or take a summer agricultural job to further your education. Balance your career pursuits with your education to achieve a rosy future.
Focus on Communication
With your goals clearly outlined, you can start to communicate with companies and businesses you hope to pursue a career with soon. You'll feel motivated to discuss gaining real-time work experience with education institutes and would-be employers.
Stay Accountable for Your Success
Keep the goal in sight and stay accountable for your success. You'll achieve your career goals in agriculture, work hard, take the necessary steps and classes, and continue to pursue your dream. Remember, you are setting yourself up for real career success.
Setting career goals to improve your career in the agricultural sphere is entirely attainable. At AgHires, we can help you attain your agricultural career goals within the industry.
Take the first step - create a Job Seeker account at AgHires.com and upload your resume so recruiters can find you and you can start your career journey. You can also search over 10,000 job listings. Don't forget to check out our resources such as career advice, job alerts, or job manager services. At AgHires, we are here to help you find the perfect agricultural career!