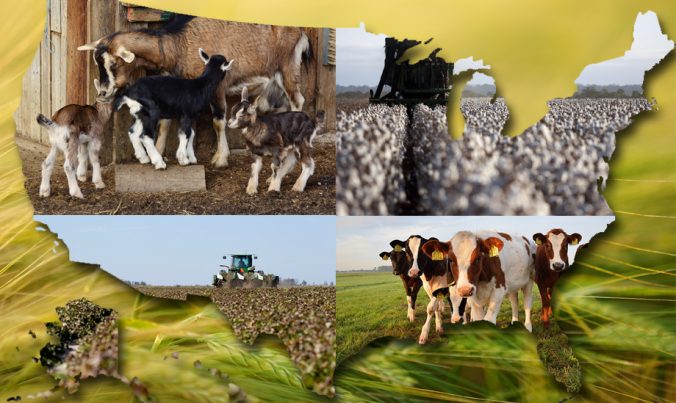 Did you know agriculture plays a big part in every state? From the California to the New York island, agriculture is there. Check out these 50 facts about each state.
Alabama's top row crop is cotton. Peaches are the leading fruit.
Alaska harvested 62% of the commercial seafood in 2007.
Each year, Arizona grows enough cotton to make more than 1 pair of jeans for everyone in the United States.
Arkansas is the largest producer of rice in the United States, producing about 50% of the nation's rice.
California produces over 350 crops, making it the top agriculture state for more than 50 years
Colorado is home to over 32,000 bee colonies, which produces 1.5 million pounds of honey each year.
Connecticut has more than 70,000 acres of shellfish farms, which harvest 450,000 bushels of hard clams and 200,000 bushels of oysters each year.
Delaware's number one crop is corn, soybeans come in second.
Florida produces about 95% of commercial orange products.
Georgia should be called the peanut state since it produces nearly half of the peanuts in the United States.
Hawaii is ranked 6th for tree nuts. About 27% of the state's total land is farmland.
Not surprising, Idaho is ranked first for potato production, but is ranked top 10 for 26 different crops and livestock.
Illinois produces enough corn annually to fill a train of box cars that stretches more than 7,600 miles.
Indiana leads in duck production.
Iowa leads in hog and egg production. About 1/3 of hogs raised in the United States comes from Iowa.
Kansas produced about 2.4 billion pounds of milk in 2009
Kentucky produces over 262 million pounds of burley tobacco annually.
Louisiana is the only source of Tabasco pepper. The state's fishing industry also produces 25% of all U.S. seafood.
Maine is the world's leader in wild blueberries
Maryland's farmland takes about 40% of the state.
Massachusetts has about 150 remaining dairy farms, which is the state's 5th highest agriculture output.
Michigan leads in tart cherry production. In 2014 the state produced 66% of the nation's tart cherries
Minnesota is the lead producer in turkeys in the United States
Mississippi produced over a million bushels of cotton in 2017.
Missouri ranks 2nd in the nation in number of beef cows.
Montana ranks 4th in honey production.
Nebraska contains about 9 million laying hen, which produce over 3 billion eggs annually.
Nevada's leading agricultural industry is range livestock.
New Hampshire produces an average of 130, 000 gallons of maple syrup a year from 500,000 taps.
New Jersey produces over 100 varieties of fruits and vegetables.
About 98% of New Mexico ranches are family owned, which have been handed down from multiple generations.
New York ranks 2nd in apples and 3rd in wine and juice grapes.
North Carolina is ranked first in the nation for flue-cured tobacco and sweet potatoes.
North Dakota has about 1.7 million head of cattle, 160,000 pigs, and 88,000 sheep.
Ohio leads in Swiss cheese production in the United States.
Oklahoma ranks 2nd in beef cows and has about 5 million cattle.
Oregon ranks second in the nation for peppermint, sweet cherries, and hops production.
Pennsylvania produces about 65% of the mushrooms in the United States.
Rhode Island's top agricultural commodities are greenhouse products, dairy products, sweet corn, aquaculture, and apples.
South Carolina has the only tea farm in North America
South Dakota averages about 3 million acres of planted wheat each year. The state produces 3 different types of wheat.
Tennessee ranks 2nd in hardwood and 3rd in tobacco, with cattle, broilers, soybeans, corn, and greenhouse products being the state's top agricultural commodities.
Texas is first in the nation in cattle, cotton, milk, broilers, and greenhouse/nursery products.
Utah is 2nd in tart cherries and 8th in sweet cherries. The state is also ranked 3rd in apricots.
Vermont produces about 36% of the United States output of maple syrup.
Virginia has a the most diverse agriculture production in the United States. This is due to the state's varying geography and climate.
Washington is the top apple producer in the United States.
West Virginia top crop is hay grown for the state's livestock.
Wisconsin ranks first in dairy goats in the United States.
Wyoming's livestock industry is the largest agricultural component in the state's economy.
Want more Agriculture Facts? Click here
Follow us on Facebook and Twitter to get your weekly dose of Ag Facts.
---
Sources:
Agclassroom.org
Mississippi Department of Agriculture
Texas Department of Agriculture
Farm Bureau of Arkansas
Colorado Proud
Connecticut Department of Agriculture