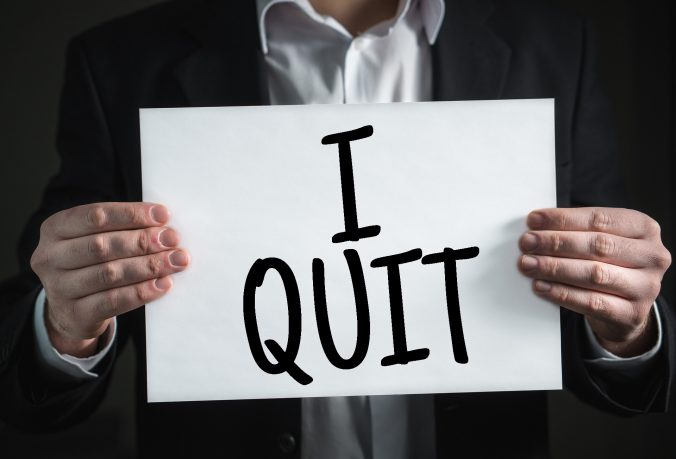 When it's time to quit your current job for a new position, you want to do so professionally. This isn't the time to burn bridges. You never know when you will need to use someone from the organization as a reference or a contact. Follow these tips to keep your resignation professional.
1. Write a resignation letter.
A resignation letter is the official documentation that you are leaving the company and puts all the details in writing, such as your end date. It doesn't need to be a long letter. It should include the fact that you're quitting, your official last day of work, and a brief note of appreciation for the opportunity the company provided you. You do not need to include why you are leaving.
2. Don't give notice without a signed job offer.
Even if you are angry with your manager, you shouldn't give notice without having a job lined up. Job searching can take weeks, months, or even years. It's best to hold on to the job you have while job searching. Even if you've had a few interviews and feel pretty good about the last one, you should still wait until you have officially accepted a job. You may find you don't like the job offer and want to keep looking or they gave the job to someone else.
3. Give at least two-weeks notice.
This gives you and your employer time to tie up any loose ends and possibly prepare your replacement if one is hired.
4. Quit in person.
Just like any breakup, it's not considerate to break off the relationship with an email. It shows your professionalism when you speak with your manager directly, instead of leaving your resignation letter on their desk or speaking to the human resources manager first.
5. Don't tell your coworkers before speaking to your manager.
Most likely you're closer with your coworkers than your manager, but you shouldn't tell them first. You don't want your manager hearing the news from someone other than yourself as it could come off disrespectful.
6. Offer to train your replacement.
Your employer might not take you up on the offer or they might not have someone to replace you right away, but you should still offer to train someone to take over your duties. Helping with the transition process will help to show you're grateful for the opportunity the organization gave you and solidify the relationship. Remember, you don't know when you'll need to be in contact with them again.
7. Say goodbye, professionally.
Write an email or speak to your coworkers and managers directly to say goodbye. Thank them for their support and help throughout your time at the company. Tell them about the next chapter in your career and provide them with a personal email or phone number so they can reach out to you.
8. Don't criticize your manager, coworkers, or company.
Professionalism is the key to an easy and quick exit. You want to leave the organization as quietly as possible. Complaining and letting out unnecessary, emotional criticism about the organization or your manager could cause problems with your departure from the company. Causing this disruption could ruin any future reference you may need from the organization and there is nothing you can gain from the outburst. Try to focus on the positive interactions you've had at the company and be constructive when voicing your concerns.
Get more Job Search Tips here or follow us on Facebook and Twitter.