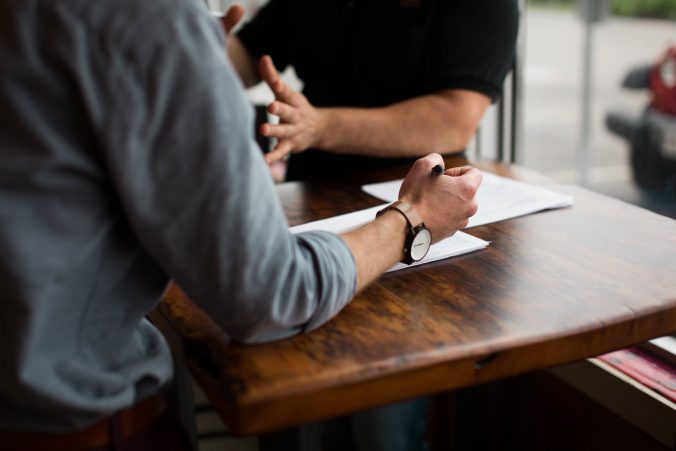 Ah, autumn. Tis the season for apple picking, pumpkin carving, and corn mazes. Autumn is also the season for career fairs. Employers may be looking for seasonal employees, interns for the upcoming spring and summer, or soon-to-be graduate to fill full-time positions. No matter the person, career fairs are full of opportunity. But do you know how to get the most out of a career fair? Look no further. We've compiled a short list of tips to help you land your next job.
Tip #1: Practice makes perfect.
"Tell me about yourself." This statement can be daunting, especially if you don't know what to say. Students who are unprepared tend to do one of two things: stumble or ramble. Some students cut themselves short because they don't know what to say and they often leave out important information. Other students say too much and give the employer unnecessary information about themselves. This is where practice and preparation come into play.
Have a pitch ready so that you can respond in a quick, professional manner. A short pitch should include your name, year, majors and minors, and which type of job you want. You can also include organizations that you are involved with or a fun fact about yourself. Practice your pitch until it's memorized. When you speak to an employer, you'll be prepared to speak about yourself and you won't feel as nervous.
Tip #2: Dress for the job you want.
Now that you can speak confidently about yourself, it's time to look confident as well. Your clothes communicate a specific message to the world – and future employers. Are you walking around in pajamas? Or are you walking around in a dress shirt and slacks? If you put effort into your appearance, employers will take notice.
When going to a career fair, dress like you are going to an interview for your dream job. A blazer, dress shirt, and slacks are always a good choice.
Tip #3: Resume, resume, resume.
As we've said before, resumes are vital when searching for a job. Most importantly, this document has your qualifications and contact information. It should easily tell employers why they should hire you.
Make sure to bring extra copies of your resume. There may be awesome organizations that you had not previously considered. Be sure to have enough resumes so you can easily hand them to prospective employers.
Tip #4: Network!
Resumes are important, but don't forget to network! Don't just drop off your resume and leave. You'll get lost in the shuffle.
Instead, ask questions about the organization and get to know the employer. This shows that you're interested in the organization and want to know more. You'll leave a lasting impression. If you aren't sure which questions to ask, check out our networking tips.
Tip #5: Take the Business Card.
Remember to take the business card. It's a small act that has an impact. Like a resume, business cards have contact information on them. You will know who you spoke with, their role in the company, and how to contact them.
Career fairs are full of opportunity, and you should get the most out of a career fair. As you attend these events, remember these tips. Each one can help build your confidence and leave a lasting impression on an employer.
---
Get more Career Advice here or follow us on Facebook and Twitter.