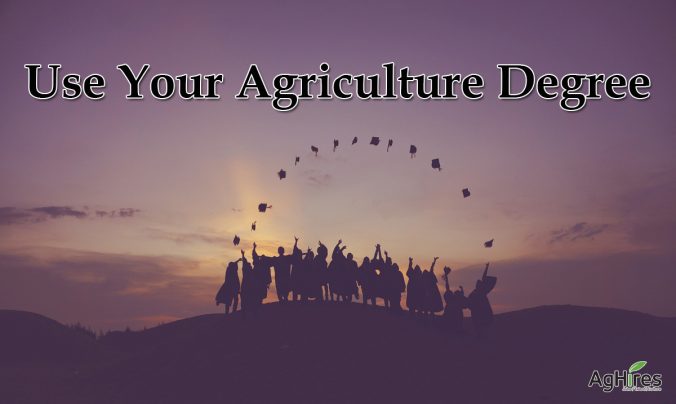 Between 2015 and 2020, the United States Department of Agriculture estimates the U.S. economy will generate approximately 57,900 job opportunities a year for individuals with a degree in agriculture, food, environmental and renewal energy. This number is up from 54,400 from the previous 5-year span. However, only about 35,000 students will graduate annually with degrees in agriculture, so there is a strong demand for graduates in agribusiness, agricultural science and food science. Over the past few years, agricultural graduates have enjoyed continued increases in salary with most graduates having a variety of choices on where to begin their career.
There are a wide range of jobs for agricultural graduates in the industry, spanning across dozens of fields. Find your ideal career path within these agricultural jobs, perfect for agricultural graduates.
Management and Business
It's not surprising that nearly half of the openings will be in management and business. Agencies that lend to agribusinesses, such as banks and credit organizations, need appraisers, loan officers and analysts that understand the industry. Insurance companies that work with farming operations need risk managers, and agriculture companies need accountants, sales reps, marketing managers, and more.
Sales and Service Representative
Forest Products Manager
Farm Labor Specialist
Forest Ecosystem Manager
E-commerce Specialist
Financial Analyst
Agricultural economist
Agricultural Loan Officer
Marketing Specialist
Grain Merchandiser
Science and Engineering
About 15,500 jobs will open annually in this sector. With food technology being the nation's largest industry, food scientists are necessary to help solve problems involving food quality, safety, technology and abundance.
Food Scientist
Veterinarian
Biological Engineer
Environmental Scientist
Insect Biologist
Plant Scientist
Watershed Scientist
Irrigation Engineer
Animal Scientist
Agronomist
Food and Biomaterials Production
About 8,500 jobs will open annually in this area. Job opportunities in fresh, locally grown food production, poultry and swine production, crop production, forest management, and precision agriculture are growing. These agribusinesses need researchers, inspectors, quality assurance, and more.
Farmer/Rancher
Poultry Production Manager
Range Manager
Precision Agricultural Specialist
Fruit and Vegetable Grower
Forrest Manager
Crop management consultant
Organic Crops Grower
Swine Production Manager
Aquaculturist
Education, Communication, and Governmental Services
Educating our youth about agriculture is an extremely important because he ensures the continued interest and development of the industry. Communication jobs are essential to provide critical information to producers and consumers of the industry. Government agricultural agencies maintain the industry policies and legislation to ensure they remain effective and up to date. About 7,200 jobs will be open annually in this segment.
High School Agriscience Teacher
Technical Writer
Rural Development Specialist
Social Media Specialist
Plant and Animal Inspector
Outdoor Recreation Manager
Agricultural Extension Educator
Environmental Science Teacher
Farm Services Agent
Food and Agricultural Science Editor
Natural Resources Conservation Specialist
Event and Meeting Planner
We need to feed and clothe over 7 billion people in the world, and that number is growing every day, so agriculture plays an important role. It doesn't matter what your interest are, you can find a place in the agriculture industry and every position plays an important role in taking care of each other.
AgHires can help you find your dream job within the industry. Upload your resume today and be found by our recruiters. Plus, search over 5,000 jobs daily and find your dream job. Make sure to take advantage of our resources as well, such as job alerts, career advice, and job manager.
---
Sources:
Purdue University: Employment Opportunities for College Graduates
Chron: Jobs for Agricultural Degrees