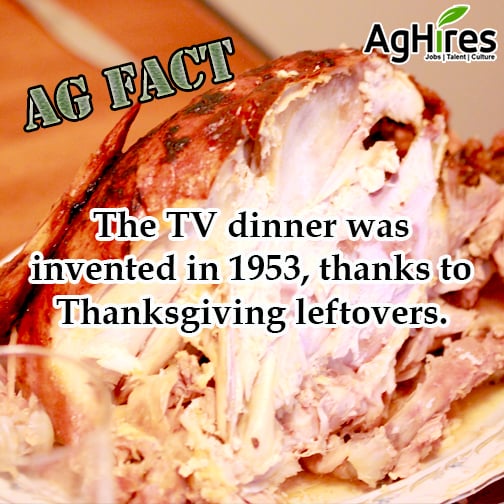 Thanks to Thanksgiving leftovers, the TV dinner was invented. In 1953 someone at Swanson vastly misjudged the need for turkeys for Thanksgiving. The company was left with 260 tons of frozen turkeys sitting in refrigerated rail cars. Eventually someone came up with the idea to package them into trays with some sides to sell to consumers.
The Inspiration of the TV Dinner
Gerry Thomas, a salesman for Swanson, came up with the idea for the tray. His idea was inspired when he was on a business trip and the airline was serving food in trays. Thomas described how he sketched the tray with segments for each item. And thanks to the growing popularity of the television, Thomas thought of using the excitement of the new medium in the name of the product to help get some attention. With an assembly line of women with spatulas and ice-cream scoops, 5,000 aluminum trays were filled with turkey, corn-bread dressing and gravy, peas, and sweet potatoes. The TV dinner made its debut at 98 cents each. Even though the company was not optimistic that the first order would sell, they sold 10 million turkey dinners the first year.
The Mother of the TV Dinner
While Thomas was coined the "father of the TV dinner," the somewhat official mother was Betty Cronin. She was working as a bacteriologist at Swanson at this time and was given the task of developing it. Cronin figured out how the meat and vegetables could all be heated at the same time.
The Evolution of the TV Dinner
In the 1960s dessert was added, but the name TV dinner was removed from the packaging. Executives were concerned that the name would deter customers from eating the meal at other times during the day. Breakfast options were also added by 1969. In the 70s larger portion sizes were introduced with the Hungry Man meals.
Want more Agriculture Facts? Click here
Follow us on Facebook and Twitter to get your weekly dose of Ag Facts.