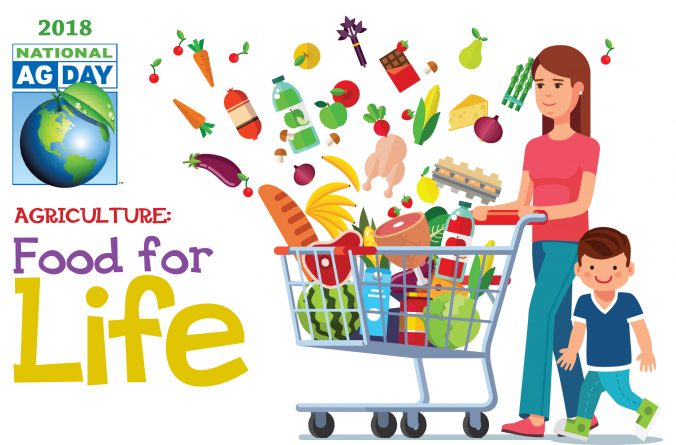 Ag Day is a Day to Celebrate Agriculture
National Ag Week is right around the corner, kicking off on March 10th and continuing through the 16th. National Ag Day is a large part of National Ag Week. This year marks the 46th Anniversary of National Ag Day, which is being celebrated on March 14th. Ag Day is about recognizing and celebrating what agriculture provides.
Agriculture provides nearly everything we eat, use, and wear on a day to day basis. Each American farmer feeds more than 144 people each year. As the population continues to grow, so does the need for agriculture.
With National Ag Day, the Agriculture Council of America (ACA) hopes to raise awareness about agriculture's role in our society. The ACA believes that every American should value the role of agriculture in maintaining a strong economy, consider career opportunities in agriculture, and understand how food products are produced.
The ACA believes that Americans need to understand the value of agriculture in their daily lives, and that the education should start within the schools. Beginning in kindergarten, they want students to be taught some systematic instruction about agriculture. Students need to understand agriculture's history and its current significance in today's society. By teaching them about these things, more students may decide to go for a career in agriculture in the future.
Agriculture offers more than 200 career opportunities. Only 10% of Americans are involved in traditional farming. There are several other agriculture related fields, and approximately 22 million people work in them. Some of these related fields include agribusiness management, agriscience, horticulture, and food science. There is a huge variety of jobs within agriculture, from farm production to urban planning.
With the increasing need for agriculture, there is an increasing need for people to work within the industry. According to the Farm Bureau News, there are 58,000 estimated job openings for food and agriculture science graduates each year.
AgHires stands with the ACA and their mission to raise awareness about the importance of agriculture in today's society. Search through thousands of agriculture jobs at AgHires.com.