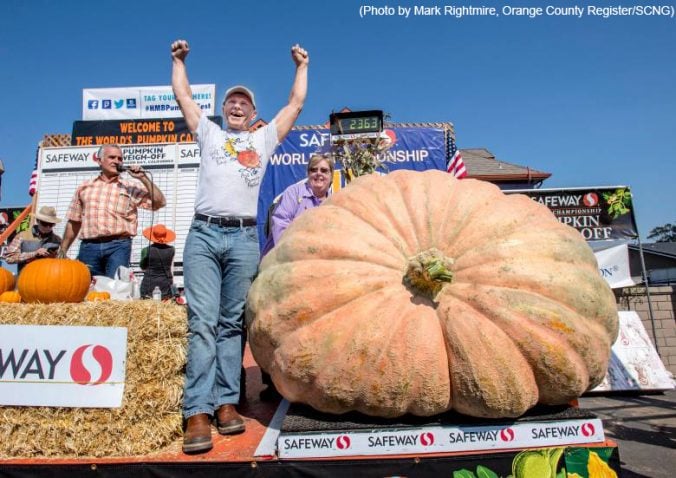 On the morning of October 9th, 2017 Joel Holland of Sumner, Washington took the first-place prize in the 44th World Championship Pumpkin Weigh-Off in Half Moon Bay, California.
For close to three hours, the crowd watched as pumpkin after pumpkin was lifted by forklift and placed on the scale. They watched with anticipation, waiting for the heaviest one to reveal itself. When the last one of the day, Holland's giant fruit, was placed on the scale, anticipation filled the crowd. When the numbers flashed on the screen, the crowd boomed. The 2,363-pound pumpkin is the heaviest in the history of the World Championship Pumpkin Weigh-Off.
Holland and his wife Mari Lou arrived at the competition with his giant fruit on the back of his pick-up truck. This record breaking fruit gave Holland his 7th win at the weigh-off. He walked away with $7 per pound prize money, which totaled $16,541 in winnings.
Runner-up Cindy Tobek, of Olympia, Washington, came in 361 pounds short with her 2,002-pound pumpkin. But she was still beaming with pride, as she beat her 2016 winning fruit that weighed in at 1,910 pounds.
Want more Agriculture Facts? Click here
Follow us on Facebook and Twitter to get your weekly dose of Ag Facts
Sign Up for Our Email Newsletter and get ag facts bi-monthly, plus new jobs in agriculture
---
Source: