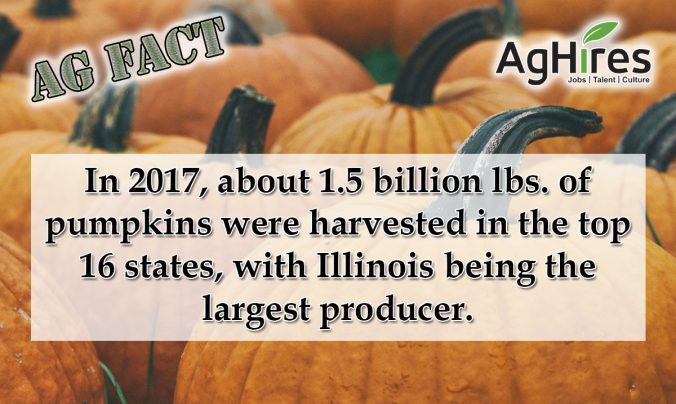 Pumpkins are probably the oldest domesticated plants, with evidence suggesting they were cultivated as early as 10,000 B.C. They are believed to have originated in Central America. The origin of pumpkin pie isn't as old, traced back to the colonists. They sliced off the tops, removed the seeds, filled the insides with milk, spices, and honey, then baked it. Far from today's pumpkin pie.
While all states produce pumpkins, about half of the acres are grown in 6 top producing states with about 80% are grown in 16 states. In 2017, about 1.5 billion pounds of the gourds were harvested in the top 16 states. About 2 million were harvested across all states. Illinois is the largest producer; about 90% of processed pumpkins in the U.S. come from the state. While production varies, Illinois is seven times the average of other pumpkin-producing states. You can thank Libby's for putting Illinois on top. The canned pumpkin company produces nearly all of the canned fruit in the country and majority of their crops are grown near the factory.
Growing and Harvesting Pumpkins
It takes about 120 days for the fruit to grow. Generally, seeds for processing pumpkins are planted in April and May, with harvest starting in late July through November. While ornamental variety for your jack-o-lanterns are planted in May and June and harvested at the beginning of fall. The plants cover the fields with vines growing up to 30 feet. The flowers on the vines are then pollinated by bees and grow into pumpkins.
To harvest processing pumpkins, machines are used. One machine moves the fruit into rows, while another elevates them onto trucks. Then they are hauled to the facility to be washed and processed. Processing pumpkins are bred to be processed. They have a paler flesh, meatier insides, and a better flavor. Ornamental pumpkins are picked by hand either by the farmer or consumers to avoid damaging them.
Falling for Pumpkins
About 80% of the gourds grown in the United Sates are produced and consumed in the fall. Likely thanks to Halloween jack-o-lanterns and Thanksgiving pumpkin pies. Fresh pumpkin use averages to about 4.5 pounds per person. According to the National Retail Federation, 46% of people carved a pumpkin for Halloween in 2017. The average American also will spend about $185 on Halloween in 2018, with 23% of that going toward decorations, including pumpkins.
Other Fun Facts
Pumpkins are a fruit.
They are 90% water.
The fruit can range from less than a pound to over 1,000 pounds.
The largest pumpkin pie ever made was 20 feet in diameter and weighed 3,699 pounds. It was made by New Bremen Giant Pumpkin Growers in New Bremen, Ohio at the New Bremen Pumpkinfest in 2010.
Want more Agriculture Facts? Click here
Follow us on Facebook and Twitter to get your weekly dose of Ag Facts.
---
Sources:
USDA
Illinois Farm Bureau Partners
Guinness World Records
University of Illinois
PumpkinPatchesAndMore.org
LendEdu.com
Live Science