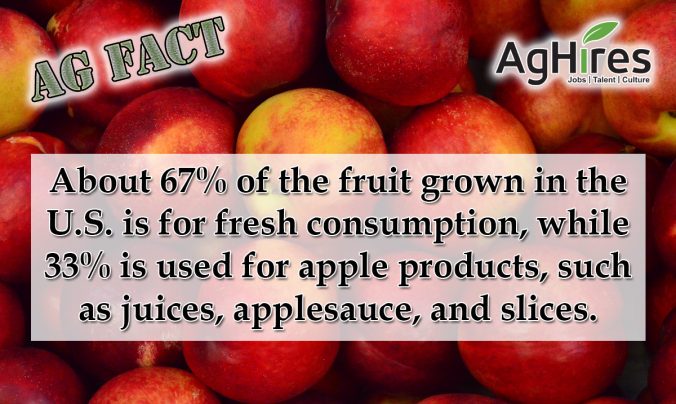 25 Apple Facts:
There are over 2,500 apple varieties grown in the United States.
However, commercially there are only 100 varieties grown in the States.
There are 75,000 varieties grown worldwide.
If you ate one a day, it would take you more than 20 years to try every variety.
Apples are believed to have originated in central Asia.
U.S. is the second largest producer of the fruit in the world, following China. Poland, Italy and France round out the rest of the top apple production countries.
While commercially the fruit is grown in 36 states, apples are grown in all 50 states.
The top producing states include Washington, New York, Michigan, Pennsylvania, California and Virginia.
The apple blossom is Michigan's state flower of Michigan.
The average apple contains 10 seeds.
The average orchard in the U.S. is about 50 aces, with the average tree filling 20 boxes weighing 42 pounds each and about 300 trees per acre, that's a lot of apples.
These fruit trees take four to five years to bear their first fruit.
Apple trees can live for more than 100 years.
It takes about 36 apples to make a gallon of apple cider.
Apples come in all the shades of reds, yellows and greens, as well as a wide range of sizes.
The top 10 varieties produced in the United States are Red Delicious, Gala, Granny Smith, Fuji, Golden Delicious, Honeycrisp, McIntosh, Rome, Cripps Pink, and Empire.
The crabapple is the only variety that is native to North America.
The Lady apple is one of the oldest varieties still around today.
Americans consume an average of 115 pounds of the fruit, either fresh or processed, per year.
In 2015 the average American consumed about 1.6 gallons of apple juice, over 10 pounds of fresh apples, and over 3 pounds of canned, dried or frozen apples.
About 67% of the fruit grown in the U.S. is for fresh consumption, while 33% is used for apple products, such as juices, applesauce, and slices.
Roughly 1 in every 4 apples grown in the U.S. is exported to places like Mexico, Canada, India, Taiwan, United Arab Emirates, Hong Kong, Vietnam, Indonesia, Saudi Arabia, and Thailand.
The fresh fruit is also imported to help keep grocery shelves stocked before our fall harvest.
It takes two pounds of apples to make one nine-inch pie.
Apples float because 25 percent of their volume is made up by air.
Want more Agriculture Facts? Click here
Follow us on Facebook and Twitter to get your weekly dose of Ag Facts.
---

---