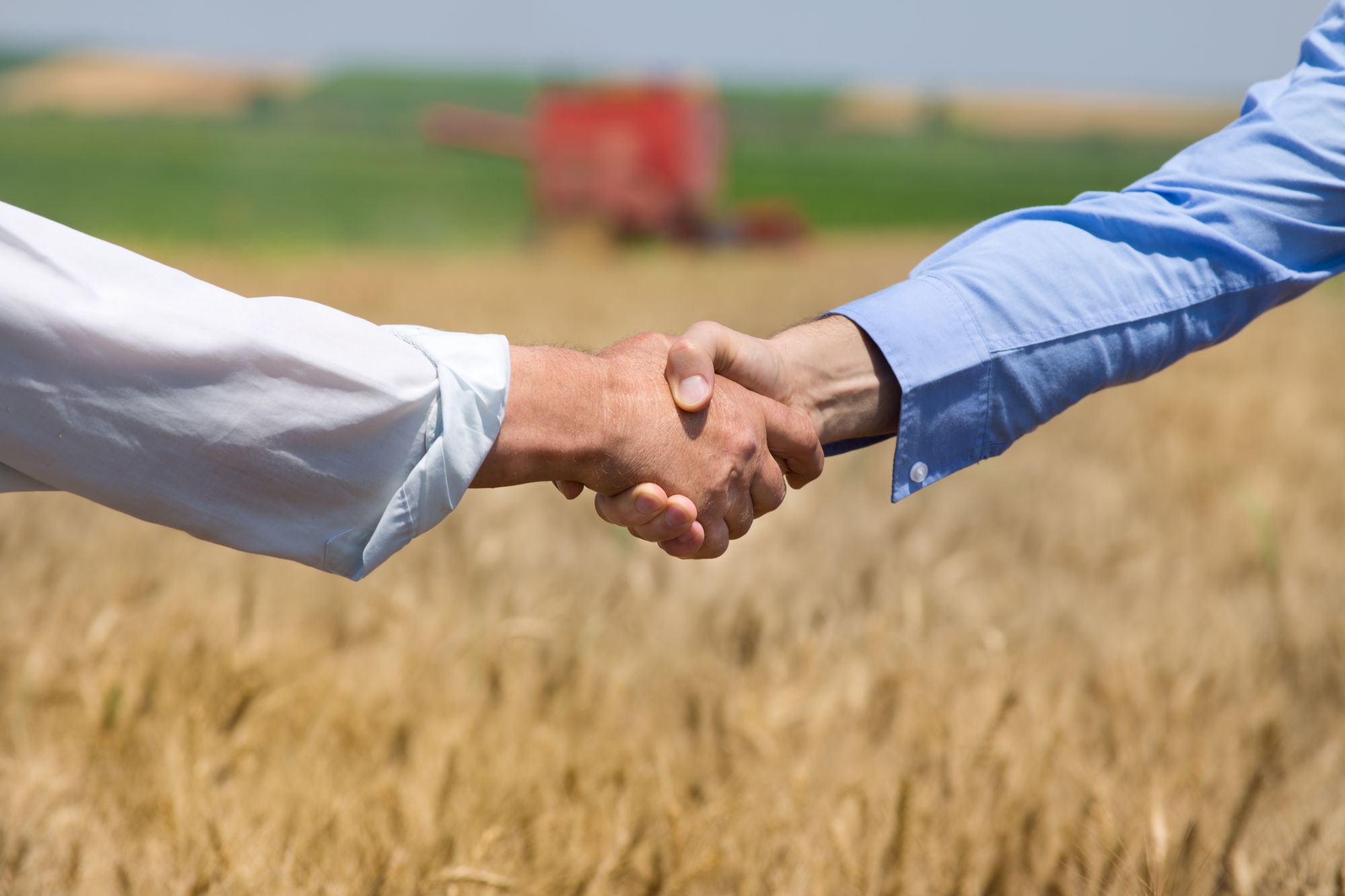 Many agriculture executives and suppliers believe the key to accelerated growth and success of a business lies in their sales team. If you're not reaching your monthly revenue goals, it may be time to hire. A talented sales representative just might be that missing piece you need to move the needle and generate more opportunities.

While finding top sales talent is not an easy task in any industry, it can be especially challenging in the agriculture domain. Agriculture sales can range from chemical or fertilizer sales to that of animal health products to farming equipment sales. Each sales role in the agriculture industry requires a unique set of skills. Plus... it doesn't hurt to have a passion for agriculture, food production and the great outdoors!

As an agriculture recruiting firm, we work closely with suppliers and dealers to help them find the perfect sales representatives to get their products off the shelves or showroom floors and in the fields. Over the years, we've been able to reveal the most important traits and qualities an ag sales rep should possess in order to have a positive influence on a company's sales objectives.

If you're ready to recruit your next rockstar sales representative, there are several steps to take to ensure you're making the right decision. In this definitive guide, we'll walk you through the process and help you understand the key items to look out for in an ideal candidate.
10 Key Qualities of an Agriculture Sales Representative
There are a few general skills all of the savviest sales professionals share. Whether you're in the business of selling tractors and loaders or fertilizer and seed blends, the candidate you hire should be driven, resourceful, and possess excellent communication skills.

Finding the right hire isn't always about having an impressive resume that lists years of experience in your particular field. This just isn't realistic and can be extremely limiting. The perfect candidate for your sales position might appear to be lacking in experience, but has a number of other favorable qualities to become your top seller.

The following is a list of the top 10 qualities a sales representative should have:
1. Excellent Communicator

The word "representative" comes into play here, as each member of your sales team is representing your business. They're the ones speaking with your customers on a regular basis. That's why it is crucial for a sales rep to be an effective, proficient communicator. Being a skilled communicator involves being an active listener and a people person.

An agriculture sales rep should be able to start a conversation with just about anyone, plus build and maintain span relationships with your clients. They'll be spending a lot of time reaching out to customers and listening to their pain points. span communication skills are key to laying the foundation for customers to recognize your products as the key solution to their challenges.

As agriculture recruiters, we've learned that great communication is a skill you'll notice from the first interaction with a potential candidate. If they display poor communication skills in their application or interviewing process, you can assume they'll show that same lack of connection when working with clients.

2. Motivated Self-Starter
For most sales jobs, the role requires a self-starter attitude. The top sales professionals are highly motivated and set personal goals to help them stay focused.

Many agriculture sales positions are dependent on the season. Responsibilities and customer needs are bound to fluctuate during planting season and harvesting season. Depending on the product, this might mean certain months are focused on heavy selling and closing deals, while others are focused on nurturing relationships. A span agriculture sales representative will understand this and adjust their goals accordingly.

3. Organized and Detail-Oriented
An agriculture sales representative should have outstanding organizational skills. They'll likely be handling multiple accounts at a time. And whether they're working with a small family-run farm or a major enterprise, it is possible they'll have multiple points of contact. Without the proper organization and attention to detail, they may lose out on a potential client due to an avoidable mistake.

4. Problem Solver
Another key quality an agriculture sales rep should possess is the ability to think critically and problem solve as challenges arise. In an industry that is so dependent on environmental and external conditions, agriculture sales reps are bound to encounter difficult situations and problems. That's why it is important they are prepared to adapt to various circumstances and find new solutions without it impairing the quality of their work.

5. Desire to Always Be Learning
Whether you hire an experienced agriculture sales rep or someone with less years under their belt, you want a team player that is willing to continuously expand their knowledge and skill set. As the agriculture industry evolves, they should be passionate about growing with it. This will allow them to stay on top of new trends and consistently provide the best solutions for your customers.

6. Time Management
An agriculture sales rep will have span time management skills. This involves treating each and every project as an investment of their time and energy. It also requires the ability to distinguish between potential customers that fit your company's buyer personas and those that will likely be a waste of time.

The most talented agriculture sales reps will put in the extra effort upfront to ensure they're spending their time wisely before and during meetings with potential clients. They'll focus on the tasks that will reap the highest reward.

7. Knowledge About the Entire Industry
A typical sales representative will be an expert on the product they're selling. They'll be able to explain each and every function and feature. However, a skilled sales representative will take it a step further and have an in-depth understanding of the entire industry as well as their prospects' businesses, down to their daily activities and pain points.

Having a passion and knowledge about the world of agriculture is a major plus. While there are some things that can be learned on the job, such as the details of your brand and products specifically, a successful agriculture sales rep will be able to speak the language and connect with clients on their level. They're able to offer expert advice customers might not be able to find anywhere else.

8. Creative Thinking and Resourcefulness
When you hear the word "creative", you probably first think of artists, musicians, or dancers. Sales, however, requires a high level of creativity as well. The most talented sales professionals, in any industry, are able to look at situations differently and develop unique solutions.

Agriculture sales representatives will work closely with executives and managers that are veterans in the industry. As experts in their field, they already know what solutions work best for their business. For this reason, it is especially important for an ag sales professional to be a creative thinker and resourceful to offer these clients a new perspective and gain their trust.

9. Prospecting and Networking Skills
span customer relationships have to start somewhere. One of the most important responsibilities of a sales rep is to find new prospects that can grow into loyal customers. That's why another essential aspect of sales success is hiring a representative with excellent prospecting and networking skills.

The key to prospecting is first having a clear, focused definition of your ideal customer and second, creating an effective and consistent strategy to reach out to potential clients. Finding an agriculture sales rep that already has an extensive network to start is optimal, but not entirely necessary. As long as they're motivated and equipped with the required skills to prospect and build relationships, they'll establish their own network in no time.

In such a massive industry like agriculture, the opportunities for finding new clients are endless! The perfect agriculture sales representative will be as driven and passionate about initiating relationships with new clients, as they are closing deals with existing ones.

10. Ambition
When it comes to recruiting a sales rep, you want someone who is going to become a critical part of your team. They should have ambitious goals and the desire to grow with your company.

You don't want to spend all of that time, money and energy searching for the perfect candidate, onboarding them, training them and acclimating them to your team and clients, only to start the same process over again in a year or two years. It's imperative that the agriculture sales rep you decide to bring on board is eager to be a valuable addition with intentions of staying on long term.


How to Find the Perfect Agriculture Sales Rep
Now that you understand the essential traits to look out for in an ideal candidate, you're ready to take on the hiring process. The following is a step by step guide for finding the perfect agriculture sales rep.

1. Develop an Ideal Candidate Profile
Similar to the way you would create an ideal customer profile to better understand the clients you're pursuing, one of the first steps in hiring an ag sales professional is to create an ideal candidate profile. Before you start reaching out to potential hires or interviewing, you want to be certain you have a clear understanding of what you're looking for in your next star employee.

Your ideal candidate profile will include a list of qualities (such as the ones we discussed above) and necessary requirements for the role. This is also the time to consider what requirements of the position are not completely necessary and can easily be taught on the job.

When we start the agriculture recruitment process with a new client, we take the time to listen to what they're looking for and help them establish a clear definition of their ideal candidate. Our consultative approach allows us to be able to easily filter out the candidates that won't fit your needs and reserve your valuable time for the ones that do.

2. Write an Effective Job Description
Attracting high quality job seekers that fit the profile of your ideal candidate starts with writing a job description that's compelling, clear and inspiring. This requires careful attention and consideration to properly represent the culture of your company and lay out the key details about the available position.

A solid job description will provide an honest, accurate and professional depiction of what the job entails and how it contributes to the long-term goals of your business. It is important to avoid biased or discriminatory language and include only the essential requirements. Doing so can subsequently limit the amount of candidates that apply.

Your job description is the first impression candidates will have of your business. Be sure to describe the culture of your organization, what it's like to work there and the benefits and perks of being a part of your team. The right job description will not only provide them with all of the important details, but leave them inspired to work for you and excited to hear from you!

Check out our blog on How to Write the Most Effective Job Description to learn more.


3. Prepare for Interviews
Once you've narrowed down your search to a refined list of promising candidates, it's time to start interviewing. It is imperative that you're prepared with the right questions to set yourself up for successful interviews.

Keeping in mind the necessary skill set, knowledge and qualities you expect out of an ideal candidate, put together a list of meaningful questions that will help you gauge how each applicant fits those requirements. Your goal should be to prompt each candidate to share stories from their past experiences and explain how they would handle certain situations that they might encounter as an agriculture sales representative.

This is where involving your current sales team or other employees can be incredibly helpful. The best employees to ask for advice on what to look for in an ideal candidate are the ones that work closely with the role. By opening up the conversation to these team members, you can gain in-depth insight into what the job requires that you might not have realized on your own.

4. Trust Your Gut
There are a number of important qualities an agriculture sales representative should have to be successful. However, at the end of the day, it's important to trust your gut feeling. The perfect candidate for your open sales position may look less impressive on paper, but possess the key personality traits, disposition and ambition to be a positive addition to your organization.

Employers in the agriculture industry, including farmers and suppliers, don't find themselves in the hiring process very often, so they struggle to trust their intuition when screening potential candidates. It's important to pull from your own experiences and instincts to read candidates and gauge their character. By paying attention during your first few interactions with a candidate, you can get a feel for how they will be on the job.

5. Work with an Experienced Agriculture Recruitment Firm
The process of recruiting the best agriculture sales representative can be time-consuming and challenging. From developing your ideal candidate profile to conducting interviews, it takes a lot of dedication, effort and resources that could be of value elsewhere. And even after spending a substantial amount of time and money in search of your next employee, you're not guaranteed to find the right fit.

Working with experienced ag recruiters that understand your industry is the most efficient way to connect with high level candidates and find your perfect agriculture sales rep. When it comes to agriculture recruiting, it is especially important to work with a team that knows the industry as well as you do and has access to an extensive network of potential candidates.

At AgHires, we're a team of dedicated and experienced experts in all things agriculture. We understand the necessary skills and traits required for agriculture sales positions ranging across a wide landscape of niches, including ag equipment and technology, irrigation, agronomy, horticulture, crop protection, animal health and more.