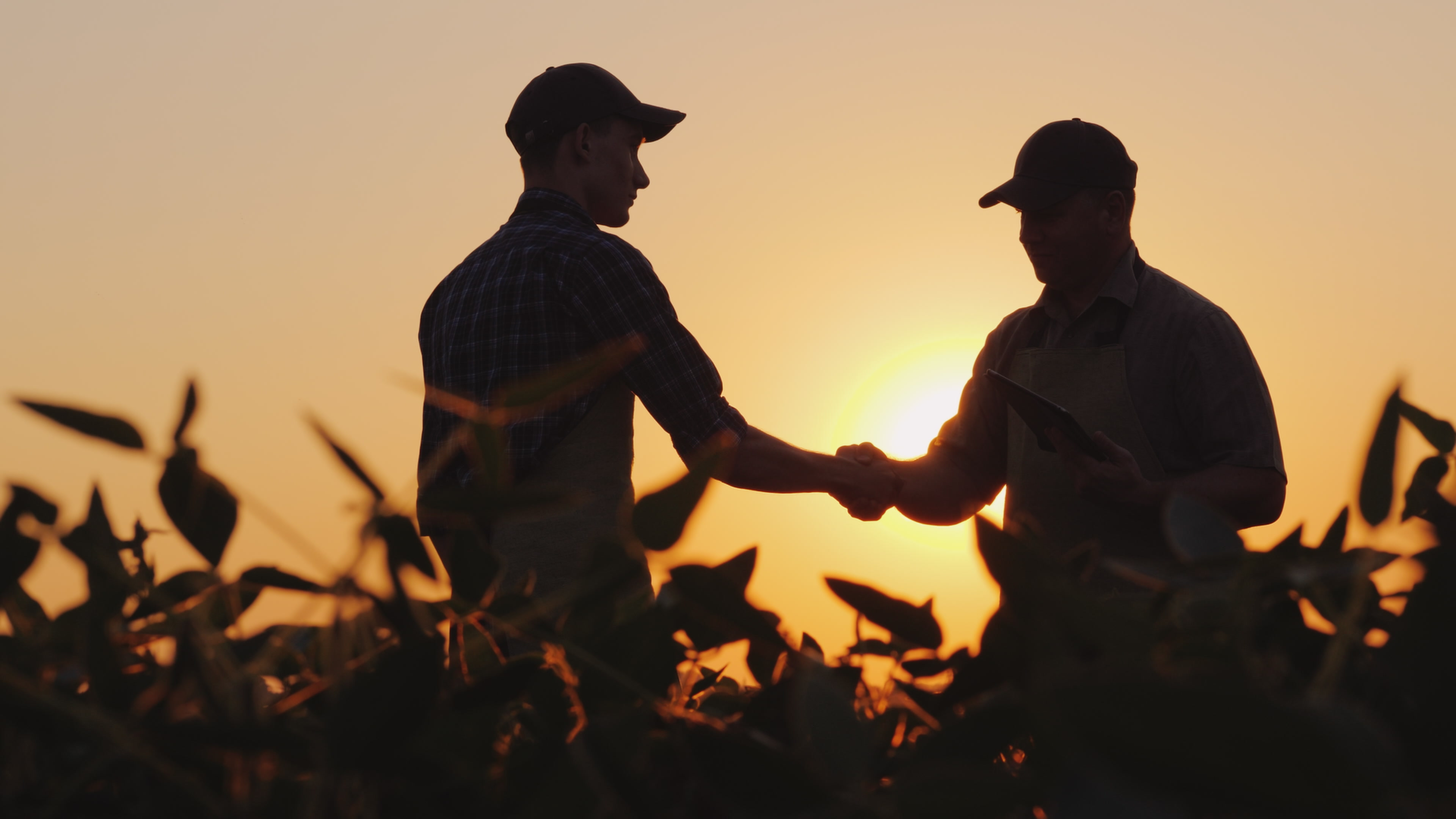 Learn actionable tips for hiring from agriculture recruitment experts to help you attract and identify highly qualified candidates.
The hiring process is a pivotal part of running a successful business. If you run or manage a farm or agribusiness, at some point along your path you will have to do some recruiting.
Finding high-level employees to fill a role at your company takes a balance of hard work, dedicated time, and creative thinking. In today's fast-paced, internet-centric society, technology has made it easier than ever to post employment opportunities and reach large numbers of people.
In order to connect with the most qualified candidates, however, you have to strategize and find ways to shine above other employers who may be targeting the same candidates looking for their dream opportunity. That's why it is important to lead with the right information about your company and the job so as to attract the right job seekers and appeal to them.
As agriculture recruiters, we work with each one of our clients to establish an effective hiring strategy. From getting the job in front of the right candidates to knowing what qualities to look out for in the perfect hire, we pay extra careful attention to the necessary details to ensure a successful ag recruiting process.
We've put together the following guide with tips and best practices when hiring for agriculture. Let's get started.
1. Use social media
Although it seems like just yesterday we welcomed the Millennial generation to the workforce, Gen Z is now ready to clock in and the agriculture industry needs them more than ever! In order to attract young, ambitious candidates of this younger generation, the key is to advertise your open position where they will see it – social media.
Social media is essential to hiring in the 2020s. Sharing your job listing on your own social media account or a third-party account is one of the best ways to communicate with candidates of this new generation and move forward. It also portrays your company as modern and "in the know" of the current trends.
When it comes to advertising on social media, you'll want to create a cohesive, brand presence across all platforms. It is important to use graphics and images to depict your company and brand culture in a way that will resonate with your target candidates.
2. Create attractive job descriptions
Attracting high-quality candidates starts with your job listing. Be sure to describe the open position and your company in a compelling way and lead with the right information.
An attractive job description is one that inspires candidates to want to work for your company. It's much easier to hire from a pool of candidates who are not only interested in but excited about the job based on the way you've described it.
Here are some ways you can make your job posts more attractive:
Create job titles that are specific and understandable. Qualified candidates who are looking for work, know exactly what they are looking for. A clear job title that they are already in search of will catch their eye.
Keep descriptions detailed but concise.
Include a captivating background or summary of the position and how it works within the company.
For more tips on creating an effective job description, check out our blog How to Write an Effective Job Description!
3. Make use of employee referrals
Employee referrals are, oftentimes, the best sources for finding new employees. Good workers tend to make a habit of surrounding themselves with other professional people and can often recommend the perfect person for the job. Plus, your employees are likely the best ones to speak for the necessary skills and qualities for the position.
With an employee referral program, you can encourage your employees to tap into their network of colleagues and offer their assistance when you need to fill a position. Consider giving incentives or bonuses for referrals. By allowing your employees to play a part in hiring decisions, you'll not only have an easier time finding top talent but will improve your company culture and create a positive work environment.
4. Use an applicant tracking system
An applicant tracking system (ATS) is a great way to save your company time and money! ATS is a software that essentially does the hiring process for you. It posts jobs and sifts through qualified candidates.
Most efficient applicant tracking software places your job posting on multiple sites, sorts applicants, and schedules interviews. Do some research to find the most suitable ATS for your agriculture recruitment needs.
5. Search/advertise on third-party hiring websites
Nowadays, there are a handful of amazing websites that host pages for employers to find employees and for candidates to find jobs. It is easier than ever to simply type in the job title or skill set you're in search of, and find resumes on the web!
Hiring websites, such as AgHires.com, make it simple to upload your job description, manage applications as you receive them, and reach out to qualified candidates for next steps. This strategy also offers a convenient way to save contact information and resumes of candidates you don't end up hiring this time around.
There are several employment websites you can use to your advantage, and you should share your job listing on all of them. While that may sound like a lot to manage, it's an essential step of the hiring process. Agriculture recruiting can be time-consuming, but advertising your job in as many places as possible is key to finding the right person.
Working with niche hiring websites specific to the agriculture industry, like AgHires.com, is an especially important move. Job seekers looking for opportunities within the ag world are more likely to be searching these niche websites first.
6. Review past candidates
If you've recently worked your way through the agriculture hiring process, you may have met with a candidate or multiple candidates you really liked, but didn't end up hiring at that time. This candidate might be perfect for the role you're currently hiring for and worth bringing in for an interview.
For this reason, it is important to always save the resumes or contact information of the 'runner-up' candidates! By doing so, you can start the hiring process with a number of high-level candidates you've already pre-screened or even interviewed. If it works out, you could save yourself a great deal of time, money, and effort spent on the search!
7. Focus on candidates' hiring experience
The hiring process is a candidate's first impression of what it would be like working for your company. That's why it is imperative for you to properly represent your business, the company culture, the benefits of the job, and put some effort into making the hiring process an enjoyable experience for each and every candidate.
Recruiting isn't a one-way backroad. You aren't the only one deciding if you'll work well together. And applicants at a high level are often interviewing at multiple places. It's up to you to figure out how you can put your best foot forward so you're the first choice when the candidate has to decide.
By creating a positive hiring experience for candidates, you'll inspire candidates to want to work for your company. They'll be more likely to choose your opportunity over any other offers from your competitors. You'll also maintain a good reputation in our industry!
8. Ask the right questions
The goal of agriculture recruitment is to find the perfect candidate to join your team and have a positive impact on your business objectives. You won't achieve this without asking the right questions to determine how they'll fit the role and handle the responsibilities.
Asking the right questions begins with having a solid understanding of what is required to be successful in the position. This goes further than the basic skill set and knowledge necessary. You should also consider the soft skills, goals, and personality traits a candidate will need.
9. Attend ag industry events
Job fairs are an excellent way to meet candidates, but these aren't the only events that can help you find your next star employee. Any agriculture industry event provides an opportunity for you to network and connect with potential hires.
10. Work with an agriculture recruitment firm
All of the strategies listed above and much more can be accomplished by hiring an experienced recruitment agency. And if you're hiring for farming, agribusiness, or any ag-related company, it's best to go with a niche recruitment firm that specializes in the industry.
When you work with ag recruiters, you can spend less time and energy carrying out all of the time-consuming tasks required to find strong talent. Instead, you can focus your efforts where they are needed most, while knowing the entire hiring process is being managed properly, efficiently, and with the utmost care.
Partnering up with an agriculture recruiting team also grants you access to expert advice, strategy design, and a larger network of high-quality candidates. They work as an extension of your team to implement creative ways of connecting with candidates.
For example, they might know a slew of passive candidates who are more than qualified for your available position. A passive candidate is someone who is already employed and not necessarily looking for a new job at the moment.
For the right opportunity, however, they might be willing to leave their current role. Without an agriculture recruiter in your corner, you're limited to the pool of job seekers that respond to your job listing.
There are several reasons for working with agriculture recruiters! Ultimately, you'll find higher-quality candidates much faster and more easily with a team of experts by your side.
Conclusion
Hiring can be a tedious and exhausting process that requires a great deal of patience and working hours – both of which you might not have.
Why go through the process alone? If you're about to start the agriculture recruiting process, allow our team here at AgHires to help you do it the right way with a proper hiring strategy!