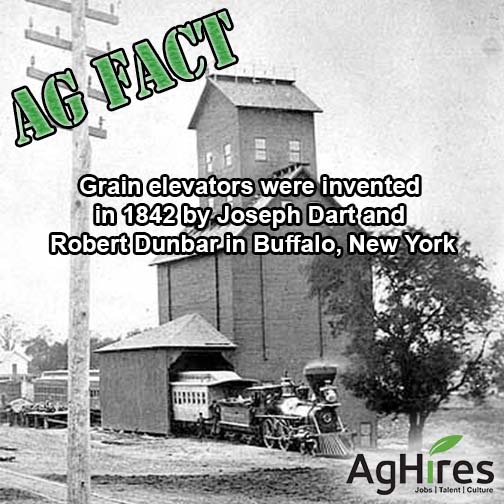 Grain elevators were invented by Joseph Dart and Robert Dunbar in 1842 in Buffalo, New York.
They created the grain elevators to help with the problem of unloading and storing grain that was being transported through the Erie Canal.
The construction of the Erie Canal made it cheaper and faster for farmers to transport their products. After it was built, the amount of grain received each year in Buffalo had risen from 112,000 bushels to 2 million in fewer than ten years.
In the mid 1800's, the need for grain elevators began to emerge. Agriculture in North America had become a cash crop economy after the invention of the Cyrus McCormick Mechanical Reaper. This led to enabling farmers to begin mass production of their grain crops.
Joseph Dart got the idea for the machine from watching shipping activity. He saw the amount of effort that was needed to unload the grain and he decided that he wanted to try to mechanize the process. Having seen steam-powered flour mills (invented by Oliver Evans in 1804), Joseph Dart felt that their conveyor belt system could be adapted for the purpose of moving grain. In 1842, he hired Robert Dunbar, a mechanical engineer, to assist him with the project. Robert Dunbar had previously been involved with the construction of mills, and therefore had experience.
The invention of grain elevators greatly helped grain farmers be able to produce and move more grain in less time. And during the building boom of the railroad system, grain elevators adapted and were built along the railroad tracks.
To read more: http://www.american-historama.org/1881-1913-maturation-era/grain-elevators.htm
Want more Agriculture Facts? Click here
Follow us on Facebook and Twitter to get your weekly dose of Ag Facts
Sign Up for Our Email Newsletter and get ag facts bi-monthly, plus new jobs in agriculture