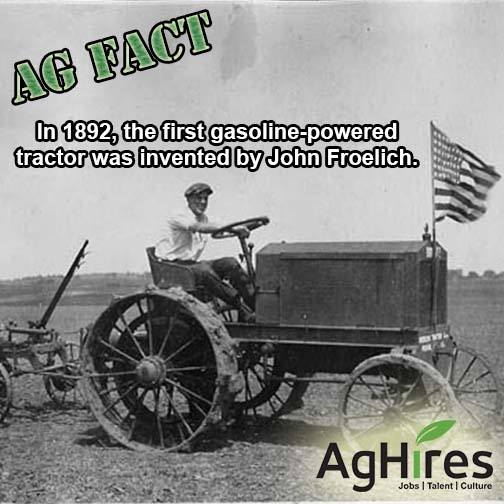 In 1892 the first gasoline-powered tractor was invented by John Froelich
The machine was developed in a small village in Northeast Iowa. At the time steam-powered engines were used to thresh wheat. John was frustrated with the problems of steam engines as they were heavy and bulky plus hard to maneuver. Froelich decided he could invent a better way to power an engine. The answer was gasoline. Froelich worked with his blacksmith developed a vertical one-cylinder engine mounted on the running gear of a steam tractor engine and developed parts to make it all work together. Soon Froelich and his crew were using it to threshed 72,000 bushels of small grain.
John Froelich and some businessmen immediately formed a company to manufacture the "Froelich Tractor." The company was named The Waterloo Gasoline Traction Engine Company where John was the president. The efforts to sell the machine failed. Only 2 were sold and then shortly returned. The company stayed in operation by manufacturing stationary gas engines while tractor experiments continued. In 1895 Froelich left the company as his interest was in tractors, not stationary engines. The Waterloo Company continued development and had developed a few several successful models by 1914. With the rise of farm prices the demand for mechanical farm power became popular which spurred many pop up tractor manufacturers.
Deere and Company, a manufacturer of a full line of John Deere implements had been watching the company and was looking for an established farm tractor to round out its line. In 1918 The Waterloo Company was purchased by John Deere.
Froelich, Iowa is now known as "Tractor Town U.S.A." If you visit the towns General Store you can see a scale model of the original "Froelich Tractor" made from the original blueprints.
Source: The Froelich Foundation
Read more Agriculture Facts on AgHires.