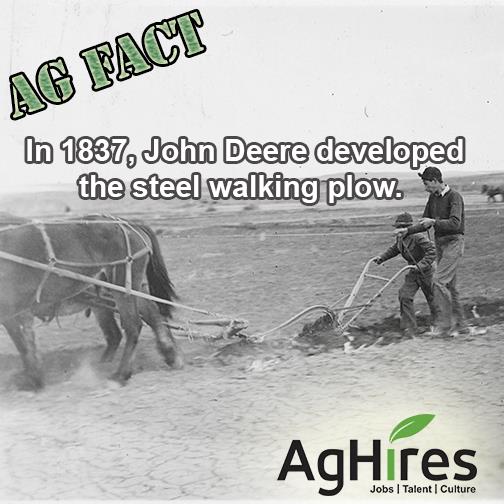 Dating back to 4,000 B.C., the first plows were basically pointed sticks that were pulled through the soil. Very few improvements were made to the plow over the centuries, but in 1837 the polished steel plow became a turning point for farming.
Before the steel plow, cast iron was used to till the land, which made it difficult due to the soil sticking to the moldboard. This caused farmers to pause ever few minutes to clear the soil from the plow, which added time and effort. As farmers moved west across the country they encountered heavier soil, adding to the difficulty of plowing.
John Deere Moves Farming Forward
In 1821, at the age of 17, John Deere began as an apprentice to a blacksmith. When his apprenticeship ended in 1825, he began his blacksmith trade in Vermont. However, by 1836 he faced bankruptcy, so he sold his blacksmith shop to his father-in-law. In hopes to find work, he left the proceeds of the sale to his wife, who was carrying their fifth child, and headed west.
In September, John arrived in the newly settled village of Grand Detour, IL, just outside of Chicago. With no blacksmiths for a near 40 miles, he began work right away. He learned that farmers were have the same difficulty in Illinois, however the soil was much heavier. In many areas the plows required 8 yokes of oxen to be able to pull the plow through the land.
While visiting a sawmill, John noticed a broken steel saw. He took polished steel back to his shop and shaped it to fit a plow. This new plow worked much better than any other plow previously used.
In 1838, John built two more plows. The following year he built 10 plows and sold them for ten to twelve dollars a plow. Each year John made more plows and in 1843 he produced 400 plows. John Deere the blacksmith is now John Deere the manufacturer. In 1843 he developed a partnership with John Gould and Robert Tate. They moved to Moline, IL to expand the business, and, as they say, the rest is history.
Over the next several decades, farm machinery has grown by leaps and bounces since the very first plow, and many people credit the move to John Deere. Farmers were skeptical of these new plows. They questioned the durability and usability of the plow, but with his sales and marketing ability, John convinced the farmers to make the purchase, pushing farming into a new frontier.
Want more Agriculture Facts? Click here
Follow us on Facebook and Twitter to get your weekly dose of Ag Facts
Sign Up for Our Email Newsletter and get ag facts bi-monthly, plus new jobs in agriculture