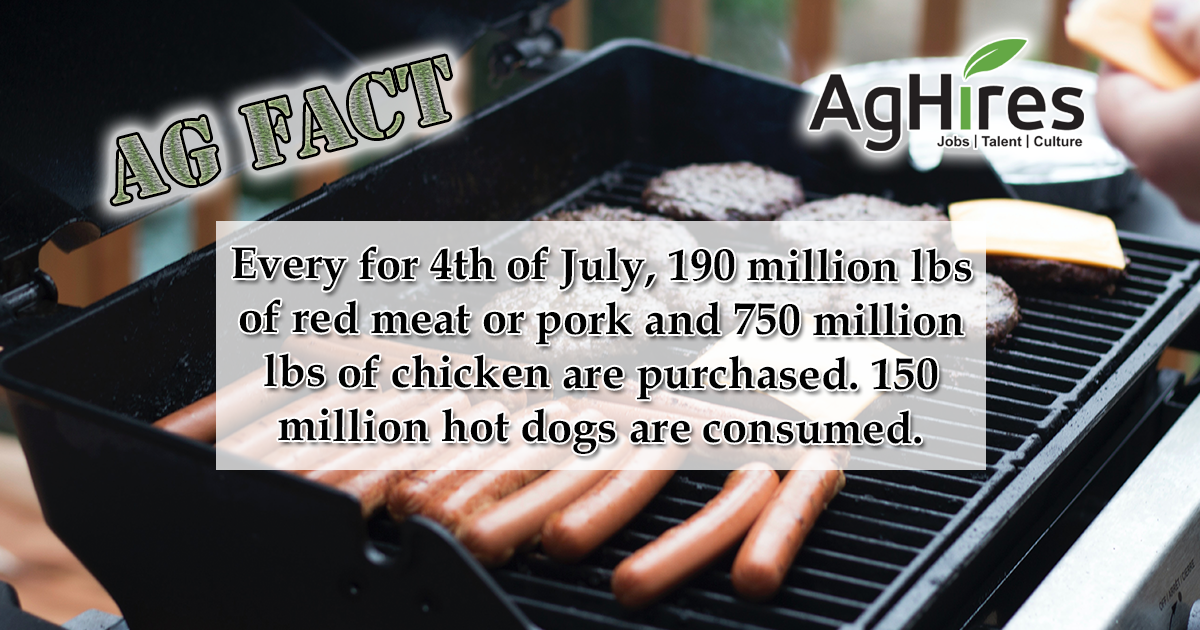 Part of the reason July is National Grilling Month is the popular tradition of cooking out for the 4th of July. Everything from the burgers on the grill to your grandma's famous potato salad to the ice-cold beer in the cooler, agriculture has played a part in your celebration. Check out these 16 facts about your favorite Independence Day foods.
Over 74 million Americans are planning to grill out for the 4th of July.
Burgers (85%), steak (80%), hot dogs (79%), chicken (73%) are the most popular foods for the grill.
Every 4th of July, 150 million hot dogs are consumed in the U.S.
Most of the pork hot dogs and sausages consumed on Independence Day come from Iowa.
Compared to hotdogs, Americans only buy 190 million pounds of red meat or pork for this holiday.
Most beef hot dogs, steaks, and burgers come from Texas, Nebraska, or Kansas.
750 million pounds of chicken is purchased leading up to the 4th of July.
And that chicken most likely came from Georgia, Arkansas, North Carolina, Alabama, Mississippi, or Texas.
Americans spend much more on condiments than chips and dip for their Independence Day barbecues.
5% of the national beer consumption happens over the 4th of July weekend, which is about 68.3 million cases of beer.
Corn (41%), potatoes (41%), other veggies (32%) are the most popular grilled side dishes.
There is a 66% chance your corn on the cob, most likely came from Florida, California, Georgia, Washington, or New York.
Odds are the potatoes in your potato salads or chips came from Idaho or Washington State.
And if you like tomatoes on your burger, they probably came from Florida or California.
Florida, California, Georgia, or Texas most likely produced your watermelon that is served at your barbecue.
California probably grew the lettuce in your salad.
Want more Agriculture Facts? Click here
Looking for a job in agriculture, food production, horticulture, or a related industry? Start your search here.
Follow us on Facebook and Twitter to get your weekly dose of Ag Facts.
---
Sources:
Fox News: Fourth of July food by the numbers
RFD-TV: 20 Fourth of July Facts About Agriculture