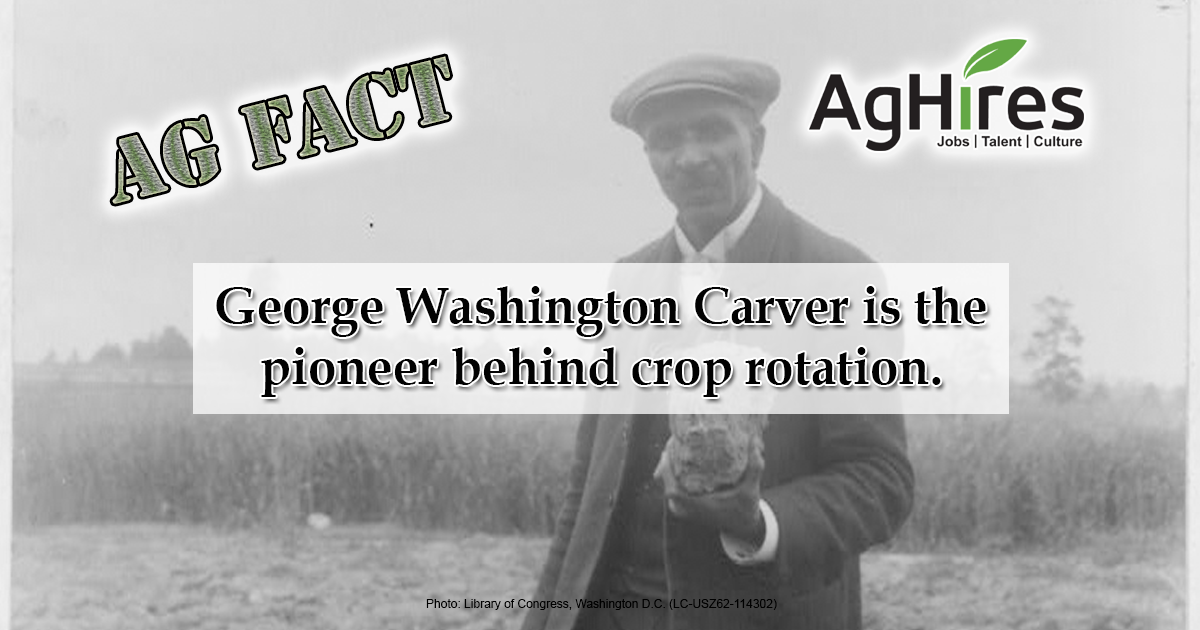 Black History Month is about honoring the work and contributions African Americans have made in the United States and the world. We celebrate educators, inventors, scientists, civil rights activists, politicians, entertainers, athletes, and many others across many different industries during this month. Agriculture is no different. Many black individuals have shaped the agriculture industry into what it is today. Let's meet some of them.
George Washington Carver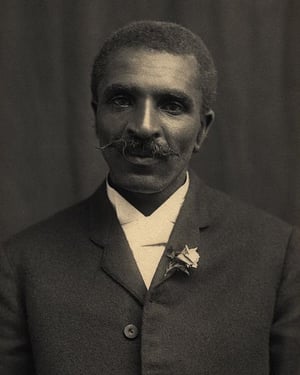 George Washington Carver is probably the most well-known for his work with peanuts, as many of us learned in elementary school. However, he was more than just "The Peanut Man." Born into slavery before it was outlawed, Carver became an agricultural scientist and inventor who developed hundreds of products using sweets potatoes and soybeans in addition to peanuts. He became the first African American to earn a Bachelor of Science degree and he continued his studies sharpening his skills in identifying and treating plant diseases. He eventually earned his Master of Agriculture degree in 1896.
Carver did more than invent products, he helped shape the agriculture industry in many ways. Through his work at Tuskegee University in Alabama, he taught poor southern farmers they could save money by feeding acorns to their pigs instead of commercial feed and enrich their crop fields with swamp muck instead of fertilizers. Not only did he work to educate farmers, but he is also the pioneer behind crop rotation. Carver devoted a lot of his time to his work in soil chemistry. During the many years he grew cotton, he learned the crop will deplete the nutrients from the soil, which will result in low yields. So, by growing nitrogen-fixing plants such as peanuts, soybeans, and sweet potatoes, the soil would be restored and would have a great yield when cotton would be grown on it again a few years later.
Booker T. Whatley
Booker T. Whatley was an author, horticulturist, and professor at Tuskegee University in Alabama. While he did continue George Washington Carver's work on soil regeneration techniques, he also helped small farmers work more efficiently with the land and resources they had. Whatley identified 10 commandments of economical farming practices to help small farmers to make the most of their farm while making a decent living. In his book, How To Make $100,000 Farming 25 Acres (1987), he talks about minimizing excessive costs, reducing wastes, and maximizing income and farm space.
Whatley also explores "a Clientele Membership Club" in his book, which is similar to the Community Supported Agriculture (CSA) model. Members of the club would pay a membership fee to contribute to the success of the farm, and in return would receive fresh produce they would pick themselves. It allowed the small farms to save on time and labor while ensuring a steady cash flow.
Henry Blair
Inventor and Farmer Henry Blair was the second African American to hold a United States patent. He patented two devices he designed to help with agricultural productivity. He designed a corn planter which he received a patent for in 1834. The planter resembled a wheelbarrow with a compartment to hold seeds and a rake that dragged behind to cover them to help farmers plant more efficiently. He later acquired a second patent in 1836 for his cotton planter. This planter was pulled by a horse and split the ground with two shovel-like blades, while a wheel-driven cylinder deposited seeds quickly and evenly into the plowed ground. Blair's inventions were a small steppingstone to the planters we see today.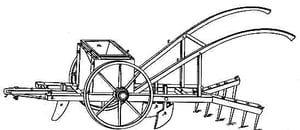 The patent application image for the Corn and Planting Machine invented and patented by Henry Blair.
Frederick McKinley Jones
Frederick Jones is best known for his developments of the refrigeration truck used to transport food and other items. After a hard childhood, he taught himself mechanical and electrical engineering to eventually go on to invent many devices related to refrigeration, sound, and vehicles. In 1940 Jones patented his refrigeration system and became a co-owner of Thermo King where he sold his invention. His system was installed on trucks, boats, planes, and boxcars. His mobile refrigeration units improved the worldwide food trade. Today his trucks make it possible for fresh produce to be enjoyed year-round. Jones' invention was the framework needed to create frozen foods, supermarkets, and container shipping.
John Boyd, Jr
As a fourth-generation black farmer and civil rights activist, John Boyd Jr founded the National Black Farmers Association (NBFA) in 1995 after facing discriminatory methods from the USDA and encountering many other black farmers with a similar experience. He helped to bring the plight of African American farmers into the spotlight by bringing these farmers together, leading marches and rallies, and spending decades advocating on Capitol Hill. Boyd and the NBFA was an important part of writing vital legislation within the 2008 Farm Bill to give Black farmers financial reimbursement and a stage to voice their concerns. The NBFA, led by Boyd, continues to advocate for Black farmers and their families.
Want more Agriculture Facts? Click here
Follow us on Facebook and Twitter to get your weekly dose of Ag Facts.
Sign Up for Our Email Newsletter and get ag facts bi-monthly, plus new jobs in agriculture.
History: George Washington Carver