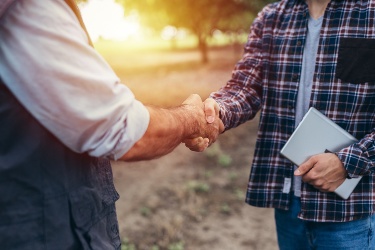 When it's time to get a new job, it's a good idea to look at industries with the potential for growth and stability. The agricultural industry is a critical component of the well-being of everyone, so finding work in this space could set you up for a great career. If you're wondering "How do I find agricultural jobs near me?" check out this guide to get started.
Starting Your Search for Agricultural Jobs Near Me
To land a job in any field, start with research. Agricultural operations are located across the nation and the world, but different areas have different kinds of positions available at different times of the year. You may also need certain skills or certifications. Understanding those factors will help you discover what types of jobs may be a good fit for your lifestyle.
Check Out Top Ag Job Listings
When you have an idea of what interests you and what your skillset allows, start looking at agricultural job listings. AgHires makes this easy with an extensive list of open positions in the agricultural industry. Employers add new jobs every day, so you can always keep checking to look for positions that you are interested in and keep pushing your ag career forward.
AgHires also helps you prepare for whatever your next ag role is. You can find career advice in the blogs posted regularly. The blogs contain tips on choosing jobs, preparing your resume, interviewing, and more. You get the benefit of having this all-in-one place rather than searching multiple job boards and websites for jobs and resources.
Network With Agricultural Professionals
Job seekers can also benefit from networking with others to find agricultural jobs near me. Spending time with other people in the agricultural industry is a great way to get leads about open positions at companies. Making a good impression on people already in the field can help you when you apply to a company, so it's worth taking the time to get to know other agriculture professionals. They can also give you advice about changes in the ag industry, so you'll be in the know.
Don't limit yourself to face-to-face networking. Thanks to the internet and social media, the world is more connected than ever. You can chat with ag professionals from the other side of the nation or even the other side of the globe. Try joining professional farming-related groups on LinkedIn or Facebook to meet new people.
Embrace Seasonal or Volunteer Opportunities
A lot of the people searching for agricultural jobs near me are probably seeking long-term positions. While this is a great goal, it's not always possible to start in a full-time job. If you have the chance to do seasonal work at a farm or agricultural processing company, take it. You will get the opportunity to meet the people in charge and show them your work ethic and skills.
Internships can offer similar opportunities. Although some people assume that internships are only for people who are high school or college-aged, anyone can find intern programs to take advantage of. These are especially helpful for people who are changing careers and need to gain new skills.
Applying for Your Next Agricultural Job
As you look for your next ag job, make sure you are prepared when the opportunity presents itself. As a job seeker, there are many things you can do to be the most appealing candidate when you apply.
Prepare Your Resume and Cover Letter
Your resume and cover letter are your first impression with potential employers, so it's essential to make them stand out. Make sure your resume highlights your relevant skills and experience and is tailored to the specific job you are applying for. Your cover letter should be personalized and should clearly explain why you are interested in the job.
Practice Interviewing
Preparing for interviews is a crucial step in the job search process. Research the company and the position before the interview, and practice answering common interview questions.
Get or Renew Certifications
Some ag jobs may require special certifications. If that's the case, take the time to get qualified if you are able. If you already have certifications that are related to agricultural jobs near me, make sure they are up to date.
Finding Agricultural Jobs Near Me
Are you ready to find agricultural jobs near you and start the next part of your career? With the right resources, it can be easier than you think to find the right opportunity. AgHires can help, so reach out today to get started.