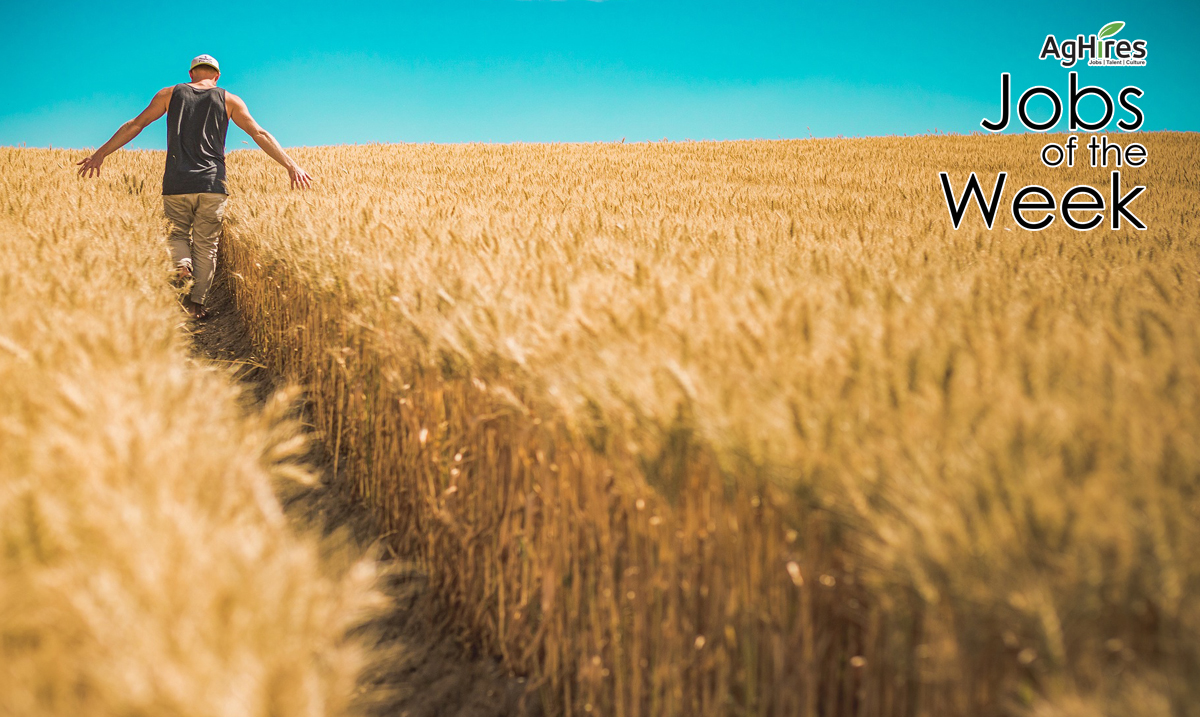 Top Agriculture Jobs of the Week
For the week of 11-28-22
AgHires works hard to be the number one resource for top jobs in agriculture. The agriculture industry provides a variety of job opportunities that range far and wide. Take a moment to search through the thousands of current job openings on AgHires.com, and check out this week's top Agriculture Jobs of the Week below.
A little about the business: Co-Alliance is a modern partnership of local agricultural and energy cooperatives with community roots established in the 1920s. We combine industry expertise, high-quality products, and leading-edge technology to deliver innovative solutions in energy, agronomy, grain marketing, and swine/animal nutrition to our customers – members and non-members.
What you would be doing:
Must be able to work independently and efficiently with little or no supervision
Assist other mill employees with operating activities
Operate scales for inbound and outbound trucks
Performing basic preventative maintenance, including housekeeping items
Understanding the feed ingredients and proper handling techniques
Distributing the feed directly to a feed truck with accuracy
Mechanical interest and aptitude are beneficial
Operate equipment safely
Qualifications:
High School Diploma
Computer skills and ability to learn new software
Agriculture background a plus
Must pass a drug screen and background check
Have an understanding of safe working conditions and operations of vehicles
Be willing and able to work well with others, take and give constructive criticism, and lend a helping hand
---
A little about the business: Rabo AgriFinance LLC ("RAF") is a leading financial services provider for agricultural producers across North America. Solely focused on agriculture, RAF is part Rabobank, a global financial services leader offering wholesale, rural and retail banking services in more than 40 countries worldwide and one of the world's largest banks, with over $650 billion in assets. Founded by Dutch farmers over a century ago, Rabobank remains true to our core mission: to create value for our customers, our employees, and the local communities where we do business. With over 40 offices across the U.S., RAF provides clients with knowledgeable local teams and exclusive access to global market research in a variety of sectors, including grains and oilseeds, protein and specialty crops.

What you would be doing:
Develop and manage a portfolio of insurance business-responsible for overall client satisfaction, customer retention, and new customer referrals.
Collaborate with RMs to strengthen existing borrower-client relationships by providing value-added services such as risk management advice and insurance products.
Support efforts to build the Rabobank Brand by introducing RAFI clients to other products and services offered by Rabo AgriFinance.
Qualifications:
Must have extensive knowledge of crop insurance and other appropriate insurance lines with the ability to promote insurance solutions to potential clients. Must be well experienced in coordinating and developing teamwork within RAFI and RAF to meet departmental objectives within RAF's overall company mission.
Ability to read, analyze, and interpret general business periodicals, or governmental regulations. Ability to write reports and business correspondence. Ability to effectively present information and respond to questions from groups of managers, clients, customers, and the general public
Offers:
Medical
Dental
Vision
Health care spending account
Dependent care spending account
Basic life insurance plus AD&D insurance
Optional life insurance
Short-term disability
Long-term disability
401(k) program
Health and wellness seminars
Tuition reimbursement
---
What you would be doing:
Assist in the preparation of study documents (i.e. protocols, amendments, deviations, data capture forms, test article documentation, and study reports)
Assist in data management processes including paper and electronic data capture, entry, review, tracking, and verification utilizing electronic tools and centralized data management systems.
Assist with animal-related study activities (i.e. clinical sampling)
Maintain study files in accordance with SOPs and regulatory requirements and retrieve archived study documents as needed.
Qualifications:
At least 18 years of age and authorized to work in the U.S.
Completion of at least one year of undergraduate studies and a minimum 3.0 GPA
Enrolled in a degree program during the spring term preceding the internship
Successfully pass a background check and drug screen
Large animal (swine) experience preferred
Strong communication, interpersonal, organizational, problem-solving and analytical skills
---
A little about the business: Key Cooperative is a member-owned, rural Iowa cooperative serving agriculture producers. With locations in 13 communities and 6 counties. Key Cooperative provides Agronomy, Energy, Feed, and Grain with a small-town, yet professional feel. Our employees take pride in our identity, and they're committed to the success of our owners by delivering innovation, leadership, and performance. If you're looking for a place where you can grow and be proud of what you do each day - you can find this kind of career at Key Cooperative.
What you would be doing:
Delivery of propane to the customer sites.
Provides minor level service work to assist the service team when needed.
Use Energy Force to optimize delivery efficiency.
Educates customers about K-factors and Degree Days and why the auto schedule is the best for the customer.
Maintain and grow customer base by communicating potential leads to Key Cooperative sales teams.
Maintaining the truck to stay in good working order would include but is not limited to keeping the truck clean and presentable.
Qualifications:
Have a High School diploma or GED; and/or commercial/truck driving experience, and the ability to pass Key Cooperative's pre-employment drive test.
Are at least 21 years of age or older.
Have or ability to obtain a Class A Commercial Driver's License with HAZMAT Endorsement and any other necessary endorsements: Airbrakes, Tanker. CETP Certified (we will train).
---
A little about the business: Our corporate office is located in Monticello, Iowa with 30 additional locations scattered throughout Iowa and southwest Wisconsin. We employ 250 full-time people in Operations, Transportation, Sales, Grain Merchandising, Management, Customer Service, Accounting, IT, Human Resources, and Communications. We also hire an additional 120 seasonal employees and interns throughout the year.
What you would be doing:
Conduct counter sales and process incoming calls in a friendly, courteous manner
Conduct weighing of grain and farm supply products; grading of incoming grain
Assist in the processing of daily location grain tickets when needed
Provide marketing assistance to grain customers
Communication of grain transactions and transportation needs
Qualifications:
Displays a high level of initiative, effort, and commitment toward completing assignments efficiently.
Ability to be flexible, organize, deal with change effectively, and work on multiple tasks concurrently.
Basic computer skills
---
The opportunities within the agriculture industry are endless. Whether you are looking to start your journey or take the next step in your agriculture career, there is a place for you. Go to AgHires.com to search thousands of current job openings, ranging from agronomy jobs to marketing jobs to service technician jobs. New jobs are uploaded to our website daily.
Follow us on Facebook and Twitter to see more featured jobs.