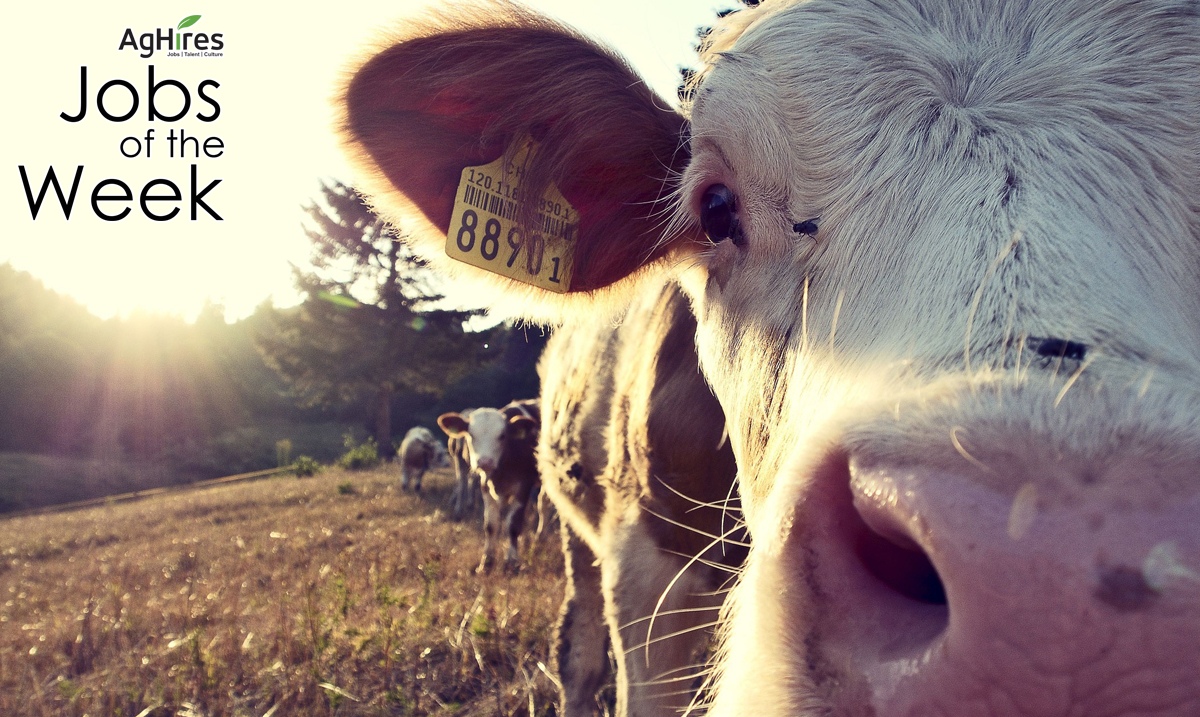 Top Agriculture Jobs of the Week
For the week of 6-7-21
AgHires works hard to be the number one resource for top jobs in agriculture. The agriculture industry provides a variety of job opportunities that range far and wide. Take a moment to search through the thousands of current job openings on AgHires.com, and check out this week's top Agriculture Jobs of the Week below.
A little about the business: Ararat Farms is a small-scale market farm located in Lincolnville, ME. We currently cultivate 2 acres of vegetables and berries alongside our 3 greenhouses. Our produce is sold to several midcoast restaurants, markets, and can be found in our farm stand conveniently located on route 52 in Lincolnville. In addition to our delicious vegetables, we also sell eggs from our organically fed and pastured chickens. We pride ourselves on a great environment to work, learn and grow.
What you would be doing:
Enjoy a variety of work around the farming including planting, operating, equipment, harvesting, packing and marketing of row crops.
Operate farm and agriculture equipment such as tractors, mowers, planters, sprayers, hand tools, etc.
Perform crop management from planting through weed and irrigation details.
Manage livestock – currently we have an egg layer operation and are expanding into larger animals.
Perform orchard management duties such as spraying, pruning harvest, and pest scouting.
Assist with greenhouse operations, general carpentry, equipment maintenance, firewood/log processing, and overall construction.
Have some custom kitchen and culinary activities.
Qualifications:
Have experience, background, or passion for farming, agriculture, agronomy, livestock, or related field.
Knowledge and or operation of farm equipment and hand tools is preferred but not required as we are willing to train.
Are known for being a great problem solver.
Have great communications skills, can work independently as well as with a team.
---
A little about the business: Moreland Farms is a multi-generation, family-owned and operated diversified farm. We pride ourselves on operating a large, progressive grain operation along with a beef cow herd. We're a close-knit team that supports each other and are passionate about growing quality crops.
What you would be doing:
Manage the grain scale tracking by managing scale receipts, weighing in trucks, tracking inventory and movement of grain
Update raw products spreadsheet for traceability of grain
Assist with accounting and bookkeeping such as AP/AR, pulling financial reports
Track and monitor fertilizer delivery, inventory and rebate tracking
Be the go-to resource for IT, special administrative projects and analysis
Assist with tracking of crop inputs
Assist with human resources activities and compliance for employee safety
Develop and streamline processes, procedures, and workflows in the office and throughout the organization maximizing the use of technology
Assist with other areas of the office including insurance tracking, managing landlord contracts/payments, etc.
Maintain an organized office
Qualifications:
Prior office management along with basic accounting/bookkeeping 3+ years of experience; agriculture experience not required
Associate's degree or bachelor's degree in business management, finance or accounting is a nice-to-have, not required if you bring equivalent in experience
Proven ability to be highly detailed and work independently
Schedule is mainly Monday through Friday with occasional weekends during harvest.
---
A little about the business: Fahey Sales Auctioneers & Appraisers has one of Minnesota's largest auction staff, specializing in the sale of Real Estate, agricultural and construction equipment, fleet vehicles, as well as commercial turf and golf course equipment. Our turn key set up services can turn an overwhelming situation into a worry free, positive experience.
What you would be doing:
Manage all aspects of auction set up including staff scheduling and equipment coordination.
Provide good leadership abilities through communication and exhibiting good work ethics maintaining a positive team atmosphere.
Communicate expectations with staff on the job site.
Enforce company policies and procedures.
Enforce positive relationships with employees and customers.
Ensure merchandise is properly staged and organized.
Effectively communicate with all levels of the organization.
Qualifications:
High School diploma or GED equivalent required.
Excellent communication and customer service skills.
Detail oriented.
Basic computer skills; Word, Excel.
Leadership and organizational skills.
Willingness to travel occasionally.
Skid loader operation.
Ability to lift up to 60 lb.
---
A little about the business: BioWorks Inc. With headquarters in Victor, New York, BioWorks has been a leader in providing environmentally responsible, safe, and effective biologically-based pest control and plant nutrition products for the horticulture, turf, and specialty agriculture markets for more than 20 years. Together, with our team of experts, our customers are enhancing conventional programs as well as developing leading edge pest control and plant health programs.
What you would be doing:
Developing and executing a planned approach by creating a sales plan for accounts and contacts to target, activities, and milestones leading to the generation of sales
Communicating the risks, assumptions and dependencies associated with the sales plan
Managing and progressing a qualified pipeline of opportunities by prioritizing assigned accounts and contacts and advancing opportunities with a disciplined and organized approach
Executing the sales plan and communicating progress against the plan - this includes being fully prepared for and engaged in one-on-one meetings with Regional Sales Manager for:
Understanding what's working and what's not and make necessary adjustments in the sales approach or activity levels to achieve sales team revenue and profitability goals
Submitting forecasts and pipeline reports to management on a timely basis
Proactively communicating unexpected increases or decreases from new or lost opportunities
Identifying shortfalls and develop plans to ensure overall sales plans are achieved
Qualifications:
A degree in a horticulture field, which may include botany, plant science, horticultural science, agronomy, or other relatable fields.
5+ years of sales experience in the greenhouse or nursery industry.
---
A little about the business: Welcome to Stine Seed Company! We are the country's largest privately-owned seed company, specializing in soybean and corn genetics, headquartered in Adel, Iowa. The Stine name has a proud history dating to the 1940s when Bill Stine began cleaning public variety of soybean seed with a portable cleaner. Since then, Stine has grown and expanded, becoming one of the most recognized and respected names in the corn and soybean industry, owning more than 800 patents.
What you would be doing:
Help RSA's, ISRs, dealers and customers determine the strengths and proper placement of Stine seed products within the assigned territory and conduct training on those products
Conduct trainings to help develop a strong knowledge of both Stine corn and soybean products for that area
Implement strategies to introduce new corn hybrids and promote key hybrids
Help the Agronomy Team develop ideas and topics for Stine Weekly, Agronomy/Hybrid focus newsletters and pictures/video for media and social media
Assist with the development, design and protocols of Master Yield in the Field (MYIF) and Showcase Plots
Assist with the planting and harvesting of MYIF Plots
Help with the organization and distribution of MYIF plot seed
Assist in managing the Stine Plot Program
Qualifications:
Experience in agronomy, crop health, and sales management
Ability to travel within the territory given
Prior success leading a team and working cross-functionally within the organization to meet established goals
Possess excellent written and verbal communication skills and basic computer knowledge
Demonstrated initiative and the ability to build/maintain strong relationships and achieve desired results through training.
---
The opportunities within the agriculture industry are endless. Whether you are looking to start your journey or take the next step in your agriculture career, there is a place for you. Go to AgHires.com to search thousands of current job openings, ranging from agronomy jobs to marketing jobs to service technician jobs. New jobs are uploaded to our website daily.
Follow us on Facebook and Twitter to see more featured jobs.