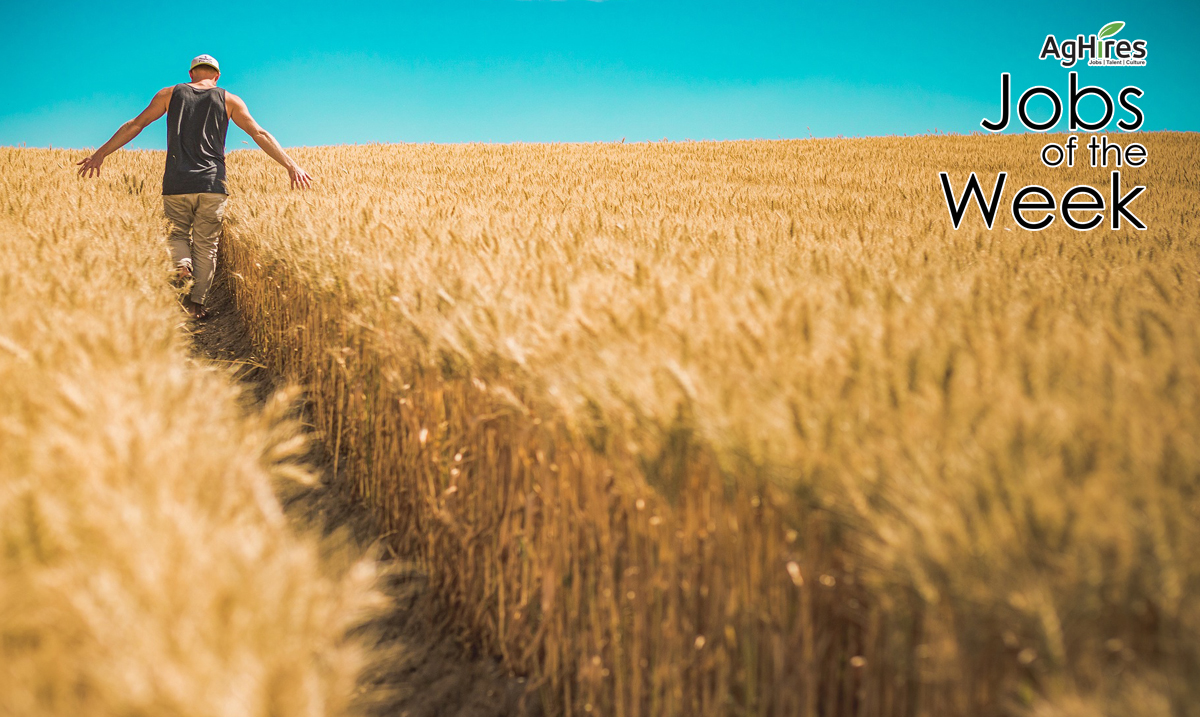 Top Agriculture Jobs of the Week
For the week of 7-4-22
AgHires works hard to be the number one resource for top jobs in agriculture. The agriculture industry provides a variety of job opportunities that range far and wide. Take a moment to search through the thousands of current job openings on AgHires.com, and check out this week's top Agriculture Jobs of the Week below.
A little about the business: Bar H Land & Cattle located in Emerson, IA is a dynamic farming operation with over 2,500 acres of crops including row crops, alfalfa, and grass hay. We also have 350 mother cows. We work hard but have a great time doing it. We pride ourselves on taking care of our crops, our team, and our cattle.
What you would be doing:
Operating tractors and other farm equipment throughout the spring plant and fall harvest seasons.
Performing some preventative maintenance and repairs on farm equipment.
Overseeing pregnant cows and assisting in birthing when needed.
Qualifications:
An outstanding work ethic.
Prior experience working in agriculture, farming, or livestock.
Basic mechanical ability.
Willingness to work outside in all conditions and ability to work extended hours during peak season.
---
A little about the business: CHS Inc. is a leading global agribusiness owned by farmers, ranchers and cooperatives across the United States that provides grain, food and energy resources to businesses and consumers around the world. We serve agriculture customers and consumers across the United States and around the world. Most of our 10,000 employees are in the United States, but today we have employees in 19 countries. At CHS, we are creating connections to empower agriculture.

What you would be doing:
Ensure accurate and on time deliveries to our customers in a safe, timely, and professional manner.
Ensure compliance with all local, state, and federal laws. To include but not limited to pre-trip and post-trip reporting, proper load securement and hours of service.
Assist in the warehouse when not delivering product.
Work extended hours in-season to meet business demands.
Maintain and promote a strong safety culture and follow all safety policies, procedures and regulations. Identify and communicate workplace hazards and correct or seek assistance in correcting unsafe actions or conditions
Qualifications:
2+ years of experience in Supply Chain and Procurement and/or Transportation and Logistics
High School diploma or GED
Must meet minimum age requirement
---
A little about the business: Heritage Farming Enterprises LLC is a family farming operation farming about 4500 acres of vegetables, row crops, and grains in western Michigan. 50% of their crops are organic and 50% are conventional. They value employees and have a hard working, dedicated, and family-oriented culture. Most of their employees have been with them for most of their working lives.
What you would be doing:
Plan and execute the crop production plan.

Oversee tillage, fertilization, planting, cultivating, and harvesting or crops.

Be involved in the processing or harvested crops.
Manage the grain storage system with feed mill, fresh vegetable packing system, and equipment for bulk vegetable processing.
Oversee and manage a crew.
Qualifications:
Experience in agriculture, crop production, farming, or relatable experience.

Considered yourself a hard worker, loyal, and are someone who loves agriculture and taking care of crops.
Ability to work longer hours during peak seasons.
Drive and desire for future growth and opportunity.
Heritage Farming Enterprises LLC offers competitive compensation based on experience along with health benefits, paid vacation, 401K, company vehicle, and bonus.
---
A little about the business: eGenesis is a biotechnology company that utilizes multiplex gene editing and genome engineering platform to transform solid organ and therapeutic cell transplantation for the treatment of serious disease. The company is committed to ending the global transplant shortage and transforming the treatment of organ failure. eGenesis is bringing that vision closer to reality with lead programs in kidney and islet cell transplantation.
What you would be doing:
Implement action plans to meet all neonatal and company goals.
Manage scheduling, training, and leadership of the neonatal care team.
Report animal health concerns in a timely and effective manner according to standard operating procedure.
Plan and execute day-to-day activities of cloned animals care, including intensive care, feeding, cleaning, and behavior training.
Perform daily health observations, treatments, and vaccinations according to the Attending Veterinarian's prescriptions.
Assist the Attending Veterinarian in collection of samples from research animals.
Train new employees in feeding, handling, performing health observations, and other duties assigned, under eGenesis standard operating procedures.
Comply with, and ensure compliance of others with, USDA and OLAW (Office of Laboratory Animal Welfare) guidelines on animal care.
Qualifications:
3+ years as Certified Veterinary Technician or Bachelors of Science degree in Animal Science or Research related majors.
Experience with research animals
Managing a small staff and general leadership
Experience work in intensive care unit
---
A little about the business: South Dakota State University promotes access to and opportunities for all to receive the benefit of and participate in education, research, and service and is especially interested in candidates that can contribute to this land-grant mission of access.
What you would be doing:
Conduct research on production and management of Horticultural crops grown under intense cropping systems

Management of the department's Local Foods Education Center

Deliver a nationally recognized teaching program focusing on innovative specialty crop production systems for horticultural food production, food production using controlled environments, and/or protected culture

Train and educate students at both the undergraduate and graduate levels and is expected to contribute to a vibrant campus learning environment
Qualifications:
Ph.D. in Horticulture, Plant Pathology, Soil Biology, or related field
Research experience in microbial ecology, phyllosphere and/or rhizosphere microbial interactions
Ability to apply molecular biology techniques to research questions
Ability to publish experimental results in peer-reviewed journals
Benefits:
South Dakota State University offers a wide range of benefits including medical, dental, and flexible benefits, retirement plans, compensation packages, paid holidays, and vacation leave. Employees also have access to internal and state-sponsored training as well as reduced tuition for state-supported courses at all State of South Dakota academic institutions.
---
The opportunities within the agriculture industry are endless. Whether you are looking to start your journey or take the next step in your agriculture career, there is a place for you. Go to AgHires.com to search thousands of current job openings, ranging from agronomy jobs to marketing jobs to service technician jobs. New jobs are uploaded to our website daily.
Follow us on Facebook and Twitter to see more featured jobs.