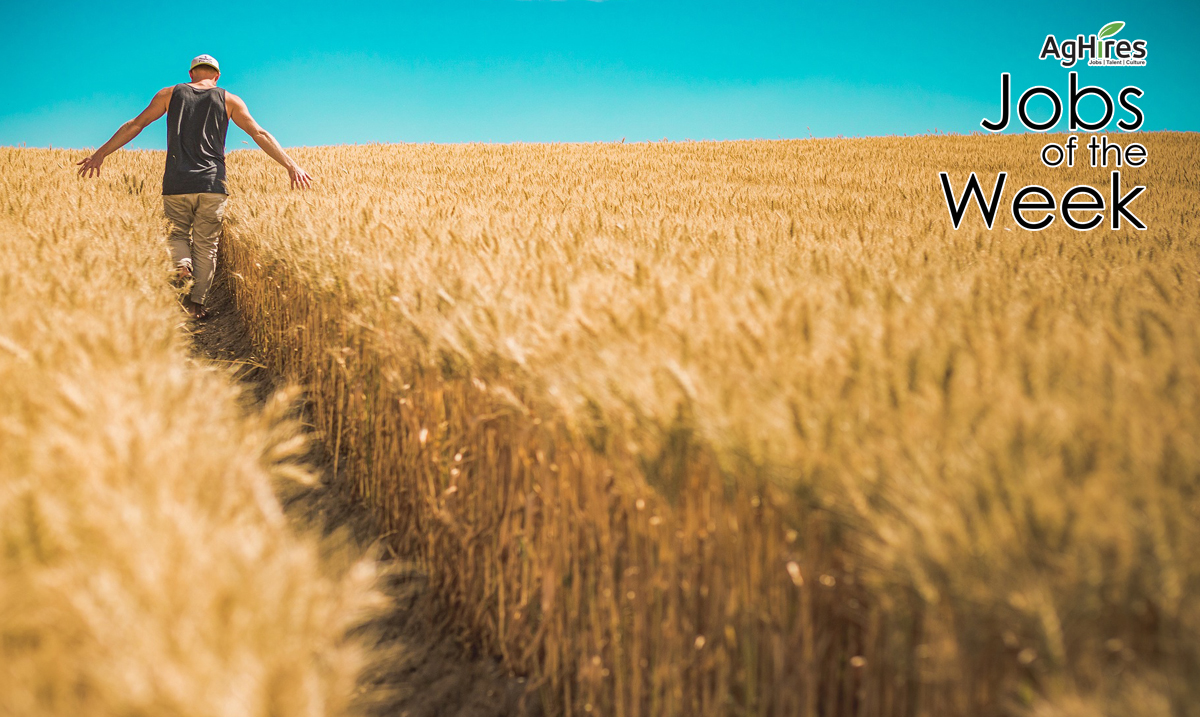 Top Agriculture Jobs of the Week
For the week of 4-25-22
AgHires works hard to be the number one resource for top jobs in agriculture. The agriculture industry provides a variety of job opportunities that range far and wide. Take a moment to search through the thousands of current job openings on AgHires.com, and check out this week's top Agriculture Jobs of the Week below.
A little about the business: Gold Leaf is a hybrid farming company and investment firm – we own and operate almond, pistachio, and date farms in California and Arizona. In addition to owning and farming the properties, we also oversee our equity partners' long-term investments in our farms. We currently own and farm ~11,000 acres, making us a top ~25 tree nut grower globally.
What you would be doing:
The farm manager/operator will manage the farm operations of GLF properties by overseeing the farm staff, evaluating farm performance, and agronomic indicators, and ultimately being responsible for property-level budgets and financial performance.
Reviewing overall tree health and identifying areas of concern.
Reaching out to local vendors for supplies and services will be necessary.
Periodic communications and site visits by Gold Leaf management.
Weekly staff meeting.
Qualifications:
Strong verbal and written communications skills.
Strong management and leadership skills.
Experience in orchard development and building company processes, systems, and infrastructure to enable growth.
Strong relationship-building and networking skills.
5-10 years of experience working in Agronomy/PCA with emphasis on pistachios/almonds or Direct farming or management of pistachios/almonds.
---
A little about the business: Andrew and Sons is a family-owned, multi-generational company with 70 years of experience in all phases of fresh produce. Our company mission is built on quality, trust, relationships, and reliability. Our farm operations along with our quality contract growers, from multiple growing regions, provide a year-round supply of fresh produce to our customers. We specialize in a variety of fruits and vegetables including watermelon, broccoli, cauliflower and strawberries potatoes, onions, and citrus. Our state-of-the-art warehouses and packing facilities re-grade, repack and distribute orders to retailers, foodservice, and manufacturers across the country.

What you would be doing:
Perform quality inspections for all raw commodities harvested.
Conduct daily observations.
Follow up and investigate raw product complaints when necessary.
Assist in raw-related projects at the cooler level.
Assist the department manager and communicate with the sales teams on-field and crop updates.
Complete forms and daily inspection reports and send pictures to Sales Team.
Follow food safety and safety policies as applicable to the cooler operation.
Conduct other duties related to raw quality, as assigned.
Qualifications:
Minimum 2 years of relevant produce experience preferred.
Familiarity with USDA inspection standards.
Fluent in English (some Spanish speaking is a plus).
Valid driver's license with own vehicle.
Able to travel each day to various locations.
---
A little about the business: Welcome to Dinkel's! We are family-owned and operated agriculture and outdoor power equipment dealer located in northeast Nebraska. We sell and service brands such as New Holland, Kubota, JCB, Kinze, and other wide range of ag implements. From preventative maintenance to complete overhauls, we take pride in helping our farming customers operations run smoothly.
What you would be doing:
Perform diagnostics, service repairs, assembly, and maintenance work on customer and dealership new and used farm machinery and heavy equipment.

Work directly with farming customers to communicate repairs made, share available products and services to meet their needs.

Maintain company vehicle, tools, and equipment.

Complete service reports, order parts and maintain clear customer records.

Provide excellent customer service in the shop, on the phone, and in the field.

Participate in service training programs as required to develop knowledge and skills.
Qualifications:
Experience in servicing heavy equipment; agricultural equipment, farming equipment or relatable equipment such as construction or military equipment.

Knowledge of hydraulic, mechanical, and electrical systems related to repair of agricultural or turf equipment.

Ability to work flexible hours during peak seasons.
---
A little about the business: Kelley Bean Company in Cavalier, North Dakota, is hiring a Plant Manager. Founded in 1927, Kelley Bean is an employee and family-owned company that processes and sells the dry edible beans which are sourced directly from its local community of grower partnerships. At Kelley Bean, they take great pride in being defined by the values of absolute integrity, hard work, dedication, service, and community involvement. From Pinto beans to Great Northerns and every variety in between, these values permeate their culture and are found in every bag of dry beans they produce.
What you would be doing:
Coordinate the day-to-day production and processing by directing the efforts of plant supervisor/production manager, mill operator, electric eye operator and warehouse foreman.
Promote Kelley Bean Co. with good public relations.
Incorporate good housekeeping practices on a regular long-term basis.
Improve the processing, including mill operator training and improving the processing lines.
Establish preventive maintenance programs.
Work with operations manager on capital improvement plans.
Maintain warehouse rodent control program to supplement monthly 3rd party service.
Continue learning and follow all PASS procedures and guidelines for Food Safety. Complete monthly PASS training for all staff in timely fashion. Complete on-line AIB Food Safety training.
Qualifications:
Able to make reasonable judgments with many variables that are often changing.

Able to accurately complete math problems that include adding, subtraction, multiplication and division plus formulas to calculate percentages, ratios, volume, etc.


Become adept at using Sharepoint, Excel, Word, NAV and Outlook.
---
A little about the business: N-Drip is the first and only irrigation-micro solution powered by gravity. N-Drip's disruptive technology provides precise irrigation, producing higher yields while saving water, without adding energy or needing water filtration. Already established in the USA, Australia, and Africa.
What you would be doing:
Operate irrigation systems at multiple farms/projects.
Observe regular system operation & report specified data.
Report irregular data, system malfunctions, or other issues promptly.
Ongoing maintenance, repairs, and troubleshooting of existing systems, based on instructions from direct supervisor & eventual working experience.
Develop working relationships with clients and service providers.
Communicate customer needs, problems, interests, competitive activities, and potential for new products and services as needed.
Assist as needed with installations of irrigation system and related components.
Qualifications:
At least 2 years of work experience in a similar role/industry.
Demonstrated experience in irrigation systems a plus.
High level of customer service.
Driven, reliable, and self-motivated.
Ability to work as a part of a team.
---
The opportunities within the agriculture industry are endless. Whether you are looking to start your journey or take the next step in your agriculture career, there is a place for you. Go to AgHires.com to search thousands of current job openings, ranging from agronomy jobs to marketing jobs to service technician jobs. New jobs are uploaded to our website daily.
Follow us on Facebook and Twitter to see more featured jobs.