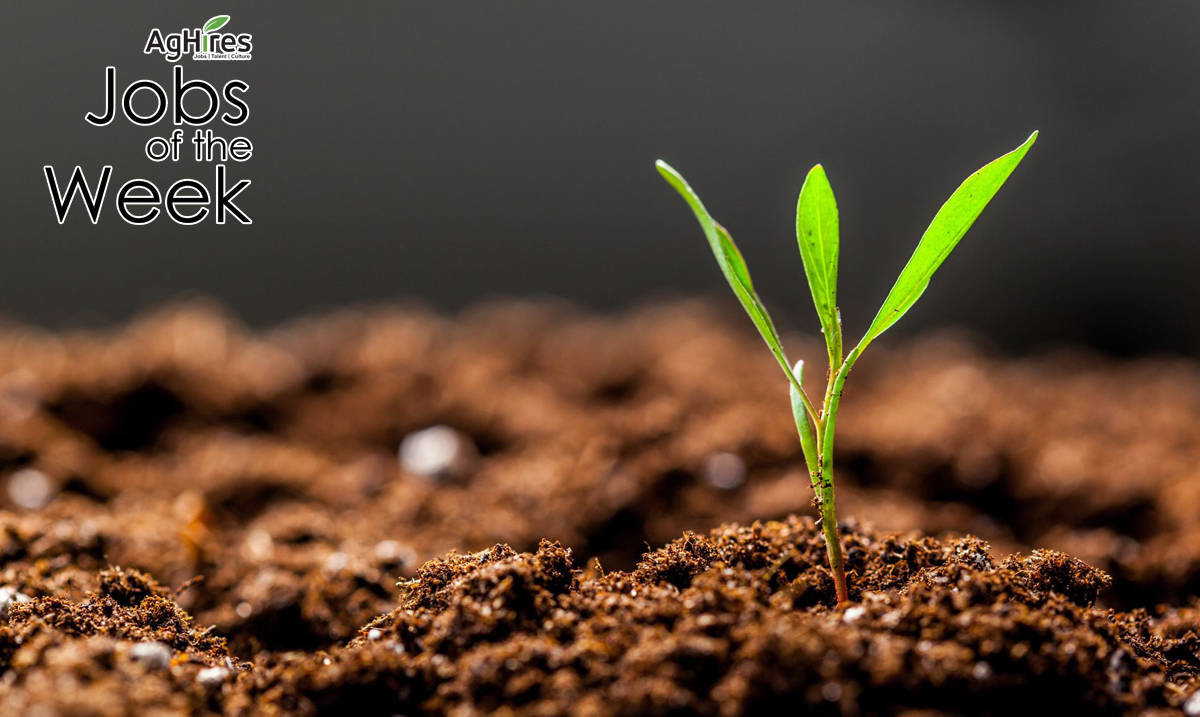 Top Agriculture Jobs of the Week
For the week of 12-13-21
AgHires works hard to be the number one resource for top jobs in agriculture. The agriculture industry provides a variety of job opportunities that range far and wide. Take a moment to search through the thousands of current job openings on AgHires.com, and check out this week's top Agriculture Jobs of the Week below.
A little about the business: Triple K Irrigation is an agricultural irrigation and wastewater equipment and parts supplier located in southeastern Michigan. We are currently looking to hire personnel to work in our warehouse where we receive product from over 50 vendors and in turn ship product throughout the United States and across the world.
What you would be doing:
Receiving and stocking of product.

Shipping USPS, UPS, Freight, and Truckload Shipments.
Accurately procure outgoing shipments.
Assembly of pre-established irrigation kits.
Inventory control.
Maintain a clean, safe, and efficient work environment.
Load and unload incoming and outgoing trucks.
Assist in customer service.
Complete other specially assigned tasks or projects.
Qualifications:
General educational background with both written and verbal communication skills typically acquired through completion of high school. Warehouse experience preferred, not required.
Dependable – more reliable than spontaneous.
People-Oriented – Team Player.
Adaptable/Flexible.
Detail Oriented.
Self-Motivated/Autonomous.
---
A little about the business: Willow Bend Farm is located in Clifton Springs, New York. Willow Bend Farm is a dairy operation that began in 1960 with an original herd of 80 cows. Willow Bend has now grown to over 4800 cows and 9,000 acres of corn and forage crops among 3 dairy sites. We are family-owned and operated and pride ourselves in operating with integrity above all.
What you would be doing:
Supervise and coordinate a small team of operators in tillage, planting, manure management, harvesting.
Identify the needs of the field team and make recommendations to ownership.
Operate heavy equipment and tractors responsibly and safely.
Manage GPS/RTK guidance and monitor systems for manure application, planting, tillage, and harvest.
Train and develop operators plus provide them ongoing feedback on their performance.
Maintain a clean and orderly work environment (equipment and facilities).
Work with vendors and support staff to maintain an adequate inventory of supplies.
Assist in evaluating and implementing new technologies.
Qualifications:
3+ years of farming, agriculture, or related experience.
Effective employee management and leadership skills.
Crop management experience.
Strong decision-making and problem-solving skills.
Basic mechanical proficiency.
Ability to operate a variety of farm machinery.
Proficient computer skills.
---
A little about the business: Tessenderlo Kerley, Inc., is a company of diverse businesses unified by shared values and vision. We serve the agriculture, mining, industrial, and water reclamation markets with a broad range of products and technologies, worldwide. Serving these customers well is a passion and a commitment-one that the people of Tessenderlo Kerley find rewarding, empowering, and meaningful.
If you want the work you do to make a positive impact on the world in which we live, working alongside innovative, quality-focused people of vision, then Tessenderlo Kerley is the right place for you.
What you would be doing:
Align with and personify the company's purpose statement and value proposition.
Research and identify sales opportunities for TKI Crop Vitality products within the assigned region.
Develop clear and compelling written proposals or quotes for current and prospective customers.
Develop quarterly, and annual sales forecasts focused on crops grown in the assigned region.
Supply management with oral and written reports about customers' needs, problems, interests, and offers from competitors' pertinent market intel.
Provide sales support and agronomic insights to existing dealers in the territory.
Schedule, organize, and execute TKI Crop Vitality product presentations to distributors, retailers, and growers.
Qualifications:
Bachelor's degree in horticulture, agronomy, plant nutrition, or other life sciences.
Possess or willing to obtain a Certified Crop Advisor (CCA) license.
3 to 5 years of field experience in plant nutrition, soil science, or other agricultural-related science – technical understanding of plant nutrition is a plus.
Experience in contract negotiation and demonstrated success in an agricultural product sales role.
Demonstrate the ability to problem-solve and determine solutions for customers.
You will have experience speaking to small and large groups and delivering product information.
---
A little about the business: Tejas Ranch & Game Fence is not your typical ranch contractor. Our reputation and years of experience have helped us evolve into a full-service ranch development contractor and fuel our explosive growth. Our clients trust us to produce excellent value in turning their properties into world-class ranches.
What you would be doing:
Expert operation of new-model Equipment such as Skid Steers, Compact Track Loaders, Wheel Loaders & Forestry Mulchers among others.
Focus on ensuring safety, quality, efficiency, and profitability.
Mechanical capabilities with high motivation to complete the tasks at hand.
Capable of working independently in a mature and dependable manner.
Qualifications:
Applicable Experience and Knowledge of Operation Methods, Machine Transport & Maintenance.
Class A CDL Drivers License or the ability to obtain a Class A CDL Drivers License a plus.
Observes Details and minimizes risks to Property and Equipment.
Experience with working on farms and ranches.
Ability to positively interface with customers.
---
A little about the business: Farm Depot is a full-line agricultural dealer with 3 locations across the southern-lower peninsula of Michigan in Caro, Ionia, and Schoolcraft. Whether our customers need a small garden tractor or a large self-propelled harvester or anything in-between, we have it. The mainline we carry is AGCO, we are an AGCO Circle of Excellence & 5 Star Dealer. AGCO includes high horsepower tractors such as Fendt, Challenger, Massey, and Sunflower tillage implements. We carry over 100 different product lines including Krone, Pottinger, Gehl, and Kubota just to name a few.
What you would be doing:
Perform diagnostics, service repairs, and maintenance work on customer farm machinery and heavy equipment.
Work directly with farming customers to communicate repairs made, share available products and services to meet their needs.
Maintain company vehicle, tools, and equipment.
Complete service reports, order parts, and maintain clear customer records.
Assist customers and always provide top-notch customer service.
Qualifications:
Experience in servicing heavy equipment; agricultural equipment, farming equipment or construction equipment, etc.
An understanding of agriculture, farming background, or ag experience (preferred but we are open to heavy equipment or construction experience).
Ability to work flexible hours during peak seasons.
The ability to work independently is a dedicated self-starter and drives position productivity without the need for direct, constant supervision.
---
The opportunities within the agriculture industry are endless. Whether you are looking to start your journey or take the next step in your agriculture career, there is a place for you. Go to AgHires.com to search thousands of current job openings, ranging from agronomy jobs to marketing jobs to service technician jobs. New jobs are uploaded to our website daily.
Follow us on Facebook and Twitter to see more featured jobs.