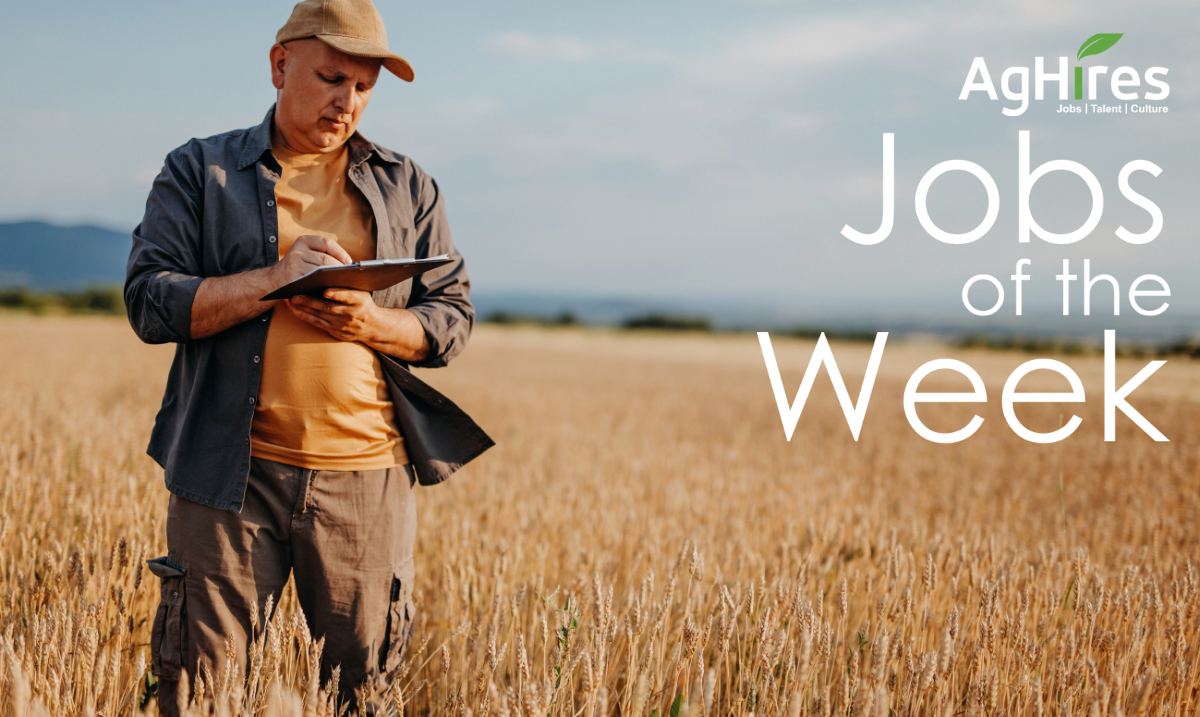 Top Agriculture Jobs of the Week
For the week of 9-18-23
AgHires works hard to be the number one resource for top jobs in agriculture. The agriculture industry provides a variety of job opportunities that range far and wide. Take a moment to search through the thousands of current job openings on AgHires.com, and check out this week's top Agriculture Jobs of the Week below.
A little about the business: Welcome to Caledonia Farmers Elevator! We are a progressive, producer-owned cooperative based in western Michigan. We specialize in custom animal feed manufacturing and have full-service agronomy facilities providing seed recommendations, custom plant food and crop protection programs using GPS applications. We are hiring an Agronomist to join our team in Caledonia, MI (about 20 miles southeast of Grand Rapids). In this you will be analyzing crops to identify ways to improve crop production and soil management.
Our mission is to safely provide quality products, with exceptional service, while being good neighbors and responsible stewards of the resources entrusted to us.
What you will be doing:
Investigate farm and agriculture fields for weeds, pests, nutrient deficiencies, and plant health.
Work with agriculture growers to establish test plots and monitor throughout the growing season.
Remain current with industry trends.
Make proper recommendations of products and services to ensure product quality meets customers' needs.
Communicate safe handling procedures to customers.
What we're looking for:
Bachelor's degree in Agronomy, Agriculture or other related degree.
Certified Crop Advisor Certification is preferred but not required.
Exceptional customer service skills.
Strong personal and professional judgment, integrity.
Outstanding communication skills both written and oral.
We offer competitive compensation depending on experience, health, dental, and vision insurance, 401(k), tuition reimbursement, and employee discounts.
---
A little about the business: Stealth NewCo (the "Company") will bring to market a set of scaffolding technologies designed to solve structure and mouth-feel challenges faced by the alternative protein industry. The alternative protein market faces difficulties as producers attempt to create products that mimic animal-based protein sources.
What you will be doing:
Develop and execute a comprehensive business strategy and vision for the company, including identifying new market opportunities and developing innovative solutions to meet the emerging needs of the alternative meat industry

Hypothesize and continuously refine a go-to-market strategy and commercialization process (scaling from lab to commercial, including manufacturing plan) that effectively positions the company and its products in the market

Pick and develop a talented team of employees, right-sized for the stage of the company including recruiting, retaining, and developing top talent across multiple

functional areas, including product development, marketing, sales, and operations

Show a clear path to profitability by implementing scalable and efficient financial strategies, setting and achieving key business goals and milestones, and continuously monitoring and improving performance metrics
What we're looking for:
Demonstrated experience as a successful CEO, founder, and/or business leader of a technology company, preferably in the agriculture, food or related industries

Strong track record of building and leading a high-performing team from scratch

Demonstrated ability to build and maintain key partnerships with customers, investors, and other stakeholders

Strong analytical skills and experience using a mix of data and insight to drive business decisions

Exceptional communication and interpersonal skills, with the ability to represent the company effectively
We offer:
Salary plus equity in the company

Medical, Dental, and Vision Insurance

Retirement plan options

A collaborative and open relationship with GFRP Fund Team and BIV resources and networks

Active engagement in any follow-on rounds - helping to secure a lead investor and other investors

A network of enabling functions supporting the company to run company formation, human resources and benefit administration, payroll, intellectual property counsel, and more

Assistance with first hires
---
A little about the business: Sage Ag Inc. is currently seeking hardworking, self-motivated, & detailed oriented individuals who are passionate about agricultural technology & machinery. Through this position, you will be working with a major agricultural machinery manufacturer with cutting edge technology. As a Software Test Engineer in automation you will be responsible for implementing and executing test scripts in SIL and/or HIL environments for Cotton equipment. This position is based out of Ankeny, IA.
What you would be doing:
Implement and maintain test scripts for automation using designated test automation tool for the respective environment
Responsible for mapping test scripts to test case requirements for traceability and result/coverage reports
Ensure test scripts deliver reproducible results
Document any issues found with the performance or functionality of software under test
Conduct reviews with software engineers to review documented issues and track to resolution
What we're looking for:
Minimum GPA of 2.5 in a technical field such as (Computer Science, Electrical Engineering, Agricultural Systems Technology, Software Engineering); or related degree with equivalent technical experience
Experience creating production-quality automated test scripts
Leadership of a technical team to deliver results
Demonstrated ability to develop software in a professional environment (Python, C++ or equivalent) which included an emphasis on Test Automation
Experience logically breaking down complex problems and clearly create and document a path to resolution
---
A little about the business: Welcome to Graf Creamery! We're located in rich Wisconsin dairy country, where a traditional way of life is valued. We are a United States Department of Agriculture federally approved butter manufacturing facility packaging about 25 different brands of butter. It is our people who make the difference. We welcome team members who strive for excellence, possess initiative, and seek a culture that requires commitment and rewards achievement.
We are hiring a Churn Operator at our plant in Bonduel, WI (about 30 miles northwest of Green Bay, WI). In this role you will be responsible for efficient operation of churn and Rothenburg equipment to meet butter demands for print and packaging equipment. If you have butter-making experience or dairy manufacturing experience that's great and we want to hear from you. If not, we are willing to train so please apply!
What you would be doing:
Follow and comply with applicable good manufacturing, safety, and quality assurance practices.

Verify quality control items such as product types, ingredients, fat contents, and temperature.

Properly control butter flows and pressures throughout the butter supply system.

C.I.P. all equipment associated with the churn system.

Maintain proper documentation in all record keeping formats.
What we're looking for:
High School Diploma or General Education Degree (GED).

Ability to obtain and retain a butter maker's license.

Basic computer skills. Attention to detail and good organizational skills.

Ability to maintain applicable powered industrial vehicle certifications. (Forklift, Scissor lift, etc.)

Ability to adapt effectively within a continually changing and demanding environment.

Ability to demonstrate an ability and willingness to communicate effectively in order to maintain high levels of safety,
We offer a competitive hourly wage based on experience along with profit sharing plan with 401K and match. Health, dental, life, and short-term disability. We have 2 different shifts available. One for our start-up shift which runs 1am – 9:30am and the other available shift is 9am – 5:30pm. Overtime is offered over 40 hours.
---
A little about the business: Welcome to Hartmann Farms! We're a grain elevator and row crop farm in Lodi, WI (20 miles from Madison) that grows, handles, and stores corn and soybeans. We're hiring an Accountant who will focus on the financial activities of our grain elevator and related businesses.
We are a privately owned elevator that focuses on providing a great customer experience for our farmers while delivering the highest-quality grain for our buyers. Our farm operation focuses on producing corn, soybeans, and sweet corn using the latest technology and equipment. We are a small, close-knit team and offer a relaxed work environment.
What you would be doing:
Maintain general ledger system.

Prepare and review ledger entries and reconciliations.

Financial data entry, accounts payable, accounts receivable, payment processing.

Banking duties such as deposits, wire transfers and ACH.

Prepare and process weekly payroll.
What we're looking for:
This position is an in-person role. Remote applicants will not be considered.

Accounting experience required.

Minimum of an Associate's degree in Accounting or similar. Applicants with farming or grain elevator experience will be given preference.

Grain Accounting experience is not required but would be considered a plus. We will provide training for the right candidate.

Strong attention to detail and well organized.
We offer competitive compensation based on experience along with health benefits, paid vacation, retirement with match, and more.
---
The opportunities within the agriculture industry are endless. Whether you are looking to start your journey or take the next step in your agriculture career, there is a place for you. Go to AgHires.com to search thousands of current job openings, ranging from agronomy jobs to marketing jobs to service technician jobs. New jobs are uploaded to our website daily.
Follow us on Facebook and Twitter to see more featured jobs.