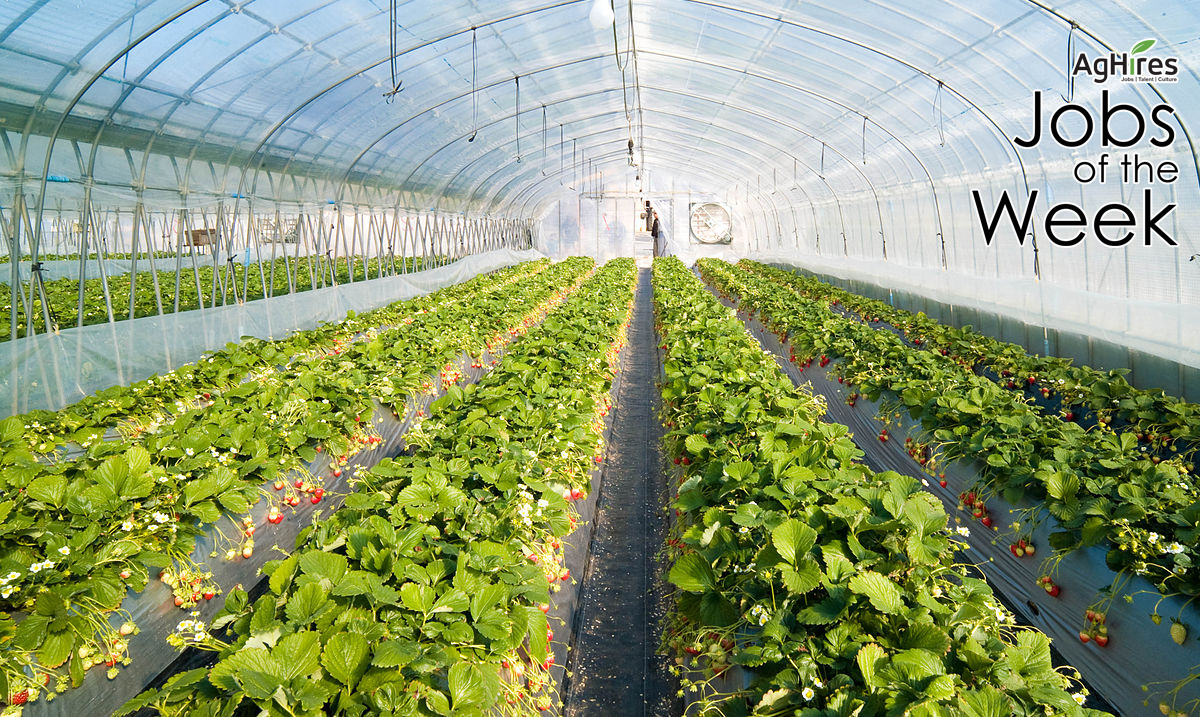 Top Agriculture Jobs of the Week
For the week of 5-8-23
AgHires works hard to be the number one resource for top jobs in agriculture. The agriculture industry provides a variety of job opportunities that range far and wide. Take a moment to search through the thousands of current job openings on AgHires.com, and check out this week's top Agriculture Jobs of the Week below.
A little about the business: Welcome to Cool Pak LLC, a Bunzl Ag Company! We are hiring a Sales Representative with proven sales experience and interest in going to the next level. This sales role will be responsible for creating, developing, and driving sales within the following target markets: Produce growers and re-packers, Food Processors and Distribution Accounts.
What you will be doing:
Promote new products within existing customer base.
Prospecting on new accounts.
Sell value added products to existing accounts: custom print packaging, industrial bags, high end Flexible Packaging, Clamshells, corrugated, packaging machinery, labels, RPC labels, soaker pads, stretch wrap, etc.
Provide timely and accurate sales forecast to procurement and planning teams to ensure inventory levels are up to date.
Identify public relations opportunities.
What we're looking for:
High school diploma or equivalent; bachelor's degree in professional Selling, Marketing or Business a plus
Must have 5+ years of outside sales experience in at least one of the following markets: food processing, produce packaging, produce re-packers, custom print packaging, industrial bags, corrugated, flexible packaging, clamshells.
Required to work independently, with minimal supervision.
Outstanding customer service skills and the ability to work in a team setting with a diverse group of employees, managers and outside parties.
Exceptional analytical, organizational, and oral/written communication skills
We offer a base salary + commission plan, company vehicle, comprehensive benefits package including health, dental, vision, and life insurance & more.
---
A little about the business: Welcome to Finger Lakes Dairy Services! We are based in Seneca Falls, NY with products and services provided to dairy customers in Central, Northern, Eastern, and Western New York. We are hiring Dairy Equipment Installation – Service Technicians who will work remotely traveling to dairy farms throughout Northern New York. In this role you will be utilizing your skills to assist in installation and basic service of milking, feeding, and manure removal equipment.
We help our customers find solutions to their ever-changing farm needs including: milking, cooling, feeding, manure handling, and dairy supplies. We conduct business in a profitable and responsible manner to provide a good lifestyle for owners and employees.
What you will be doing:
Serve existing accounts by planning equipment, parts, and time requirements.
Investigate complaints, conducting tests, and resolve problems.
Maintain a rapport with customers by identifying their needs, suggesting improvements, and implementing installation and/or repairs of equipment after approval of the service or installation manager.
Keep personal and company equipment operating correctly by following appropriate instruction manuals, service regimes and safety precautions.
Planning and communicating equipment and parts needs to the service or installation managers.

What we're looking for:
Knowledge of dairy farms, milking, feeding, and manure removal systems
Advanced knowledge of electrical systems
Certification of refrigeration knowledge or willing to obtain
Installation and Level 2 Lely robotic certification or willing to obtain
Knowledge of potential milk quality issues, and resolutions to the causes of these problems
We offer a competitive salary depending on experience ($50,000 - $70,000), paid time off, medical flex spending account, and retirement with company match.
---
A little about the business: Welcome to Lanehaven Farms; we are hiring an Ag & Diesel Farm Mechanic. In this role, you will be responsible for all aspects of the maintenance of the farm equipment. You will join a progressive seed corn, commercial crop, organic crop, and hog farm based in Northeast Iowa. The farm has been an early adopter of leading-edge technologies that improve processes' efficiency, quality, and overall effectiveness. Core values characterize how the farm lives and conduct business daily.
What you would be doing:
Develop, maintain, and adhere to a preventive maintenance schedule for all vehicles and machines.
Diagnose problems and determine where repairs are needed.
Perform routine vehicle inspections and ensure compliance to all DOT regulations.
Keep the shop and parts room clean and organized.
Assist with field work and other general farm work, as necessary.
What we're looking for:
A degree in Diesel Ag Technology or similar work experience.
A private pesticide applicators license or the ability to get one.
A valid driver's license and the ability to pass vehicle insurance verification. A commercial driver's license is preferred.
Excellent organizational skills and appreciation for the value of accurate data and reporting.
A mindset of curiosity and progressiveness.
We offer a very competitive hourly wage with overtime based on experience and qualifications, group health, dental and vision insurance, flex system cafeteria plan, 401k retirement plan, and life insurance.
---
A little about the business: Welcome to Western Feed Mills, Inc. We are a privately-owned feed manufacturing and distribution company located in South Central Kansas. We are hiring a Ruminant Nutritionist to join our team in Cedar Vale, KS (about 30 miles east of Arkansas City, KS). In this role you will have numerous responsibilities within our operation. Primary responsibilities include Feed Formulation, Product Development, Marketing, Sales Support & Training, Quality Control, Regulatory Affairs and Customer Service.
We manufacture feed and nutrition products for all major classes of agricultural livestock including beef, dairy, sheep, goats, and swine. Our primary focus is beef cattle, where we manufacture range feeds, supplements, starter feeds, pasture minerals and feedlot base mixes.
What you would be doing:
Selling Western Feed Mills feed products and provide beef technical consultation to beef cattle producers throughout our trade area.
Develop new business and prospect new accounts with the primary emphasis being feedlots, starting yards and backgrounding operations, as well as cow/calf and stocker operations.
Provide product support, training, ration formulation, and technical service.
Provide input into product development, marketing, and manufacturing.
What we're looking for:
MS or PhD in Ruminant Nutrition or related Animal Science degree.
3+ years of experience working directly with feed mill or cattle feeding operations.
Excellent oral and written communication skills.
Ability to work well in an individual and team setting.
Able to manage multiple projects and travel.
We offer competitive compensation depending on experience, life and health insurance, paid vacation, and a company vehicle.
---
A little about the business: Welcome to Arnett/Enid New Holland and Kubota dealerships continue to embody their legacy of a passion for agriculture, family values, and our local communities. The AENHK team includes 35 inspiring individuals with over 225 years of combined experience dedicated to helping the many families we serve achieve their goals and dreams.
We're proud to serve over 6,000 customers in Northwest Oklahoma, the Panhandle of Texas and Southern Kansas, as well as provide local jobs and significant revenue annually in our communities.
What you would be doing:
Monitor service technician monthly goals to maintain an appropriate level of professional service.
Coach each service technician to improve their performance, safety and enhance their technical skills.
Oversee the appearance and organization of the service department and the associated outside areas to communicate professionalism of the service technicians and commitment to the excellence of the dealership.
Interact with customers to ensure a positive experience with the service department and the dealership.
What we're looking for:
Five or more years of engine/equipment diagnosis and repair with a track record of success. Preferably in one of the following industries: Agricultural equipment, motor vehicle industry, outdoor power equipment, recreational vehicles, construction equipment and machinery, small engine and accessories. Must possess a valid driver's license.
Must be willing to work a normal 40 hours per week and longer hours as required to meet customer demands.
Able to Lift and handle heavy loads up to 70 lbs. plus work outdoors and indoors in all weather.
---
The opportunities within the agriculture industry are endless. Whether you are looking to start your journey or take the next step in your agriculture career, there is a place for you. Go to AgHires.com to search thousands of current job openings, ranging from agronomy jobs to marketing jobs to service technician jobs. New jobs are uploaded to our website daily.
Follow us on Facebook and Twitter to see more featured jobs.