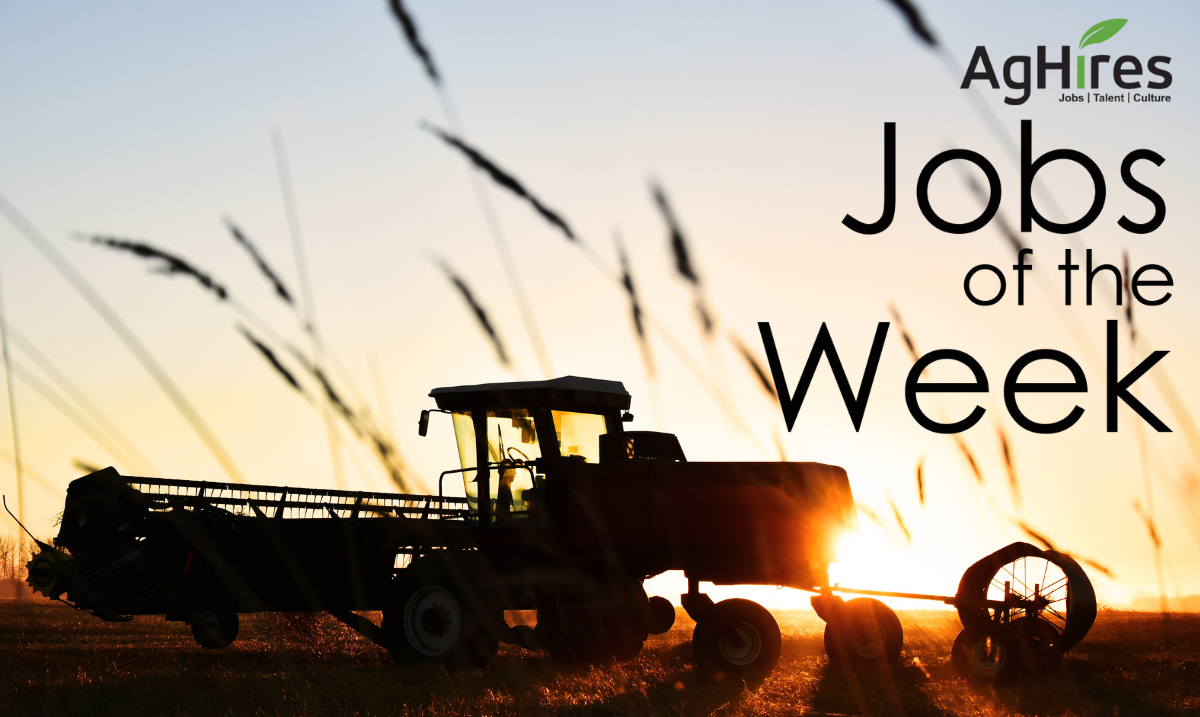 Top Agriculture Jobs of the Week
For the week of 8-21-23
AgHires works hard to be the number one resource for top jobs in agriculture. The agriculture industry provides a variety of job opportunities that range far and wide. Take a moment to search through the thousands of current job openings on AgHires.com, and check out this week's top Agriculture Jobs of the Week below.
A little about the business: GENEPRO, Inc., is a global reproductive technology company that manufactures specialized products for the livestock and veterinary artificial insemination industry. We are highly specialized in fresh semen preservation and turnkey production equipment. Our objectives are to provide our customers with the very best quality and innovation and industry leading performance. Our research team, in collaboration with our parent company Genes Diffusion, produces highly acclaimed swine products. Genes Diffusion is world renown for their innovation and technological advancement.

We are looking for a technically-orientated, hands-on sales representative to further develop and expand our market share. In your role as a Sales Representative you will manage the entire customer experience – from start to finish. You will work with our internal team to make sure that your customer receives the highest quality products and services the industry has to offer.


What you would be doing:
Establish, maintain, and expand customer base

Service needs of existing customers while seeking new customers

Increase business opportunities through cold-calling, industry shows and other selling avenues

Work with Operations Manager to develop a sales strategy

Compile and analyze sales figures
What we're looking for:
Minimum 2 years of prior sales experience

Associate's Degree or Bachelor's Degree in an animal science or agriculture related field

Strong computer skills; word, power point, excel & CRM (Salesforce)

Proven ability to influence customers
Ability to manage multiple priorities with highly effective follow through skills
We offer:
Competitive compensation including eligibility for a bonus after 1 year of service

PTO and paid holidays

Medical, dental, vision, and life insurance

401k with company match

Hybrid flexibility to work remote (preference to WI, IA, IL, or MN) with negotiated reporting to their Madison, WI office
---
A little about the business: Sage Ag Inc. is currently seeking hardworking, self-motivated, & detailed oriented individuals who are passionate about agriculture & machinery. Through this position, you will be working with a major agricultural machinery manufacturer providing testing support to conduct test plans, perform software integration, diagnose and find solutions for Sprayers, Self- Propelled Windrowers and various agricultural equipment. This position is based in Ankeny, Iowa.

What you will be doing:
Diagnose, troubleshoot and repair issues with Sprayers and Windrowers
Perform software integration and verification of agricultural equipment
Assist in developing test plans and procedures
Document plans and procedures in test database and execute them reliably as software changes
Communicate and collaborate within a team to resolve technical issues

What we're looking for:
Minimum GPA of 2.5 in an Agricultural, Engineering, Software or related major
Experience with Agricultural equipment and working with large machinery in the field or willingness to learn and operate equipment safely
Ability to understand complex mechanical and software systems
Effective communication skills
---
A little about the business: eGenesis is a biotechnology company that utilizes multiplex gene editing and genome engineering platform to transform solid organ and therapeutic cell transplantation for the treatment of serious disease. The company is committed to ending the global transplant shortage and transforming the treatment of organ failure. eGenesis is bringing that vision closer to reality with lead programs in kidney and islet cell transplantation.

Research Animal and Farm Technician
We are looking for a talented individual to join our agricultural operations team in Mount Horeb, Wisconsin to participate in all activities related to research animals. This position requires a detail-oriented individual who will provide animal care, upkeep animal areas in accordance with the company standards of cleanliness and disinfection, provide diet in compliance with SOPs and regulatory agencies guidelines and perform treatments in accordance with company different study protocols. You will perform daily animal health observation and welfare compliance on animals ranging in age from newborn piglets to breeding age according to the USDA and OLAW guidelines while also following the company's biosecurity protocol. You will also assist veterinary personnel in all animal-related experimental phases and follow the line of communication established between the veterinary team and the animal operations department.
What you would be doing:
Be responsible for the handling of animals enrolled in cloning, in-vitro fertilization, and natural breeding studies.

Assist in maintaining 200-acres of pastureland and general facility upkeep.

Feed and clean all research animals enrolled on reproductive studies

Responsible for maintaining and keeping health and herd management records updated.
Responsible for activities related with artificial or natural breeding

What we're looking for:
A.S. or B.S. in Animal Science or another agricultural degree

Knowledge of swine or large animal operation preferred but not required

Working knowledge of basic farm equipment

Proficiency in MS Office (MS Excel in particular)

Excellent time management skills and the ability to prioritize work
---
A little about the business: Wellington Implement Co., Inc. isn't like every other equipment dealership. While we're here to earn an honest profit, our focus is to truly deliver the ultimate equipment experience and our service operations are at the core of this vision. We are striving to become the best place our team members have ever worked and have an Employee Experience Committee actively working with management to achieve this goal.
An exciting opportunity for an experienced technician to join a team of professionals who have developed our complex's customer-centric service reputation over the past decades in a Case IH "Pinnacle" service department. Learn from the best while contributing your own expertise working on Case IH combines, tractors, planters and/or hay equipment. Enjoy flexible hours off-season, top pay and relocation benefits while working for a family-owned company that believes strongly in the professional development of each team member through the utilization of OEM technical training. We have a fantastic safety record, a super well-lit shop with air conditioning, well-equipped field service vehicles and a shop floor we take pride in making sure you could eat from.
What you would be doing:
Analyze and understand a customer's concern and to provide a solution at the time of need or work to head off a potential failure
Continue to learn about our product lines and equipment features, and share your knowledge to build our team
Assist service manager by advising customers of necessary service repairs and make recommendations to customers for preventative maintenance, and assist in quoting jobs as needed
Maintain in good condition all service tools and service vehicles, while keeping shop area organized and safe
Electronically document all work performed, parts used and labor hours while making repairs or preparing machines for customer use
What we're looking for:
2+ years of experience as an ag technician, preferred
Familiarity with Case IH's lines of Midrange & Flagship combines, or Magnum & Steiger tractors, preferred
Computer knowledge, proficient with the internet and the ability to type work orders
Valid driver's license
Experience with DC Electrical Systems as well as electronics, wiring and fluid power schematics, hydraulic flows and applications, and all facets of air conditioning
We offer flexible hours off-season, top pay and relocation benefits while working for a family-owned company that believes strongly in the professional development of each team member through the utilization of OEM technical training.
---
A little about the business: The Suburban Farm Co-op is developing a 5-acre plot of land at the southwest corner of highways 394 & 169 in St Louis Park. This project centers around our private-label growing operation and the use of agricultural technologies to provide highly nutritious produce directly to the consumer. We are hiring an Agriculture Team Lead to join our team. This role works in tandem with our future farm stand market and subscription box business as a wholesaler and spearheads the development of our grow business.
What you would be doing:
Managing day-to-day growing operations, developing Standard Operating Procedures (SOP's) from seed to harvest of our indoor growing operation.
Creating an employee handbook that will include health and safety protocols.
Manage staffing and scheduling of agriculture operations.
Executing packaging and preparation of produce for market and subscription boxes.
Strategize on the expansion of growing produce regarding volume and labor necessities and capabilities.
What we're looking for:
Prior agricultural, farming, indoor growing, hydroponic growing, or horticultural experience.
Outstanding leadership skills.
Ability to work in an individual and team environment.
Self-motivated with a passion for agriculture

We offer s

tarting base salary $60,000 with benefits as well as professional growth and bonus potential.This job requires in person hours 10:00 am – 4 pm (with some flexibility).
---
The opportunities within the agriculture industry are endless. Whether you are looking to start your journey or take the next step in your agriculture career, there is a place for you. Go to AgHires.com to search thousands of current job openings, ranging from agronomy jobs to marketing jobs to service technician jobs. New jobs are uploaded to our website daily.
Follow us on Facebook and Twitter to see more featured jobs.