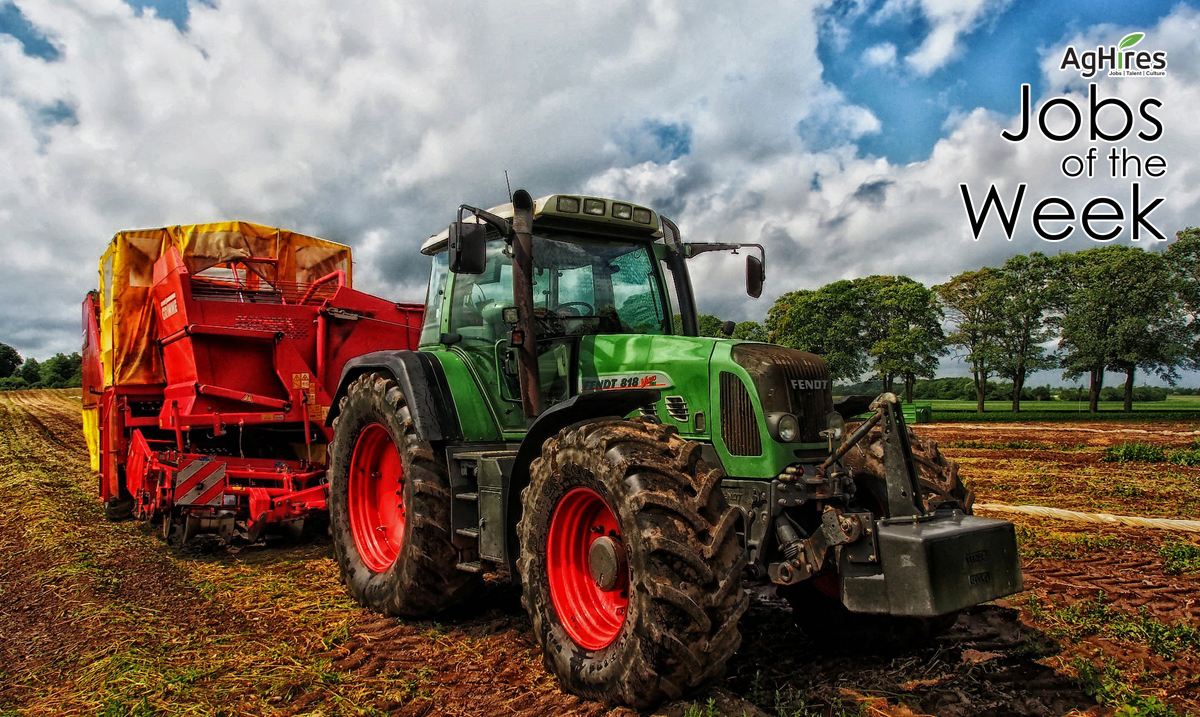 Top Agriculture Jobs of the Week
For the week of 5-1-23
AgHires works hard to be the number one resource for top jobs in agriculture. The agriculture industry provides a variety of job opportunities that range far and wide. Take a moment to search through the thousands of current job openings on AgHires.com, and check out this week's top Agriculture Jobs of the Week below.
A little about the business: Welcome to Lanehaven Farms; we are hiring a Farm Maintenance Manager. In this role, you will be responsible for all aspects of the maintenance of the farm equipment. You will join a progressive seed corn, commercial crop, organic crop, and hog farm based in Northeast Iowa. The farm has been an early adopter of leading-edge technologies that improve processes' efficiency, quality, and overall effectiveness. Core values characterize how the farm lives and conduct business daily.
What you would be doing:
Work with Operations Manager to manage assistant labor concerning the overall farm equipment and shop schedules.
Organize a logical and reasonable system to monitor and maintain an economic level of parts inventory.
Develop, maintain, and adhere to a preventive maintenance schedule for all vehicles and machines.
Be responsible for keeping all vehicles and machines clean inside and out.
Assist with fieldwork and other general farm work, as necessary.
Operate feed mill, when needed, to minimize downtime.
What we're looking for:
A degree in Diesel Ag Technology or similar work experience.
A private pesticide applicators license or the ability to get one.
A valid driver's license and the ability to pass vehicle insurance verification. A commercial driver's license is preferred.
Excellent organizational skills and appreciation for the value of accurate data and reporting.
A mindset of curiosity and progressiveness.
We offer a very competitive hourly wage with overtime based on experience and qualifications, group health, dental and vision insurance, flex system cafeteria plan, 401k retirement plan, and life insurance.
---
A little about the business: Meyn is a subsidiary of CTB, Inc., a Berkshire Hathaway Company, offering intelligent, innovative, customized, and sustainable solutions in the poultry processing industry. With our outstanding equipment, best-in-class service and parts delivery, and expert know-how, Meyn is the trusted business partner for hundreds of renowned poultry processing companies in over a hundred countries. As the world population continues to grow, global demand for Meyn products will grow accordingly. Being a team member of Meyn means you can rely on an exciting and challenging career that will have a meaningful impact on today's market and tomorrow's communities – helping to feed a hungry world!

As the Vice President of Service Operations, you will provide visionary planning, strategic leadership, and tactical management for Meyn Americas' Service business, including Project Management, installations, Service Level Agreements and Helpdesk support of Meyn products and the growth of the service contract base. You must be passionate about customer service with a strong work ethic and experience managing, mentoring, and motivating staff.

What you will be doing:
Develop and implement the strategic plan for Meyn America's Service business including the deployment of Meyn Digital Services, Meyn's intelligent automation and IoT platform – ensuring continued market leadership and profitable growth for the service business.
Identify customer needs for enhanced service offerings and create up-sell strategies to capture incremental service revenue.
Maintain a proven track record of simultaneously delivering P&L results and Customer Satisfaction (Net Promoter Score)
Establish and manage annual action plans and Key Performance Indicators to ensure operational capabilities are continually improving – while managing budgets.
Evaluate internal capabilities to recognize new skills needed to recruit, develop, and lead a team that is continuously growing and develop a replicable and scalable model for training and tracking, through measurable data, the performance of service technicians.

What we're looking for:
A. Education: MBA or Masters in a related field; will consider a Bachelor's degree in a related field with proven leadership and management expertise.
B. Experience: 8+ years of progressive service operations and leadership experience within a global mid- to large size manufacturing organization; Experience with large capital equipment, industrial products, or other similar large revenue products throughout the Americas highly preferred.
C. Functional Skills: Excellent strategic-thinking skills with the ability to plan, organize, and implement initiatives; results-oriented with great time-management skills; Strong problem-solving skills; Exceptional analytical skills with experience formulizing and leading KPI's and contingency plans to drive the Service Business; ability to manage P&L expectations.
D. Technology Aptitude/Skills: Excellent Microsoft Office skillset; Ability to use ERP and other data systems required.
E. Language Skills: Excellent verbal and written communications skills to interact with customers, Project Managers, Technicians, as well as all levels of the organization to lead and facilitate a vision. Conversational Spanish a plus.
We offer a competitive hourly salary that is commensurate with proven expertise plus company bonus plan.
---
A little about the business: Prime Time Produce has been on the journey of becoming the largest year-round grower, packer, and shipper of premium quality colored peppers in the United States. Prime Time has become a major supplier of sweet mini peppers and asparagus, in addition to a wide variety of seasonal produce items – from vine-ripened tomatoes and sweet corn to watermelons and green beans. Primetime uses technologically advanced farming practices, combined with operating state-of-the-art packing facilities, to ensure delivery of the safest and best-tasting produce in the marketplace.

We are hiring a Farming Administrator to join our team in Santa Paula, CA. You will be supporting the administration and agronomy teams by data tracking, inventory management, and the coordination of employees and equipment.
What you would be doing:
Coordinating planting schedule updates
Working closely with management on daily crew scheduling and locations
Equipment purchasing, inventory, and insurance paperwork
Maintain a line of communication with corporate office
Purchasing fertilizer and pest control services, along with handling corresponding invoices
What we're looking for:
Proficient in all Microsoft platforms
Proficient with Google Sheets/ Slides
Preferably bilingual, but not required
We offer a competitive salary, health plan, dental plan, 401K, and paid time off.
---
A little about the business: Welcome to Creekside Valley Farms located in Oregon's Fertile Willamette Valley. We're a diversified farm growing about 12,000 acres where seed crops and hazelnuts are the main commodities. Our main seed crops include grass, radish, and garlic, along with hazelnuts, and blueberries. We perform custom work as well as farm drainage systems. We've adapted our farm to the changes in the industry throughout the years, but our values remain the same. Our team is passionate about agriculture, dedicated to working together and thrives with the changing demands of each season.
Join Our Team! We're hiring for a full-time, year-round Farm Crew Leader – Sprayer Operator in Dayton, OR. In this position you will be in a hands-on leadership roll responsible for spray applications, supervising Applicators, planting, and grass seed harvest.
What you would be doing:
Operating farm equipment such as a sprayer.
Precisely blending and applying fertilizers, pesticides, fungicides, herbicides or insecticides based on prescribed rates and label recommendations.
Performing preventative maintenance on the sprayer and ensure nozzles, hoses, etc. are working properly.
Keeping equipment and facilities in good order.
Maintaining spray logs and weather records.
Managing chemical inventory.
What we're looking for:
Experience working in agriculture and operating farm equipment, spray application – highly preferred.
Proven ability to lead and work with a team.
A passion for farming, equipment, and leading a successful team.
A positive and optimistic approach to your work.
Strong personal motivation along with strong moral values and a commitment to the betterment of the operation.
We offer a competitive hourly wage along with medical, dental, vision and life insurance, short & long term disability, Flex Spending Accounts, 401K, company loyalty bonus, paid vacation and sick leave. Relocation assistance is available for the right candidate. We also offer one amazing work environment where your efforts and ideas are recognized.
---
A little about the business: eGenesis is a biotechnology company that utilizes multiplex gene editing and genome engineering platform to transform solid organ and therapeutic cell transplantation for the treatment of serious disease. The company is committed to ending the global transplant shortage and transforming the treatment of organ failure. eGenesis is bringing that vision closer to reality with lead programs in kidney and islet cell transplantation.

What you would be doing:
Responsible for observing and reporting on the behavior and condition of animals identified as sick or injured by farm staff.
Responsible for administering medications and treatments to surgical patients. Consult with veterinarian and provide medications, vaccines, and treatment list to farm staff.
Provide emergency first aid or general nursing care for surgical animals and new health concerns as they arise.
Responsible for maintaining and keeping surgical records updated.
Responsible for animal health observations of those animals produced by the eGenesis cloning and breeding programs.
What we're looking for:
Eligibility to take the Veterinary Technician National Exam (VTNE) with commitment to do so within 6 months of hire if certification is not already obtained
Substantial veterinary surgical support experience may be substituted for educational requirements
Excellent time management skills and the ability to prioritize work
Attention to detail and problem-solving skills
Excellent verbal and written communication skills
We offer a competitive salary dependent on experience along with a strong benefits package that includes health, dental, and vision insurance, bonus potential, tuition stipend, and PTO.
---
The opportunities within the agriculture industry are endless. Whether you are looking to start your journey or take the next step in your agriculture career, there is a place for you. Go to AgHires.com to search thousands of current job openings, ranging from agronomy jobs to marketing jobs to service technician jobs. New jobs are uploaded to our website daily.
Follow us on Facebook and Twitter to see more featured jobs.