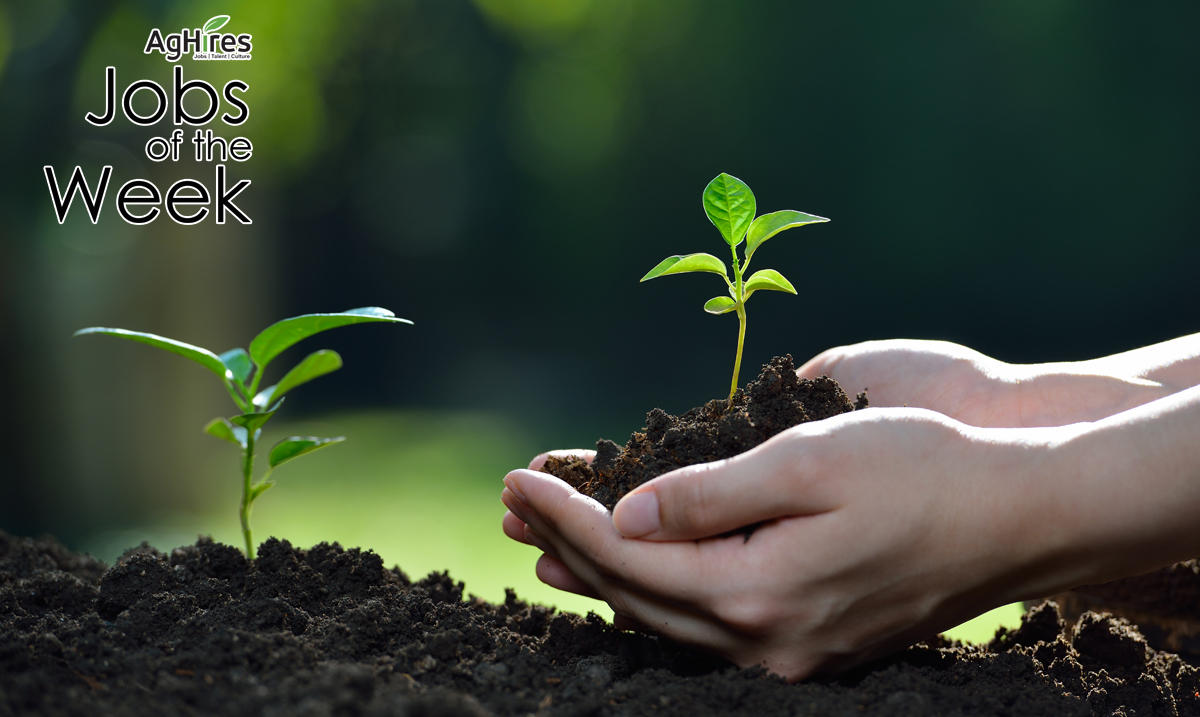 Top Agriculture Jobs of the Week
For the week of 3-27-23
AgHires works hard to be the number one resource for top jobs in agriculture. The agriculture industry provides a variety of job opportunities that range far and wide. Take a moment to search through the thousands of current job openings on AgHires.com, and check out this week's top Agriculture Jobs of the Week below.
A little about the business: WELCOME TO ROGITEX, a Canadian-based company operating out of Montreal, Qc. We are a 40-year-old family business that successfully redirected its operations in agriculture several years ago with the intention to direct its efforts towards supporting sustainable farming through the products and services it offers the industry. We have helped growers achieve yield increases between 30 to 50%, as well we have helped growers reduce their fertilizer costs by reducing their input needs from 30 to 50% without affecting yields.

What you would be doing:
Call on prospective clients to build new business and increase sales
Develop new revenue opportunities through market analysis of consumers, competitors, and trends
Manage customer accounts to include developing whole farm plans, forecasting inputs, price negotiations, technical coordination, contract preparations, contract closures, complaint resolution, and contract collections
Organize and supervise field trials and other opportunities to build brand awareness
Work with the team to ensure the development of new promotional content
Qualifications:
Bachelor's degree in agronomy, crop and soil science, agriculture, agribusiness, or a relatable field
A minimum of 3 years of experience selling agricultural products
Proven history of successful sales
Extensive knowledge of crops grown across the USA and of standard grower practices
Experience working with large growers, grower organizations, and channel partners.
We offer a competitive base salary along with commissions on sales, car allowance, and all expenses paid.
Search more Agronomy Jobs on AgHires now.
---
A little about the business: Welcome to Creekside Valley Farms! We are a diversified farm growing over 12,000 acres in the Willamette Valley, cultivating grass seed, hazelnuts, garlic, radish, blueberries, clover, and cherries. In addition, we perform custom work as well as farm drainage systems. The roots of the company are grown from family farming values. We proudly lead the agriculture industry with inventive ideas and state-of-the-art practices while building quality relationships with our landowners, customers, and employees.

What you would be doing:
Maintain accurate and organized records for all areas of business.

Recruitment and selection process for all labor and non-manager personnel.

Administers all employee onboarding paperwork including screening and interviewing.

Plan, coordinate, and attend career fairs.

Assist in the process of payroll, prepare and maintain payroll system, and ensure timeliness and accuracy.
Qualifications:
College degree in Human Resources, HR, other relatable field, or minimum of 2 years of equivalent job experience.

Knowledge of Oregon Labor laws.

High proficiency in Microsoft OS and a suite of tools, QuickBooks experience a plus.

Experience with accounting procedures or bookkeeping is highly desirable.

Supply management or farming industry experience preferred.
Search more Human Resource Jobs on AgHires now.
---
A little about the business: Meyer Farms is a large family-owned, diversified operation farming 14,500 acres of corn, soybeans, sugar beets, and wheat. Located in SE North Dakota in Fairmount, we enjoy and appreciate taking care of the land we farm while having the satisfaction of contributing to the world of agriculture.

What you would be doing:
Hands-on leader in all aspects of the operation
Operate farm equipment including planters, harvesters, combines, sprayers, and tillage
Perform preventative maintenance and light repairs on equipment and implements
Assist with loading/unloading grain
Haul grain for local delivery
Qualifications:
Experience in farming or related field, GPS, and precision ag experience
Operating heavy equipment, farm equipment
Preferred knowledge of row crops, sugar beets, agriculture equipment, agronomic practices, plant health, soil health, farm equipment, chemical, and fertilizer use
Strong mechanical background, preventative maintenance, welding, and fabricating equipment
Excellent communication, leadership, and time management skills
Browse more Farming Jobs on AgHires now.
---
A little about the business: Ironwood Plastics is focused on delivering products that exceed expectations. We are proud to be ISO/TS 16949:2009 certified. Our success and market share come from our exceptional quality and flexibility to change and implement systems specific to the customer's needs or industry. Ironwood is a family-oriented company with just over 100 employees and a long history going back 43 years. We take pride in serving the automotive, electronics, industrial, medical, and military industries. And, as a team member, you will play an integral role in our pursuit of World Class performance in these markets!
What you would be doing:
Interfaces with key stakeholders to identify, develop, and lead short and long-term strategies that drive the Division's success.
Explores new product opportunities and develops/leads short and long-term market strategies to expand the global reach and achieve long-term business objectives
Develops and manages direct Sales and Operational Key Performance Indicators, ensuring that continuous enhancement of products, quality, delivery, and cost containment objectives are met.
You will champion change management initiatives targeted towards the Mission, Vision, and Values while engaging, developing, mentoring, and leading individual contributors to higher levels of performance.
You will participate and provide business and financial analysis on trends, opportunities, and overall Divisional direction to continually move the organization forward.

Qualifications:




Education: A BS degree in Business, Sales, Marketing, or a related field; with proven leadership and management expertise.
Experience: 7+ years of progressive senior business and leadership experience within a mid- to large-size manufacturing organization, selling industrial products directly or through channel sales. Prefer background in injection molding, including acquiring, manufacturing, and/or maintenance of tooling, and sourcing/maintaining supplies of appropriate / specified resins. Exposure to and experience working with Engineering is critical. Experience in or with automotive and/or automotive components industries is helpful, as is with the industrial, military, and/or medical device fields
Functional Skills: Excellent strategic, organizational planning, and executing skills; strong analytical skills with financial planning/cost containment experience; experience in formalizing and leading Key Performance Indicators and contingency plans that will drive the business is also important. Strong experience in costing and product pricing is required. Strong sales and contract negotiation skills are also important.

See Full Job Description
Search more Executive Jobs on AgHires now.
---
A little about the business: Babynov USA, LLC is a brand-new production facility, located in Red Boiling Springs (Macon County, Tennessee), 100% dedicated to the production of ready-to-eat baby food for the American market. It takes its DNA from Global Baby, a French company, with over 25 years of worldwide expertise in babies' nutrition. With the very specific needs of the little ones in mind, our aim is to offer the best possible solutions for a great start to healthy food habits.
What you would be doing:
Responsible for the raw material quality management and for working closely with suppliers and the purchasing team
Responsible for the Raw Materials specifications management (design, norms, signature, communication)
Integrate relevant regulations constraints and relevant customers constraints
Develop Babynov policies regarding raw materials to be used in baby food production and include them in the specifications
Develop and manage the RM risk analysis process necessary to the Babynov company: creation, update, sharing, training

Qualifications:




Bachelor's degree in food science or relevant discipline preferred.
Agronomical knowledge is a plus
Proven experience in a Quality role within a manufacturing facility
Strong verbal and written communication skills with suppliers and other internal positions ( quality control, purchase, supply chain)
Knowledge of Microsoft Office.
Search more Food Processing-Production Jobs on AgHires now.
---
The job opportunities within the agriculture industry are endless. Whether you are looking to start your journey or take the next step in your agriculture career, there is a place for you. Go to AgHires.com to search thousands of current job openings, ranging from agronomy jobs to marketing jobs to service technician jobs. New jobs are uploaded to our website daily.
Follow us on Facebook and Twitter to see more featured jobs.