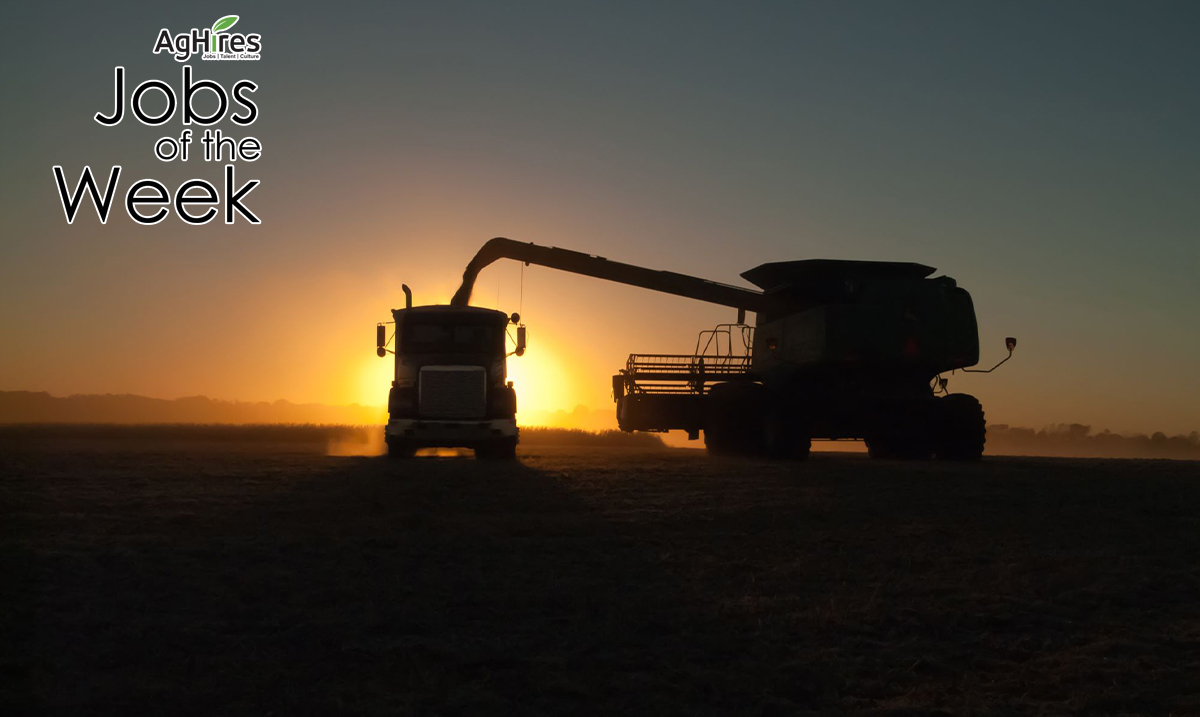 Top Agriculture Jobs of the Week
for the Week of 8-7-23
AgHires works hard to be the number one resource for top jobs in agriculture. The agriculture industry provides a variety of job opportunities that range far and wide. Take a moment to search through the thousands of current job openings on AgHires.com, and check out this week's top Agriculture Jobs of the Week below.
A little about the business: Welcome to Plevna Implement Company! Our dealerships and teams are growing. We are hiring an Ag Service Technician for our dealerships in several Indiana locations. In this role you will be performing repair and maintenance services on farm, agriculture, and other heavy equipment. We're looking for someone who is self-motivated, pursuing the completion of their tasks efficiently and with a concern for quality.
We are a family-owned, full-line AGCO-Massey Ferguson farm equipment dealership offering sales and service support as well for Fendt, White Planters, Sunflower Tillage, Gleaner Combines, and many more. We are headquartered just outside of Kokomo in the town of Plevna, Indiana. We offer service locations in Kokomo, Auburn, and Nappanee, Indiana.
What you would be doing:
Perform maintenance and repair on farm, agriculture, and other heavy equipment and machinery.

Work alongside the Service Manager to manage time punches and parts for each repair job.
Collaborate with colleagues to provide quality service to customers in the most efficient and timely manner possible.
Troubleshoot and diagnose service-related issues on customer owned machinery either in person or via phone support, asking for a Service Call as appropriate.
Pre-deliver/Set-up newly retailed farm machinery as suggested in each Service Sales Requisition and/or direction from Service Manager.
Qualifications:
Experienced in servicing and/or repairing agriculture equipment, farming equipment, construction equipment, military equipment, or other heavy equipment.
A dedicated self-starter with the ability to work independently and drive position productivity without the need for direct, constant supervision.
An excellent communicator, with the ability to facilitate coordination among multiple parties often under specific timeframes and deadlines.
Are a great listener and have the ability to develop practical retail sale solutions.
Understanding of and have the ability to uphold the principal Core Values of our Company.
We offer an excellent work environment along with a competitive hourly wage, health, dental an vision insurance, paid time off, profit sharing, 401K and more.
Search more Equipment Jobs on AgHires now.
---
A little about the business: Welcome to KG Agri Products, Inc! We are processors of NON-GMO and ORGANIC food grade soybeans, priding ourselves in providing our growers with competitive varieties all over the world.
We are hiring a Seasonal Part-Time Field Inspector who will be responsible for maintaining our Identity Preserved Program (Non-GMO and Organic Soybean). Your main responsibility will be visiting contracted growers and collecting field data by field inspection and complete field inspection data of mapped food-grade soybeans as well as maintaining all of the company's grower relationships, various programs, and working with Field Sales Specialists.
What you would be doing:
Collecting field data sheets from mapped fields, Inspecting fields for the Identity Preserved Program.

Compiling information from field data sheets into data base.

Maintaining relationships with all growers.

Receiving inspection training before the job is required.
Qualifications:
Ability to review, cross-reference, and enter data accurately.

Excellent English verbal communication and written skills.

Excellent organizational skills.

Works well independently and with a team.

Ability to build and maintain relationships.
Search more Agronomy Jobs on AgHires now.
---
A little about the business: We are Prospera, a Valmont company, and we're developing a technology solution to humanity's most fundamental challenge: how to feed the world, and we are looking for an experienced Billing Specialist! This position is responsible for invoicing for Prospera division subscription and hardware billable activity.

The Billing Specialist will report to the Operations Director and will work as part of the billing operations team to support the needs of both external customers and internal business activities. This role acts as the system specialist (subject matter expert) to support the existing billing processes, as well as work as part of a cross-functional development group as new billing processes are added to the system.

What you would be doing:
Continuously improve and support subscription billings, payments, and collection operations
Build, maintain, and produce reports as necessary to support business objectives
Conduct analysis and audits of billing/invoicing data to determine accuracy and identify gaps
Reconcile invoices with balance sheet reports and resolve any discrepancies
Work collaboratively and build strong relationships across the organization with Sales, Sales Operations, Customer Experience, Accounting, Tech Support, and Product teams
Qualifications:
Associates Degree with 2+ years of relevant experience OR 5+ years of relevant experience
1-3 years in financial services or billing/accounting project management
Proven experience as a billing specialist
Experience using SaaS platforms or software tools in a customer-facing role
Data-driven decision maker; results-focused, self-motivated & proactive personality
We offer a competitive hourly rate along with an excellent benefits package that includes medical/dental/vision insurance, generous PTO, 401k plan, bonus structure, and an outstanding team culture!
Browse more Administrative Jobs on AgHires now.
---
A little about the business: Welcome to St. Joseph Tractor and Skyview Equipment! We provide equipment sales, parts, and service for New Holland Agriculture and New Holland Construction. We also provide equipment sales, parts, and service for Bush Hog, Kinze, Honey Bee, Mainero, Dalton, Salford, Ag Leader, Bad Boy, Scag and Gravely brands. We also have a variety of specialty equipment such as loader attachments, grain handling equipment and implement add-ons. We're hiring an Equipment Sales - Store Manager Trainee for our Skyview Equipment location in Hiawatha, KS (about an hour northeast of Topeka). In this role you will be responsible for managing performance and success of new and used equipment sales departments, service and parts departments, store and facility operations, staff, profit and loss and related activities.

What you would be doing:
Lead and motivate staff in a positive, team-oriented environment that is customer-centric with a focus on providing exceptional customer service and product expertise.
Delegate duties and direct personnel daily to ensure operational needs are met.
Identify goals and implement strategies that deliver results in line with sales, service and profitability objectives.
Monitor store and team performance; implement corrective action plan, when needed, to assure achievement of store goals.
Oversee and manage operating budget, inventory, daily operations, appearance of facility, etc.

Qualifications:




Prior agricultural and/or construction equipment and dealership sales setting experience necessary; basic technical and mechanical understanding helpful.
Minimum 5 years' experience overseeing operations/personnel of an equipment or sales/service driven business preferred but not required.
High School diploma or GED required; 4-year Agribusiness, Sales or Marketing degree preferred but not required.
Risk management, purchasing, pricing, inventory control and operations knowledge desirable.
Candidate must have previous employee leadership/supervisory experience.



We offer competitive compensation depending on experience, Health, Dental, Vision and Life Insurance, 401(k), profit sharing program, paid time off, company vehicle, and much more.

This is a robust opportunity to play a key role in the company and make a meaningful contribution to the future success of an established and growing business. The qualified candidate will also take an active role in the sale of equipment. This position reports directly to the company President.

See Full Job Description
Search more Management Jobs on AgHires now.
---
A little about the business: Central Valley Ag is a farmer-owned cooperative headquartered in York, Neb. CVA has locations in Iowa, Kansas, and Nebraska. CVA is an innovative leader providing products and services in grain, agronomy, feed, and energy.
As a Feed Operations Lead at Central Valley Ag, you will be responsible for learning how to manage sales, inventory, equipment and facilities at the feed locations through experience and training at each of the feed manufacturing locations. This is intended to be a developmental position to ready individuals for higher levels of responsibility for the feed division.
What you would be doing:
Learn to oversee finances for feed locations.
Learn to supervise the day-to-day operations of the feed mills and delivery trucks.
Learn to manage employees at the locations.
Learn how to interview, hire and train employees.
Learn to plan, assign and direct work of employees.
Qualifications:
2-year degree in a related degree and or 3 to 5 years' experience.
Have knowledge of DOT regulations and OSHA compliance.
Recommend Class A CDL.
Ability to communicate in a professional manner and establish effective working relationships with internal operations and external customers.
Works in a way that demonstrates safety is a priority. Promotes a work environment that is safe for everyone.
We value the highest ethical standard-our word is our bond.
Search more Grain Jobs on AgHires now.
---
The job opportunities within the agriculture industry are endless. Whether you are looking to start your journey or take the next step in your agriculture career, there is a place for you. Go to AgHires.com to search thousands of current job openings, ranging from agronomy jobs to marketing jobs to service technician jobs. New jobs are uploaded to our website daily.
Follow us on Facebook and Twitter to see more featured jobs.