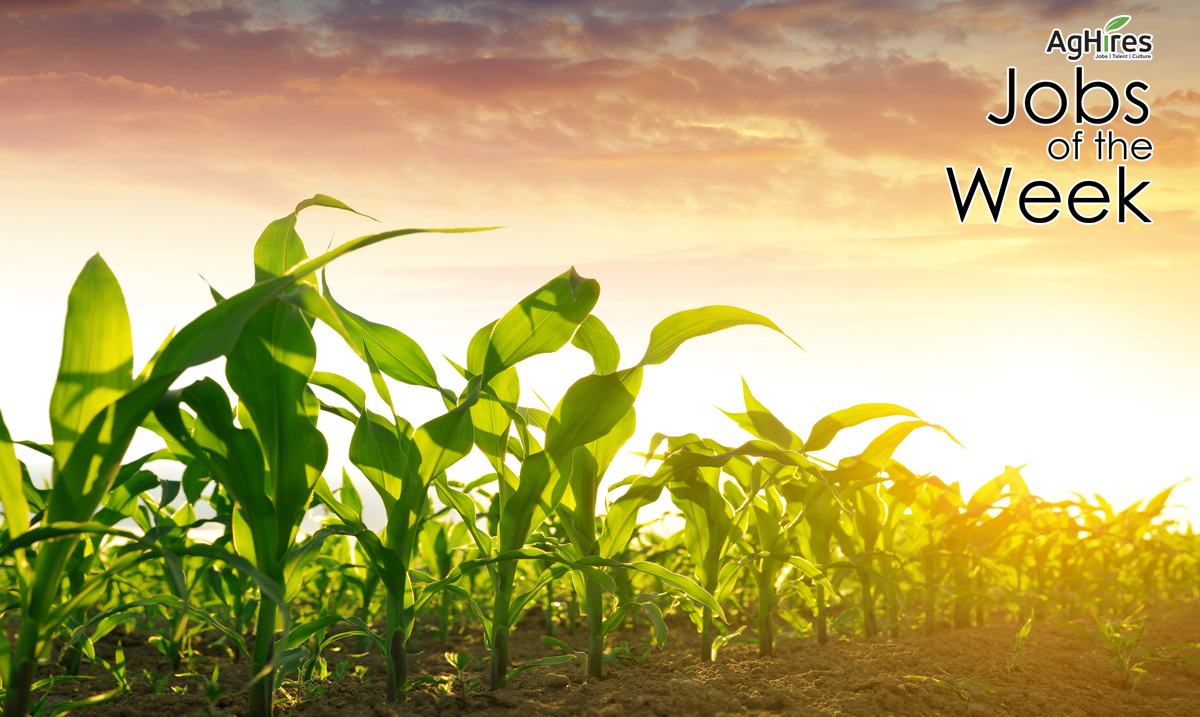 Top Agriculture Jobs of the Week
For the week of 4-10-23
AgHires works hard to be the number one resource for top jobs in agriculture. The agriculture industry provides a variety of job opportunities that range far and wide. Take a moment to search through the thousands of current job openings on AgHires.com, and check out this week's top Agriculture Jobs of the Week below.
A little about the business: Medford Cooperative company signed the articles of organization on March 31, 1911, which makes us among the oldest cooperatives in the state of Wisconsin. The founders' vision was that by buying cooperatively, the availability of goods and services could be assured. Like the formation of many cooperatives, this created the concept of a company owned by the people, for the people.
The Sales Agronomist position will work under the direction of the Director of Ag Services. The position is responsible for the development of relationships with potential and existing customers, maintaining and growing sales volume, crop scouting, soil sampling and delivering products as needed. Performs related work as required.
What you would be doing:
Conduct territory planning and management

Generate sales revenue

Deliver outstanding customer service

Demonstrate sound agronomic skills



What we're looking for:
Associate Degree in Crops, Soils, Agronomy, Agri-business, or equivalent experience/education in related field.
Ability to work in a fast-paced environment with demonstrated ability to juggle and prioritize multiple, competing tasks and demands.
Must have good judgment and the ability to independently make solid decisions. • Demonstrated experience understating customers' unique problems and determining the best fit for their needs
Work requires continual high-level attention to detail.
Available to work extended seasonal hours as needed.
---
A little about the business: Welcome to Weber Water Service! We are hiring a Local Truck Drivers in Sheridan Lake, Colorado to haul water, dirt, gravel, and other materials to work sites.
We have a fleet of water trucks, belly dumps, blade, loaders, dozers, and a trackhoe. We operate in a farming community servicing oilfields and construction. Soon we will be servicing a large wind and solar project and are looing for Truck Drivers to help us in hauling for this project.
What you would be doing:
Driving trucks hauling water, dirt, and gravel to the job site.
Ensuring delivery is timely and safe.
Maintaining cleanliness and safety of work areas and trucks.
Light maintenance on trucks or other heavy equipment.
What we're looking for:
Experience driving trucks and/or semis with tractor/trailer combination.
Basic mechanical skills to understand mechanical issues that may arise, changing oil, greasing trucks, tire repair or other light shop work.
Someone who considers themselves honest and dependable.
We offer compensation of $23/hr plus health insurance is available.
---
A little about the business: Central Valley Ag is a farmer-owned cooperative headquartered in York, Neb. CVA has locations in Iowa, Kansas, and Nebraska. CVA is an innovative leader providing products and services in grain, agronomy, feed, and energy. You can find more information about Central Valley Ag by visiting www.cvacoop.com.

As a Customer Service Specialist at CVA, you will be primarily responsible for safely and accurately weighing trucks, grading grain, performing data entry, answering phones, filing documents, providing high-level customer support and providing the customer with knowledge of our products and services.
What you would be doing:
Performs billing of agronomy products and services.
Upholds all Central Valley Ag policies.
Weighs and grades inbound and outbound grain.
Balances accounts payable statements.
Provides customer service in a timely manner via telephone, email or face to face interaction.
What we're looking for:
High School or GED diploma.
Ability to communicate in a professional manner and establish effective working relationships with internal operations and external customers.
Works in a way that demonstrates safety is a priority. Promotes a work environment that is safe for everyone.
We value the highest ethical standard-our word is our bond.
Can plan, prioritize, organize and manage resources in order to accomplish jobs within the defined timetable.
---
A little about the business: Welcome to Flocktown Farm! We grow and deliver sustainable produce to North and Central New Jersey. We are dedicated to Community Supported Agriculture (CSA) and employ strict ecological management practices alongside innovative sustainable design to grow healthy, high-quality food for our community. Since 2012, our mission continues to grow on over 100 acres in Pittstown, NJ.
We are hiring a Sourcing Manager to join our passionate team. The sourcing manager is responsible for procuring grocery items for resale to our CSA members. We source over 1000 different items from organic and sustainable producers with a mission of supporting our local foodshed. We are seeking an entrepreneurial individual focused on creative produce sourcing methods.
What you would be doing:
Find new and exciting products

Calling and emailing suppliers to place weekly orders

Reviewing weekly price lists sent by vendors

Coordinating pickup and delivery of sourced items

Inventorying and organizing sourced items
What we're looking for:
Experience as a produce buyer or buying/selling in food distribution
Familiarity with the logistics of food distribution
Excellent communication skills
Knowledge of and interest in food, sustainable agriculture, and farm-to-table ethics
Self-starting
We offer housing, free produce, bread, and eggs plus a grocery discount.
---
A little about the business: Profile® Products delivers proven solutions for many different industries—all with an eye toward environmental stewardship.

Both here and around the globe, we are the market-share leader delivering greener solutions to preserve soil and water resources, improve animal health and horticultural operations, and enhance the quality of life at work, at home and at play. A world-leading manufacturer and innovator of wood-fiber-based and porous ceramic technologies, Profile Products is unsurpassed in the development of cost-efficient, environmentally friendly solutions that meet a broad range of unique consumer, commercial and industrial needs

We're hiring a Accounting Assistant for our HydroStraw production facility in Rockford, WA. In this role, you will assist the Office Manager in daily accounting and administrative activities to include but on limited to: data entry, data base system upkeep, AP, invoicing, minor account reconciliations, time & attendance reporting, physical inventories, and various other tasks.

What you would be doing:
Assist in month-end close activities such as: running inventory transaction reports, investigate and resolve inventory discrepancies, and providing vetted month-end inventory & inventory flows to accounting.
Generate monthly, annual, and ad-hoc reports and provide to leadership.
Assist in physical inventory counts and reporting.
Reconcile physical inventory in ERP System.
Enter inventory flow transactions into ERP System: inventory receipts, transfers, shipments and adjustments.
What we're looking for:
High School diploma or equivalent required; Associates Degree with accounting coursework preferred
3+ years administrative and/or accounting experience; preferably in a manufacturing environment
ERP System experience in Sage and/or JDE preferred
---
The opportunities within the agriculture industry are endless. Whether you are looking to start your journey or take the next step in your agriculture career, there is a place for you. Go to AgHires.com to search thousands of current job openings, ranging from agronomy jobs to marketing jobs to service technician jobs. New jobs are uploaded to our website daily.
Follow us on Facebook and Twitter to see more featured jobs.