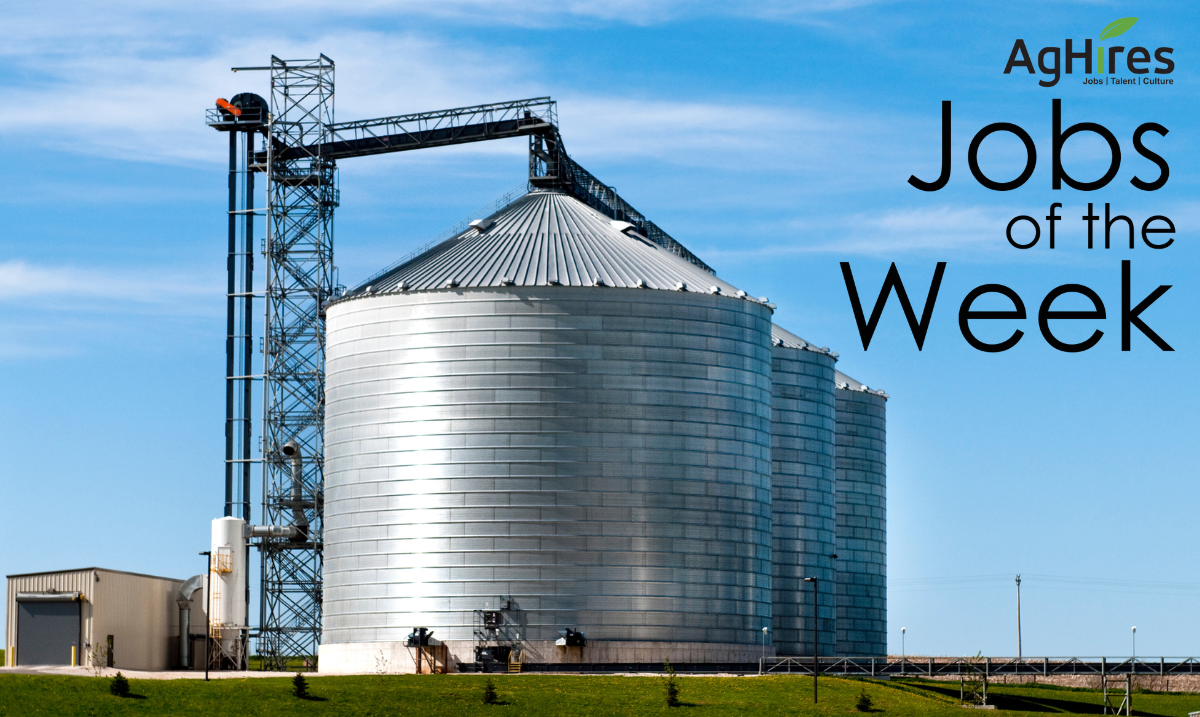 Top Agriculture Jobs of the Week
For the week of 9-4-23
AgHires works hard to be the number one resource for top jobs in agriculture. The agriculture industry provides a variety of job opportunities that range far and wide. Take a moment to search through the thousands of current job openings on AgHires.com, and check out this week's top Agriculture Jobs of the Week below.
A little about the business: Welcome to Van Gilder Commodities! We are hiring for our new-to-us country grain elevator in Albion, MI (19 miles west of Jackson, MI). We have multiple positions available from Grain Elevator Operators to CDL Drivers to a Grain Superintendent and/or Operation Manager. We're hiring for this fall and are willing to train the right people!
As a Grain Elevator Operator, you will be performing a variety of duties from ensuring outstanding customer service, to loading and unloading grain, performing light maintenance on grain equipment and/or facility, operating grain dryers, testing/recording incoming grain, and more.
As a CDL Driver, you will be hauling grain locally utilizing hopper-bottom and other grain trailers.
As a Grain Superintendent or Grain Manager, you will oversee operations of the grain elevator including but not limited to training, safety, facility logistics, monitor grain inventories, and leading a team.
We are farmer focused…market driven! Join our new team at our 5-million-bushel facility with 4 commercial grain dryers. While working at Van Gilder Commodities, you will focus on safety, be expected to be farmer centric, remain family focused, and be held to the highest level of integrity.
What we're looking for:
Experience in agriculture, farming, grain, grain sampling and grading, material handling, other related skills, and experience.
"Safety first" mindset
Millwright's experience with Grain Handling Equipment preferred, not required.
Comfortable working in variable weather conditions.

Ability to work extended hours during peak seasons.
Strong people skills and must work well with others.
We offer full time and part time roles with competitive compensation based on experience along with health insurance for full-time employees.
---
A little about the business: Shoup Manufacturing launched the present business of manufacturing, marketing and distributing quality replacement parts for farm equipment directly to the American farmer in 1977. The product line began with less than 50 items and a single page flyer distributed at a farm trade show. Today, Shoup markets thousands of replacement parts and accessories for combines, planters, grain drills, tractors, balers, cultivators, rippers, forage harvesters, sprayers and more. Shoup's original concept of providing high quality products and great customer service at a fair price remains the same today as when the business was founded.

As we continue to grow at Shoup, we need to find the right people to help us continue to deliver on our founding mission: Provide quality products and great customer service at a fair price. We are currently hiring a representative for our sales and customer service department.

Our sales and customer service representatives are our voice to the customer, and we rely on them to provide the outstanding service that Shoup's customers expect and deserve. Working towards that goal, our representatives are primarily responsible for helping customers place orders, answering their questions, and finding solutions to their specific needs.
What you would be doing:
Answer customer calls and conduct appropriate action i.e., enter new order; check order status; check item availability, etc.
Follow-up and take appropriate action on open orders, including backorders.
Obtain shipping quotes from Freight Manager, when necessary.
Additional responsibilities may be assigned based on skillset and willingness i.e., export orders; farm show team; department projects, etc.
What we're looking for:
Well-rounded knowledge of tractors, combines, planters, and tillage equipment.
A strong mechanical aptitude.
Excellent written and verbal communication.
Proficiency with Microsoft Office products.
Field experience operating and maintaining farm equipment is a plus, but not required.
We offer great compensation and great benefits.
---
A little about the business: Welcome to Twin Creek Farms! We are a family-minded farm operation in Southern Minnesota. We grow corn and soybeans on 2100 acres of land. In addition to our cash crops we have 4800 hog finishing spaces and conduct custom line spreading and spraying, as well as plow snow commercial during the winter.
We are hiring a Farm Equipment Operator - Applicator to join our team in Dodge Center, MN (about 20 miles west of Rochester). In this role you will be operating agriculture equipment such as a self-propelled sprayers and dry-spreaders.
What you would be doing:
Operation agriculture equipment such as tractors, self-propelled sprayers, and self-propelled dry-spreaders.
Perform some preventative maintenance and repairs to farm equipment.
Assist on all other areas of the farm where needed.

What we're looking for:
Prior experience in agriculture / farming operating farm equipment. Applicating experience is preferred.
Valid Class D Driver's License or willingness to obtain.
Commercial Pesticide License or willingness to obtain.
Ability to work well in a team setting.
Self-starter with a willingness to learn.
We offer a competitive hourly wage $21-$24 depending on experience, overtime pay, and a company matched 401k.
---
A little about the business: AgPerspective Inc. was founded in 2003 out of a desire to help growers market their grain. More specifically, to show farmers how to use crop insurance to simplify their grain marketing decisions. AgPerspective uses Logic Based Grain Marketing to give farmers the best probability of their best outcome in any circumstance every time.
As we continue to expand our team, we are looking to add an Employee Development Specialist to our Dixon, Illinois office. Within this role, you will act as a human resources generalist who recruits, onboards, new hires, as well as furthering the development of current employees through personalized growth action plans and continued training. You will promote a positive company culture and retain talent through employee relations, community engagement, and organizational development.
AgPerspective offers a competitive salary, complete insurance and benefits package, PTO, 401k + matching, and career advancement opportunities. We also offer an employee stock ownership plan; we want our team to take ownership of their jobs, so we give them ownership.
What you would be doing:
Teach, reinforce, and model core values.
Mentor company employees and ensure they are seen and heard.
Obtain Compassion Method emotional health certification and champion throughout organization.
Oversee and implement training and onboarding for new employees.
Develop and implement employee and leadership development programs for the organization.
What we're looking for:
Dixon, IL local or, lives within reasonable commuting distance to our office.
Highly approachable and relatable, great listener with the ability to build rapport.
Team builder who fosters an effective, collaborative environment.
Pioneer of processes, and continuous improvement, and sees the opportunity to make our best better.
Passionate individual who aligns with our story, AgPerspective's values, and mission.
---
A little about the business: TRICKL-EEZ Irrigation Inc is one of the nation's leading dealers in Drip Irrigation, as well as most other types of irrigation systems. We have been supplying the agricultural and horticultural communities with quality, dependable, and efficient irrigation systems for over 42 years.

We are hiring a highly motivated Outside Sales Representative to join our team. This remote opportunity has the primary responsibility to source and generate new business while improving existing customer relationships. The Outside Sales Representative will primarily cover the Pennsylvania territory, but has opportunity for growth.
What you would be doing:
Develop and implement a sales plan to meet assigned sales targets and objectives.
Identify and prospect new business opportunities.
Conduct product demonstrations and provide technical expertise to customers.
Keep current with industry trends and best practices
Build and foster strong working relationships with all dealers.
What we're looking for:
Possess knowledge of the agriculture or horticultural industry
Willing to travel regularly within sales territory
Ability to work independently and manage multiple projects and priorities.
Demonstrated customer service, relationship building and problem-solving skills.
Self-motivated and goal orientated
Excellent verbal and written communication skills
---
The opportunities within the agriculture industry are endless. Whether you are looking to start your journey or take the next step in your agriculture career, there is a place for you. Go to AgHires.com to search thousands of current job openings, ranging from agronomy jobs to marketing jobs to service technician jobs. New jobs are uploaded to our website daily.
Follow us on Facebook and Twitter to see more featured jobs.