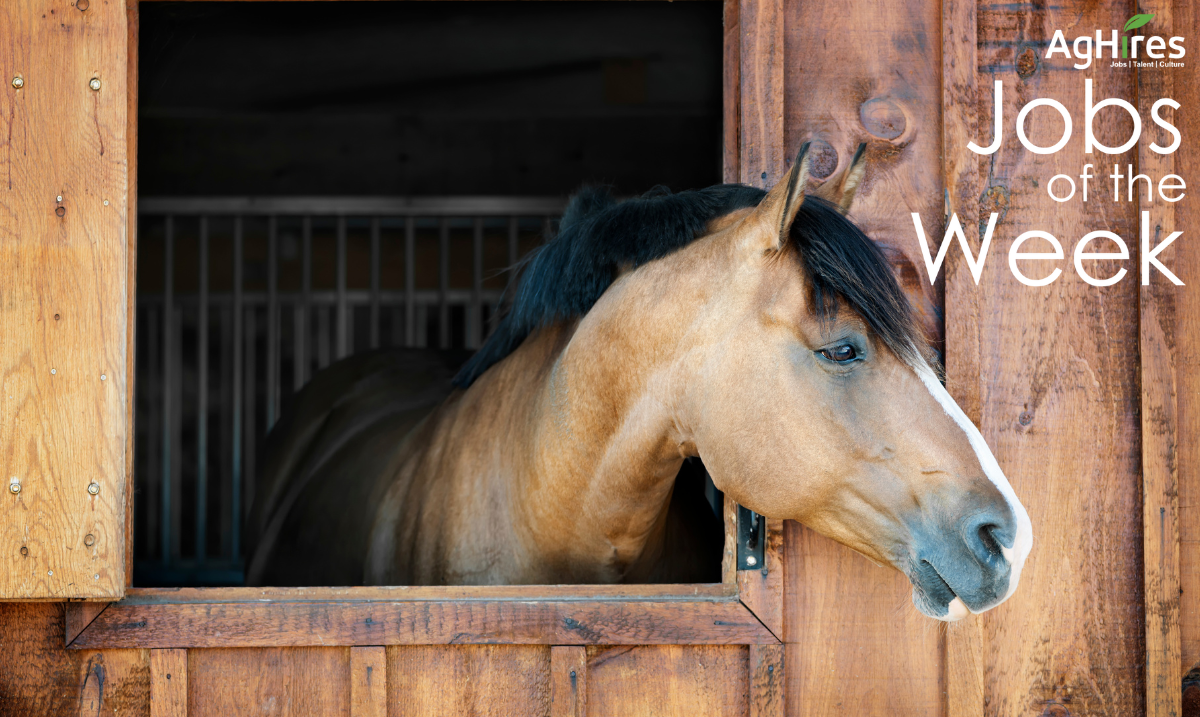 Top Agriculture Jobs of the Week
For the week of 8-14-23
AgHires works hard to be the number one resource for top jobs in agriculture. The agriculture industry provides a variety of job opportunities that range far and wide. Take a moment to search through the thousands of current job openings on AgHires.com, and check out this week's top Agriculture Jobs of the Week below.
The Farm General Manager's responsibilities include developing objectives for all aspects of the farm, which will enable the farm to achieve both strategic and financial goals. The Farm General Manager will be responsible for ensuring that both human capital and financial resources are utilized in a manner that will allow the farm to successfully achieve those objectives. The Farm General Manager is responsible for fostering a work environment that is consistent with the core values of this organization.
What you would be doing:
Responsible for managing the farm's budget and monitoring finances.
Analyze financial reports, track expenses, and optimize cost-saving strategies.
Responsible for continually monitoring the performance of the management team within the farm to ensure the appropriate team is in place.
Recommend required training or personnel changes as necessary to ensure the objectives are met.
Responsible for developing or enhancing new processes and practices to ensure the infrastructure of the farm is prepared for long term success.
What we're looking for:
Ability to effectively organize and plan work according to organizational needs by defining objectives, anticipating needs and priorities, identifying goals, estimating time frames and monitoring progress.
Excellent verbal and written communication skills
Good interpersonal skills: able to work well with a wide range of individuals.
Strong organizational and time management skills
Demonstrated resourcefulness and ability to take initiative in development and completion of projects.
---
A little about the business: Welcome to Northside Elevator! Our business is about serving people, farmers, neighbors, and friends. We manufacture feed for livestock and our mill operation has been our core since the beginning. We're also a professional group of consultants and advisors to coach customers on dairy nutrition, field and forage management, business transitions, economics, and much more.
We're hiring a Commodity Merchandiser to join our team in Loyal, WI (about an hour east of Eau Claire) or remotely for the right person. In this role you will be responsible for sourcing, trading, and purchasing commodities. Key responsibilities include actively assessing risk within Northside Elevator's commodity position, price negotiation, procurement and growing supplier and customer relationships.
What you would be doing:
Perform market analysis and formulation of corresponding commodity position strategy.
Manage risk and commodity positions.
Secure and purchase a reliable supply of high-quality commodities at competitive prices.
Monitor future markets daily.
Verify contract and invoice pricing.

What we're looking for:






Minimum of 2+ years' experience Merchandising / Commodity Procurement preferred.
Experience with the Dairy Industry is preferred but not required.
Robust communication skills.
Strong analytical, organizational, and negotiating skills.
Ability to understand a position report and commodity contracts.
We offer competitive compensation based on experience, health, health savings account, dental (with vision and orthodontia benefits), supplemental insurance, profit sharing and retirement, paid time off, workplace wellness, and apparel.
---
A little about the business: Established in 1929, Weaver Eggs is a family farm founded and based in Versailles, Ohio. We are looking for someone with a sincere "can do" attitude in the daily work environment, where quality can be embraced at every level. We are proud of what we provide for the food industry and that is direct reflection of the pride, respect, and value we have for every employee.

We currently have an opening for a full-time, year-round Assistant Production Manager at our facility in West Mansfield, OH. You would be responsible for assisting in management of the facility's employees, maintaining bird health, recordkeeping, and meeting production goals. Our ideal candidate brings a passion for agriculture. Open to various types of agricultural experience, with preference to confinement livestock operations.
What you would be doing:
Work with live animals and continually have their health and wellbeing at the top of the daily list. (All house workers must continually monitor three essential items – feed, water, and temperatures.)
Responsible for managing his or her farm, or house(s), ensuring that production and feed goals are followed, and for accurately reporting production figures weekly.
Responsible for working with house employees to ensure that everything within the houses is running smoothly.
Responsible for managing employees, scheduling them, and enforcing WBI policy guidelines upon them.
Responsible for working with production managers to ensure goals are met.
What we're looking for:
High school education is required. Post secondary training or Bachelor's degree is preferred.
Previous experience in poultry, layer house operations, livestock farming or grain operations, or general agricultural experience is highly desired.
Employee must bring or be willing to learn how to prevent and identify contagious poultry diseases that could have a large impact on confined poultry.
Must be capable or be capable of learning how to perform maintenance on a variety of equipment – such as egg and feed conveying systems.
Must be capable of working in a physically demanding environment
We offer competitive pay, paid vacation, paid holidays, health insurance, profit sharing, company vehicle & career advancement.
---
A little about the business: Shoup Manufacturing launched the present business of manufacturing, marketing and distributing quality replacement parts for farm equipment directly to the American farmer in 1977. The product line began with less than 50 items and a single page flyer distributed at a farm trade show. Today, Shoup markets thousands of replacement parts and accessories for combines, planters, grain drills, tractors, balers, cultivators, rippers, forage harvesters, sprayers and more. Shoup's original concept of providing high quality products and great customer service at a fair price remains the same today as when the business was founded.

As we continue to grow at Shoup, we need to find the right people to help us continue to deliver on our founding mission: Provide quality products and great customer service at a fair price. We are currently hiring a representative for our sales and customer service department. This role comes with a great compensation and great benefits.
What you would be doing:
Answer customer calls and conduct appropriate action i.e., enter new order; check order status; check item availability, etc.
Follow-up and take appropriate action on open orders, including backorders.
Obtain shipping quotes from Freight Manager, when necessary.
Additional responsibilities may be assigned based on skillset and willingness i.e., export orders; farm show team; department projects, etc.
What we're looking for:
Well-rounded knowledge of tractors, combines, planters, and tillage equipment.
A strong mechanical aptitude.
Excellent written and verbal communication.
Proficiency with Microsoft Office products.
Field experience operating and maintaining farm equipment is a plus, but not required.
---
A little about the business: Bennett Ag Research Corp, headquartered in Richland, Iowa, has been passionately serving agriculture research needs since 1997. Bennett Ag provides comprehensive contract research in the efficacy, residue, and regulatory arenas. Research projects vary greatly every season with vast opportunities to learn and be part of meeting the needs of the future of production agriculture.

We are seeking a highly detailed and motivated Agronomist with strong organizational and management skills to join our team! This team member will be responsible for trial placement and maintenance, test substance applications, and data/sample collection. There are opportunities to work collectively, with a wide array of other seasonal and full time employees, as well as working independently on research projects.
What we're looking for:
Master's degree preferred or a Bachelor's with experience in an agriculture related field
Preferred experience with research equipment and crop production and operations
Must have or be able to obtain a non-commercial pesticide applicator license in Iowa
The ability to communicate clearly and neatly in all forms of data entry and in client relations
We offer a competitive salary, comprehensive insurance including health and vision, PTO & 401k with company match.
---
The opportunities within the agriculture industry are endless. Whether you are looking to start your journey or take the next step in your agriculture career, there is a place for you. Go to AgHires.com to search thousands of current job openings, ranging from agronomy jobs to marketing jobs to service technician jobs. New jobs are uploaded to our website daily.
Follow us on Facebook and Twitter to see more featured jobs.