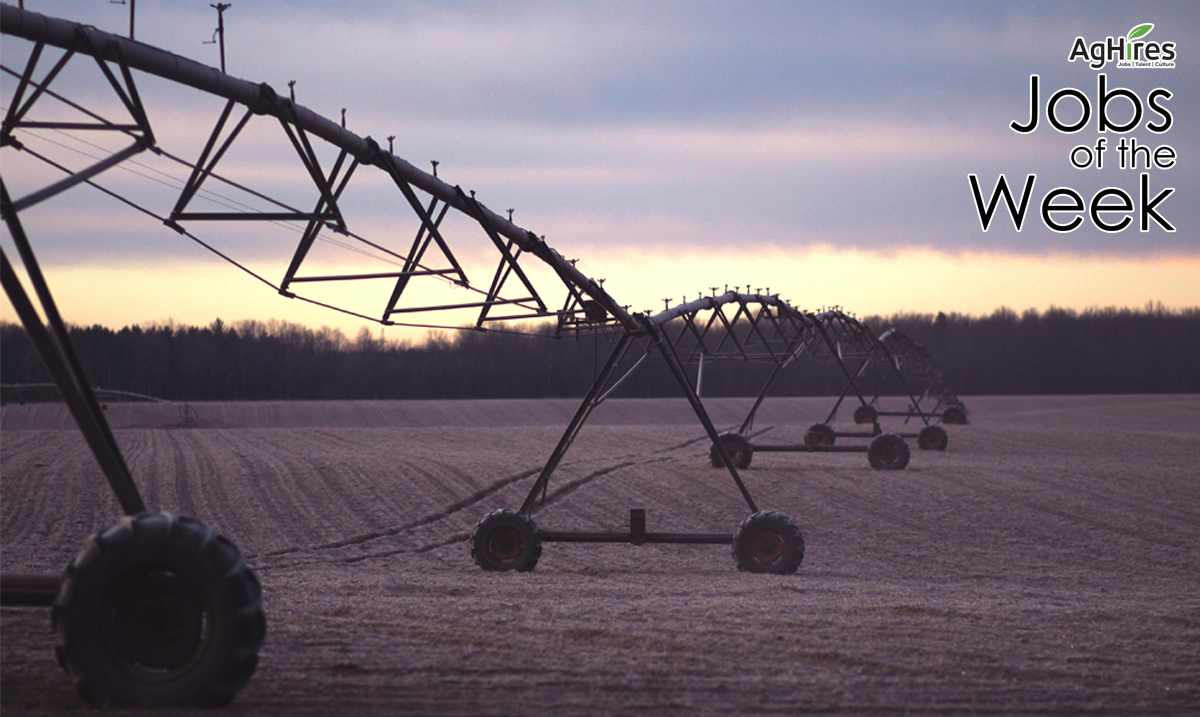 Top Agriculture Jobs of the Week
For the week of 4-3-23
AgHires works hard to be the number one resource for top jobs in agriculture. The agriculture industry provides a variety of job opportunities that range far and wide. Take a moment to search through the thousands of current job openings on AgHires.com, and check out this week's top Agriculture Jobs of the Week below.
A little about the business: N-Drip is the first and only irrigation-micro solution powered by gravity. N-Drip's disruptive technology provides precise irrigation, producing higher yields while saving water, without adding energy or needing water filtration.

We're hiring a full-time, experienced Service Plumber located in Central AZ or Yuma, Casa Grande, and Greater Phoenix areas. Within this role, you will travel from site to site to transition our customers' current irrigation systems to N-Drip's gravity-fed solution. You will also be responsible for any maintenance, repairs, and technical support throughout the lifetime of the system.
What you would be doing:
Inspect current structures and work sites to determine material or equipment needs for installation planning.

Assembly and installation of plumbing, piping, valve systems, and fixtures.

Pipefitting, welding, and metal fabrication.

Operation of heavy equipment, hand or power tools, as needed.

Keep an accurate work log and inventory of project materials and equipment.
What we're looking for:
Valid driver's license is required.

3 or more years of trade experience as a residential or commercial service plumber, licensed plumber, master plumber, or plumbers' apprentice.

Ability to read blueprints and specifications to determine work requirements.

Experience with underground pipes, drainage, and water handling systems.

Handy and creative problem-solver with a can-do attitude.
We offer a competitive salary highly dependent on experience, along with health benefits after an evaluated trial period. All daily travel expenses and occasional overnight stays are covered by the company.
---
A little about the business: St. John Hardware & Implement is looking to hire an experienced Heavy Equipment Mechanic at our brand-new location in Pullman, WA to inspect, service, and maintain our range of heavy-duty Agriculture equipment.
We are looking for someone with a great attitude and competitive spirit to help us grow our business. St. John Hardware is a family owned and operated company that was started in 1928. We are very family oriented and are focused on keeping long term employees. We have 6 locations across eastern Washington and western Idaho.
What you would be doing:
Driving to the job site.

Inspecting tractors, sprayers, seeding equipment, and other heavy equipment for proper performance.

Diagnosing faults using computerized testing equipment.

Adjusting equipment and replacing faulty parts.

Repairing damaged equipment parts.



What we're looking for:

High school diploma or GED.

Certification as a heavy equipment mechanic.

Proven work experience as a diesel or heavy equipment mechanic.

Understanding of computer testing technologies.

Ability to lift heavy machinery.
We offer competitive pay based on experience ranging from $20 - $34 per hour along with health and dental insurance, 401K with match, paid time off, and employee discount.
---
A little about the business: Welcome to Smith Cattle Co! We are hiring a Cattle Doctor - Pen Rider who will be riding pens overseeing and medically treating livestock in sick pens. You will also maintain animal records and the animal med room. If you enjoy being around and taking care of cattle, this is the position for you.
We are a large cattle feedlot and provide cattle transportation while farming and hauling hay and grain. We are located in Lewisville, Idaho which is about 20 minutes north of Idaho Falls. We are always looking for ways to improve ourselves and our company. Our team is made up of individuals who are dedicated to the safety and well-being of others and the livestock we care for.
What you would be doing:
Ride pens, overseeing and handling cattle.

Oversee livestock and overall herd health management.

Medically treat livestock in sick pens according to established treatment protocols.

Record treatments and track by animal in computer tracking system for withdraw dates, etc.

Maintain Animal Med Room for Inventory of medicines.
What we're looking for:
Pen riding and/or farm/ranch experience.

Experience handling livestock, cattle, and treating sick animals.

Good computer skills.

Your own horse (can have up to two; feed and shoeing is paid for).

Ability to understand and execute directions.
We offer competitive compensation based on experience along with health insurance, employer paid life insurance, paid vacation, 401K and one-half locker beef/year after 1-year employment.
---
A little about the business: Welcome to 4B Components, Ltd, a global manufacturer of technologically advanced mechanical and electronic components for industrial and agricultural bulk material handling equipment. We are seeking an experienced Engineering Manager to lead our engineering team in the application of innovative and efficient material handling products.

This role is for you if you are a team player ready to join a face-paced, small, family like environment and have a strong background in mechanical engineering and industry experience with bucket elevators and chain conveyors.
What you would be doing:
Lead and manage a small team of sales engineers to ensure technical proposals are delivered on time.

Provide customers with technical support by troubleshooting and improving existing equipment.

Collaborate with cross-functional teams including sales, production, and quality to ensure products meet customer requirements.

Develop and maintain engineering processes and procedures to ensure efficiency and consistency.

Create 2D/3D product drawings/models.
What we're looking for:
Bachelor's degree in mechanical or industrial engineering (or related field)

A minimum of 5 years of experience, preferably with bulk material handling equipment

Proficiency in CAD and CAM software, such as AutoCAD and Fusion 360.

Proficiency in MS Excel.

Experience managing a small team.
We offer a competitive salary, full range of benefits including medical and dental insurance, paid vacation & holidays, 401k with 5% company contribution, and profit share after one year of employment.
---
A little about the business: eGenesis is a biotechnology company that utilizes multiplex gene editing and genome engineering platform to transform solid organ and therapeutic cell transplantation for the treatment of serious disease. The company is committed to ending the global transplant shortage and transforming the treatment of organ failure. eGenesis is bringing that vision closer to reality with lead programs in kidney and islet cell transplantation.

What you would be doing:
Execute laboratory activities, support research priorities, and other scientific functions (as directed) in a manner that is consistent with GMP operating procedures
Perform day-to-day Cell Culture processes, which include cell receiving, thawing, plating, and detaching.
Perform and assist in day-to-day work with porcine cloning and IVF
Assist in quality control (QC) and GMP monitoring and record-keeping
Unpack and package tissues and gametes from other GMP sites according to SOPs.
What we're looking for:
Bachelor of Science in a relevant area of study with 2+ years of relevant experience in in vitro embryo production lab in an academic or industry setting
Knowledge and expertise in IVF, cell culture, embryo handling and characterization
Laboratory operations experience preferred (ordering, inventory, gas tank safety and operation)
Proficient at aseptic laboratory technique
Basic embryo handling and evaluation abilities
---
The opportunities within the agriculture industry are endless. Whether you are looking to start your journey or take the next step in your agriculture career, there is a place for you. Go to AgHires.com to search thousands of current job openings, ranging from agronomy jobs to marketing jobs to service technician jobs. New jobs are uploaded to our website daily.
Follow us on Facebook and Twitter to see more featured jobs.