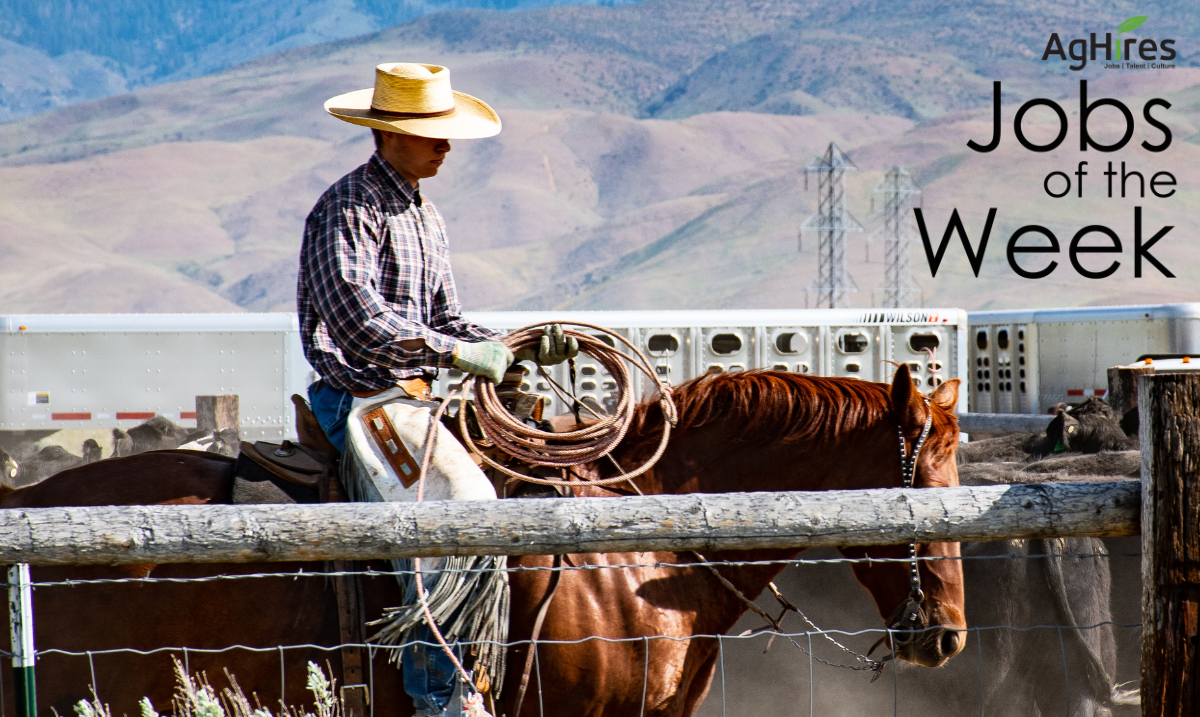 Top Agriculture Jobs of the Week
For the week of 9-25-23
AgHires works hard to be the number one resource for top jobs in agriculture. The agriculture industry provides a variety of job opportunities that range far and wide. Take a moment to search through the thousands of current job openings on AgHires.com, and check out this week's top Agriculture Jobs of the Week below.
A little about the business: Welcome to Smith Cattle Co! We are hiring a Pen Rider for our farm in Lewisville, Idaho which is about 20 minutes north of Idaho Falls. In this role you will ride pens while overseeing, moving, and treating cattle. If you enjoy being outdoors, being around cattle, and taking care of livestock this is the position for you.
We are a large cattle feedlot and provide cattle transportation while farming and hauling hay and grain. We are always looking for ways to improve ourselves and our company. Our team is made up of individuals who are dedicated to the safety and well-being of others and the livestock we care for.
What you will be doing:
Ride pens daily overseeing, moving, and handling cattle.

Manage livestock health – pulling sick cattle, treating cattle.

Assist in pen maintenance and repair as needed.

Assist in processing cattle.

Log doctored cattle into computer program.
What we're looking for:
Experience in agriculture, ranching, livestock, pen riding or relatable field.

Ability to provide your own horse (can have up to three; feed and shoeing is paid for).

Enjoyed working outdoors and around large farm animals.

Good computer skills and are able to understand and execute directions.

Ability to be a great a team player but also work well independently.

Ability to maintain company cattle health protocols.
We offer competitive compensation based on experience along with health insurance, employer paid life insurance, paid vacation, 401K and one-half locker beef/year after 1-year employment.

---
A little about the business: N-Drip is on a mission to save water resources while supporting agriculture around the world with the first and only irrigation-micro solution powered by gravity. N-Drip's disruptive technology provides precise irrigation, producing higher yields while saving water, without adding energy or needing water filtration.
As we continue our rapid growth, we're looking for a new member to join the team as a Field Service Representative. Within this role, you will be responsible for facilitating the installation and maintenance of our decision support system. N-Drip Connect™ is a management tool that generates actionable insights regarding optimal irrigation and fertilization, based on real-time data taken from the root zone and other information sources.
What you will be doing:
Installation, maintenance, and repair of soil moisture monitoring sensors.
Identify, monitor, and track alerts of re-occurring and ongoing issues.
Training customers on how to utilize their system and applications.
Work alongside the agronomic team to gather field data, ensure system optimization, and make any needed hardware or software updates.
Provide on-site customer support throughout the United States, not limited to Arizona, New Mexico, Colorado, and Nebraska.
What we're looking for:
Personal or professional crop production, landscaping, construction, or precision agriculture equipment experience is preferred, but not required.
Experience in a technical service or technical support-related role.
Independent, self-sufficient, with the ability to adapt and learn quickly.
Handy and creative problem-solver with a can-do attitude.
Ability to work collaboratively with multiple teams and locations.

This is a full-time, field-based role, with required daily travel. We offer a competitive salary, career advancement opportunities, PTO, company vehicle, and health benefits. All work-related expenses are covered by the company.
---
A little about the business: Dairy One Cooperative is hiring a Dairy Herd Improvement (DHI) Technician to add to their growing team in Central Ohio (Ashland, Wayne, and Holmes Counties). As a DHI Tech you will provide critical data to help farms make decisions and achieve their goals (production & profit) by providing them with timely, accurate and meaningful data. You will be on-site at our dairy farm customers to perform data collection and provide information and guidance to make better herd management decisions.
In this role you will travel to dairy farms throughout the Central Ohio territory, and you may live anywhere within a reasonable distance of the territory. This role offers considerable autonomy, though evening and weekend work may be required to meet the demands of the position. No overnight travel. Each farm is different in size (# cows), parlor set up, milking schedule, services required and distance from your home. There is no such thing as a "typical day", but your days will become predictable within your circuit and market.
What you would be doing:
Equipment usage: sanitizing, setup/cleanup, printing reports and invoicing
Testing: record cow number, pour samples, monitor data for accuracy, sample delivery
Communication: Invoicing, driving/on-site visits and consultations with farms, connecting with Dairy One team and management for assistance as needed
What we're looking for:
Passion for the livestock and agriculture industry.
Detail oriented and reliable.
Prior agriculture experience such as genetics, livestock, and feed is preferred but not required.
Valid driver's license and reliable transportation.
Ability to work in both an individual and team environment.
We offer competitive pay starting at $27 per hour based on experience, mileage reimbursement, opportunity to make your own schedule, great teamwork, and unlimited growth opportunity within the company.
---
A little about the business: Pecan Grove Farms and Nursery ("PGF"), headquartered in Dallas, TX, provides a reliable supply of desirable, high-quality pecan products to the national and international market. Selling 4.5 million pounds of pecans and growing at 30% per year, we are positioning ourselves to be an industry leader. We focus on streamlined processes, quality products for our customers, and embracing our strong company culture. Our team is built with a group of innovative thinkers who collaborate strongly. Our market strategy and our team have propelled us to experience high growth over the past several years.

We are hiring a Sales Director to continue our growth story. In this role, you will focus on selling shelled pecans to CPG companies, food product manufacturers, and distributors. Our products are sold as ready-to-use ingredients to baked goods, desserts, and health food manufacturers. You will report to and train alongside the Executive Vice President of Sales and Marketing, eventually assuming all of his sales duties and customer relationships as he prepares for retirement over a three to five-year time period. In this role, 25% to 30% of overnight travel is anticipated, with occasional international travel.
What you would be doing:
Continually reassess our strategy and go-to-market approach for our shelled pecans.
Continue to develop customer relationships while prospecting new customers.
Assist with pricing analysis and strategy.
Manage the targeted marketing initiatives both internally and externally, working with an outside agency work to support the sales strategy.
Develop close working relationships across the organization, including production, and logistics.
What we're looking for:
Bachelor's Degree
5-10 years of related sales experience in the ingredients, food service, or raw foods markets
Proven sales record in working with ingredient sales in a similar market; preference for candidates with prior experience with nuts, spices, dried and frozen fruit
Inherent traits of high drive and "do whatever it takes" mentality.
Comfort with travel, both domestic and international
An outgoing personality, well-spoken and well-written

We offer a competitive base salary along with performance bonuses, health insurance, 401K, and PTO.
---
A little about the business: Welcome to ProVision Partners Cooperative! We're hiring an Agronomy Location Manager for our Auburndale, WI location (25 miles northwest of Stevens Point, WI). In this role you oversee all location activities including employees, marketing, profitability, sales, reporting, compliance and more.
ProVision Partners Cooperative is an industry leader in feed, grain, agronomy, and energy, with roots dating back to the early 1900's. With the company's continued growth through acquisitions and mergers, our employees have more opportunities to specialize and make our company a career, not simply a stop along the way. We have locations across Central Wisconsin from the Mississippi to Lake Michigan. ProVision Partners Cooperative will be merging with Allied Cooperative on October 1, 2023.
What you would be doing:
Establish location sales goals with the assistance from the Director of Agronomy and Sales Lead

Staff and adjust work force to fit seasonal needs with a minimum of unproductive labor costs

Assist in advertising and hiring new employees for the location

Assist in developing and maintaining a current list of customers and prospects within location's territory

Write annual training needs for individual employees
What we're looking for:
Must be 18 years of age or older

Must have 5 years of agronomy related experience
We offer competitive compensation based on experience along with a fun, family-oriented work environment. Health, dental, life, short-term and long-term disability insurance, 401 K with company match, paid time off, holiday pay, and more.
---
The opportunities within the agriculture industry are endless. Whether you are looking to start your journey or take the next step in your agriculture career, there is a place for you. Go to AgHires.com to search thousands of current job openings, ranging from agronomy jobs to marketing jobs to service technician jobs. New jobs are uploaded to our website daily.
Follow us on Facebook and Twitter to see more featured jobs.