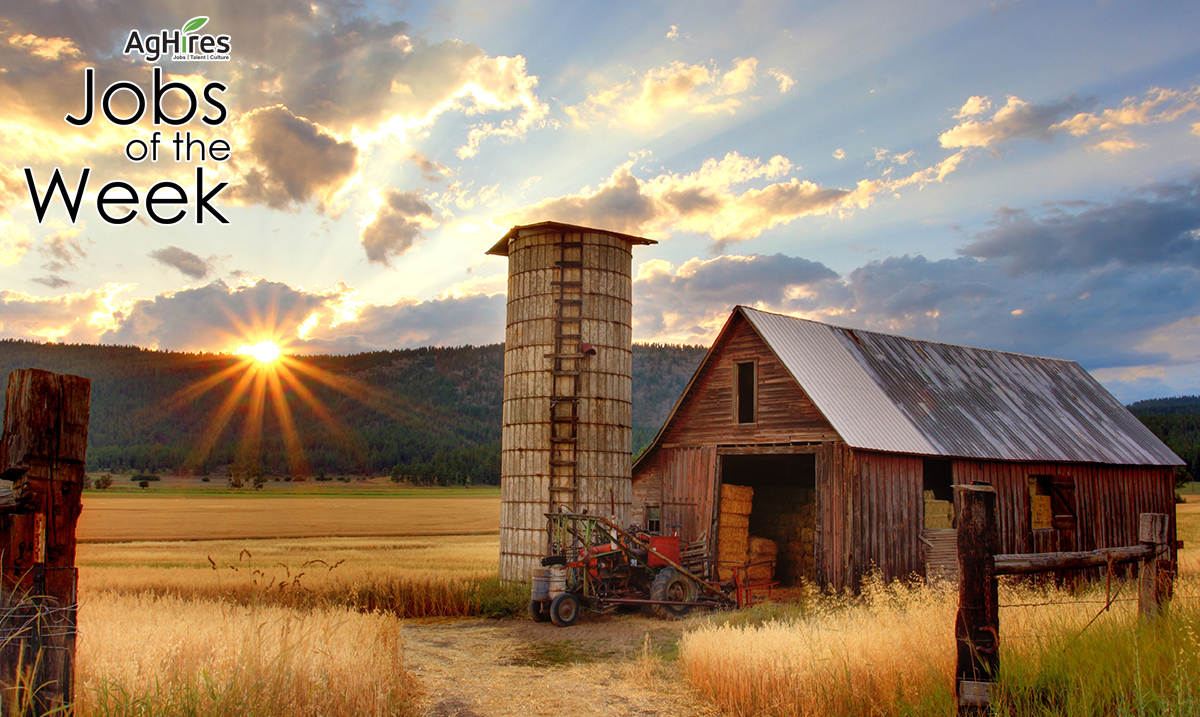 Top Agriculture Jobs of the Week
For the week of 5-22-23
AgHires works hard to be the number one resource for top jobs in agriculture. The agriculture industry provides a variety of job opportunities that range far and wide. Take a moment to search through the thousands of current job openings on AgHires.com, and check out this week's top Agriculture Jobs of the Week below.
A little about the business: Genes Diffusion, USA is part of the larger France based livestock genetics company Genes Diffusion, which was founded in 1917. Located in Stoughton, WI, Genes Diffusion, USA is focused on boar stud management, consulting, and quality control. We take pride in producing high-quality fresh boar semen from top genetics at their growing US facility while also assisting other boar studs with laboratory feedback, consulting, and training.

We are hiring for a full-time Boar Stud Manager to join the team in Stoughton, WI. In this role, you will be leading a team of laboratory, barn, and delivery employees through daily operations at a boar stud facility. As manager of this facility, you are directly responsible for the health and welfare of the boars, collection and proper handling of semen, and timely delivery to customers. Join a positive work environment that thrives off common goals and established customer relationships.
What you will be doing:
Respond to customer inquiries and problem-solving in a professional and effective fashion
Assist in maintaining and implementing Genes Diffusion production standards across the Genes Diffusion, USA system
Responsible for the Management of the crew: hire, train, daily schedule management
Ensure that the overall procedures are applied to Herd Health, Animal Welfare, Hygiene, Biosecurity, Traceability, and production processes.
Maintain the necessary records as requested by key customers
Complete monthly stud inventory reports in a timely manner
What we're looking for:
B.S. or A.S. in Animal Science, Dairy Science, Agriculture Technology or related fields
Experience with animal handling in a commercial setting
Preferred experience with commercial animal husbandry including swine or dairy
Ability to care for livestock in a manner consistent with industry standards
Familiar with Quality Assurance and production standards
We offer a competitive salary dependent on experience along with a strong benefits package that includes health and dental insurance, 401k with company match, phone stipend, bonus structure, PTO and holidays.

---
A little about the business: Central Valley Ag is a farmer-owned cooperative headquartered in York, Neb. CVA has locations in Iowa, Kansas, and Nebraska. CVA is an innovative leader providing products and services in grain, agronomy, feed, and energy. You can find more information about Central Valley Ag by visiting www.cvacoop.com .
As a Field Sales Agronomist at Central Valley Ag, you will be responsible for becoming a trusted advisor to area producers to supply them with their ag input needs.
What you will be doing:
Creates and develops intimate relationships with targeted and assigned customers focusing on top business and relationship accounts.
Works with patrons in a courteous and professional manner, soliciting new business as opportunities are presented.
Develops an intimate knowledge of Central Valley Ag brands and delivers timely and accurate communication to targeted producers to drive value added sales.
Creates, delivers and implements agronomic solutions for producers with the goal of improving customer's ROI and increasing the agronomy bottom line.
Utilizes seed, precision farming technology, finance and other marketing tools to grow market share.
What we're looking for:
Bachelor's degree (B.S.) in Agronomy or Agriculture or equivalent combination of education and experience required.
A minimum of 3 years' experience in an agronomy sales role required.
Proven history of delivery of results required.
Takes responsibility for the way money and resources are used and managed.
We believe in a culture of constant improvement.
---
A little about the business: Abundant Life Ranch believes everyone is created for a plan and purpose. That purpose is best lived abundantly through healthy relationships. Using horses and ranch life, the Ranch teaches how the aspects of communication, respect, and trust impact relationships, both with individuals and God. Our team consists of 3 staff members and many volunteers. The Ranch has recently grown from a home location to a larger, separate ranch location which has provided more opportunities for participants, as well as allowing for us to manage more staff, volunteers, and participants.
What you would be doing:
Assisting in developing and implementing plans and goals for the organization
Working with the Executive Director to coordinate and supervise daily operations
Ensuring compliance with regulations and internal policies
Assist with overseeing facility maintenance needs and scheduling upkeep
Assist in monitoring budget and expenses by tracking data and preparing reports.
What we're looking for:
Minimum of high school diploma or equivalent education, preferably an associates degree
2 yrs + Experience in performance and operations management
Mature walk with Jesus Christ
Must be in agreement with the Statement of Faith of Abundant Life Ranch
Experience in and an understanding of Human Resources.
---
A little about the business: Glenwild Golf Club and Spa is now accepting applications for the 2023 golf course position of Horticulturalist/Landscape Gardener. The Horticulturalist is responsible for basic landscape installation, maintenance, and repairs to enhance the entrance of the Glenwild Clubhouse and surrounding Member areas.

Must have knowledge of the characteristics, growth habit, and proper cultivation of a wide selection of flowering bulbs, annuals, biennials, and perennial plants, including both herbaceous and woody plants. Experience using various fertilizers, soil conditioners, and pest control methods and materials.

What you would be doing:
Shrub, annual and perennial flower/plant installation.
Walk through garden areas daily, monitoring watering needs, broken sprinklers, safety hazards etc.
Maintain all flower beds by pruning, weeding, replacing, and general maintenance of plants, trees and shrubs.
Hand water nurseries and any trees or flowers needing attention.
Identify plant and tree problems.
What we're looking for:
Experience working in a related field.
Knowledge of hand tools and power tools as well as general maintenance and clean-up of equipment.
Strong understanding of local soil and indigenous trees, plants and flowers.
Able to work over 40 hours a week during peak times throughout the season.
Valid U.S Driver's License with a good driving record.
---
A little about the business: Welcome to Sennett Farms! We farm corn, beans, wheat, and hay in west central Indiana. We also have a cattle operation. We are hiring a Seasonal Farm Hand – Harvest Assistant in Waynetown, Indiana (about 10 miles northwest of Crawfordsville) that will assist in all areas of our farming operation from September through mid-November.
What you would be doing:
Assisting in all areas of harvest across the farm
Driving a grain cart
Truck driving
Light equipment maintenance
What we're looking for:
Have experience or knowledge of agriculture, farming, equipment, and/or trucks.

Are known as a self-starter, hard worker, and have a great attitude.

Enjoy working outdoors.
We offer competitive compensation based on experience and an opportunity to return in the spring.
---
The opportunities within the agriculture industry are endless. Whether you are looking to start your journey or take the next step in your agriculture career, there is a place for you. Go to AgHires.com to search thousands of current job openings, ranging from agronomy jobs to marketing jobs to service technician jobs. New jobs are uploaded to our website daily.
Follow us on Facebook and Twitter to see more featured jobs.