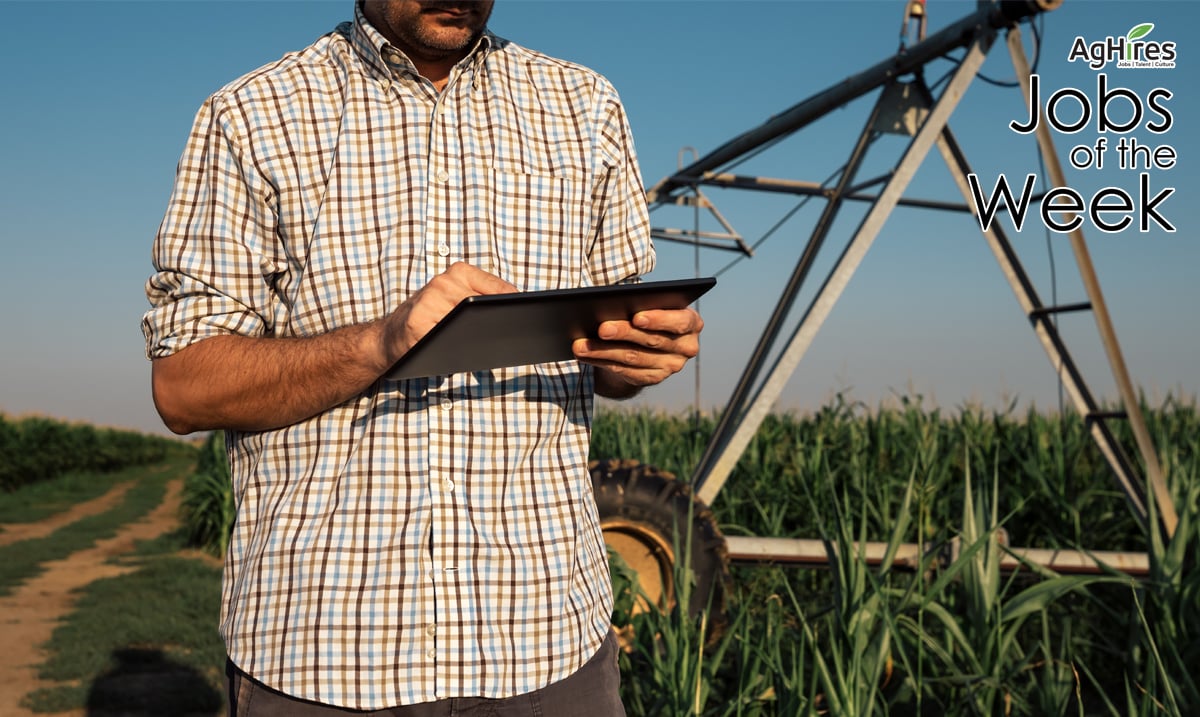 Top Agriculture Jobs of the Week
For the week of 5-15-23
AgHires works hard to be the number one resource for top jobs in agriculture. The agriculture industry provides a variety of job opportunities that range far and wide. Take a moment to search through the thousands of current job openings on AgHires.com, and check out this week's top Agriculture Jobs of the Week below.
A little about the business: Welcome to The Hightower Report! We are a 32-year-old independent commodity research firm analyzing all actively trading commodity futures. We are hiring a Commodity Market Analyst to join our fully remote working team. In this role you will become proficient in standard technical agricultural commodity analysis, option strategies for risk control and eventually develop a market specialty.
What you will be doing:
Learning from our outstanding team of experts the art of classic fundamental analysis.
Performing standard technical analysis and option strategies for risk control.
Assisting the research team and producing classic fundamental daily analysis.
Assisting and producing periodic longer-term reports.
Developing a market specialty.
What we're looking for:
Experience as a professional analyst with extensive and comprehensive experience in exchange traded commodities.
Research Agronomy, Finance, or other related degree.
Outstanding communication skills both written and oral.
Ability to work in both an independent and team environment.
Self-starter with outstanding critical thinking skills.
We offer competitive compensation of $80,000 - $110,000 depending on experience, company-funded pension contribution, 401(k), paid vacation, and bonuses.
---
A little about the business: Agritech Research is seeking a full-time Research Associate to join our team to be located near our Stronghurst, IL facility. While being a part of a research team that manages test plots in 26 states, this position will work from our facility in Stronghurst and remotely from an individuals' home office to help manage and oversee our test plots within the Midwest. This is a salaried position with overtime compensation and multiple bonus opportunities. This position demands independent thinking, time management, self-motivation, and the ability to work independently and with a field crew. Travel is extensive and requires on average 100 nights in a hotel. Company vehicles will be provided for all travel required for the job.
What you will be doing:
Assist in flagging out plot locations with growers

Planting small plot trials

Data Collection
Plot Maintenance
Harvesting
What we're looking for:
Bachelor's degree in agriculture is preferred but not required.

Ability to work 70-hour weeks during planting and harvest.

Proficiency in computer skills, Word, and Excel.

Preferably have a farming background with experience operating farm equipment.

Ability to obtain a commercial pesticide applicator license for multiple states within region.
We offer a competitive salary depending on experience ($50,000 - $75,000), overtime pay, 3% simple IRA match, bonuses, profit sharing, and health insurance supplement.
---
A little about the business: Voreis Farms is a 4,000-acre corn and soybean farm located in Argos, Indiana (about 30 miles south of South Bend). We are 1,000 acres irrigated and have 800,000 Bu of storage.
We're hiring a Farm Hand – Farm Equipment Operator to assist in all areas of our farming operation such as operating heavy ag equipment, perform light equipment maintenance, assisting with irrigation and maintaining other areas of the farm.
What you would be doing:
Assisting in all areas of the farm as needed.

General farm upkeep.

Operating large and small farm equipment for planting, spraying, and harvesting.

Driving trucks, hauling grain.

Light equipment maintenance and repair various farm equipment.
What we're looking for:
Prior experience in agriculture or farming, or relatable field.

Ability to work in the field operating and being around large farm equipment.

A CDL (preferred or a willingness to obtain).

Attention to detail and ability to manage multiple tasks.

Strong personal motivation along with strong moral values and a commitment to the betterment of the operation.
---
A little about the business: Meyn Food Processing Technology B.V. is a subsidiary of CTB, Inc., a Berkshire Hathaway Company. CTB's core purpose is Helping to Feed a Hungry World® through a number of business units that manufacture and supply systems and solutions primarily for the agricultural supply chain. Meyn is achieving this goal by providing Leadership Through Innovation® with intelligent, customized and sustainable solutions for the poultry processing industry. Offering vast knowledge, equipment, systems and services that are available around the world, Meyn is a trusted business partner for numerous renowned poultry processing companies in more than one hundred countries. In order to provide continued innovation in this market, we need talented people looking to grow their careers while working toward our global mission. We hope you will join us in this journey!

What you would be doing:
Own the value proposition for Meyn's products and solutions in the markets we serve.
Responsible for achieving Meyn's revenue and profit targets – meeting/exceeding quarterly and annual sales plans.
Develop and implement strategies and processes for managing strategic customer accounts and participate in closing strategic opportunities.
Lead and motivate a focused and disciplined Sales team culture.
Develop go-to-market strategies in partnership with Meyn leadership to significantly scale revenue.
What we're looking for:
Education: A Bachelor's Degree in Business, Organizational Leadership, or related field; Master's Degree a plus
Experience: 15+ years of progressive experience in complex Capital Equipment Sales and/or software Solutions; 5+ years of experience in a Sales leadership role – focusing on B2B selling strategies and methodologies, strategic planning, an executive/sales team development; Familiarity with Industrial Automation, Software Solutions, and/or Food Processing/Packaging a plus, but not required
Functional Skills: Exceptional knowledge and experience with large, highly-engineered and complex multi-million dollar projects; Progressive history of personal sales success; Strong experience leading and motivated Sales Teams; Experience developing, implementing, and executing successful sales strategies; Strong experience qualifying, managing, and closing opportunities; Detailed, organized, and analytical; Miller-Heiman training/knowledge highly preferred; Experience integrating Sales for M&A deals a plus; Marketing knowledge/experience a plus
---
A little about the business: The Farmers Cooperative Association (FCA) Crop Production Manager will be responsible for the administration and management of the entire crop production department and team. This team member will be responsible for the direction, promotion, and coordination of sales and operations in a manner that will optimize the cooperative's market share and savings, improve the cooperative's efficiency, and help achieve the cooperative's mission and goals.
What you would be doing:
Thorough understanding of agriculture, supply chain and agronomy

Strong supervisory and leadership skills

Ability to maintain a Commercial Applicators License and Commercial Drivers License

Ability to maintain a Certified Crop Advisor certificate

Strong agronomic knowledge of CPP, CN and seed genetics
What we're looking for:
A Bachelor's degree in agriculture plus a minimum of five years related experience; or an equivalent combination of education and experience will be required.
We offer competitive compensation based upon knowledge and experience. The FCA offers an exceptional health insurance benefit package, annual profit sharing and retirement program for it's employee team.
---
The opportunities within the agriculture industry are endless. Whether you are looking to start your journey or take the next step in your agriculture career, there is a place for you. Go to AgHires.com to search thousands of current job openings, ranging from agronomy jobs to marketing jobs to service technician jobs. New jobs are uploaded to our website daily.
Follow us on Facebook and Twitter to see more featured jobs.