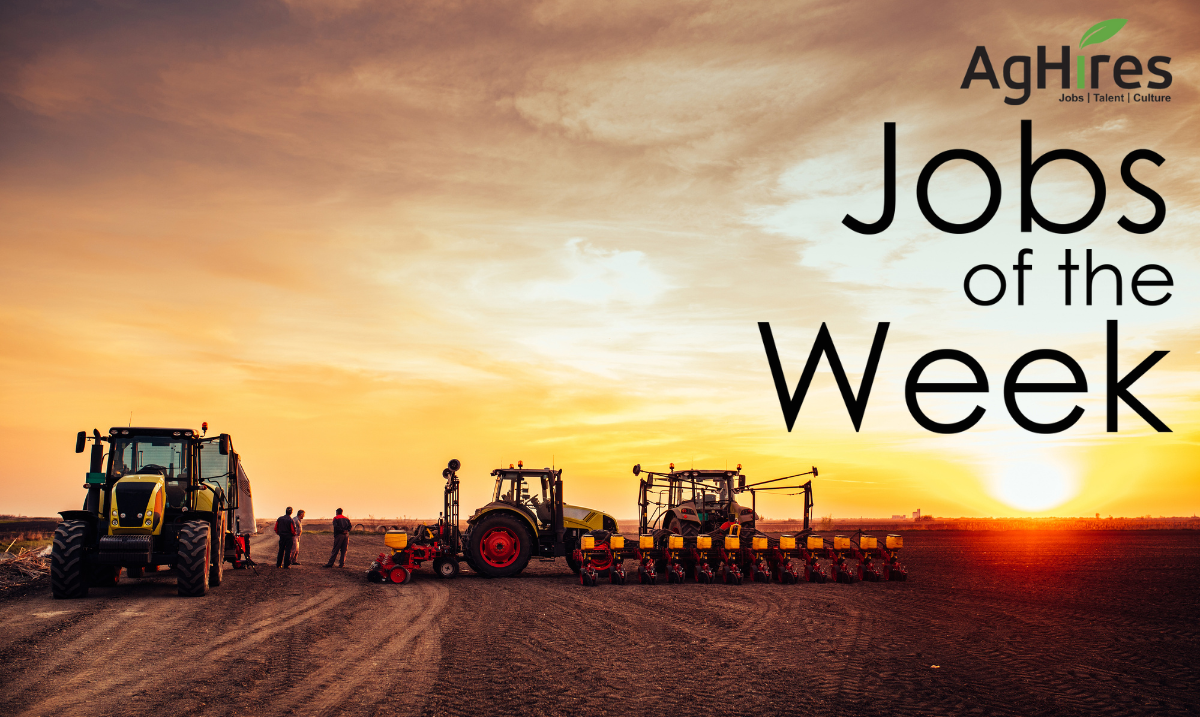 Top Agriculture Jobs of the Week
For the week of 9-11-23
AgHires works hard to be the number one resource for top jobs in agriculture. The agriculture industry provides a variety of job opportunities that range far and wide. Take a moment to search through the thousands of current job openings on AgHires.com, and check out this week's top Agriculture Jobs of the Week below.
A little about the business: WELCOME to Lanehaven Farms; we are hiring a AG & DIESEL FARM MECHANIC. In this role, you will be responsible for all aspects of the maintenance of the farm equipment. You will join a progressive seed corn, commercial crop, organic crop, and hog farm based in Northeast Iowa. The farm has been an early adopter of leading-edge technologies that improve processes' efficiency, quality, and overall effectiveness. Core values characterize how the farm lives and conduct business daily.
What you would be doing:
Assist with field work and other general farm work, as necessary.
Operate feed mill, when needed, to minimize down time.
Assist off-loading of supplier deliveries.
Be safe and consider the safety of others.
Cooperate with Owners to develop and enforce an effective safety program.
Obtain and annually renew pesticide applicators certification.

What we're looking for:
A degree in Diesel Ag Technology or similar work experience.
A private pesticide applicators license or the ability to get one.
A valid driver's license and the ability to pass vehicle insurance verification. A commercial driver's license is preferred.
Excellent organizational skills and appreciation for the value of accurate data and reporting.
A mindset of curiosity and progressiveness.
We offer A very competitive hourly wage with overtime based on experience and qualifications, group health, dental and vision insurance, flex system cafeteria plan, 401k retirement plan, and life insurance.
---
A little about the business: N-Drip is on a mission to save water resources while supporting agriculture around the world. Our disruptive gravity-powered micro-irrigation solutions and our decision support system, N-Drip Connect™, enable sustainable farming and an efficient water-energy-food cycle.

As we continue to globally expand, we are looking for a new member to join our HQ team as a Content and Social Media Specialist. Within this role, you will be responsible for the management of the company website, the creation of engaging social media, and marketing content that drives engagement and promotes brand awareness.

This is a full-time, home-office hybrid role, based in Phoenix, AZ.
What you will be doing:
Develop and execute content marketing strategies in line with business goals and objectives.
Routinely update and continuously improve the company website.
Manage and maintain the company's social media platforms (LinkedIn, Facebook) to drive engagement and promote brand awareness.
Create compelling and visually-appealing content for social media and online campaigns.
Develop engaging and informative content for landing pages.

What we're looking for:
3+ years of experience in a similar professional role.
Ability to prioritize and multi-task, with strong attention to detail, ensuring accuracy and consistency in all content produced.
Hands-on experience using social media management, email marketing, and content creation tools (such as Canva, Adobe Creative Suite, and video editing).
Strong knowledge of micro-copy, SEO, and UI/UX best practices.
Flexible availability is required at unusual hours, as part of supporting global operations.
We offer a competitive salary, career advancement opportunities, PTO, and health benefits. All work-related expenses are covered by the company.

---
A little about the business: Adell Cooperative has a proud history of servicing farmers in Southeastern Wisconsin for over 100 years. With that pride comes a commitment to building a top notch and talented team serving our clients with excellence and commitment. Adell Cooperative is now seeking an Agronomy Commercial Applicator to join our team in Adell, WI! Let us accelerate your career as you become an integral part of this dynamic and forward-thinking organization.

What you would be doing:
Application of fertilizers and chemicals per specifications.
Responsible for a basic understanding of all chemicals, fertilizers, and their abilities of control. You must be willing to ask questions to ensure safe, productive, and efficient application.
Accurately read and follow safety PPE recommendations regarding chemicals and fertilizer labeling.
Effectively manage multiple tasks by organizing orders from patrons in the most efficient manner.
Accurately mixes, loads, and delivers products to our cooperative patrons in a timely manner.
What we're looking for:
High school diploma or general education degree (GED); or one to three months related experience and/or training; or equivalent combination of education and experience.
Valid Driver's License and have or ability or obtain a Commercial Class A CDL license
Have or ability to obtain a WI Commercial Pesticide Applicator's License
Must have proficient computer operation skills.
Prior knowledge and/or experience with mapping software and a guidance system is preferred.
Willing to seek out and attend additional continuing education, seminars, classes, or other job-related education requirements or opportunities.
We offer competitive compensation including relocation bonus,
Comprehensive insurance package including health and life, 401k with company match, and PTO.
---
A little about the business: Rocky Mountain Supply is a locally-owned, full-service cooperative serving its members and customers of southwest Montana. We have been providing farm, ranch, home, and commercial members and customers with agricultural, energy, and convenience products and services since the 1930s. We pride ourselves in delivering exceptional products and service to our customers.

We're hiring a Remote Sales Agronomist based out of our Dillon, MT location to work directly with growers to sell and market crop nutrients, crop protection products, seed (small grains, grasses, alfalfa) and services available to optimize Rocky Mountain Supply's market share and profitability while achieving the cooperative's mission and goals. You will be expected to be on the road visiting with growers most of the time but will also spend some time working from our Dillon plant location. You will be servicing the existing book of business in the territory while also prospecting for new clients. This role reports to the Agronomy Manager and works closely with the Operations Manager. There are currently 3 other sales agronomists on the team who each focus on their own designated territory in Montana.

What you would be doing:
Work with existing customers to complete soil testing, field mapping, and make product recommendations for crop nutrients and crop protection products.
Call on prospective clients to build new business and increase sales.
Develop new revenue opportunities through market analysis of consumers, competitors, and trends.
Ensure the needs of all clients and proposed timelines are met in a timely manner.
Work to achieve all business plan targets and objectives.
What we're looking for:
Bachelor's degree in agronomy, crop and soil science, agriculture, agribusiness, or relatable field, OR an equivalent combination of education and experience.
5+ years of experience successfully selling agricultural products.
Extensive knowledge of small grains, grasses, and alfalfa.
Willingness to travel year-round in all weather conditions.
Experience or willingness to learn online systems for mapping, blending, and chemical recommendations.

We offer

a competitive base salary along with exceptional benefits which include 401k with company match, medical, dental, vision, disability, and life insurance. We also offer a generous employee discount, company vehicle, competitive wage, PTO, paid holidays, flexible scheduling, and opportunities for advancement.
---
A little about the business: Bracy's Nursery, LLC, located in Amite, LA, is a wholesale grower of containerized woody ornamentals, trees, crape myrtles, herbaceous perennials and the like. The company has earned a reputation for offering premium-quality plants and its operations are located on 260 acres. Bracy's has an immediate opening for an experienced and professional Head Plant Grower. The Grower will guide and direct field laborers in the production of crops meeting the company's quality standards.
What you'll be doing:
Oversee 4 growers in their day to day growing functions and maintenance of nursery crops.
Directly supervise day to day growing functions and maintenance of woody ornamentals crops
Planting, shearing, fertilizing, irrigation, weeding, etc.
Accurately identify irrigation and nutritional needs of various crops and provide for accordingly
Assess crop health daily to identify, address and report any disease, insect problems, or abnormalities
Do everything necessary to maintain plant quality across various season
What we're looking for:
Extensive knowledge of woody ornamentals
Knowledge of plant disease diagnostics and management
Some ability to communicate in Spanish
Strong work ethic
Ability to lead and train a team
We offer competitive compensation package including relocation bonus and 6 month temporary housing, comprehensive insurances including health, dental, vision, short and long term disability, 401k with company match, and PTO.
---
The opportunities within the agriculture industry are endless. Whether you are looking to start your journey or take the next step in your agriculture career, there is a place for you. Go to AgHires.com to search thousands of current job openings, ranging from agronomy jobs to marketing jobs to service technician jobs. New jobs are uploaded to our website daily.
Follow us on Facebook and Twitter to see more featured jobs.