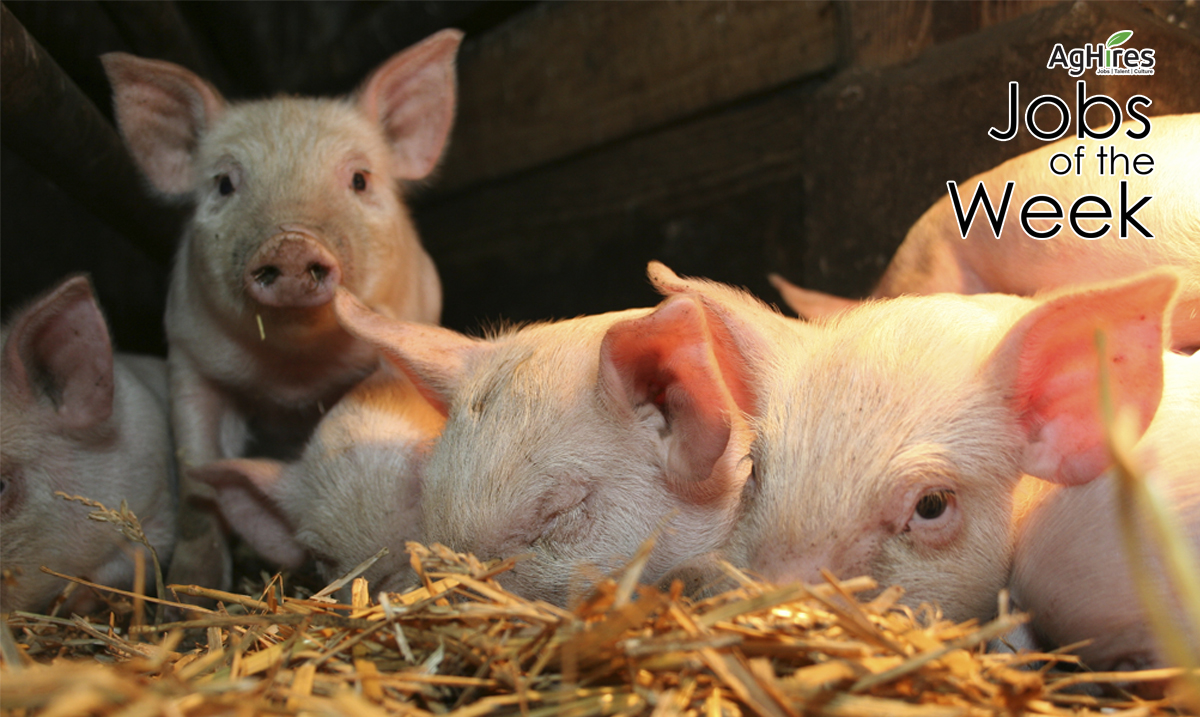 Top Agriculture Jobs of the Week
For the week of 4-24-23
AgHires works hard to be the number one resource for top jobs in agriculture. The agriculture industry provides a variety of job opportunities that range far and wide. Take a moment to search through the thousands of current job openings on AgHires.com, and check out this week's top Agriculture Jobs of the Week below.
A little about the business: At eGenesis, we aspire to deliver safe and effective human transplantable cells, tissue and organs utilizing the latest advancements in genome editing.
eGenesis is a biotechnology company that utilizes multiplex gene editing and genome engineering platform to transform solid organ and therapeutic cell transplantation for the treatment of serious diseases. The company is committed to ending the global transplant shortage and transforming the treatment of organ failure. eGenesis is bringing that vision closer to reality with lead programs in kidney and islet cell transplantation.
What you would be doing:
Feed and clean all research animals enrolled on reproductive studies
Be responsible for the handling of animals enrolled in LOPU, and embryo transfer studies
Be responsible got maintaining and keeping health and herd management records
Be responsible for activities associated with assisted reproductive technologies (ART) activities
Promote and adhere to safety in the workspace
What we're looking for:
B.S. or A.S. in Animal Science, Biotechnology, Genetics/Genomics or related fields
Proficiency in MS Office (MS Excel in particular)
Excellent time management skills and the ability to prioritize work
Attention to detail and problem-solving skills
Excellent communication skills
Strong organizational skills with the ability to multi-task
We offer a competitive salary dependent on experience along with a strong benefits package that includes health, dental, and vision insurance, bonus potential, tuition stipend, and generous PTO and holiday pay.
---
A little about the business: Welcome to Fremont Farms of Iowa! We are one of the top liquid egg producers in the United States. Our family-owned farms' integrated operations include modern housing for our egg-laying hens, a dedicated feed mill and grain storage, and an egg breaking facility.
We are hiring Feed Mill Operators to join our team in Malcolm, IA (about an hour east of Des Moines). In this role you will be responsible for producing high quality feed as well as understanding the feed mill manufacturing process, equipment, and systems.
What you will be doing:
Managing ingredient process flow of entire feed mill to include receiving, grinding, batching, and loadout.
Receiving and ordering of ingredients and maintenance of the feed mill, warehouse, bins, and related equipment
Coordinate, plan and execute finished feed production runs for the layer and pullet farms.
Perform or coordinate preventative maintenance and repair of mill and related equipment as needed.
Maintaining a clean orderly work environment
Coordinate with other departments on troubleshooting day-to-day equipment concerns with feed consumption, scales, and accurate reporting of feed usage.

What we're looking for:
Agricultural, mill, grain elevator, or equivalent experience is preferred but not required.
High school diploma or equivalent.
Awareness and knowledge of the mechanical operations of a feed mill and knowledge of proper equipment maintenance.
Good communication skills.
Basic computer skills and knowledge.
We offer a competitive hourly wage of $20-$25, health, dental, vision insurance, flex spending, paid time off, and 401(k) with company match.
---
A little about the business: Central Valley Ag - CVA is a member-owned farmers' cooperative headquartered in York, NE with locations throughout Nebraska, Kansas, and Iowa. Established in 2003, CVA has over 900 employees and is an innovative leader providing products and services in grain, agronomy, feed, and energy. You can find more information about Central Valley Ag by visiting www.cvacoop.com.
What you would be doing:
Supervise a team and be responsible for the hiring, training, mentoring, motivating, assigning tasks, goals, review performance, promotion, transfers, PIP's, or terminations.
Understand the labor, technological, and customer trends in your Region/Industry. Develop a strategic plan from an operations perspective to align with the Mission/Vision of CVA, while assisting in lowering the cost of doing business and growing the market share of the Region.
Oversee the Location's Financial Performance.
Ensure a safe work environment through quality training, evaluations & accountability.
Lead and plan the daily operations of your location.
What we're looking for:
High School or GED diploma.
Minimum of five years' experience in an agronomy role required.
Proven history of delivery of results required.
Takes responsibility for the way money and resources are used and managed.
We believe in a culture of constant improvement.
---
A little about the business: Welcome to Manzer Equipment! We are a family-owned business and have been serving Northeast Nebraska farmers since 1975.
We are hiring a Parts Sales Representative to join our team in Osmond, NE (about 30 minutes north of Norfolk, NE). In this role you will be selling agriculture equipment, OEM, and other parts out of our dealership.
What you would be doing:
Inspecting worn, damaged, or defective parts to determine and advising customers if replacement required.
Prepare sales slips, contracts, and customer order forms.
Receive payment information from customers.
Mark and store parts in parts show room, warehouse, and bin locations according to prearranged system.
Maintain stock inventory.
Maintain a safe and clean working environment.
What we're looking for:
Associate's degree or equivalent from two-year college or technical school or 6 months to 1 year of prior related sales experience.
Knowledgeable with farm equipment.
Display strong analytical, problem solving, and communication skills.
Work well individually and in a team setting.
Highly motivated with tremendous energy.
Reliable and dependable.
Forward-thinking with the innovation of the ever-changing agriculture and heavy equipment industry.
We offer competitive salary based on experience, medical, dental, vision, and life insurance, company matched simple IRA, paid holidays, and time off, uniforms, and continuing education.
---
A little about the business: CHS Inc. is a leading global agribusiness owned by farmers, ranchers and cooperatives across the United States that provides grain, food and energy resources to businesses and consumers around the world. We serve agriculture customers and consumers across the United States and around the world. Most of our 10,000 employees are in the United States, but today we have employees in 19 countries. At CHS, we are creating connections to empower agriculture.
What you would be doing:
Coordinate compliance with all applicable Environmental, Health, and Safety (EH&S) related requirements (federal, state, local, and company).
Will assist team members in work activities. • Implementation of EH&S related plans, programs, policies, and procedures.
Conduct effective EH&S related training for employees, contractors, and visitors.
Conduct EH&S related audits, workplace inspections, job safety analysis, and maintain detailed recordkeeping.
Participate in incident investigations, manage incident documentation and facilitate employee return to work.
What we're looking for:
High School diploma or GED
2+ years of experience in Environmental, Health, and/or Safety
Agriculture background, facility operation, and management experience
Understanding of construction practices and principles
Experience in the inventory management process
---
The opportunities within the agriculture industry are endless. Whether you are looking to start your journey or take the next step in your agriculture career, there is a place for you. Go to AgHires.com to search thousands of current job openings, ranging from agronomy jobs to marketing jobs to service technician jobs. New jobs are uploaded to our website daily.
Follow us on Facebook and Twitter to see more featured jobs.