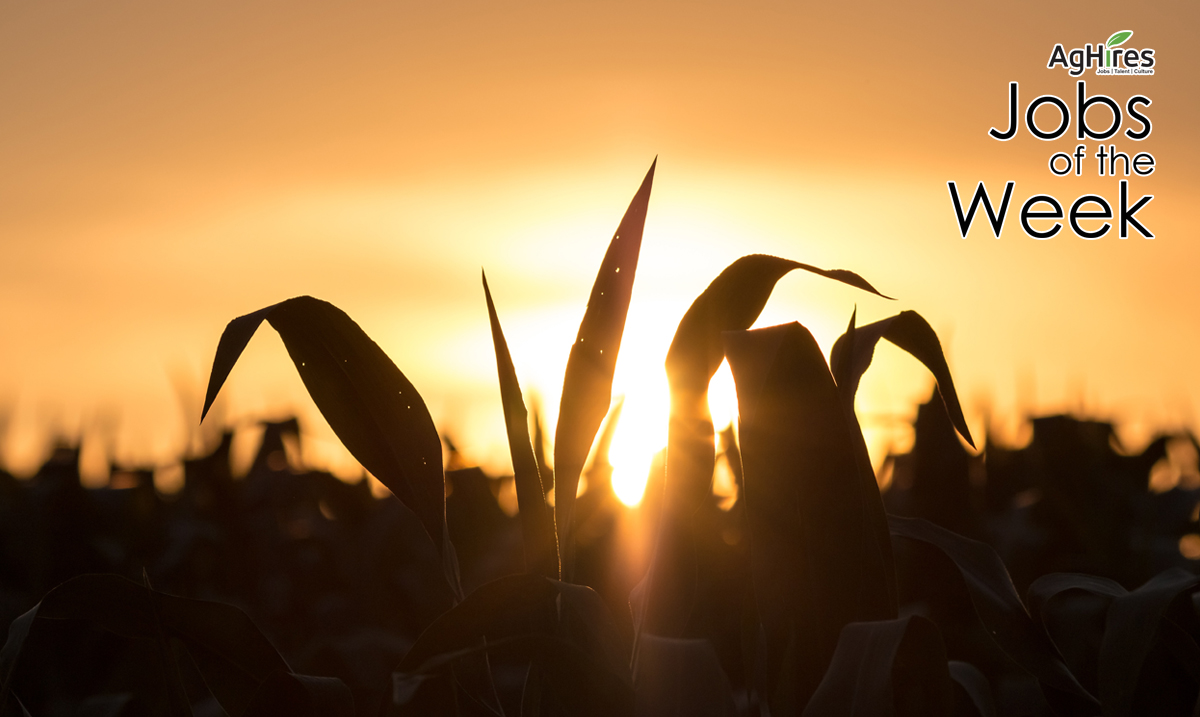 Top Agriculture Jobs of the Week
For the week of 4-17-23
AgHires works hard to be the number one resource for top jobs in agriculture. The agriculture industry provides a variety of job opportunities that range far and wide. Take a moment to search through the thousands of current job openings on AgHires.com, and check out this week's top Agriculture Jobs of the Week below.
A little about the business: Benson Hill empowers innovators to develop more healthy, tasty and sustainable food by unlocking the natural genetic diversity of plants. Benson Hill's CropOS™ platform combines machine learning and big data with breeding techniques and plant biology to drastically accelerate and simplify the product development process. This platform allows for cost-effective and more efficient ways for companies to analyze and make improvements in plant genetics. Benson Hill brings a unique and holistic approach to our product and platform development, as we span a broader workflow involving trait and seed development, genome editing, and breeding all the way to creating better ingredients and varieties that tap a strong consumer demand for more flavorful and nutritious fruits and vegetables. More information can be found online at www.bensonhill.com. Follow us on Twitter at @BensonHillInc.
What you would be doing:
Organize and execute Breeding operations, including planning, planting, crossing, tissue sampling, seed handling and analysis, and data collection
Maintain, organize, and summarize results of experiments, detailing issues, while problem-solving.
Lead tasks that need to be completed by other FTE & seasonal staff to achieve quality results.
Manage a database of operations, phenotypes, genotypes, and seed inventory.
What we're looking for:
HS diploma + 4 years in the desired area or bachelor's degree in Agriculture or other relevant degree with 2 or more years of experience in Plant Breeding, Horticulture, Agronomy, Plant Biology, or related field preferred.
Agriculture knowledge of practices and management
Knowledge of precision equipment (Ex: GPS, geospatial systems, Trimble, etc.)
Experience with agricultural equipment
We offer a collaborative environment, flexible PTO program with a focus on work/life balance, competitive medical benefits and retirement savings plan, FREE dental and vision coverage, education reimbursement & more.
---
A little about the business: At Ag Spectrum, we define success as growing healthier crops, achieving higher yields, and improving the soil to improve farmer profitability. We partner with farmers to understand their priorities and challenges while providing insight to make difficult decisions and changes necessary to achieve success.
We are hiring a District Sales Manager. Ag Spectrum is a privately held crop nutrition and soil health company with a growing independent dealer network. District Sales Managers are employed company representatives responsible for recruiting, training, and supporting an independent dealer network to help farmers improve their businesses within an assigned geography.
What we're looking for:
Ability to recruit, train and develop independent sales managers and sales reps
Able to lead an independent sales team
Sound market planning and execution skills. Must be able to accomplish sales through others
Strong sales and supervisory coaching skills
Excellent public speaking and presentation skills
We offer remote work, a strong 401k match, a competitive health insurance package, and company provided vehicle.
---
A little about the business: Welcome to Western Feed Mills, Inc. We are a privately-owned feed manufacturing and distribution company located in South Central Kansas. We are hiring a Feed Mill Manager to join our team in Cedar Vale, KS (about 30 miles east of Arkansas City, KS). In this role you will oversee and manage daily operations of the entire feed manufacturing process.
We manufacture feed and nutrition products for all major classes of livestock including beef, dairy, sheep, goats, and swine. Our primary focus is beef cattle, where we manufacture range feeds, supplements, starter feeds, pasture minerals and feedlot base mixes.
What you would be doing:
Provide leadership, clear instruction and coordinate the entire production and delivery process.
Maintain a clean, safe, and hazard-free working environment.
Ensure quality products are produced in a timely, efficient manner.
Manage all transportation, delivery and receiving processes.
Schedule and oversee equipment and truck maintenance.

What we're looking for:
Bachelor's degree in agriculture, agribusiness, or a related field, or 2-5 years of feed mill operations experience.
Previous experience with feed mill operations, grain elevator operations, or grain processing operations.
Knowledge of quality control, FDA, OSHA, EPA, DOT, State & Federal regulations.
Valid driver's license, Class A CDL preferred.
We offer competitive compensation depending on experience, health insurance, and paid vacation.
---
A little about the business: Taggares Fruit Company is an agribusiness company growing high-quality permanent orchard fruits including apples, cherries, wine grapes, and Concord grapes. The Taggares farm offer outstanding long-term performance based on the carefully curated varietal mix and superior growing conditions along the Snake River. Leveraging new technologies both in the fields and in the office, and with a sustained focus on stewardship, Taggares is poised to become one of the largest growers in Washington State.
What you would be doing:
Maintaining financial reports, records, and general ledger accounts.
Preparing journal entries, analyses, and account reconciliations and performing the monthly close processes.
Perform financial reporting analysis as requested by the executive team.
Contributes to the development and review of annual operating budgets and performance projections.
Participates in ensuring all financial records and statements are in line with laws, regulations, and generally accepted accounting principles (GAAP).
What we're looking for:
Bachelor's degree in accounting, economics, or finance is required
CPA or CPA candidate strongly preferred.
5+ years of accounting experience.
Excellent communication skills, both written and verbal.
Strong numeracy and analytical skills.
We offer a competitive salary range, healthcare benefits, vacation & PTO.
---
A little about the business: Welcome to Ellens Equipment! We are a family owned, agricultural, construction and landscaping equipment dealer. We're hiring a Precision Farming Specialist to join our team in McBain, MI (about 12 miles east of Cadillac). In this role you will be responsible for all aspects of precision farming technology including installation, troubleshooting, repairing, and demonstrations to our ag equipment customers.
With three locations in Michigan (McBain, Ithaca, and Beal City). We offer equipment repair services, parts, and sales of several different types of equipment from a variety of manufacturers (New Holland, Bobcat, KUHN, Great Plains, and more).
What you would be doing:
Installing, troubleshooting, repairing, and demonstrating how to use precision farming and guidance equipment for ag equipment customers.
Familiarize customers with mapping and global positioning systems.
Implement variable rate application.
Assist in marketing precision agricultural products and services.
Participate in meetings and demonstrations regarding precision equipment and products.
What we're looking for:
Associates degree in agricultural engineering, agronomy or other agricultural related degree.
Self-starter that is detail oriented with ability to work in a team environment.
Ability to work extended hours when needed.
Acceptable Motor Vehicle status, with current driver's license, and ability to operate agricultural and construction equipment.
Must be able to safely mount, dismount and operate equipment.
---
The opportunities within the agriculture industry are endless. Whether you are looking to start your journey or take the next step in your agriculture career, there is a place for you. Go to AgHires.com to search thousands of current job openings, ranging from agronomy jobs to marketing jobs to service technician jobs. New jobs are uploaded to our website daily.
Follow us on Facebook and Twitter to see more featured jobs.