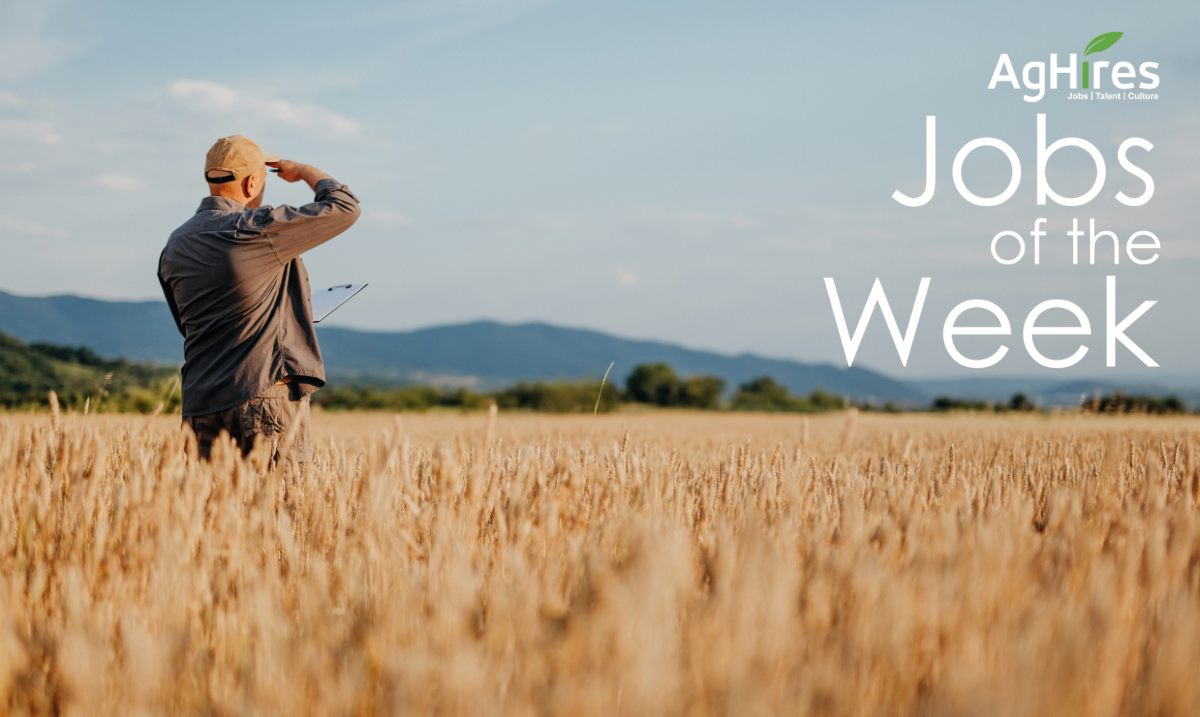 Top Agriculture Jobs of the Week
For the week of 8-28-23
AgHires works hard to be the number one resource for top jobs in agriculture. The agriculture industry provides a variety of job opportunities that range far and wide. Take a moment to search through the thousands of current job openings on AgHires.com, and check out this week's top Agriculture Jobs of the Week below.
A little about the business: Welcome to T&T Chemical! We're hiring an Agronomist to join our team in Quinter, KS (about 50 miles west of Hays, KS). In this role you will scout fields for weeds, insects, and disease, primarily before and after our sprayers to ensure we're doing what's best for our customers. We're a small family owned and operated agriculture retailer in Northwest Kansas. We currently offer chemical and fertilizer sales as well as custom application services.
We have a fairly small team but really pride ourselves on developing a tight-knit team in order to achieve a common goal. We do work longer hours during peak season of April through August but also believe in providing a tremendous work/life balance environment.
What you would be doing:
Scouting fields for weeds, insects, and disease.
Develop pesticide and fertilizer recommendations for clients.
Soil sampling in order to develop fertilizer plans.
Mixing, handling, and delivering fertilizer and chemicals.
Conducting seed sales and business development throughout seed division.
What we're looking for:
Prior farming or agriculture experience.
Agriculture, agribusiness, or other related degrees preferred but not required.
CDL and Private Pesticide license or willing to obtain.
Genuine passion for the agriculture industry.
High School Diploma or GED.
We offer competitive compensation $40,000 - $70,000 depending on experience, paid vacation, 401(k), bonuses, health insurance reimbursement, and ownership potential for the right person.
---
A little about the business: Key Cooperative is a member-owned, rural Iowa cooperative serving agriculture producers. With locations in 13 communities and 6 counties. Key Cooperative provides Agronomy, Energy, Feed and Grain with a small-town, yet professional feel. Our employees take pride in our identity, and they're committed to the success of our owners by delivering innovation, leadership, and performance. If you're looking for a place where you can grow and be proud of what you do each day - you can find this kind of career at Key Cooperative.

We're hiring a Grain Maintenance Technician to service any Key Cooperative locations in our SE Iowa Region (Sully, Newton, Grinnell, Barnes City, New Sharon, LeGrand). In this role, you will perform maintenance, installation, and repair of equipment, plant, and rolling stock.
What you would be doing:
Visually inspects and tests machinery and equipment. Listens for unusual sounds from machines or equipment to detect malfunction and discuss machine operation variations with operators or other maintenance workers to diagnose problems or repair machine.
Dismantle defective machines and equipment and installs new or repaired parts.
Clean and lubricates shafts, bearings, gears, and other parts of machinery.
Install and repairs electrical apparatus, such as transformers and wiring, and electrical and electronic components of machinery and equipment.
Lay out, assemble, install, and maintain related hydraulic and pneumatic equipment, and repairs and replaces gauges, valves, pressure regulators, and related equipment.
What we're looking for:
High School diploma or GED. Need to have a high level of proficiency in one of the following four trades with a minimum of three years of experience to support it: Welding, Experience as a journeyman electrician, Grain Millwrighting, and/or Grain Facility Maintenance.
SDA grain weighing and grading license, Pest Control Applicators License, or willingness to obtain.
A keen attention to detail, excellent problem-solving skills, and be comfortable using mechanical and electrical power tools.
We offer competitive compensation along with a full benefits package including development opportunities, health, vision, and dental insurance along with two retirement plans - 401(k) and pension. We also offer an amazing family work environment where we all share a passion for agriculture and our member-owners and customers.
---
A little about the business: Founded in 1937, Adams Ranch is a fourth-generation cattle business operating in St. Lucie, Madison, Okeechobee and Osceola Counties, headquartered in Fort Pierce, Florida. Florida cattle has been an Adams family passion for 4 generations. The ranch today encompasses approximately 40,000 acres of Florida pasture and is now the 15th ranked cow-calf ranch in the country and is ranked nationally in the top 50 seed stock ranches.

Adams Ranch is actively seeking a Chief Financial Officer based in Ft. Pierce. The CFO will execute the company's financial strategy. This individual will be responsible for designing and managing financial controls and procedures that result in accurate accounting and financial statements. He/She will manage cash flow and bank financing and will provide meaningful analysis and budgets that inform strategic decisions.
What you would be doing:
Manage preparation of business projections, budget process, and capital expense budgets
Prepare periodic accounting and management financial statements for all designated ranch operations
Implement changes to the financial system to track enterprise level profitability
Work with Office manager and related Adams Ranch staff to conduct accounting, payroll, A/R, and A/P functions
Prepare reports for monthly management meetings and periodic meetings of the Board of Directors
Proactively analyze financial performance and processes to recommend improvements
Lead relationship with CPA firm for tax planning and preparation of tax returns
Manage cash flow and conduct proactive cash flow planning
Coordinate Adams Ranch participation in USDA programs including but not limited to Drought Insurance and Price Protection programs
Manage insurance coverage, including health, property and liability, and workers compensation
Support strategic initiatives with pro-forma analysis to inform decision-making
---
A little about the business: GENEPRO, Inc. is seeking a Sales Representative to join their team. This position has flexibility to be hybrid; work remotely from home with negotiated presence at their Madison, WI office location.

GENEPRO, Inc., is a global reproductive technology company that manufactures specialized products for the livestock and veterinary artificial insemination industry. We are highly specialized in fresh semen preservation and turnkey production equipment. Our objectives are to provide our customers with the very best quality and innovation and industry leading performance. Our research team, in collaboration with our parent company Genes Diffusion, produces highly acclaimed swine products. Genes Diffusion is world renown for their innovation and technological advancement.

We are looking for a technically-orientated, hands-on sales representative to further develop and expand our market share. In your role as a Sales Representative you will manage the entire customer experience – from start to finish. You will work with our internal team to make sure that your customer receives the highest quality products and services the industry has to offer.
What you would be doing:
Establish, maintain, and expand customer base

Service needs of existing customers while seeking new customers

Increase business opportunities through cold-calling, industry shows and other selling avenues

Work with Operations Manager to develop a sales strategy

Compile and analyze sales figures
What we're looking for:
Minimum 2 years of prior sales experience

Associate's Degree or Bachelor's Degree in an animal science or agriculture related field

Strong computer skills; word, power point, excel & CRM (Salesforce)

Proven ability to influence customers

Ability to manage multiple priorities with highly effective follow through skills
This role offers:
- Competitive compensation including eligibility for a bonus after 1 year of service
- PTO and paid holidays
- Medical, dental, vision, and life insurance
- 401k with company match
- Hybrid flexibility to work remote (preference to WI, IA, IL, or MN) with negotiated reporting to their Madison, WI office
---
A little about the business: Welcome to Mast Reforestation and Cal Forest Nurseries! We're hiring a Senior Facility Manager at our Cal Forest location in Etna and Fort Jones, California (about 100 miles north of Redding). In this role you will report directly to the Assistant General Manager, and you will oversee our infrastructure, maintenance operations, and equipment for our seed plant and nursery.
Our two facilities comprise a regional complex of greenhouses and support facilities including offices, seed plants, cooler/freezer systems, and greenhouses, all supporting the front end of high-volume forest regeneration product development. With an anticipated growth of 2-3x in output over the next 36 months, your role will be to ensure that our staff of 40+ team members operate in a safe and functional environment to maximize their daily productivity. Cal Forest Nurseries is the crown jewel of California reforestation and serves 10 other western states. This is an incredible opportunity for a mid-career facilities manager with exceptional leadership and organizational skills to build a modern and high-impact program.
As the leading end-to-end reforestation company in the U.S., Mast is on a mission to make reforestation scalable. As bigger and hotter fires destroy more forestland every year, Mast provides faster and more resilient forest restoration for landowners impacted by devastating wildfires.
What you would be doing:
Oversee all Cal Forest Nurseries infrastructure and maintenance operations.
Prioritize maintenance tickets to align facilities work in support of growing operations.
Manage and direct the work of a team of maintenance professionals.
Supervise high uptime and efficiency of forklifts and vehicles.
Maintain asset/parts/inventory ticketing system.
What we're looking for:
Strong business acumen to help link maintenance and fleet to nursery crop and company objectives.
Excellent judgment with a clear "safety-first" mentality, and a commitment to a safe work environment that promotes equity, inclusion, and diversity.
Excellent verbal and written communication skills.
Superb stakeholder engagement skills: capable of communicating with people at all levels. Know how to navigate within the organization composed of long-tenure employees and leverage their knowledge.
Effective process evaluation and problem-solving skills.
We offer competitive compensation $75,000 - $90,000 depending on experience, health, dental, and vision insurance plans, company incentive stock options, retirement, holidays, paid time off, and relocation support.
---
The opportunities within the agriculture industry are endless. Whether you are looking to start your journey or take the next step in your agriculture career, there is a place for you. Go to AgHires.com to search thousands of current job openings, ranging from agronomy jobs to marketing jobs to service technician jobs. New jobs are uploaded to our website daily.
Follow us on Facebook and Twitter to see more featured jobs.