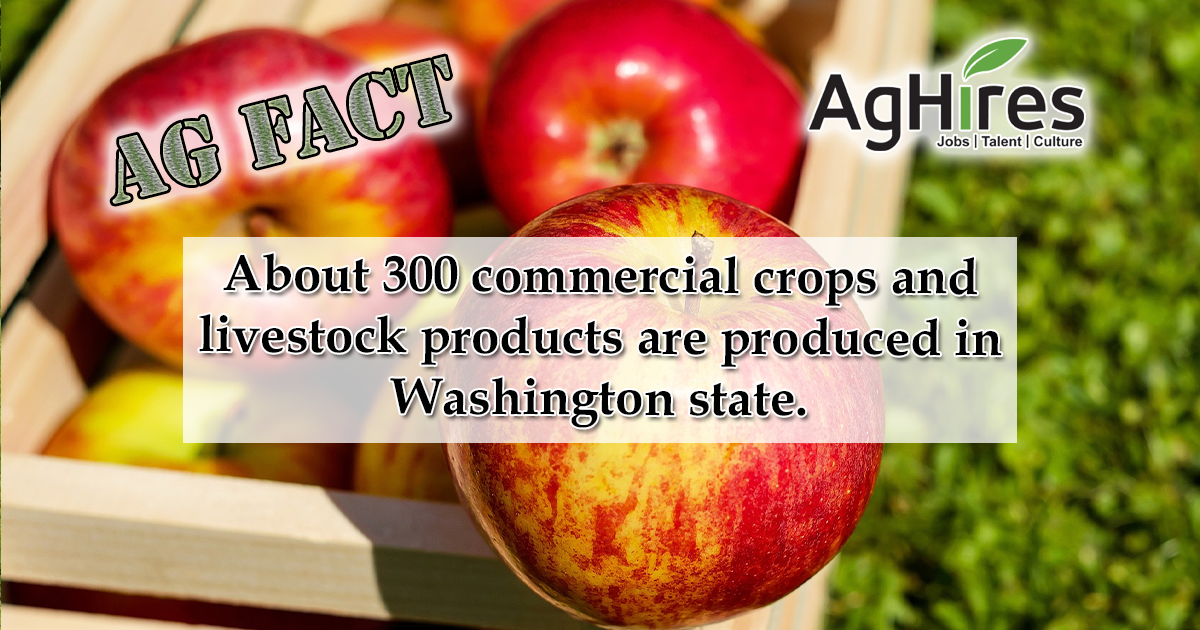 The rich soils and diverse climate in Washington help farmers produce over 300 different commodities. The state is also in a prime location for exporting those commodities around the world with easy access to Asian export markets. Read 15 more Washington agriculture facts below.
About 39,000 farms are operating on more than 15 million acres across the state.
About 95% of those farms are family-owned and 83% are small farms. 63% of the farms in Washington are less than 50 acres.
There are over 700 organic farmers in the state.
The agriculture industry provides about 545,000 jobs in production, processing, wholesale, and sales. The forestry industry accounts for more than 165,000 jobs.
About 50% of the Evergreen State is covered in forestland.
Agriculture is Washington's second-largest export, which makes the state the third-largest agricultural exporter in the U.S.
About 300 commercial crops and livestock products are produced in the state.

The top commodities in the state include apples, milk, potatoes, wheat, cattle, hops, hay, cherries, grapes, and onions.

The state ranks 1st in the U.S. for production of apples, blueberries, hops, pears, spearmint oil, and sweet cherries.

The apple industry in the state produces about 70% of apples grown in the U.S.

About 20% of the total value of agriculture production in the state comes from apples.

Washington ranks 2nd in the U.S. for potatoes, grapes, apricots, asparagus, and all raspberries.

And ranks 3rd in dried peas, lentils, onions, and peppermint oil.

The state is also the second-largest producer of wine in the U.S., behind California.

Washington has a diverse agricultural economy that includes aquaculture, farm and forest products, cranberries, spearmint and peppermint oil, and mink.
Looking for agriculture jobs, food production, or related industry jobs in Washington? Start your search here
Want more Agriculture Facts? Click here
Follow us on Facebook and Twitter to get your weekly dose of Ag Facts.
Sign Up for Our Email Newsletter and get ag facts bi-monthly, plus new jobs in agriculture.
Sources:
National Association of State Departments of Agriculture (NASDA)
Washington State Department of Agriculture