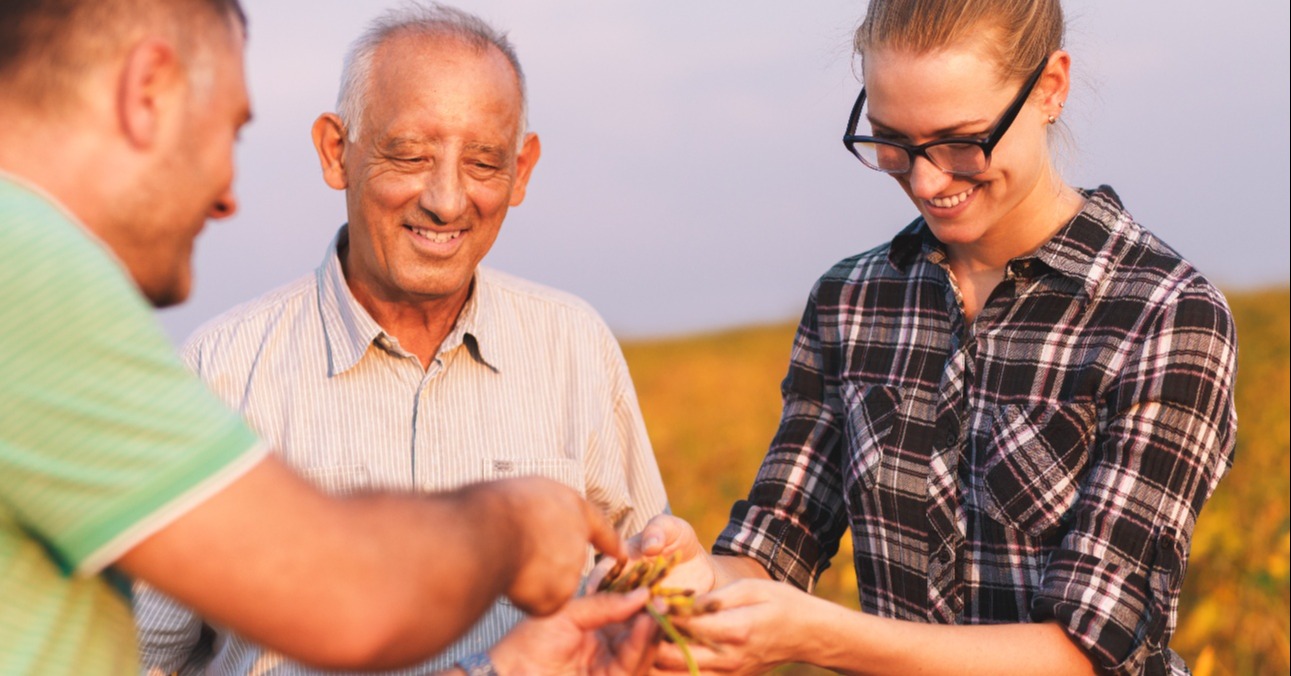 A farm or agribusiness thrives when employees put their heart and soul into the business just as much as the owner and CEO. Most people want to do good work and be proud of what they accomplish. The fastest way to get your employees to give it their all at work and help your agribusiness succeed is to give them some recognition when they do well. When they're feeling proud and accomplished and you give them a few words of appreciation, their sense of pride will grow, giving them a boost to keep producing great work.
An O.C. Tanner study found that 53% of employees said they would stay at their jobs longer if their employers showed them more appreciation. When employees feel they are getting recognized for their work, they will give it their best and stick by your growing business.
How Recognizing Your Employees Can Improve Your Company Culture
Increase Satisfaction
Recognizing your employees gives them a feeling of higher satisfaction. Overall, they will be happier if you recognize their hard work and feel a sense of individual fulfillment. Employees will start to feel excited to come to work. If they're excited about work, they will start to engage more within the agribusiness.
Boosts Morale
In addition to acknowledging each employee, be sure to recognize teams within the company. Doing this will boost morale. Employees will have better relationships with their coworkers. If they're encouraged as a team, it will create a collaborative environment and builds a culture of self-improvement.
Better Performance
Employees that receive regular feedback and recognition will feel more confident in their work and will continuously improve their skills and performance. Overall, this will improve customer service and the company's success.
Greater Trust in Your Company
Share the meaning, purpose, and why behind your agribusiness or farm. This allows employees to see the bigger picture. Tell them and show them that you couldn't run your business without their hard work and dedication, and they will have greater trust in you and the company.
Higher Retention
If employees feel recognized and appreciated, they are less likely to look for other jobs. When employers stay for the long haul, you avoid the need to frequently train new employees due to turnover. In addition, employees will tell others how happy they are, which could attract new talent to your farm or agribusiness.
Ways to Recognize Your Employees
Public Shout Outs
Acknowledge an employee's successes and accomplishments in a company-wide email, meeting, newsletter, or on social media. A public shout-out is a simple, yet special way to celebrate employees. Encourage others to add positive comments.
Celebrate Birthdays
Celebrating birthdays is an easy way to give your employees recognition and help them feel noticed and appreciated on their birthday day. It can be as simple as having everyone sign a birthday card, or you can bring in cake or provide lunch for the team. If everyone is remote, sing happy birthday in your team meeting or send birthday messages in the team chat.
Host an Employee Appreciation Day
Once a year plan a big event to bring all employees together. Have them bring their families, play games, and provide a meal to get everyone together. This is a great opportunity for all employees to mingle and remember everyone is on the same team.
Peer-Recognition Program
Don't put all the pressure to acknowledge employees all on yourself. Provide opportunities for a peer-recognition program. Allow peers to complement their coworkers by setting up a points system program that allows them to buy a variety of prizes.
Offer Professional Development Opportunities
Many Employees want to feel as though they're growing with the company. Provide opportunities for professional development to allow employees to feel personal growth. This also will provide further growth opportunities for the company.
Personal Thank You
A personal thank you to an employee goes a long way. Take time out of your day to stop in their office or head out into the field to get face-to-face. Whether you heard a compliment from their peer you would like to share or you want to recognize their hard work, they will truly appreciate a personal thank you to remind them of why they work hard for you.
Conclusion
The way your employees feel about your company impacts your overall company culture. If your team feels valued and respected, then your company culture will reveal that to your customers and potential employees. Start implementing a culture that recognizes employees' hard work, and you will have a higher retention rate, better performance, and greater trust in your company.
If you want to fill your team with highly driven, quality candidates, AgHires can help you attract them to your agribusiness or farm. Contact us today to learn how we can help you find your next all-star.