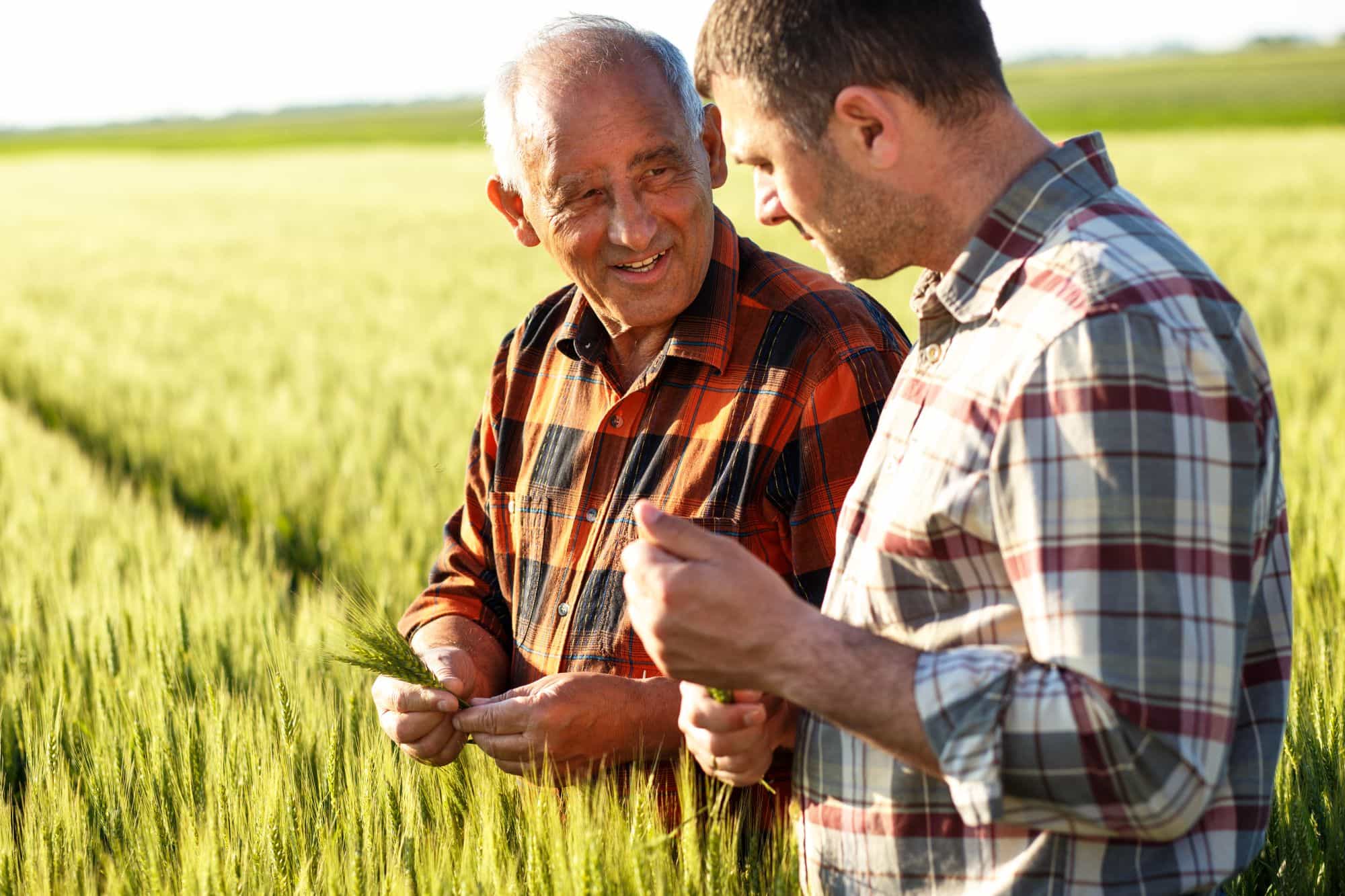 With today's war for talent, attracting and retaining employees is just as important to your business as your capital expenditure budget for the upcoming year. Whether you're looking to retain your current team or looking to attract new employees, the culture of your company, the total compensation package you offer, and how you communicate to employees the value of "what they get" makes a difference.

Let's explore the different areas in which you can rethink your agribusiness to become the place everyone wants to work.
1. Revamp Your Company Culture
When working with new clients, one of the questions we ask is, what's your work culture? Job seekers want to know what it will be like to work there on a daily basis. The typical answer from most clients is, "Hmm … I haven't given that much thought before."

Whether you have a team of 20 or two brothers operating on your farm, you have a company culture. It has either been created on purpose or most likely just developed over time. The definitions for company culture are vast, but in its simplest form it's the personality of the organization. It's the shared values, behaviors, and communication styles from the team.

The real question is whether your culture is driving increased performance and creating an environment that attracts and retains strong employees or is hurting your full potential as an organization. It is amazing what a group of highly motivated individuals can do when they are all contributing at their highest level, bringing more ideas and value than you had ever imagined.

As owners and managers, we can consciously accept the current culture or choose to change it into something more desirable.

Evaluating Your Company Culture
It's hard to see what your culture is when you're there in the thick of it. Understand your environment by doing these three activities:


Be an observer. Watch for interactions between employees; how are they speaking to one another? Listen carefully to the wording your team uses when interacting with one another. Watch for body languages. Look around you; if someone walked in today, what would they have to say about your farm?
Ask your employees. You can do this on an individual basis or in small teams depending on your farm size. Ask questions such as: If a friend were applying for a job here, how would you describe what's it like working here? Name one thing you do not like about working here. What do you love about working on our farm?
Conduct a confidential survey. Create your own survey or pull a template online to gather feedback from the team. Another option is to use an employee satisfaction survey to gauge your current team's view of their job and the company.

Define Your Ideal Company Culture

After a careful review of your current culture and taking a deep dive into what really drives performance in your organization, define your ideal culture. Start to list what elements you would like to see present in your culture.

Those elements might be something like an environment of continuous learning, and defining what that would look like. There might be an element focused on driving creativity and innovative thinkers in the group. I would encourage an element that focuses on ensuring employees are valued for their efforts. Write down what elements you would like to see in your culture and communicate that to the team.

Making the Change

Analyzing and working toward an improved company culture is not a one-time event. It doesn't have to take a lot of time, but it does require a continuous focus and evaluation. Determine which changes and activities will have the most impact. Communicate with your employees where you would like to take the culture and what areas you will be focusing on to get there.

Get your employees involved; create a team-committee with an employee as the lead to focus on initiatives that support the new culture. You may even consider giving the committee a budget to use toward their initiatives.

Just like old habits take time to break, so does changing a culture that has been entrenched for years, if not decades. The top company and farm cultures I know of say it's a constant work in progress. Continuously improving your company culture will help you to create an environment where candidates will want to work!
2. Rethink Employee Pay
Do you need to rethink how you pay your employees? Remember, your competition is non-farm employment, so structure your pay scale accordingly. Salary is a major determining factor in whether or not a candidate applies to work for your company.

As labor recruiters searching to fill agricultural positions across the U.S., our team discusses the right level of pay with employers on a daily basis. I've pretty much heard and seen it all when it comes to compensation practices -- the good, the bad and the ugly.

The best farms have a deliberate approach to their compensation structure, pay levels and open communication between employer and employee, which in return voids the window for awkward questions. They analyze the "why" behind their pay decisions and structures while working to stay competitive in the market.

There are two questions to ask yourself: What is the reason behind paying each employee the way I am currently paying them; and how do my pay practices affect performance and productivity?

Compensation plans (as long as you are staying in compliance) do not have to be cookie cutter. One size does not fit for all positions or farms. This also stays true for each individual on your farm in the same position. Do not be shy about compensating your all-star accordingly.

Let's review common pay questions and dilemmas.

Should I pay a farm operator salary or hourly?

Hourly is typically the best structure for this type of role. It's safe to say that during peak season some operators may be the first ones on the farm in the morning and the last ones to go home at night. They want to feel accurately compensated for long hours, and paychecks should reflect the extra effort. This type of structure will be more motivating as they put in the longer hours during harvest.

I've heard concerns over employees "milking" the clock and employers have moved to salary pay, but a better approach would be to put in a system that reduces the opportunity for inaccurate time. There are phone apps that make time tracking easy, with daily approvals so managers can stay on top of time worked.

How often should I give pay raises?

If it's been more than two years since you have reviewed and given pay raises, it's time! Don't hesitate or question yourself on giving your employees the raises they have been patiently waiting for. Outside of agriculture, it is common practice to give raises annually, typically somewhere between 1%-2% above cost-of-living increases.

The mentality of the annual raise is slowly being replaced by the practice of aligning pay increases to increases in job responsibility and/or performance. As veteran ag recruiters, we're big supporters of this approach.

If you hired an operator at $15/hour and they worked their way into a field lead position playing an important part of your organization, pay should be adjusted as that responsibility has increased. Ask the question: If I was hiring for this exact role now, what would be a reasonable wage? Employees don't always speak up if they are underpaid and may begin to search for other opportunities. Don't lose a key player over poor practices.
How much is a competitive wage?

Location, location, location! How competitive your wage truly is highly depends on your location along with local factors such as competitors in your area. For instance, if a large construction company swoops in and is continually hiring those all-star operators, do some digging on what is attracting that pool of qualified candidates to that company. What are they offering their operators?

There are also lots of online resources such as payscale.com. Strong agriculture compensation data is not as prevalent in the market; however, we are competing for talent and competing against ag candidates leaving to go into other industries for better wages.

You're not necessarily up against your neighbor farmer for wages, you are up against other companies that have interest in the same type of talent. We need to be savvy on what those other industries are paying.

Should I give bonuses?

The best approach is a well-designed incentive pay structure supporting the behavior(s) that successfully drive your business and incentive pay earned by employees. There is nothing more detrimental than an undefined bonus structure; communication is key here. Lack of communication can leave employees at some point disappointed when the payout is not there or lower than expected.

If they get a strong bonus, is it really a motivator of performance? I see many farms fall into the trap of thinking, "it's a good season" and giving a discretionary bonus, and if it's a bad season, they don't. Does that increase the productivity of employees or change future behavior to better impact the business? I would argue that it doesn't.

Given our tight times in agriculture right now, pay increases might not be an option. However, you could opt for implementing an incentive pay program. In the past, we worked with an ag operation in Colorado implementing an incentive program rewarding their Service Technicians for minimizing a second trip to a customer site within "X" amount of days of the initial service call.

Do I need to pay overtime for the office?

Overtime rules are regulated by the Fair Labor Standards Act (FLSA). Farms should take a good look at their pay practices for positions that are not directly doing work on the farm. Office administrators, bookkeepers, custom applicators, etc. will need to follow the overtime compliance.

Although farms are not required to pay overtime for their operators and technicians working directly on the farm, some farms are choosing to pay overtime on their own. A large grain farm in Indiana pays OT for farm employees as they feel it keeps them competitive when hiring and attracting talent.

I have another farm that pays OT for hours over 12 in a day to reward the late-night hours of harvest. Even if your workers are exempt, look at pay practices that might align well with motivating your team to hang in there on long days and perform to their highest standards.

Harvest is a busy season, but take some time once at year-end to review how you are paying each employee. Evaluate if your pay structures truly support productivity and align with where you are taking your business.
3. Make Employee Benefits Matter
Job seekers are taking a much deeper dive in exploring companies and job roles before they accept a position. When our agriculture recruiting firm is screening candidates, job seekers ask questions around work culture, leadership team, hours involved, flexibility, training, advancement opportunities and benefits along with questions on the intangible benefits.

We are seeing a trend: Pay is important, but it's not everything.

When it comes to the total package, employees highly value benefits. According to a Glassdoor 2016 survey, 79% of employees would prefer new or additional benefits over a pay increase. According to the survey, benefits employees valued more than pay raises in order of importance are health insurance, paid time off, performance bonuses, sick days, 401K, flex schedule and work perks (such as free lunch).

As we compete for talent, we are not only competing against other businesses in agriculture, but other local companies outside the industry. In a National Small Business Association 2015 survey, 41% of firms with one to five employees offer health benefits. That number increases drastically to 73% for those with 10 to 20 employees. So even though health insurance premiums are skyrocketing, you may need to offer coverage to stay on par with non-farm jobs in your community.
Low-cost, High-Value Benefits

Given that, we know employee's value benefits and some of the intangibles like work culture. Let's explore low-cost options for making your farm the company-of-choice. We see all these benefits currently offered on farms.
Meals. Whether it's a side of beef or free lunches, employee's value having food provided. I know several farms that provide lunch daily, others deliver during peak seasons or on a scheduled basis like every Friday.
Company Clothing. It's a great way to bring the team together and promote your farm operation. Employee's love the opportunity to wear a free company t-shirt or sweatshirt.
Wellness Programs. Covering the cost for flu shots or a portion of gym memberships shows employees you care. In turn, that may reduce sick days for the company.
Family Events. Whether it's taking the team and their family to a ball game or holding an annual summer picnic, bring the team together and get to know their families with an outing.
Allow Employees to Use Company Equipment. Make it known to employees that they can use the dump truck to haul a load of stone or they can use the shop to change the oil for their personal vehicles.
The following benefits aren't common on farm operations, but may build goodwill in the long-run.
Flex Time. Allow employees to take off for doctor's visits, get a haircut and other personal errands without using vacation time. Maybe not applicable in the middle of harvest, but at appropriate times of the year it's a great work perk for the team.
Vendor Discounts. Work with local businesses to negotiate a company discount for employees such as gyms, car dealerships, local restaurants, parts stores, etc.
Paid Charity Time. Allow employees one to two days per year to focus on volunteering in the community.
Employee Contests. Most employees love to participate in a good contest. Whether it is meeting safety goals or being rewarded for the best improvement idea for the month. If the contest is designed to align with company goals, it can be a win-win benefit for all.
Communicate the Total Package

In speaking with farms across the country, many are offering one or more benefits to employees. Often communicating the full value of those benefits to employees is missed. Let's say you do offer a side of beef, lunches or even housing.

Employees may not fully understand the full value of having some of those benefits. If you provide $2,000 in free lunches and beef per year pre-tax, the employee would need to earn the equivalent of $3,000 in gross earnings to do the same on their own. They may overlook the fact that they would have 30% or more in taxes if they were to pay for the same items themselves in after-tax earnings.

I recommend that agriculture business owners provide a Total Compensation Statement once a year that itemizes the total rewards an employee receives. Someone with a base salary of $50,000 might be surprised to learn that the 100% company-provided health insurance for family coverage is worth an additional $16,000, for example, or the use of the company truck $6,000 and gas another $3,200 per year.

By clearly and properly communicating the benefits your company offers, you have a higher chance attracting top talent. Benefits go a long way to improve your company culture and create a workplace that candidates are inspired to join.
4. Focus on Safety
Unfortunately, most of us know someone who has been injured in a farming accident. One of my own family members was involved in a serious accident a few years ago. According to the National Institute of Occupational Safety (NIOSH), in 2012, 374 farmers and farm workers died from work-related injuries. Every day, about 167 agricultural workers suffer a lost-work-time injury.

When it comes to building an environment and culture as an agribusiness that candidates are eager to be a part of, safety is an important factor to consider. Communicating your focus on safety measures to candidates early on in the agriculture recruiting process can set your business apart from others.

Ensuring a Safe Environment

To assist in the prevention of farm accidents and to reduce the opportunity for incidents to occur, we need to do more than write a few safety policies. It has to be a full cultural change where safety is front of mind and it's a continuous process of improving work practices and equipment to support a safer environment.

A transformation to a more safety-focused culture starts from the owners, but is ultimately driven by the team as a whole. Leadership must be committed and supportive of initiatives to improve safety at work. It starts with creating an internal safety committee. For a small farm, the safety committee can be composed of all farm employees. For a larger operation, you would create a diversified group of operators and managers.

The Responsibilities of the Safety Committee

The purpose of the safety committee is to not only craft safety policies, but to continually reinforce company protocols and provide safety education/training to other employees. The committee discusses and reviews accidents on the farm to see what could have been prevented. They also explore "near misses." The term "near misses" is defined as an unplanned event that did not result in injury, illness or damage, but had the potential to do so. It's basically a close-call that happened on the farm. If the committee stays focused on examining these so-called "almost accidents," they can work to prevent that close-call from turning into a serious accident later. Collecting near-miss reports from employees helps create a culture that seeks to identify and control hazards.

The safety committee should hold regular meetings, have clearly set agendas and a budget for safety improvements. Committees should create a type of reward system that aligns with the goals for the farm. You could reward employees for providing safety ideas that get implemented or buy lunch for every month there are no accidents.

A large grain farm in North Dakota we work with at AgHires holds 12 safety meetings per year with their team. They are not monthly meetings, rather they are held in the winter months and a few summer months with some months holding two meetings. The farm owner said they discuss specific safety topics and they also discuss accidents that occur on other farms in the area.

The farm should create and train employees how to handle accidents. From simple injuries to serious accidents, employees need to know what steps need to be taken. It's important to have all employees complete and regularly update an emergency contact list. If a serious injury occurs, someone can immediately notify family members.

Seek Assistance from an OSHA Consultant

To assist in your safety program and to ensure OSHA compliance, I recommend hiring an independent Occupational Health Safety consultant with specific knowledge and experience for the state of your operation. Currently, there are 22 states that have OSHA-approved state plans for the private sector above and beyond what the federal regulations require. The consultant will walk through your farm and provide you a list of recommended changes and inform you of your specific compliance requirements.

OSHA compliance and enforceability is dependent on several factors; two factors we will explore are size of farm and the activity on the farm. Below outlines some basic OSHA information from the U.S. Department of Labor defining small farms and their exemptions (https://www.osha.gov/…):

"Farms that are considered 'small' by OSHA have exemptions to its enforceability. Those 'small farms' are defined by a farm operation with 10 or fewer non-family employees that have not maintained a temporary labor camp within the preceding 12 months.

"OSHA defines a 'farming operation' as 'any operation involved in the growing or harvesting of crops or the raising of livestock or poultry, or related activities conducted by a farmer on sites such as farms, ranches, orchards, dairy farms or similar farming operations.' Crop farming operation activities include preparing the ground, sowing seeds, watering, weeding, spraying, harvesting, and all related activities necessary for these operations, such as storing, fumigating, and drying crops grown on the farm.

"However, if an employer performs activities on a small farm that are not related to farming operations and are not necessary to gain economic value from products produced on the farm, those activities are not exempt from OSHA enforcement. For example, if an exempt small farm maintains a grain handling operation storing and selling grain grown on other farms, the grain handling operation would not be exempt from OSHA enforcement."

I recommend that you ask an expert from your area to meet with you so you can better understand your obligations.

Not all farm accidents are preventable, but if the farm takes initiative in developing a safety-first culture focused on continuous improvement you are significantly reducing the chances of an accident. By putting farm safety first, you establish employer and employee trust – which can greatly help your cause in becoming a desirable place to work.
5. Work Life Balance
Growing up on a farm, working and being independent is not just something to be proud of – it's who you are as a person. It's a trait all farm kids-turned-adults have in common. Since most farm owners grew up on farms, we can't fathom why anyone would spout about the need for work-life balance. But there is quite a disconnect between the farmer's view of work-life balance and what the workforce is telling us today.

We might think it's just a fad – as some of us thought when organics started. But we're here to tell you work-life balance isn't just a buzz word to ignore. According to the 2017 Randstad Employer Brand Research Report, 45% of surveyed employees noted that good work-life balance is an important attribute when gauging the attractiveness of an organization. Work-life balance came after an attractive salary (58%) and long-term job security (46%).

As an agriculture recruiter, I constantly hear from job seekers that would love to work on a farm but don't think the work-life balance will work for their family. It's not that they won't put in some extra hours when needed, but they also know most often on farms the balance is well, not balanced.

I can hear your sighs as you read this – including my own family – and there may be an occasional eye-roll too. My concern is that we are losing too many great hires in an already tight labor market because they believe a farm can't offer a career with a decent work-life balance.

While the seasonality of our business can't be changed, we can change our approach to labor. Agriculture is not alone; plenty of other industries have peaks in their cycles.

Think about retail and food manufacturers around the holidays. Think about the construction industry in northern states; they can't work on projects year-round. The busy time for accounting firms is four months of the year.

The labor shortage is not fixing itself anytime soon, and we can't keep losing great candidates. We need to rethink the labor on our farms.

There are two basic problems to solve. One, how do we attract the best of the best for our full-time year-round positions? Two, how can we add supplement labor during the peak season to ensure our full-time team does not get burned out?
Retirees

Retirees are a great resource for additional staff during the peak season. They care about the equipment, are punctual, and don't want to be year-round employees. The only challenge is how to find retirees. They aren't looking on job boards. To be successful, you need to focus on word-of-mouth. Talk with anyone and everyone in the community about your opportunity.

Students

If there's a college or university near you, students are typically looking for evening job opportunities. This allows your full-time team to leave work and not work into the late hours of the night.

Most students look for jobs on a website called Handshake. It would be beneficial to post your job there to attract more college students. Since students also use various forms of social media, social media advertisements are another good way to target these candidates.
Partner with Another Industry

Partnering with another company can be a hidden opportunity. For example, a company in Nebraska hires seasonal soil samplers from another company that lays off their employees at the same time of the year. These companies encourage employees to work for each other during the opposite season.

Look at your individual market to see which companies are nearby and learn about their typical seasons and work schedules. If a local company has structured hours from 6:00 a.m. to 3:00 p.m., you can target employees who want extra hours from 4:00 p.m. or later.

From general labor to operators, H2A employees are another great resource. Though there are some setbacks. It can be difficult to predict and commit to how long the season will be. You'll also need to stay in compliance with housing and pay rules. Your local staffing firm, which comes with a higher price tag, takes away the burden of finding employees and keeps the employees on their payroll. When you want to let someone go, the staffing firm takes care of everything.

Remember, work-life balance is different for everyone. Not all employees need or want the same hours.

For example, we work with one agricultural equipment dealership that develops custom plans for employees. If an employee wants to work between 40 to 45 hours per week, they will honor their schedule. If a technician wants to work extra hours, then they can do so.

Talk to your employees to understand their desired schedules. The most important part of the work-life balance is creating a schedule that fits their needs. With their insight, you can offer an attractive schedule and work life balance that will appeal to more high quality candidates.
In Conclusion
In order to keep the innovation flowing and productivity booming for your business, the key is to build the right team that will contribute to your long-term goals and growth. Working with expert ag recruiters, like our team here at AgHires, can help you find the all-star employees you need to build the right team, but retaining them is up to you.
If you're struggling to recruit high quality candidates or retain employees, it might be time to rethink your company culture and what your business has to offer. We hope this guide to becoming an agribusiness candidates want to work for helps you take the first steps to creating a more positive work environment.