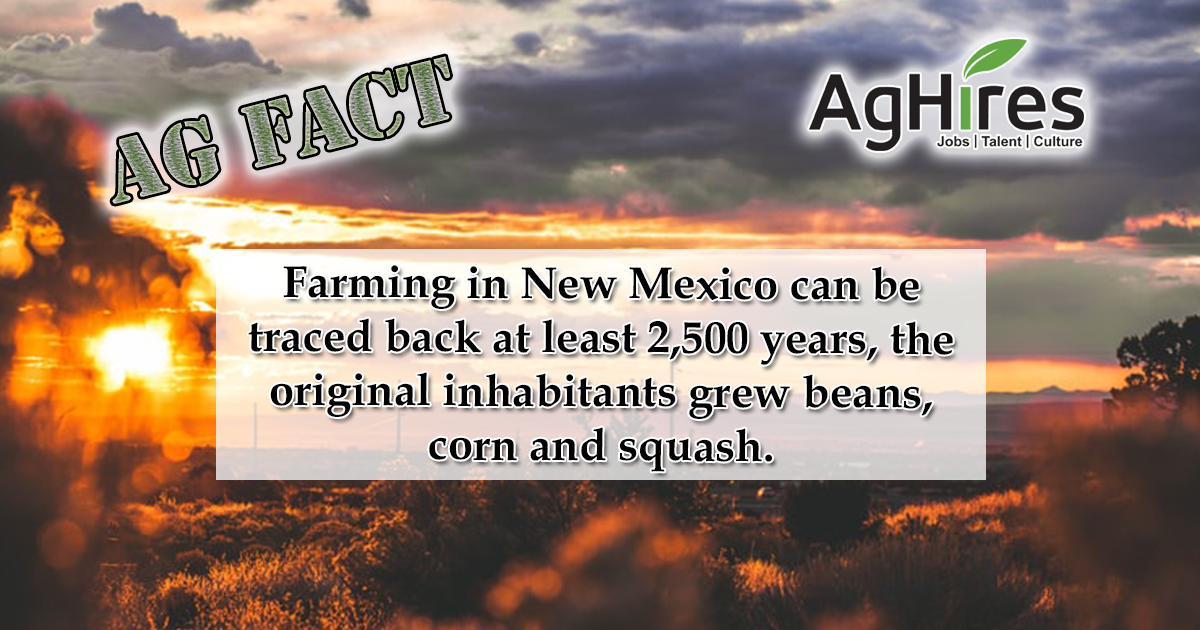 When you think of New Mexico you may think of dry climate, deserts, and cacti, but did you know that this geographically diverse state is a top producer of many of your favorite veggies? With an agricultural history that dates backs over 2,500 years, there's much to learn about the Land of Enchantment……
Doña Ana County leads the nation in pecan production, 67 million pounds of pecans are harvested from 34,319 acres.
The state supplies 85% of the nation's fresh onions during June.
The agriculture industry provides 23,000 jobs in the state.
It is the nation's seventh-largest milk-producing state, according to the National Agricultural Statistical Service, it provides 4% of milk each year.
It leads the nation in Chile pepper production.
Farming in New Mexico can be traced back at least 2,500 years, the original inhabitants grew beans, corn, and squash.
According to the 2012 Census of Agriculture, 95% of farms are family owned.
The average farm covers 1,624 acres.
Livestock and cattle are an important commodity, cattle are the top cash commodity and generates $1.75 billion a year.
New Mexico is home to six life zones with varying geography and climate – Lower Sonoran, Upper Sonoran, Transition, Canadian, Hudsonian, and Arctic-Alpine. Due to its geographic diversity, the state is a producer of many different crops.
According to the 2017 Census of Agriculture, there are 40,659,836 acres of farmland.

Penistaja soils are the state soil and cover over one million acres of land. The soils are ideal for livestock grazing, wildlife habitat, and recreation.

Corn, beans, and Squash are known as "The Three Sisters" of New Mexican Agriculture and serve as the basis for inter-cropping systems.
Notable produce grown includes pumpkins, watermelons, potatoes, lettuce, Chile peppers, corn, beans, and cabbage.
Established in 1992, The Chile Pepper Institute at the New Mexico State University is the only international, non-profit organization devoted to the education and research of Chile peppers, according to the NMSU website.
Looking for agriculture, horticulture food production, or related industry jobs? Start your search here
Want more Agriculture Facts? Click here
Follow us on Facebook and Twitter to get your weekly dose of Ag Facts.
Sign Up for Our Email Newsletter and get ag facts bi-monthly, plus new jobs in agriculture.
Sources: