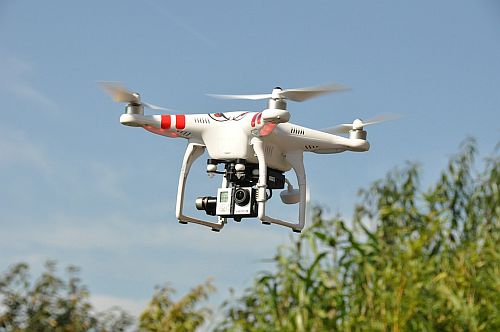 Agriculture needs more college graduates and drones are helping.
Experts are estimating that agricultural consumption will increase by nearly 70% by 2050, when the population is estimated to reach 9 billion. Additionally, events of extreme weather are on the rise. The combination of these things has created potential problems for agriculture productivity. One possible solution? Drones.
Drone technology has been around for a while but lately has really taken off. Agriculture is making a shift toward more technology, and drones are becoming a huge part of that.
Drones can produce precise three dimensional maps that help with early soil analysis. This is helpful in planning seed planting patterns. Once planting is completed, drones can provide data from a soil analysis that will help with irrigation and nitrogen-level management.
Instead of relying on satellite imagery for crop monitoring, drones can be used to create time-series animations. These animations can show precise development of a crop and production inefficiencies, resulting in better crop management.
Furthermore, drones can be used for irrigation. Drones can be used to identify which parts of a field are dry or are in need of improvement. They can also be used to calculate and describe the health of a crop and the amount of energy or heat that it emits.
Drone-carried devices can produce images that track changes in plants and indicate their health. As soon as a sickness is discovered, a farmer can apply and monitor remedies more accurately. These quick responses that drones allow can save an entire crop.
Due to the increase in obstacles that the industry is facing and technological advances, agriculture is thriving when it comes to jobs. There is a high demand for college graduates. An average of nearly 60,000 Ag related job openings are expected annually in the United States, according to the U.S. Department of Agriculture. It is estimated that the strongest demand will be for plant and water scientists, engineers, and precision Ag specialists.
About 15,000 job openings (27%) within the Ag industry will be in science, technology, engineering, and mathematics fields in the next five years. Agriculture is transforming and becoming more digital. Many of the jobs that are needed now did not even exist five years ago. About 25% of the current workforce in the Ag industry is 55 and older in age, which means that many will be reaching retirement age and more opportunities will be opening for college graduates.
Advances in technologies, such as drones, have helped turn the attention to young, college graduates, and the opportunities in agriculture are continuing to grow each year. The agriculture industry is way more diverse than most people think, and with each year comes new job opportunities. You can search for agriculture jobs on AgHires.com