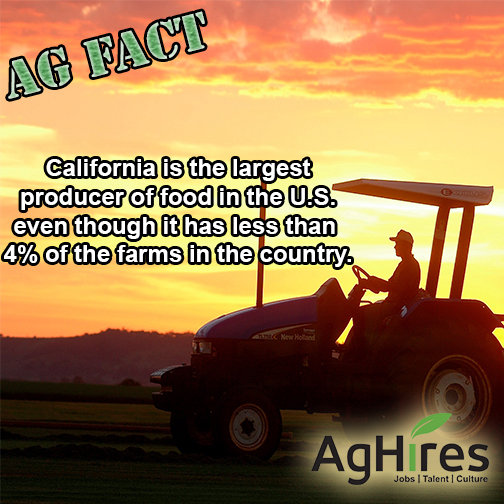 California is the world's 5th largest supplier of food, cotton fiber, and other agricultural commodities. In the U.S., California is the largest producer of food despite having less than 4% of the farms in the country.
The state has a unique Mediterranean climate that allows it to grow a variety of over 450+ different crops. Some of the crops such as almonds, artichokes, figs, and raisins are exclusive to California, and the state is the largest exporter of almonds in the world.
In the U.S., California is the number one dairy state and is the 4th largest wine producer in the world. The state produces over 90% of the wine in the U.S. It is also the nation's leading producer of strawberries, averaging 1.4 billion pounds of strawberries (that's 83% of the country's total fresh and frozen strawberry production).
Want more Agriculture Facts? Click here
Follow us on Facebook and Twitter to get your weekly dose of Ag Facts
Sign Up for Our Email Newsletter and get ag facts bi-monthly, plus new jobs in agriculture
Source:
http://www.dairymoos.com/interesting-facts-about-california-agriculture/