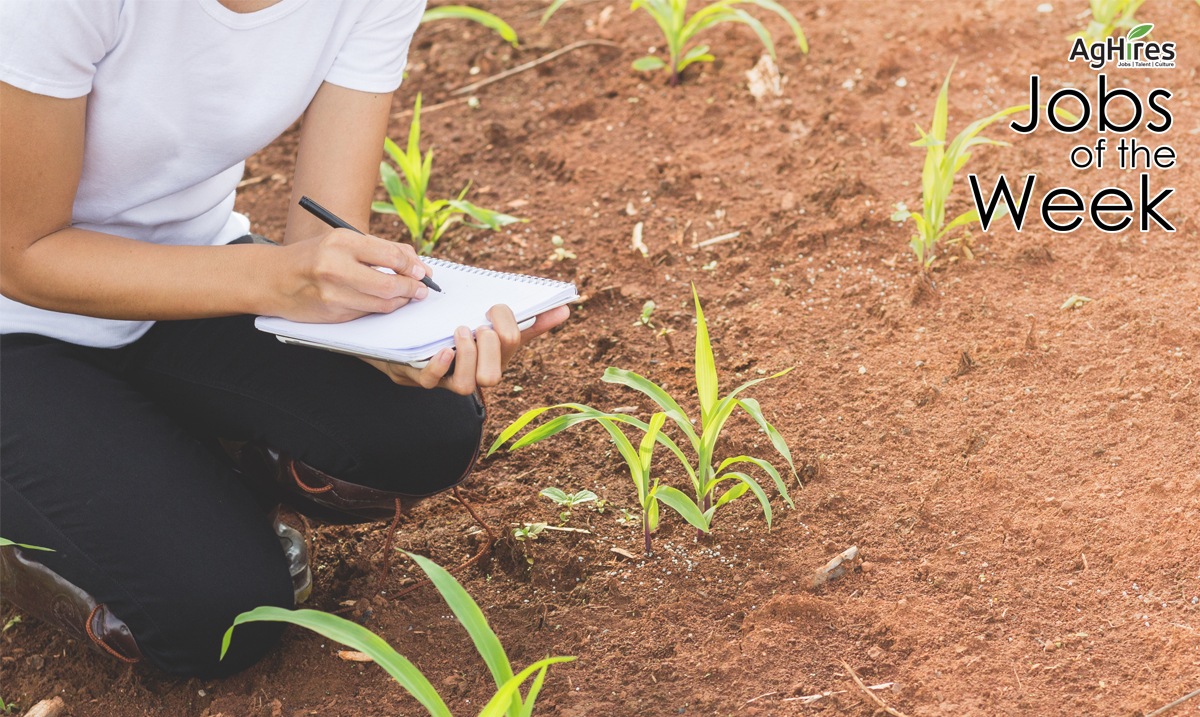 Top Agriculture Jobs of the Week
For the week of 3-13-23
AgHires works hard to be the number one resource for top jobs in agriculture. The agriculture industry provides a variety of job opportunities that range far and wide. Take a moment to search through the thousands of current job openings on AgHires.com, and check out this week's top Agriculture Jobs of the Week below.
A little about the business: N-Drip is on a mission to save water resources while supporting agriculture around the world with the first and only irrigation-micro solution powered by gravity. N-Drip's disruptive technology provides precise irrigation, producing higher yields while saving water, without adding energy or needing water filtration.
What you would be doing:
Build and maintain strong relationships with growers to ensure their satisfaction with our products and services.
Understanding customer needs, identifying challenges, and finding solutions that meet their business requirements.
Onboarding and orientation of new clients to the N-Drip Connect™ system. This includes conducting training sessions, providing technical support, enrollment, and customization of their accounts.
Being responsible for user retention by identifying opportunities for clients to get the most ROI on N-Drip Connect, and ensuring they continue to use the product over time.
Ensure that our web and mobile decision support system is up-to-date and provides farmers the best possible value.
Qualifications:
3+ years of experience in a technical service or technical support-related role.
Bachelor's Degree and/or relevant work experience in IT, Engineering, Agronomy, Agriculture Equipment, Computer Science, or related technical areas.
Technical troubleshooting experience with AI precision ag, or similar technologies and software.
We offer a competitive salary, PTO, and health benefits. All work-related expenses are covered by the company.
Search more Agronomy on AgHires now.
---
A little about the business: Arnett/Enid New Holland and Kubota dealerships continue to embody their legacy of a passion for agriculture, family values, and our local communities. The AENHK team includes 35 inspiring individuals with over 225 years of combined experience dedicated to helping the many families we serve to achieve their goals and dreams.
We're proud to serve over 6,000 customers in Northwest Oklahoma, the Panhandle of Texas, and Southern Kansas, as well as provide local jobs and significant revenue annually in our communities.
What you would be doing:
Begin each workday with a positive attitude by encouraging each technician to meet their daily and weekly goals. Work to develop a sense of "team" in the service department and across other departments.
Continue to refine service department processes to enhance the customers' experience with the service department and the dealership.
Update the service goals board on a daily basis and report the results of daily activities to management.
Stage service work and parts for technicians so they can reasonably achieve their daily goals.
Ensure all work orders are filled out with the required information.
Qualifications:
Five or more years of engine/equipment diagnosis and repair with a track record of success. Preferably in one of the following industries: Agricultural equipment, motor vehicle industry, outdoor power equipment, recreational vehicles, construction equipment and machinery, small engine and accessories. Must possess a valid driver's license.
Must be willing to work a normal 40 hours per week and longer hours as required to meet customer demands.
Able to Lift and handle heavy loads up to 70 lbs. plus work outdoors and indoors in all weather.
Search more Equipment-Machinery Jobs on AgHires now.
---
A little about the business: AHW is a 16-location John Deere Dealership, selling tractors, combines, sprayers, riding mowers, and commercial equipment in east central Illinois and western Indiana.
What you would be doing:
Promotes and sells products and/or services to meet customer needs
Supplies Service Technicians with parts as required
Assists with preparing and maintaining merchandise displays
Verifies receipting-in of shipments and assists with placing Machine Down and Stock Orders in their proper inventory locations
Assists in keeping parts department clean and orderly
Qualifications:
Basic data entry/keyboarding skills
Basic parts and machinery knowledge
Ability to use the John Deere Parts Catalog computer application
Ability to work in a team environment
Ability to lift items weighing up to 75 lbs
Search more Customer Service Jobs on AgHires now.
---
A little about the business: Taggares Fruit Company is an agribusiness company growing high-quality permanent orchard fruits including apples, cherries, wine grapes, and Concord grapes. The Taggares farm offers outstanding long-term performance based on the carefully curated varietal mix and superior growing conditions along the Snake River. Leveraging new technologies both in the fields and in the office, and with a sustained focus on stewardship, Taggares is poised to become one of the largest growers in Washington State.
What you will be doing:
Maintaining financial reports, records, and general ledger accounts.
Preparing journal entries, analyses, and account reconciliations and performing the monthly close processes.
Perform financial reporting analysis as requested by the executive team.
Contributes to the development and review of annual operating budgets and performance projections.
Participates in ensuring all financial records and statements are in line with laws, regulations, and generally accepted accounting principles (GAAP).
Qualifications:
Bachelor's degree in accounting, economics, or finance is required
CPA or CPA candidate strongly preferred.
5+ years of accounting experience.
Excellent communication skills, both written and verbal.
Strong numeracy and analytical skills.
We offer a competitive salary of $75,000- $90,000 salary, healthcare benefits, and paid time off.
Search more Accounting-Finance Jobs on AgHires now.
---
A little about the business: CHS Inc. is a leading global agribusiness owned by farmers, ranchers, and cooperatives across the United States that provides grain, food, and energy resources to businesses and consumers around the world. We serve agriculture customers and consumers across the United States and around the world. Most of our 10,000 employees are in the United States, but today we have employees in 19 countries. At CHS, we are creating connections to empower agriculture.
What you would be doing:
Serve as a hands-on supervisor, overseeing all daily operations, performing facility operations and providing general work direction as needed to provide efficient, safe, and reliable service to patrons.
Schedule production to meet plant requirements; accounting for proper sequence, clean-out procedures, products ordered, and current inventories.
Supervise plant maintenance to ensure proper operation, repairs, and preventive maintenance requirements are met.

Maintain proper record-keeping logs.

Oversee and manage inventories, both ingredients, and finished products.
Enforce safety rules and administer all company and government regulations.
Qualifications:
High School diploma or GED
2+ years of experience in Operations and/or Business Operations
Understanding of basic business principles of inventory management
Strong written and verbal communication skills
Ability to motivate and lead team members
We offer a competitive total compensation package. Benefits include Health, Dental, Vision, Hearing, Life Insurance, Health and Day Care Savings Accounts, Paid Vacation, 401K, Company Funded Pension, Profit Sharing, Long and Short Term Disability, Tuition reimbursement, and Adoption assistance.
Search more Manufacturing Jobs on AgHires now.
---
The job opportunities within the agriculture industry are endless. Whether you are looking to start your journey or take the next step in your agriculture career, there is a place for you. Go to AgHires.com to search thousands of current job openings, ranging from agronomy jobs to marketing jobs to service technician jobs. New jobs are uploaded to our website daily.
Follow us on Facebook and Twitter to see more featured jobs.