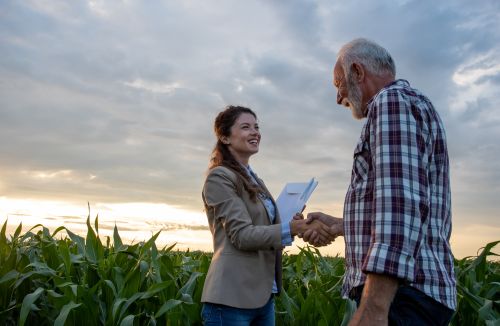 Agribusiness is a smart career choice to land a good-paying job with long-term security. The latest report from the USDA states that currently 2.6 million people are employed in agricultural jobs, which amounts to only 1.3% of all jobs in America. The nation's current farm labor shortage applies not only to ground-level farm workers but also to experts familiar with the needs of various agriculture operations and commercial farms. Any agriculture company that sells materials, seeds, technology, fertilizer, pesticide, or power to farms uses sales reps to conduct their business, so there are many ag sales jobs currently in high demand.
What Is Involved With Ag Sales Jobs?
Agricultural sales professionals bring the latest advancements from agribusinesses to the average commercial farmer. Farms have always evolved and grown because of better seeds and innovative technology. In today's times of persistent drought, supply chain issues, and other challenges, improving America's farms is more important than ever.
Agribusiness sales are highly localized. Each small region has different needs in terms of pest control, energy, water, and seeds. A career in ag sales involves serving a group of farmers living in a selected area, getting to know what they need, and building longstanding and trustworthy business relationships.
What Are Wage and Advancement Opportunities for Ag Sales Jobs?
Entry-level ag sales professionals are usually paid a base salary plus commission. Commission percentages vary by company and by the product you are selling. Job information websites estimate the average ag salesperson earns around $90,000 per year, with approximately 30% of those earnings coming from commissions.
An entry-level salary will be somewhat lower than the average, but there is room for growth in this industry. Agriculture sales reps can advance to become regional managers of a small sales team over time. There are also ag sales analyst jobs for experts who can compile sales data and make predictions for the future.
What Are 5 Ag Sales Jobs Currently in High Demand?
Here are the top five agricultural sales jobs in agribusiness that are in demand right now.
1. Retail Ag Sales Representative
The basic and most in-demand job in ag sales is the sales representative. As a sales representative, you'll visit farmers directly to sell them the necessary materials and resources needed. Some of the products you might handle include:
Seed

Fertilizer

Livestock Feed

Farm Equipment
Some agribusinesses may specialize in only one type of seed, such as corn. Sales representatives sell to both large and small farming operations in the area. Solid knowledge of farm procedures and requirements can help you broker deals and sell the optimal products for each farm's needs. As a sales representative, you maintain relationships with farmers who already buy from the company and also generate new business and customers.
Qualifications
Retail ag sales representatives are the entry-level category of ag sales jobs. These jobs may not demand specific ag sales experience, but they typically require three to five years of experience in the farming and agribusiness industry.
Any knowledge or training in agronomy — the science of farming and growing crops — is a plus. Direct sales is a highly social job so expect to be evaluated on your in-person communication skills. Agriculture sales representatives usually live in their designated sales area.
2. Technology Ag Sales Representative
Technology companies catering to farmers need sales representatives who understand daily operations on a farm. As a sales representative for one of these companies, you might sell solar panel systems, advanced irrigation systems, and other forward-looking technology to farming operations. You may often give presentations on the advantages of the company's technology. This is an excellent career for those passionate about sustainability and eco-friendly farming.
Qualifications
Technology ag sales jobs typically require several years of both sales experience and farming experience. They also require excellent communication skills and the ability to simply and accurately explain complicated concepts.
3. Sales Agronomist
A sales agronomist is similar to a retail ag sales representative but with a stronger background in agronomy. As a sales agronomist, you would consult with farmers about specific agricultural problems within their operation and provide expert solutions. Agronomists usually sell more complicated chemicals, fertilizers, and pesticides rather than seeds or equipment.
Qualifications
Sales agronomist jobs require formal training in agronomy. This requirement can range from a certificate course to an associate degree or a bachelor's degree. Working a sales internship in the final years of your degree or certification can help you land a sales agronomist job faster. Similar to other ag sales jobs, you must be a strong communicator who can explain complex topics and build rapport with local farmers.
4. Regional Ag Sales Manager
A regional agriculture sales manager oversees a small team of local sales representatives. Sales managers track the sales team's progress, provide guidance and resources for team members, pinpoint trends, and grow the company's presence in their region.
Qualifications
Management ag sales positions require approximately five years of experience in agricultural sales and strong leadership skills. These jobs are great opportunities for successful ag sales representatives who want to grow their careers.
5. Technical Ag Sales Manager
A technical ag sales manager analyses ag sales trends and data, both in a local region and globally. They use these trends to make recommendations for the company to grow sales in the future. Unlike other agricultural sales jobs, technical managers don't interact directly with farmers to make sales. Remote positions in this field may also be available.
Qualifications
These jobs typically require a bachelor's degree in Agronomy and experience with statistical analysis software. They also require five or more years of experience in agribusiness and sales.
Where Can You Find Thousands of Reputable Listings for Ag Sales Jobs?
General job boards may not be the most comprehensive or reliable sources of listings for ag sales jobs. At AgHires, we specialize in connecting workers with top agribusiness employers and farms of all sizes. We also offer career advice based on the latest industry trends, local weekly job listings, and fun facts about the agriculture industry. Search thousands of postings to find an agriculture career that's a perfect fit for you.