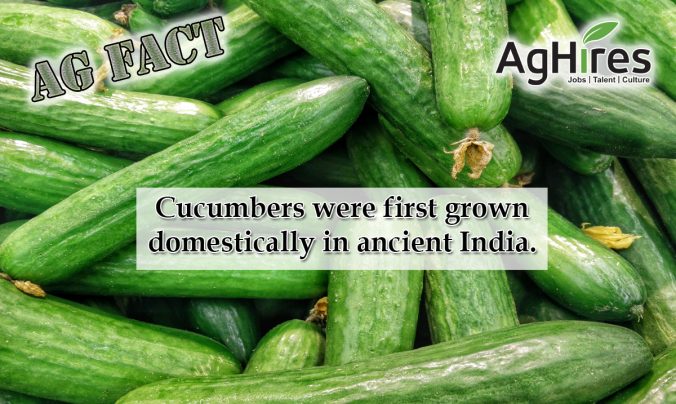 Whether you're eating it as a pickle, on top of a salad, or just on its own, cucumbers are always a crowd favorite. Cucumbers are 96% water; however, still are a great source of vitamin B1, B2, B3, B5 and B6, vitamin C, calcium, magnesium, and potassium. Here are 20 more agriculture fun facts you might not know about the cucumber:
Around the 3

rd

millennia BC, cucumbers were first grown domestically in ancient India.
In 1494, Christopher Columbus brought the fruit to Haiti which started their distribution around the new world.
The phrase "cool as a cucumber" originated because cucumbers can be 20 degrees different between the inside and the outside temperature.
Cucumbers are members of the Cucurbitaceae family which also includes muskmelons, watermelons, pumpkins, and gourds.
Botanically speaking, cucumbers are a fruit, but they are used as a vegetable. Similar to tomatoes.
The plants are monoecious which means they produce both female and male flowers.
Sliced or pureed cucumbers can give an almost instant relief to sunburnt skin.
Because cucumbers are 96% water, they do not contain as many nutrients as drier vegetables.
The world's heaviest cucumber was grown by David Thomas, from the UK, in 2015 and weighed 23 pounds and 7 ounces.
Small scale farms and part-time farming operations (fewer than 5 acres) are appropriate for cucumber production.
Michigan ranks 1st in the nation for production of pickling cucumbers and 4th in the nation for fresh cucumbers.
There were 11,200 farms in the northeast states that produced more than 6,600 acres of cucumbers in 2012.
In that same year, Pennsylvania produced 337 acres of cucumbers.
In the United States, the value of production is over $410 million for cucumbers.
The soil for cucumbers should hold moisture and have good water infiltration.
Because cucumbers are very sensitive to cold, normally they are seeded when soil temperatures do not fall below 50°F at night.
Bees are essential for pollination.
Generally, slicing cucumbers are planted on plastic beds in single rows with around 6 feet between rows and 10 inches between plants.
Cucumbers should be harvested when they are around 7 inches in length and 2 inches in diameter.
Cucumbers are general harvested by hand, but pickling cucumbers are harvested by machine.
Want more Agriculture Facts? Click here
Follow us on Facebook and Twitter to get your weekly dose of Ag Facts.
Written by: Amber DiCarlo, Marketing Intern
Sources:
Thefactsite.com
Wafarmtoschool.org
Michigangrown.org
Extension.psu.edu