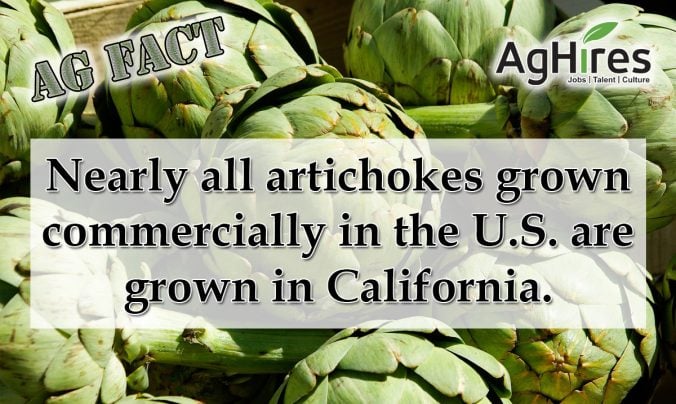 Did you know these 20 facts about the artichoke?
March 16th is National Artichoke Day.
Nearly all artichokes grown commercially in the U.S. are grown in California.
Production actually happens year-round, but peak harvest season occur between March and May and smaller one in October.
Harvest takes place between 5 and 6 months after planting.
Artichokes thrives in frost-free areas with cool, foggy summers.
In 2016, 6,800 acres were harvested.
A plant produces about 15 to 20 artichokes a year.
Artichokes can be cultivated as an annual or a perennial plant.
Artichokes are an immature flower. If left to mature, they will blossom into bright purple flowers.
There are 50 varieties of artichokes grown worldwide. Green Globe is the predominant variety in California.
Artichokes are native to the Mediterranean region.
Artichokes were brought to the United States in the 1800s and were first grown in Louisiana by French immigrants and in California by the Spanish.
The artichoke is the Official Vegetable of Monterey County in California
Castroville, a small town in Monterey County, is the self-proclaimed "Artichoke Center of the World" since most of California's artichokes are grown in this area.
The world's largest producer was Italy, with Egypt and Spain following.
In a study done by the USDA, artichokes ranked as the number one vegetable in antioxidant count
A large artichoke has 6 grams of dietary fiber.
One medium artichoke has more fiber than a cup of prunes.
Before the 16th century, women were not allowed to eat the vegetable because they were still considered to have aphrodisiac properties.
Marilyn Monroe, who was still going by her given name, was crowned Castroville's first Artichoke Queen.
Want more Agriculture Facts? Click here
Follow us on Facebook and Twitter to get your weekly dose of Ag Facts.
---
Sources:
Agricultural Marketing Resource Center
California Artichoke Advisory Board: Health and Nutrition
California Artichoke Advisory Board: Facts
Mobile Cuisine
Soft Schools