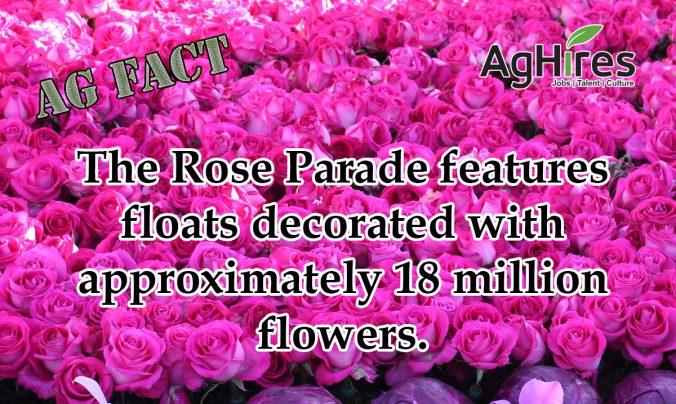 The Rose Parade, a New Year's tradition more than 100 years old, uses more than 18 million flowers for the floats that travel through the streets of Pasadena, California. The Tournament of Roses demands about 80,000 hours of manpower every year. The manpower is mostly supplied by 935 members of the association, however there a many other volunteers, businesses and individuals that put a lot of time and effort into the event as well.
The parade follows the same five and half mile stretch every year. Since officials require the floats to travel about 2.5 miles per hour, this stretch takes about 2 hours to complete. Although this gives the estimated 700,000 spectators plenty of time to see all the floats. Another 47 million Americans are expected to view the parade on TV.
Never on a Sunday
The parade and Rose Bowl Game have a "Never on a Sunday" rule. The event is meant to be held on New Year's Day, however if January 1st falls on a Sunday, they will move the events to the 2nd. This has been a tradition since it all started in 1893. According to the Tournament of Roses Association, this began because officials did not want to risk scaring the horses that maybe secured outside churches, which would interfere with worship. Even though this may not be an issue today, it has remained a tradition.
This Year's Rose Parade
The 129th Rose Parade will begin at 8:00am PST on January 1st, 2018 with Grand Marshal Gary Sinise aboard. The 2018 theme is "Making a Difference". Tournament of Roses, President Lance Tibbet, explained this year's theme is "to honor and celebrate all the people in our communities, who quietly and without desire for reward or recognition, act in selfless, generous and kind ways to aid or benefit others."
Want more Agriculture Facts? Click here
Follow us on Facebook and Twitter to get your weekly dose of Ag Facts.
Sources:
Mental Floss
TournamentofRoses.com
TournamentOfRoses.com: Frequently Asked Questions
ProFlowers: Rose Parade Fun Facts