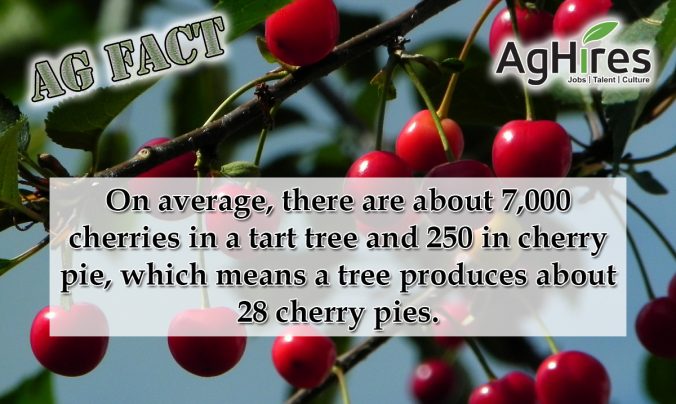 There are two types of cherries grown in the United States, sweet and tart. Washington, California, Oregon produce about 90% of the nation's sweet cherries, while Michigan is the largest producer of the tart varieties, producing nearly 74%. The other remaining tart cherries come from Utah, Washington, New York, Wisconsin, and Pennsylvania. The U.S. is the second largest producer of cherries, following Turkey. There are more than a thousand varieties in the U.S., but only 10 are produced commercially.
History of Cherries
The fertile areas between the Black and Caspian seas are where sweet cherries originated. It is believed the fruit come to Europe because of birds. Greeks were the first to cultivate the fruits, while the Romans increased production.
The colonists brought the fruit with them to North America in 1629 and the Spanish missionaries introduced them to the west. Pioneers and fur traders also moved cherries to Washington, Oregon, California during their movement in the 1800's.
Cherry Production
Cherry trees are planted in straight rows in the orchards. Typically farms plant about 100 trees per acre. It can take between 4 to 7 years to begin producing sweet cherries, while it can take 3 to 5 years to produce tart cherries. Sweet cherries are not self-pollinating and need to planted with compatible varieties to be pollinated by bees. Whereas tart cherries are considered self-pollinating and do not need to be planted with other varieties. Cherry trees require between 1,000 and 1,500 hours of chilling to induce flowering.
California cherries are the first cherries of the season, which usually begins in mid-April and lasts until early June. Tart cherries are typically harvested in July or August. When the color changes on the fruit and they are in the firm-mature stage they are ready to be harvested. Fresh market sweet cherries are harvested by hand and leave the stems intact. These small fruits can be bruised easily, so they must be handled with care. They're immediately brought to the packing facility and cooled using cold water. They are then sorted by size and color to be packed into boxes and shipped.
Tart cherries are harvested by a machine that shakes the trees in a figure-eight motion until the cherries are dropped. A conveyor then takes the cherries away to large bins of chilled water to be taken to a processing facility to be rinsed with colder water to retain firmness. These cherries are also pitted to be made into juice, dried, or frozen.
U.S. Consumption
In 2016 over 350 tons of sweet cherries were produced, while about 329 million pounds of tart cherries were yielded. About 75% of sweet cherries are produced for the fresh market, with the remaining used for processing. Since tart cherries are extremely delicate, majority of them are processed into juice, frozen or dried products.
The average American consumes about 2.2 pounds of cherries a year either frozen, canned, fresh, juice, wine, brine and dried. Tart cherries are a multipurpose ingredient. The flavor and bright color are great for cocktails, desserts, salads, and more.
Other Facts
Michigan has about 3.8 million tart cherry trees and about 0.5 million sweet cherry trees.
Traverse City, Michigan is considered the Cherry Capital of the World.
On average, there are about 7,000 cherries in a tart tree and 250 in cherry pie, which means a tree produces about 28 cherry pies.
There are about 100 whole cherries in an 8-ounce class of cherry juice.
Harold Robertson set the record for picking the most cherries by hand in one day in 1958. He picked 1,225 pounds of cherries in a 12-hour period.
Want more Agriculture Facts? Click here
Follow us on Facebook and Twitter to get your weekly dose of Ag Facts.
---
Sources:
Agricultural Marketing Resources Center
California Cherry Board
Montmorency U.S. Tart Cherries
Northwest Cherries
Agile Writer Biography and History