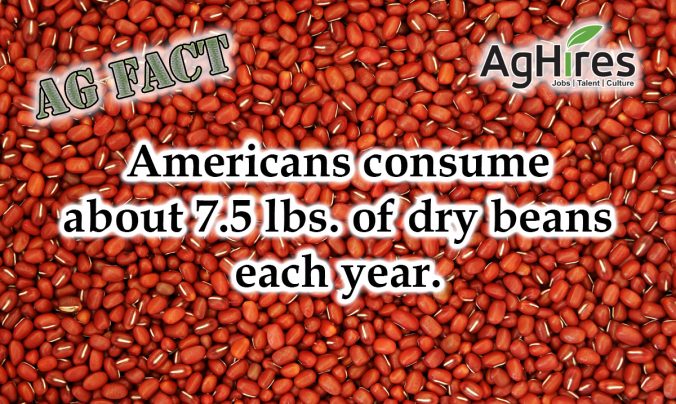 Americans consume over 7 pounds of beans each year. Nearly 14% of the population is consuming the legumes on any given day. The top five beans in the U.S., in order of popularity, are pinto, navy, great northern, red kidney, and black beans. About 2 million acres of dry beans are planted each year in the United States, with each acre of land producing 1,500 – 2,800 pounds. Most of the crop grown in the States are produced in North Dakota, which accounts for 32% of production. The rest are grown in Michigan (17%), Nebraska (11%), Minnesota (10%), and Idaho (7%). This makes the U.S. the sixth leading country in bean production after Brazil, India, China, Burma, and Mexico.
History of Beans
These legumes have been grown for over 7,000 years in central and south America. They were domesticated and slowly introduced to the rest of the world, becoming a staple in much of world. Bean production in American began in Michigan in the 1880s. Soon growers in Idaho, Colorado, Montana, New Mexico, Nebraska, and Wyoming were attracted to the crop. Bean production grew during World War II to meet the increased demand of the American soldiers. Today North Dakota is the top producer of the crop.
North Dakota
While North Dakota is the leading producer, the bean industry is fairly new to the state, compared to Michigan. It began in 1962 and has steadily increased each year. In 1970 North Dakota only produced about 2% of the U.S. crop, but today the state produces nearly 1/3 of the country's crop. According to the 2007 Census of Agriculture, over 1,600 farms produce dry edible beans in North Dakota. About 70% of the beans grown in the state are pinto, followed by navy at 17%.
Want more Agriculture Facts? Click here
Follow us on Facebook and Twitter to get your weekly dose of Ag Facts.
Sources:
US Dry Bean Council
Bean Institute
Colorado State University: The Food Source Information Wiki
USDA: Dry Bean