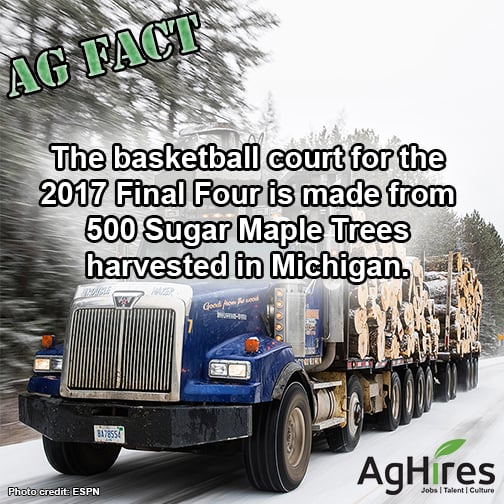 The basketball court for the 2017 Final Four is made from 500 Sugar Maple Trees harvested in Michigan
While the past month of basketball may have seemed to have flown by, the court that will be used in this weekend's Men's Final Four has been on a five month journey. Its journey began in Michigan, where foresters selected 500 sugar maples out of a 24,000-acre forest. From there, the trees were taken to a Michigan mill where they were debarked, cut into planks, and dried.
After the planks are dried, they are shipped to Idaho to be sanded and measured. This is the stage where the floor gets its design. Every inch of the floor is stained and then painted using NCAA graphics as stencils. 13.25 gallons of stain, 4.5 gallons of paint, 80.5 gallons of finish, and 14 different colors are used to finish the design.
Once the floor is done being painted, it is time for it to head to its destination. It arrives in Arizona, transported by 18-wheelers, and is assembled using a pin-and-hole system. Once it is assembled, it is adjusted to fit the sidelines and baselines. And then it is ready for some basketball.
Throughout the entire journey, the floor traveled 2,300 miles over a span of five months. You can see the journey here. Who are you rooting for this weekend?