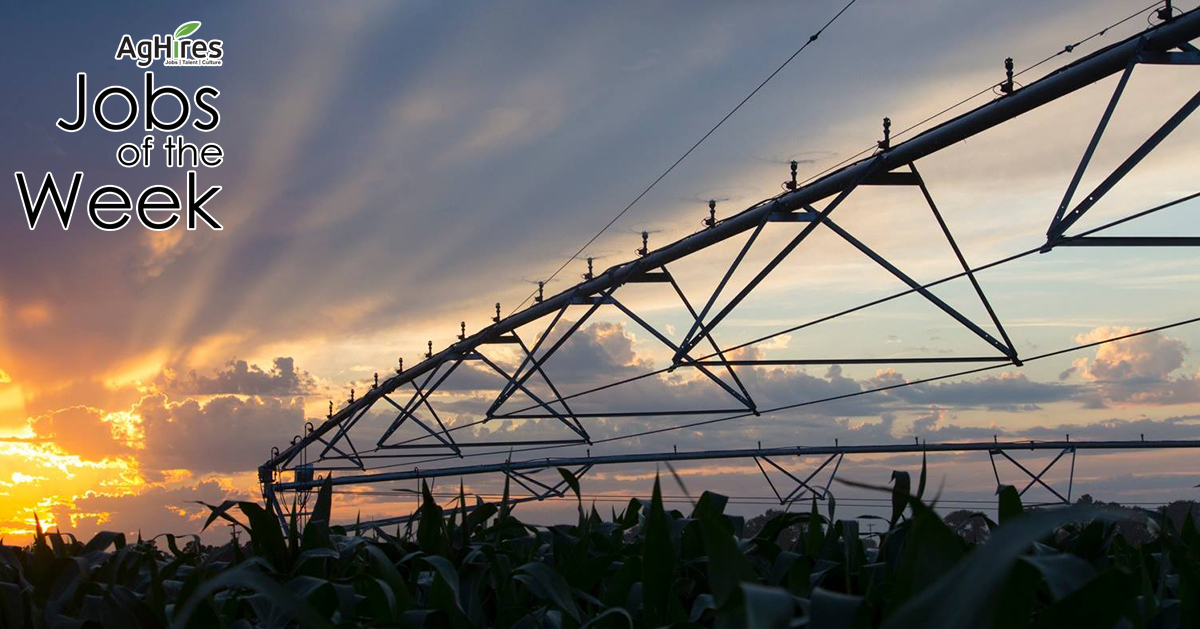 Top Agriculture Jobs of the Week
For the week of 10-31-22
AgHires works hard to be the number one resource for top jobs in agriculture. The agriculture industry provides a variety of job opportunities that range far and wide. Take a moment to search through the thousands of current job openings on AgHires.com, and check out this week's top Agriculture Jobs of the Week below.
A little about the business: At Lone Tree Farms, we know that every task contributes to our noble purpose of nourishing people around the world! We are a family-owned company deeply rooted in agriculture. We pride ourselves on being a progressive operation and our team members are key partners who share a passion for what we do.
Unique opportunity with partial ownership potential! Offers competitive compensation, health, dental, and vision insurance, retirement plan, flexible paid time off, paid holidays, and potential for available housing.
What you would be doing:
Operate heavy equipment including tractors, planters, combine, sprayer, etc. while also leading a small team
Schedule and perform maintenance and repairs on equipment and trucks
Assist in maintenance of swine facilities (carpentry, plumbing, electrical, & welding)
Scout crops and assist in determining agronomic plans
Maintain records of crop and performance goals
Qualifications:
Degree in Agriculture or Agribusiness plus 4 years' experience desired
Experience in operating, maintaining, and repairing a variety of agricultural equipment
Experience with GPS Guidance and record systems
Ability to communicate clearly and effectively to coordinate employees
Enjoy working outdoors and comfortable with longer hours during peak seasons
Dedication, self-motivation, positive attitude, and ability to work effectively as a team
Time-management skills and the ability to adapt and function effectively in a fast- paced, changing environment
Search more Farming Jobs on AgHires now.
---
What you would be doing:
Implements and administers employee policies.

Provides high-quality advice and service to management on daily employee relations and performance management issues.

Supports the HR department in implementing programs to help improve the employee experience.

Offers proactive recruiting assistance.
Qualifications:
Associates Degree in Business Management or related field and 3 years related experience and/or training; or equivalent combination of education and experience.
Ability to speak, read, and write English
Excellent verbal and written communication skills
Search more Human Resources Jobs on AgHires now.
---
A little about the business: At Bayer we're visionaries, driven to solve the world's toughest challenges and striving for a world where ,Health for all, Hunger for none' is no longer a dream, but a real possibility. We're doing it with energy, curiosity and sheer dedication, always learning from unique perspectives of those around us, expanding our thinking, growing our capabilities and redefining 'impossible'. There are so many reasons to join us. If you're hungry to build a varied and meaningful career in a community of brilliant and diverse minds to make a real difference, there's only one choice.
What you would be doing:
Member of US Brand Marketing Communication Team
Defines overall brand marketing engagement and communication objectives for FieldView
Set brand marketing communication priorities for Brand Team and facilitate cross-brand activities to further the integrated Bayer portfolio approach
Review all brand marketing communication efforts for brand strategy alignment;
Drive creation of brand specific annual and quarterly marketing communication plans, while overseeing shorter-term, iterative plans
Support new insights and marketing communications to develop contextual marketing strategies that balance traditional/digital media mix plans
Qualifications:
Bachelor's degree in marketing, journalism, media studies, advertising, public affairs, business, agriculture, or other disciplines
Five years of experience in sales, marketing, marketing communications or advertising in business or agency
Experience in brand management, brand strategy, and product marketing;
Capable of analyzing market research to assess market trends, track competitors, and understand current/future customer needs
Bayer offers a wide variety of competitive compensation and benefits programs.
Browse more Marketing Jobs on AgHires now.
---
A little about the business: Farmers Business Network® ( FBN® ) is on a mission to power the prosperity of family farmers and rural communities around the world, transforming how the world farms with an integrated, technology-enabled agricultural platform.
What you would be doing:
Act as an expert advisor on crop insurance
Seek out pain points and provide recommendations for areas of improvement in coverage
Maintain subject matter mastery of public and private insurance products
Succinctly communicate the value FBN products and services to the farmer
Coordinate and collaborate with FBN Account Executives, Farm Market Advisors, and inside sales team members to provide a white glove service offering across FBN's domains
Participate in FBN events, regional trade shows and member engagement activities
Work with junior agents on their complicated cases
Qualifications:
Bachelor's degree or equivalent experience preferred
9+ years experience as a successful crop insurance sales agent
Knowledge of crop insurance programs and information, grain marketing, finance and macroeconomics
Possess insurance license and Risk Management Agency (RMA) certification as a crop insurance agent
Willingness to work in a fast-paced start-up environment
Search more Sales Jobs on AgHires now.
---
A little about the business: Heritage Cooperative is always looking for friendly, outgoing, customer-service driven employees. Our people are our greatest asset, and we are constantly thinking outside of the box for new ways to make working at Heritage Cooperative attractive to our current and prospective employees.
What you would be doing:
Accurately complete and maintain DOT logbooks, vehicle inspection reports, and trip tickets

Communicate and coordinate bulk feed deliveries with appropriate personnel

Communicate customer needs and inquires to appropriate personnel for follow up

Conduct required pre and post trip inspections

Load and unload product for delivery following weight guidelines set forth by the vehicle type
Required qualifications:
Valid driver's license, with acceptable driving record

Class B CDL
Ability to frequently lift heavy objects no more than 50 pounds
Ability to frequently stand and/or walk for extended periods of time
Ability to frequently sit for extended periods of time
Search more Trucking Jobs on AgHires now.
---
The job opportunities within the agriculture industry are endless. Whether you are looking to start your journey or take the next step in your agriculture career, there is a place for you. Go to AgHires.com to search thousands of current job openings, ranging from agronomy jobs to marketing jobs to service technician jobs. New jobs are uploaded to our website daily.
Follow us on Facebook and Twitter to see more featured jobs.