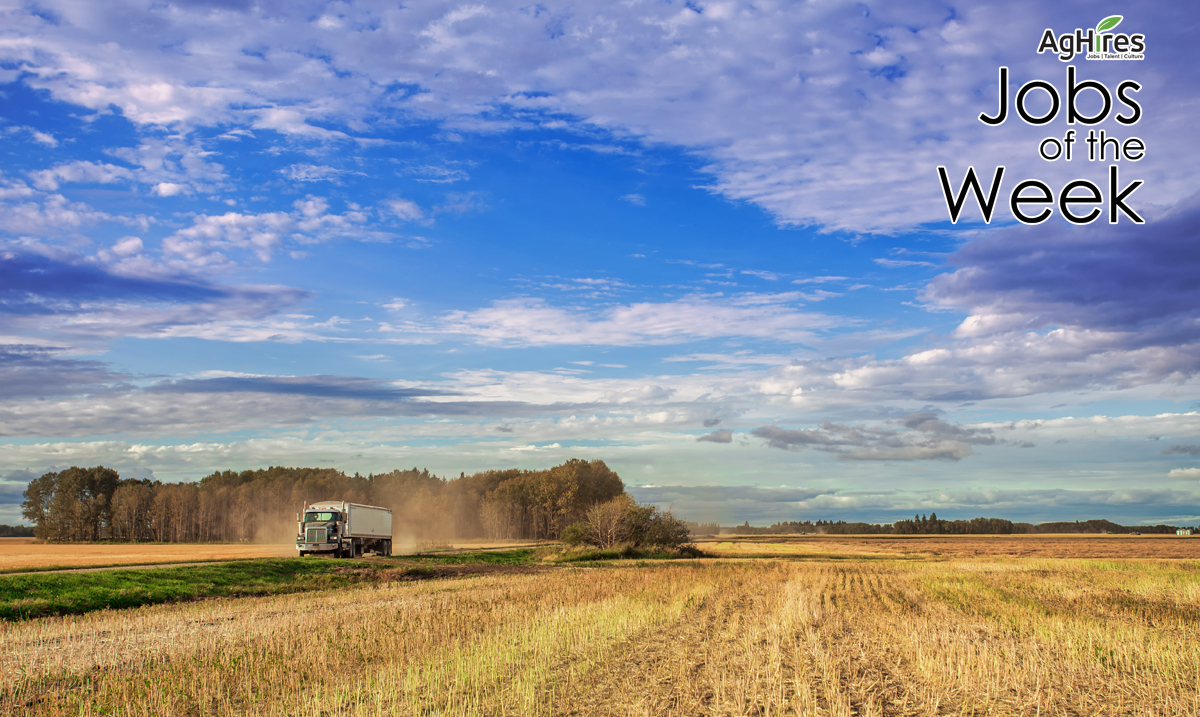 Top Agriculture Jobs of the Week
For the week of 12-6-21
AgHires works hard to be the number one resource for top jobs in agriculture. The agriculture industry provides a variety of job opportunities that range far and wide. Take a moment to search through the thousands of current job openings on AgHires.com, and check out this week's top Agriculture Jobs of the Week below.
A little about the business: Carbon Robotics is developing a series of agricultural robots to help automate food growing and production while helping the environment and producing healthier food.
What you would be doing:
Respond quickly to customer issues.
Perform routine maintenance and repair of carbon Robotics equipment.
Respond to customer concerns and identify the issues, troubleshoot them, and work with Carbon Robotics teams to develop and implement corrective action plans.
Conduct diagnosis and repair on equipment following safety guidelines.
Perform operational testing of controls, safeties, shutdown, and place equipment in service.
Collect data, upload it, and assist with model labeling.
Demonstrate how to properly operate Carbon Robotics equipment.
Support demonstration and implementation activities.
Qualifications:
3+ years of experience supporting, maintaining, or repairing farm implements.
Ability to diagnose problems with equipment.
Strong mechanical aptitude.
Excellent communication skills, both written and oral.
Proven ability to troubleshoot mechanical and electrical problems.
Excellent relationship management, customer service, and communication skills.
Search more Equipment Jobs on AgHires now.
---
A little about the business: The Monroe Conservation District (MCD) is a local unit of state government, assisting landowners with the conservation and management of their natural resources. The Michigan Agricultural Environmental Assurance Program (MAEAP) is an innovative, proactive program that helps farms of all sizes and all commodities voluntarily prevent or minimize agricultural pollution risks.
What you would be doing:
Provide on-farm, one-on-one technical assistance, using farm-specific risk assessments.

Provide education and promotion about ground and surface water protection using displays, newsletters, group presentations, demonstrations, public service announcements, news releases, radio programs, and other means.
Develop conservation or emergency management plans for producers.
Maintain accurate and well-organized records.
Provide timely reports and updates to the Monroe Conservation District Board of Directors.
Complete and submit regular reports to MDARD.
Qualifications:
A minimum of a Bachelor of Science degree in agriculture, natural resources management, animal, crop, environmental, agronomy, dairy, and/or soil science; or horticulture is required.
A minimum of two years of experience in natural resources or agriculture field work is preferred. Knowledge of and experience working with agricultural producers and practices is preferred.
Search more Agronomy Jobs on AgHires now.
---
A little about the business: The Cranberry Marketing Committee (CMC) was established as a Federal Marketing Order in 1962 to ensure a stable, orderly supply of good quality cranberries. Committee leadership consists of 13 grower members, and 9 grower alternate members nominated by the committee and appointed by the Secretary of Agriculture for two-year terms. There is one public member and one public alternate member who are not cranberry growers, processors, handlers or do not have a financial interest in the production, sales, marketing, or distribution of cranberries or cranberry products. Grower members represent each of the four cranberry production regions.
What you would be doing:
Recommend research and promotion projects, as authorized, and provide the Committee and USDA with project outlines and complete justification for each project.
Recommend approval of contracts and agreements for outside contractors and consultants. Enter and sign on behalf of the Committee such contractual agreements as may be approved by the Committee.
Provide oversight of research and promotion projects and contractors and consultants activities associated with such projects.
In consultation with the Committee, see that an independent annual audit is conducted; prepare a marketing policy and compliance policy to address current industry issues.
Serve as a liaison between the Committee and the industry and ensure CMC representation on industry committees and functions as required.
Monitor income and expenses, anticipate variances in spending or revenue patterns, and advise the Committee of any need for budget or assessment rate revisions.
Qualifications:
5+ years management experience.
Experience managing and directing other employees to be efficient and successful.
Proficient use of Microsoft Office and other software such as Zoom and database management programs.
An undergraduate or graduate degree in business administration, marketing, accounting, finance, or related disciplines is required. A minimum of 5 years of continuous employment and/or related experiences in a leadership role is a requirement for consideration for this position.
Browse more Executive Jobs on AgHires now.
---
A little about the business: AHW LLC strives to create a work environment that promotes innovation. Innovating new ways to support our customers by creating Tomorrow's Solutions Today. Encouraging current and new employees to share and take pride in the products and support that we all provide to each other and our customers. Ensuring that AHW is always here when our customers rely on us. We strive to provide our customers with the highest quality service, technology, products, and support.
What you would be doing:
Promotes and sells products and/or services to meet customer needs.
Supplies Service Technicians with parts as required.
Assists with preparing and maintaining merchandise displays.
Verifies receipting-in of shipments and assists with placing Machine Down and Stock Orders in their proper inventory locations.
Assists in keeping parts department clean and orderly.
Follows up on shortages and expedites issues by reporting to the manager.
Assists in maintaining all departmental tools, equipment, and vehicles are in good working order.
Maintain a safe working environment and adhere to company safety program at all times.
Qualifications:
Basic data entry/keyboarding skills.
Basic parts and machinery knowledge.
Ability to use the John Deere Parts Catalog computer application.
Ability to work in a team environment.
Ability to lift items weighing up to 75 lbs.
Associate Degree or equivalent experience preferred.
Search more Sales Jobs on AgHires now.
---
A little about the business: Melon Acres is a third-generation family farm that began in 1976 and is located in Oaktown, Indiana (southwestern Indiana). Melon Acres' farm began as only 85 acres but has now grown to well over 1,000 acres of produce growing cantaloupe, watermelon, sweet corn, and asparagus along with grain crops for rotation. We also grow a small variety of other produce crops and run our own retail store, The Big Peach.
What you would be doing:
Operate and maintain heavy equipment as required for row crops and other vegetables.
Follow SOPs for each task assigned.
Assist with repairs and other fieldwork.
Maintain / Service equipment.
Assist in daily farm operations.
Help with installation and maintain drip irrigation systems and overhead pivots.
Qualifications:
Minimum of 2 years of on-farm experience.
Great attitude is highly valued.
Shares Melon Acres core values "Family, Quality, Teamwork, Courage, Achievement, Honesty, & Happiness."
Self-motivated individual who is willing to learn.
Ability to work well with others.
Willingness to work long hours (often 12+ hours per day) and seven days per week during peak season.
Search more Farming Jobs on AgHires now.
---
The job opportunities within the agriculture industry are endless. Whether you are looking to start your journey or take the next step in your agriculture career, there is a place for you. Go to AgHires.com to search thousands of current job openings, ranging from agronomy jobs to marketing jobs to service technician jobs. New jobs are uploaded to our website daily.
Follow us on Facebook and Twitter to see more featured jobs.