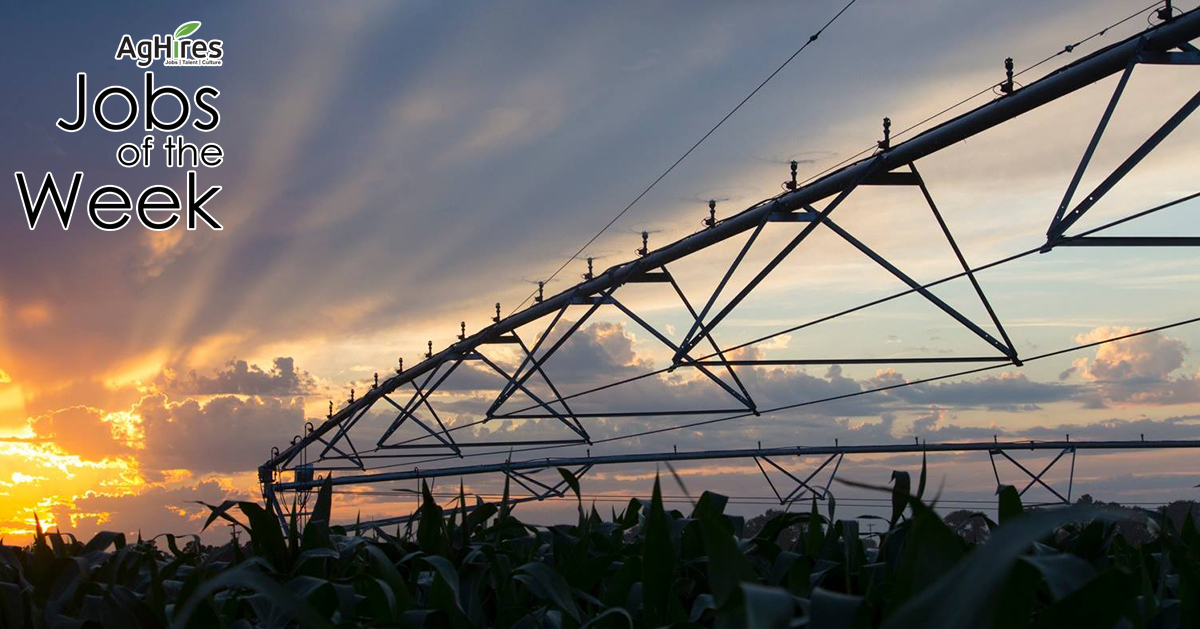 Top Agriculture Jobs of the Week
For the week of 4-18-22
AgHires works hard to be the number one resource for top jobs in agriculture. The agriculture industry provides a variety of job opportunities that range far and wide. Take a moment to search through the thousands of current job openings on AgHires.com, and check out this week's top Agriculture Jobs of the Week below.
A little about the business: Edge Wood Dairy is a family-owned modern, large dairy farm located in southwest Michigan. We pride ourselves on having a great team, a passion for agriculture, and our livestock.
What you would be doing:
Milking parlor equipment maintenance and repair.

Troubleshooting milking/washing system problems.

Maintenance and repair of manure separation equipment.

Tractor and front-end loader service and oil change.
Qualifications:
Basic mechanical, plumbing, and electrical understanding.

Welding experience is a plus but not required.

Previous maintenance of farm and other heavy equipment is a plus.

Willingness to learn on the job.

Ability to manage your time and prioritize duties is required.
Search more Dairy Jobs on AgHires now.
---
A little about the business: Stine Seed Company, a privately-held, national seed company, currently has an opening for a Regional Sales Manager covering the state of Ohio. This represents an excellent opportunity to grow both professionally and financially with one of the industry's most respected corn and soybean seed companies.
What you would be doing:
Learn and understand day-to-day needs and issues of assigned ISRs through regular communication and by spending a minimum of 3 days a month in the territory with the ISR.
Assist ISRs in the development and management of key prospect lists and monitor their progress toward stated goals.
Assist ISRs with new dealer and direct grower recruitment.
Assist in the development of relationships with key growers and dealers.
Evaluate ISRs on sales performance and provide recommendations regarding any changes that should be made to improve the productivity of the sales region.
Qualifications:
Candidates should have previous sales management experience.
Candidates should possess excellent written and verbal communication skills. In addition, basic computer skills and working knowledge of Microsoft Office applications is required.
Candidates should have demonstrated initiative and the ability to work with multiple team members to meet established goals.
Preference will be given to candidates that have proven ability to build/maintain strong relationships and achieve desired results.
Search more Management Jobs on AgHires now.
---
A little about the business: Hubner Industries LLC, a local, family-owned company, which has been in the seed production, treatment, packaging, and distribution industry for 50 years is seeking a dependable, flexible, team-oriented, energetic individual for the office area at our West Lebanon, IN location.
What you would be doing:
Ability to accurately understand work orders and read all details
Ability to learn to print all tags and placards for packaging lines with accuracy and timeliness
Able to learn the bag header processing, all printing options, and make adjustments, decisions, and changes to the printing to meet customer requests and requirements
Browse more Manufacturing Jobs on AgHires now.
---
A little about the business: Welcome to Premier Crop Services! We are a custom farming business located in Middleton, Michigan (about 40 miles north of Lansing, MI). We farm acres of our own, but we are mostly providing Custom Manure Application services to farm customers. Majority of our work occurs during our peak seasons (Spring and Fall), while the remaining time of year is much more laid back.
What you would be doing:
Operating large farm equipment such as tractors, farm application equipment, sprayers, and other various heavy equipment.
Basic preventative maintenance and repair.
Assist in all areas of the farm and business as needed.
Qualifications:
Experience or background in farming or agriculture operating large and other heavy equipment.
Ability to work longer hours during busy season.
Strong personal motivation along with integrity.
Search more Equipment Jobs on AgHires now.
---
A little about the business: Welcome to Wickham Tractor Company! We are a family-owned equipment dealership with 5 Colorado locations in Fort Morgan, Sterling, Fort Collins, Greeley, and Longmont. Our goal is to be the premier dealer of choice in the Farming, Commercial Agriculture, Light Industrial, Powersports and Lifestyle Equipment User industries. We sell and service Case IH, Kubota, Great Plains, Krone, and more, we are committed to providing an excellent experience for our customers to help build and retain them as lifelong members of the WTC family.
What you would be doing:
Perform diagnostics, service repairs, and maintenance work on customer farm machinery and heavy equipment.

Work directly with farming customers to communicate repairs made, share available products and services to meet their needs.

Complete service reports, order parts, and maintain clear customer records.

Access and effectively use resources such as Dealer Portals (i.e.. Case IH, Kubota, etc.) and varies diagnostic tools to assist in diagnosing and repairing machinery.
Qualifications:
Experience in servicing agricultural equipment, farming equipment, or other relatable equipment such as

construction, military, or heavy equipment.

Ability to work flexible hours during peak seasons.

Ability to work independently, are a dedicated self-starter and have the ability to drive position productivity without the need for direct, constant supervision.

Excellent communication skills with the ability to facilitate coordination among multiple parties often under specific timeframes and deadlines.

Manual dexterity, fine manipulation, and the ability to reach with hands and arms and lift up to 80 lbs.
Search more Maintenance Jobs on AgHires now.
---
The job opportunities within the agriculture industry are endless. Whether you are looking to start your journey or take the next step in your agriculture career, there is a place for you. Go to AgHires.com to search thousands of current job openings, ranging from agronomy jobs to marketing jobs to service technician jobs. New jobs are uploaded to our website daily.
Follow us on Facebook and Twitter to see more featured jobs.