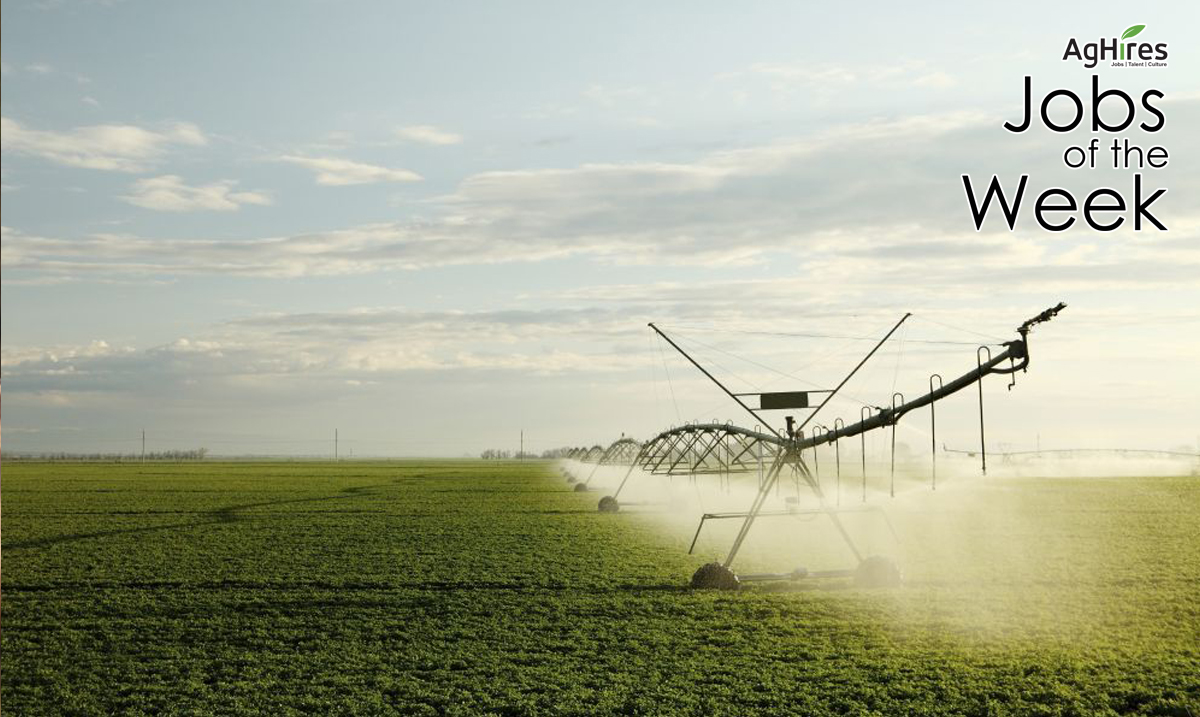 Top Agriculture Jobs of the Week
For the week of 5-10-21
AgHires works hard to be the number one resource for top jobs in agriculture. The agriculture industry provides a variety of job opportunities that range far and wide. Take a moment to search through the thousands of current job openings on AgHires.com, and check out this week's top Agriculture Jobs of the Week below.
A little about the business: Based in Plain City, Ohio, Select Sires Inc., is the largest global A.I. cooperative and is comprised of six farmer-owned and -controlled local organizations in the United States. As the industry leader, it provides highly fertile semen, as well as excellence in service and programs to supply dairy and beef producers with the world's best genetics.
What you would be doing:
Update, produce and provide content to support efforts to grow, develop and enhance Select Sires' website and blog.
Design and develop print and digital advertisements and promotional material, including video, for use in print publications and on multiple digital platforms, with input from various departments. Develop specialty brochures or fliers on an as needed basis. Develop promotional pieces for specific programs or product lines as assigned by the director of communications.
Design and complete point-of-sale fliers, statement stuffers and digital pieces featuring content provided by the sales and marketing department, as well as the mating guide and high-components breeds price list.
Serve as the contact person for promotional material requests from members and international distributors. Provide support for creating and updating internal training materials.
Qualifications:
Degree in Dairy or Animal Sciences, Marketing/Communications, Multimedia Design

or

Public Relations

or related work experience preferred.

Proficiency in

Microsoft Office Programs (Word, Excel, PowerPoint)
Considerable experience with Adobe Creative Cloud
Experience with Constant Contact or other email marketing programs.
Ability to consult and collaborate with diverse individuals and departments about complex marketing or training issues, as well as the ability to evaluate and present effective solutions
Search more Marketing Jobs on AgHires now.
---
A little about the business: Gernaat Dairy, LLC is a family owned dairy operation located in Falmouth, MI. We pride ourselves on operating a progressive dairy farm offering high quality milk to our customers. Our team prides itself on working together to be a solid, efficient and well organized team.
What you would be doing:
Maintenance, repair, and troubleshooting on a variety of farm and agriculture equipment.
In field repairs with service truck, as needed.
Ordering parts.
Document details of service performed.
Research maintenance projects.
Qualifications:
Mechanical experience in either heavy equipment, ag equipment, diesel repair, or relatable work.

Experience servicing heavy equipment, agricultural equipment, farming equipment or dairy equipment.

Have knowledge of hydraulics, electrical repair, and basic welding.
Search more Farm Mechanic Jobs on AgHires now.
---
A little about the business: Farmward Cooperative was formed with the merger of two strong, long-standing local cooperatives: Harvest Land and Co-op Country Farmers Elevator. Together, Farmward is a very diversified and forward-thinking company. Headquartered in Morgan, MN, we have outlet locations in Clements, Comfrey, Danube, Morton, Olivia, Renville, Sacred Heart, Springfield, and Wabasso. We offer a full range of agricultural products and services, including grain handling and marketing, crop protection, crop nutrients, seed, precision ag, bulk feed manufacturing and delivery, and bulk delivery of energy products, including refined fuels, propane, and lubricants. Farmward also provides producer financing, leasing, crop insurance, and property & casualty insurance through our subsidiary companies, AgQuest Financial and Northland Capital.
What you would be doing:
Proactively contacts existing and prospective customers to solicit business.
Understand current marketing trends and utilizes risk management strategies developed by trusted advisors.
Uses sound marketing strategies to minimize risk and enhance profitability for producer.
Make recommendations on the placement of products to livestock producers.
With assistance, formulates rations and makes recommendations to increase productivity, from both a nutritional perspective and a management practice.
Qualifications:
Excellent verbal and written communication along with strong organization and time management skills.
High internal drive, a natural ability for relationship building, and leadership in a team environment.
Ability and drive to make multiple daily sales calls to customers and prospects operations.
On farm interaction at producer facilities for a walk through, and animal evaluations.
Ability to network in the industry to put producers together to earn additional business and relationships.
Browse more Sales Jobs on AgHires now.
---
A little about the business: Central Valley Ag is a member-owned farmers cooperative headquartered in York, NE with locations throughout Nebraska, Kansas and Iowa. Established in 2003, CVA has over 900 employees and is an innovative leader providing products and services in grain, agronomy, feed, and energy.
What you would be doing:
Help with unloading of grain products for company owned and customer owned trucks.
Assist in delivery of agronomy products such as fertilizer, chemical and seed to customers.
Assist in the loading of agronomy products to customer trucks.
Assist in the receiving of dry/liquid fertilizer, chemicals and seed.
Provide assistance in the operations of the liquid and dry plant.
Qualifications:
General mechanical ability required.

Integrity and good judgment skills required.

High School Diploma or equivalent (GED) required.

One to three months' related experience and/or training or equivalent.
Search more Operations Jobs on AgHires now.
---
A little about the business: Everglades Equipment Group is a family owned and operated full-service John Deere dealership with 17 locations covering central and south Florida. Everglades Equipment Group serves a wide range of customers from some of the largest agricultural producers of sugar, citrus and vegetables to individual farmers, golf courses, nurseries, commercial landscape management companies, and construction businesses, as well as large and small property owners.
What you would be doing:
Manage all employees and equipment at assigned store.

Management of store, equipment, sales growth, and appearance of location.

Participate in the development of sales goals and targets.

Develop and maintain relationships with customers to deliver a superior customer experience.
Qualifications:
Experience in managing employees.
Experience in sales and marketing procedures or equivalent experience.
Mechanical knowledge.
Strong communication skills.
Search more Management Jobs on AgHires now.
---
The job opportunities within the agriculture industry are endless. Whether you are looking to start your journey or take the next step in your agriculture career, there is a place for you. Go to AgHires.com to search thousands of current job openings, ranging from agronomy jobs to marketing jobs to service technician jobs. New jobs are uploaded to our website daily.
Follow us on Facebook and Twitter to see more featured jobs.