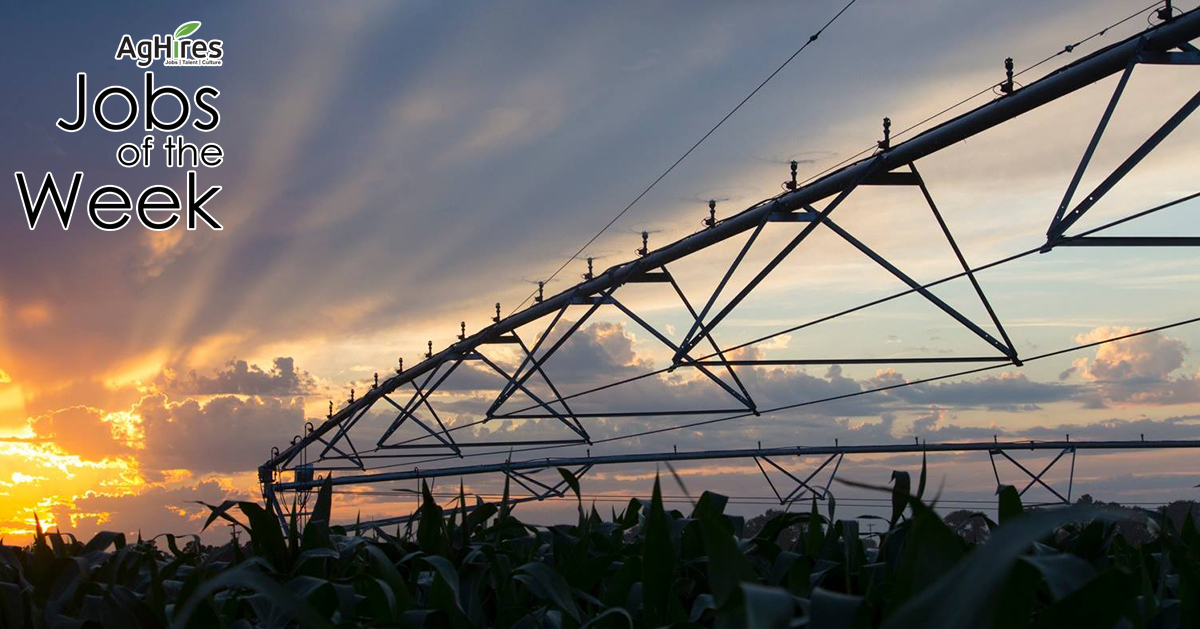 Top Agriculture Jobs of the Week
For the week of 6-27-22
AgHires works hard to be the number one resource for top jobs in agriculture. The agriculture industry provides a variety of job opportunities that range far and wide. Take a moment to search through the thousands of current job openings on AgHires.com, and check out this week's top Agriculture Jobs of the Week below.
A little about the business: Innovative Ag Services is a business that continues to grow with people from different backgrounds, experiences and abilities, coming together for a common goal: to make Innovative Ag Services our customer's preferred business partner. Our corporate office is located in Monticello, Iowa with 30 additional locations scattered throughout Iowa and southwest Wisconsin.
What you would be doing:
Communication of grain transactions and transportation needs.
Inventory control, physical count and accurate billing.
Processing of daily location grain tickets.
Complete daily edits of counter and feed invoicing.
Daily deposit of receivables.
Qualifications:
Basic computer skills.
Strong people skills, good phone etiquette, follows directions, and meets deadlines.
Ability to organize, deal with change effectively, and work on multiple tasks concurrently.
Search more Customer Service Jobs on AgHires now.
---
A little about the business: Bayer, driven to solve the world's toughest challenges and striving for a world where 'Health for all, Hunger for none' is no longer a dream, but a real possibility. We're doing it with energy, curiosity and sheer dedication, always learning from unique perspectives of those around us, expanding our thinking, growing our capabilities and redefining 'impossible'.
What you would be doing:
Create and maintain strong partnerships with Licensee accounts.

Conduct an audit to validate volume.

Calculate and invoice volume-based royalties for reported partner sales.

Collaborate with key internal stakeholders to provide differentiated service.

Maintain an understanding of each customer account structure, target lists, and account assignments, while maintaining in Bayer's system.
Qualifications:
Bachelor's degree.

At least two years of relevant agriculture, professional sales and account management, business supply chain, or customer service experience

.

Knowledge of agricultural business, industry, and supply chain functions or related industries.

Problem-solving and decision-making ability based on data and analytical prowess
Search more Accounting Jobs on AgHires now.
---
A little about the business: Boehringer Ingelheim, you will actively contribute to the discovery, development, and delivery of our products to our patients and customers. Our global presence provides opportunity for all employees to collaborate internationally, offering visibility and opportunity to directly contribute to the companies' success. We realize that our strength and competitive advantage lie with our people.
What you would be doing:
Develops strategy and oversees creation/ implementation of internal and external communication programs for Livestock businesses.

Remains knowledgeable of marketplace and external forces and trends that have the potential to impact products, diseases and/or veterinarians, producers/farmers.
Independently manages issues preparedness and response process for assigned for livestock brands, applying the US process with issues teams, and partnering with US and global leadership to respond to issues.
Contributes to the selection of - and partners with - consultants/agencies day-to-day activities as an extension of the in-house communications team to maximize performance, results, and ROI.
Qualifications:
Experience in communications/Public Relations or other related field within the animal health or agriculture.

Strong project, event, and time management skills.
Crisis/issue management background.
Browse more Marketing Jobs on AgHires now.
---
A little about the business: Pecan Grove Farms is a leading pecan grower, operating various farms totaling 9,000 acres across Texas. We pride ourselves on our state-of-the-art agribusiness management working towards becoming an industry leader, catering to customers across the globe.
What you would be doing:
Manage the maintenance and repair farm equipment, sprayers, shakers, harvesters and sweepers.
Prioritize and schedule maintenance projects in coordination with harvest schedules.
Execute maintenance on electric and diesel motors, irrigation systems, and hydraulic systems, variable speed drives and equipment fleet.
Build and execute Standard Operating Procedures, maintenance plans and record keeping.
Search more Equipment Jobs on AgHires now.
---
A little about the business: The Meat and Poultry Division enforces state and federal laws designed to ensure meat and poultry products sold to consumers are wholesome, unadulterated, and properly labeled. The division inspects approximately 200 plants statewide for red meat slaughter/processing and poultry processing and operates a program "equal to" the USDA, Food Safety Inspection Service.
What you would be doing:
Inspection of raw ground, raw not ground, heat treated-not fully cooked not shelf stable and heat-treated shelf stable products.

Conducting ante-mortem and post-mortem inspection of slaughtered livestock

Observing the humane handling of said livestock.

Collecting and submitting samples for microbiological analysis; verifying the accuracy of product labels.
Qualifications:
A valid driver's license or must be obtained by date of employment.

Accurate and effective oral and written communication skills to communicate with supervisors and upper management in the food industry (will be given a writing test at the time of the interview).
Computer skills to create basic documents, communicate through email, and enter data into State and Federal systems (the writing test will be given on a computer).
Search more Food Safety Jobs on AgHires now.
---
The job opportunities within the agriculture industry are endless. Whether you are looking to start your journey or take the next step in your agriculture career, there is a place for you. Go to AgHires.com to search thousands of current job openings, ranging from agronomy jobs to marketing jobs to service technician jobs. New jobs are uploaded to our website daily.
Follow us on Facebook and Twitter to see more featured jobs.