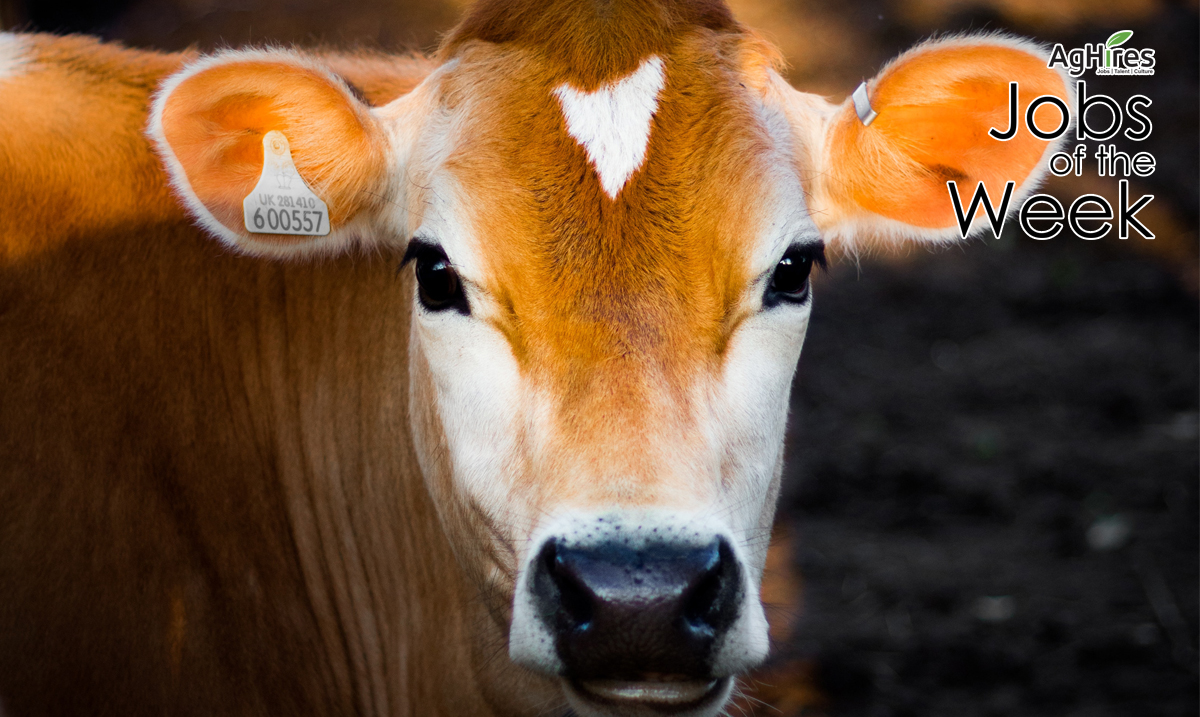 Top Agriculture Jobs of the Week
For the week of 10-4-21
AgHires works hard to be the number one resource for top jobs in agriculture. The agriculture industry provides a variety of job opportunities that range far and wide. Take a moment to search through the thousands of current job openings on AgHires.com, and check out this week's top Agriculture Jobs of the Week below.
A little about the business: With headquarters in Victor, New York, BioWorks has been a leader in providing environmentally responsible, safe, and effective biologically-based pest control and plant nutrition products for the horticulture, turf, and specialty agriculture markets for more than 20 years. Together, with our team of experts, our customers are enhancing conventional programs as well as developing leading edge pest control and plant health programs.
What you would be doing:
Provides support in recruiting and interviewing of potential new team members.

Provides support in onboarding new team members.

Assist with internal BWe Organizational development trainings.

Maintain a positive work atmosphere by acting and communicating in a manner that promotes cooperation with customers, collaborators, vendors, co-workers, and management.

Provides support in administering company benefits and payroll activities.

Provides support with activities related to team member engagement.

Works with departments to identify companywide training opportunities.
Qualifications:
Bachelor's Degree preferred, Associates Degree with experience will be considered.

Minimum of 1 year administrative/clerical training or experience desired.

Proficient in MS Office products Word, Excel and Power Point.

Excellent communication skills, both verbal and written.

Excellent telephone skills.

Good interpersonal skills.

Dependable and highly organized.
Search more Human Resources Jobs on AgHires now.
---
A little about the business: Welcome to Smith Cattle Co. We have a large cattle feedlot and provide cattle transportation while farming and hauling 1,400 acres of hay and grain. We are located in Lewisville, Idaho which is about 20 minutes north of Idaho Falls. We are always looking for ways to improve ourselves and our company. Our team is made up of individuals who are dedicated to the safety and well-being of others and the livestock we care for.
What you would be doing:
Accurately mix feed and drive tractor/feed wagon.
Prepare feed ie; hay and straw bales for mixing.
Call bunks/schedule feed.
Assist with Feed Mill.
Inspect equipment and perform minor repairs and maintenance as needed.
Observe and report animal health to Cattle Manager, as well as maintenance issues in yard ie; fencing, pens, water.
Perform other related duties as assigned.
Qualifications:
Experience with cattle and animal well-being.
High school diploma or general education degree (GED) OR minimum of two (2) years' experience working in agriculture, farming, livestock, cattle, or related field.
Strong work ethic, consider yourself a self-starter and work well within a team.
Ability to communicate clearly and effectively.
Ability to prioritize duties and problem solve.
Ability to work solely outdoors and in inclement weather.
Ability to sustain a positive and punctual attendance record.
Search more Livestock Jobs on AgHires now.
---
A little about the business: Welcome to Bane-Welker Equipment! Our rich histories span more than 50 years servicing the needs of customers across Indiana, Ohio and beyond. We take pride in the measurable and meaningful difference we make in our customer' businesses and are 100% employee owned.
What you would be doing:
Performs repair and maintenance work on equipment, in accordance with time schedules as assigned by service manager.
Makes certain that work assignment is correct, ask for clarification if there are questions.
Maintains tools and equipment, and notify the service manager if tools need replacement, or new tools are needed.
Maintains cleanliness of the working area and presents a neat and professional appearance.
Maintains cleanliness of the customer's equipment.
Assists in expediting of parts orders to avoid wasting time.
Notifies the service manager, dispatcher, and/or service salesman if delays are expected, or if a part needs to be ordered.
Qualifications:
2-year degree plus experience with heavy equipment OR relevant farm / ag / heavy equipment experience.

A customer-centric and "be of service" attitude.
Proven knowledge of methods, materials, tools, and techniques used in the repair of agricultural equipment.
Outstanding knowledge of mechanical, electrical, and hydraulic systems.
Mechanical ability and familiarization with testing equipment and diagnostic procedures.
Browse more Maintenance Jobs on AgHires now.
---
A little about the business: Brown Milling, Inc. is a family owned, second generation, progressive agricultural retail company based in Mt. Pleasant, MI with additional locations in Rosebush, Michigan and Shepherd, Michigan. We provide Crop Protection Products, Grain Transport, Feed Grinding Services, Fertilizer Services, Grain Storage Services, Salt and Seed Sales, Seed Treatment, Custom Applications, GPS Custom Applications and Soil Sampling.
What you would be doing:
Maintain and grow current customer base by seeking profitable accounts.
Develop relationships within the community.
Determine agronomic needs and be a go-to technical resource for the growers for seed, nutrients/fertilizer and crop protection products.
Work with Regional Sales Manager to develop and maintain a current list of customers and prospects.
Initiate sales with on farm calls, follow up meetings, prospect calls, creating professional proposals, and getting referrals.
Understand and implement marketing plan initiatives and drive key agronomy products and services within targeted markets.
Qualifications:
Bachelor's Degree in crop and soil science, agronomy, agriculture or related field preferred not required.
Competent in MS Office and Microsoft Outlook.
Valid driver's license.
Be physically able to perform job duties and work long hours as needed.
Search more Sales Jobs on AgHires now.
---
A little about the business: Central Pump Company (CPC) is an Irrigation company located in the San Luis Valley. As one of the largest high desert valleys in the world, the San Luis Valley lies at its highest altitude of 8,100 feet. Spanning over 65 miles wide and 125 miles long, there is much to explore and see. This large Valley is a prime location for farming and supports thousands of Center pivots. CPC is the local Reinke Center Pivot Dealer. We sell, install, and repair all brands of center pivots. We also service and install all products to operate a pivot including well rehab and testing, pump installation and repair, pipeline work and electrical. CPC also services the industrial, municipal, golf and domestic market.
What you would be doing:
Maximize the billable hours

Assist in taking customer orders (including requested quotes) as required and ensure the customers' requirements are clearly defined, documented and agreed upon up-front. Prepare job estimates/quotations as required.

Supervise the Staff under your control and ensure they have all the required inputs (clear instructions, parts, materials, tools etc) to do their jobs correctly. This includes task/job assignment, provided training, evaluation, supervision and follow up.

Prepare and process work orders for all jobs and all other required daily and weekly reports.

Investigate, analyze and identify the root causes of problems encountered in the daily operations and working together with his/her employees, take the necessary corrective and preventative actions.
Qualifications:
Bachelor's degree preferred and/or relevant work experience in operations or management in agriculture, irrigation, farming, pumps or relatable field.

Display exceptional leadership and professional management skills with proven ability to achieve superior results in a relationship management role.

Advanced computer skills.

Highly organized.
Search more Operations Jobs on AgHires now.
---
The job opportunities within the agriculture industry are endless. Whether you are looking to start your journey or take the next step in your agriculture career, there is a place for you. Go to AgHires.com to search thousands of current job openings, ranging from agronomy jobs to marketing jobs to service technician jobs. New jobs are uploaded to our website daily.
Follow us on Facebook and Twitter to see more featured jobs.