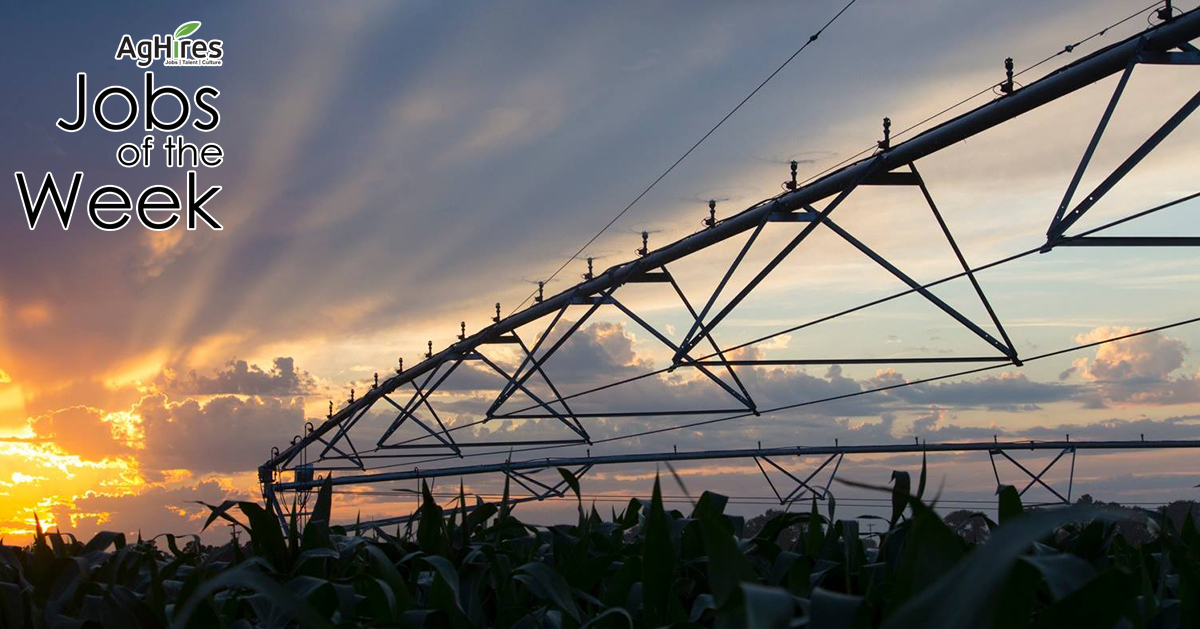 Top Agriculture Jobs of the Week
For the week of 1-2-23
AgHires works hard to be the number one resource for top jobs in agriculture. The agriculture industry provides a variety of job opportunities that range far and wide. Take a moment to search through the thousands of current job openings on AgHires.com, and check out this week's top Agriculture Jobs of the Week below.
A little about the business: Heritage Cooperative is always looking for friendly, outgoing, customer-service-driven employees. Our people are our greatest asset, and we are constantly thinking outside of the box for new ways to make working at Heritage Cooperative attractive to our current and prospective employees.

What you would be doing:
Serve as a positive representation of Heritage Cooperative's Core Values

Assist with preventative maintenance on all plant equipment to obtain maximum efficiency and ensure the longevity of all fixed assets

Calculate fertilizer application rates per acre to determine the quantity of fertilizer required

Complete required records and reports
Qualifications:
Ability to thrive in a fast-paced environment

Outstanding organizational and time-management skills

Excellent communication skills

Fundamental mechanical skills
Search more Farming Jobs on AgHires now.
---
About the Company: At Bayer, we're visionaries, driven to solve the world's toughest challenges and striving for a world where, Health for all, Hunger for none' is no longer a dream, but a real possibility. We're doing it with energy, curiosity, and sheer dedication, always learning from the unique perspectives of those around us, expanding our thinking, growing our capabilities, and redefining 'impossible'. There are so many reasons to join us. If you're hungry to build a varied and meaningful career in a community of brilliant and diverse minds to make a real difference, there's only one choice.
What you would be doing:
Lead the people strategy for the NA CS Product Supply impacting Talent, culture, and organizational effectiveness as a business imperative;
Lead strategic workforce planning for NA CS Product Supply;
Partner closely with dedicated Leadership Team(s), advise, coach, and hold leaders accountable for talent, leadership, performance, culture, org design, and transformation initiatives;
Drive High Touch Integrated Talent Management with an Inclusion and Diversity (I&D) lens for NA CS Product Supply and be a strong advocate for I&D
Qualifications:
Undergraduate degree;
Influence and challenge drive change, and impact across matrix organizations;
Understand the dynamics and value drivers of the business and how to translate these into current and future talent needs;
Show end-to-end accountability for the talent agenda of the area of responsibility with a strong data and outcome-driven orientation
Search more Human Resources Jobs on AgHires now.
---
A little about the business: We, at the Oregon Department of Agriculture (ODA), ensure healthy natural resources, environment, and economy for Oregonians now and in the future through inspection and certification, regulation, and promotion of agriculture and food. The vision of the Oregon Department of Agriculture is to remain able to serve the changing needs of Oregon's diverse agricultural and food sectors to maintain and enhance a healthy natural resource base and strong economy in rural and urban communities across the state.
What you would be doing:
Perform livestock inspections by examining livestock (cattle and horses) to distinguish brands, marks, and other identifying characteristics this may be visual or physical.

In addition, you w

ill also investigate cases of estray cattle and horses to determine ownership. This may consist of door-to-door contact with neighbors; telephone and/or person-to-person contact with law enforcement officials.
Qualifications:
Handling and branding livestock
Ranch management procedures
Livestock marketing procedures
Must have a valid driver's license and an acceptable driving record
Browse more Livestock Jobs on AgHires now.
---
A little about the business: Feed Products is currently looking to hire a Logistics Coordinator for their facility in Madison, IL. At Feed Products, their commitment is to provide high-quality products, services, and solutions to their clients. They serve animal feed manufacturers, pet food manufacturers, distributors, and integrated swine, dairy, and poultry companies. Their goal is to help their customers achieve their business goals by providing them with raw materials for their products at the most competitive prices in the marketplace.

What you would be doing:
Work closely with the transportation companies on the pickup, shipment, and arrival of freight and cargo for delivery.
Schedule loads based on the rate as well as manage and maintain document exceptions
Review open loads and post to Freight Bid Board with details on shipment
Logically conclude the priority of load based on date, urgency, availability, origin, miles, etc.
Verify the previous haul with carriers and reference the Customer Management List for the customer receiving requirements and restrictions
Communicate any discrepancies, delays, or problems with Fulfillment Team to ensure the customer is informed; document within SAGE
Qualifications:
Competent in the use of Microsoft Office products including Outlook, Access, Excel, and Word
Experience with entry systems (SAGE) or comparable software.
Ability to work effectively with minimal supervision and to take initiative in problem-solving.
Search more Logistics Jobs on AgHires now.
---
What you would be doing:
Learn and develop individual skills based on work requirements in the employee's designated work area

Communicate effectively with area employees and farm management

Complete production paperwork accurately and on time

Adhere to all bio-security protocols and give input to the lead person in the area for items out of compliance

Required qualifications:
Standing, walking, and ability to be on feet 8 to 10 hours per day
Frequent bending, reaching, squatting, and kneeling
Frequent use of one or both hands/arms to grasp or pull
Frequent lifting of objects weighing 3-20 pounds
Search more Swine Jobs on AgHires now.
---
The job opportunities within the agriculture industry are endless. Whether you are looking to start your journey or take the next step in your agriculture career, there is a place for you. Go to AgHires.com to search thousands of current job openings, ranging from agronomy jobs to marketing jobs to service technician jobs. New jobs are uploaded to our website daily.
Follow us on Facebook and Twitter to see more featured jobs.